SPONSORED BY


VIDEO

Stretch Out With Neoprene
Used in everything from industrial linings to wetsuits, neoprene is just about as durable and versatile as fabrics come. Wearables Editor C.J. Mittica discusses what makes this fabric so great in the latest edition of Ask the Expert. Click here to watch this video.





Trend Alert: Oversized Tote Bags
This boat tote (BT-063) from Ame & Lulu (asi/35232) is offered in a variety of patterns and was included in a corporate getaway package, along with a matching wet bathing suit bag.
 
 
In recent years, a trend in the fashion industry has proven to be (literally) impossible to miss. From sunglasses to purses, the new motto is: the bigger the better. Oversized tote bags have become a fashion must-have. With the emergence of this trend, it's no surprise that beach totes and beach bags are appearing everywhere, disguised as shopping bags or purses.

Designers in the industry have taken notice of the prominence of this trend and are now offering a variety of beach totes that are designed for use both on and off the beach. Ame & Lulu (asi/35232), for instance, have included beach bags and boat totes in a variety of patterns as part of its product line-up. Both of these bags feature designs that are appropriate for a variety of occasions. They've proven to be some of the top-selling products for Ame & Lulu. "I think they're so popular because they can be used as an everyday tote so there's more brand visibility, as opposed to just getting use on vacation or at the beach," says Amy Lampinen, VP of sales. She also attributes the enhanced brand visibility to the bags' brightly-patterned exteriors. "People are drawn to the patterns, therefore the corporation logos on the bags will also get noticed," she says.



ADVERTISEMENT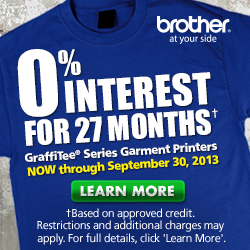 The design team at Sun N' Sand Accessories (asi/90142) has the same idea when creating its promotional beach totes, which feature eye-catching images and patterns as decoration. Marty Seaborn, director of marketing for Sun N' Sand, believes that in order for these totes to succeed as promotional items, they must possess three qualities: usability, longevity, and visibility. "We always try to provide those little additions to improve the usability of the product," he says. "For instance, the addition of a small pocket on the inside for smartphones." It is these small nuances that also increase the versatility of the beach totes.

Although the bags are versatile enough to market to numerous demographics, the prime market to target is corporate retreats at resorts, according to both Lampinen and Seaborn. They are a great opportunity for clients to offer beach packages, which could include several different promotional beach-themed products inside a versatile beach bag. Ame & Lulu, for example, offer packages for their clients that feature their imprinted boat tote as the main item, but also include an imprinted wet bathing suit bag.
WHAT'S HOT ON WEARABLESMAG.COM

The Great Outdoors
Target these four outdoor markets with proven sales strategies and leading items sure to win over buyers. Click here to read.

The Switch To Screen Printing
How one embroider embraced a whole new way to decorate. Click here to read.

Wearables University
Learn the embellishments and decorations that are proven safe for the workwear market. Click here to read.

Be sure to visit www.wearablesmag.com to read these stories and more.
How To: Leverage LinkedIn


It's plain and simple: If you're not on LinkedIn, you're missing an opportunity. The social network site has more than 225 million users, and two more people join every second. Excellent for everything from building connections and promoting content to shining a spotlight on a brand, LinkedIn also boasts a strong visitor-to-lead conversion rate of 2.74%. B2B companies take note: That's about three times better than Facebook and Twitter. So how can you leverage LinkedIn to generate valuable leads? Here are some tips:

Be committed. "The biggest mistake is that people don't invest the time learning about and working with LinkedIn," says Jill Konrath, author of SNAP Selling and Selling to BIG Companies. A study of 3,000 sellers that Konrath released in February found that top sellers used LinkedIn to identify potential clients 77% of the time. Those who were not top sellers only used LinkedIn 20% of the time.

Add value and post strategically. It's wise to avoid pushy marketing and hard selling tactics on LinkedIn. Such approaches turn people off and cause them to tune out. Instead, take the approach that you'd want when someone is courting your business: Become a valuable source of relevant information. You can accomplish that by posting links to interesting, engaging and shareable content that target audiences can use and, perhaps, even be entertained by. Additionally, it's important to post at times of day when you are likely to get the most eyes on you. While morning posts generally get more engagement, there's no hard and fast rule for what will work best in your situation.

Create a customer-focused profile. LinkedIn is much more than a job board. And yet, many build a profile that's aimed at potential employers, rather than customers and prospects. "Lots of salespeople write descriptions like, 'I achieve more than quota, I'm an aggressive go-getter,' to show people who might hire them that they are wonderful candidates," says Konrath. But if your goal is to use LinkedIn to help increase sales, then create a profile that focuses on specifics about what you have done for customers. Provide the names of top clients and even mini case studies to demonstrate to prospects your proven ability to produce ROI.

Join and start groups: By joining groups, you can directly contact any member of that group. Consider getting involved in groups that target buyers of promotional products or audiences that work in a market that you excel in serving. You can also start your own industry specific group, which "is one of the most effective ways to get your network excited and engaged about a specific topic, all while driving traffic to your site and increasing sales," write Lewis Howes, co-author of LinkedIn Working, on Entrepreneur.com.

Rate the Counselor Power 50

Counselor magazine is now compiling its Power 50 list for 2013 – which recognizes the industry's most powerful individuals – and it's looking for feedback from the industry. Click here to see the list of last year's Power 50 and let them know whether you think the members are more or less influential today than they were a year ago. Or, if you know of someone who should be on the list but isn't, please write his or her name and company information in the space provided.

Thank you for your input. Rate and nominate now – click here.

Q&A: SanMar and District



The "Very Important Tee" (DT6500) is a new addition to the District brand that's on track to be a great success for SanMar (asi/84863). Available in sizes XS-4XL, the comfortable V-neck features 100% ring-spun combed cotton.
 
 

Launched last year, SanMar's (asi/84863) fashion-forward brands, District and District Made, are attracting a lot of attention within the imprinted wearables industry. Last month, the supplier announced new additions to the two lines, including a dozen brand new fabrics and more than 50 new products and accessories. Senior Brand Manager Rhea Aslin recently took a few moments to talk about the success of the new lines.

Q: What is the story behind District and District Made?

Rhea Aslin: I was initially brought on board two years ago to revamp SanMar's District Threads brand. But as I dug deeper, I really saw the opportunity to rebuild the brand from the ground up and to launch a separate line, targeting a different audience, but with a similar fashion DNA. So just over a year ago, SanMar launched District – for juniors and young men – and District Made, which offers fashion styles in ladies and men's sizing.

Q: What makes these lines really stand out?

RA: What's truly unique about District and District Made is the fashion DNA at the core of both brands. District and District Made offer the best quality and fitting basic tees, but also offer on-trend styling and details. With seaming details, hi-lo hemlines, exclusive fabrics and even a little lace, District and District Made are the destination for fashion basics. And we don't leave the guys out! We offer polos with great fit and stylish details, microburn and gravel fabrics for a fresh look, and all the basics with added touches for an updated style for him.

Q: What items from the lines do you think will be particularly successful?

RA: Tees and polos always do well. We're confident in our brand new "Very Important Tee" (V.I.T.) from District, which features 100% ring-spun combed cotton. We're also really excited about the new plaid flannel bottoms, which come in fits for juniors and young men. And our new fabrics – microburn, gravel, dip dye and more -- are attracting a lot of interest.

Q: What markets will these lines sell best in?

RA: District and District Made are designed to outfit everyone from teenagers to those in the corporate world looking for a fresh, fashionable look. We're really invested in understanding current market trends, as well as those retail looks that have staying power.

Q: What excites you personally about the lines?

RA: I think one of the most interesting things about our District and District Made lines is that we're constantly evolving and growing, while keeping up with current and future trends. It's not just about the fashion basics, but also about the accessories, like caps and bags, to complete a look in the District. We'll continue to expand categories to meet customer needs.

Charles River Apparel (asi/44620) has received the National Sporting Goods Association's 2013 All-Star Community Collaboration Award. The supplier was also named an honoree at Massachusetts General Hospital Cancer Center's annual fundraiser, The One Hundred, which honors 100 individuals and groups that have helped in the fight against cancer.

Hanes Branded Printwear (asi/59528) promoted its new athletic performance Cool DRI shirt at the recent Race Directors College Workshop in Charleston, S.C. This shirt and more Hanes products can be found at www.haneslocator.com.

Hirsch International (asi/14982) has promoted former senior director of sales, Jim Wesolowski, to vice president of sales. The company has also launched a new series of Seit bridge laser machines, called the SL-10 series, which feature the first-ever patented cap laser system. For more information, visit the Hirsch website at www.hic.us

Imprintables Warehouse (asi/58475) is now offering the Roland Pro Series Vinyl Cutter in three different models. All are powered by digital servomotors, which make for faster cutting speeds.

Inksoft recently added an upgraded image uploader, which allows users to upload photographs directly from their mobile devices.

Leed's (asi/66887) announced the addition of Thule outdoor and active lifestyle products to its inventory. For more information, visit www.leedsworld.com.

OEKO-TEX will launch its new Sustainable Textile Production (STeP) certification program at the TexWorld USA show in New York on July 17th. The program launch will take place in the Javits Convention Center (seminar room 1B03) at 9:00 AM.

Prime Line (asi/79530) was named Supplier of the Year for 2012 by The Vernon Company (asi/351700) at the distributor's national sales meeting.

PromoGigs.com has launched a redesigned website focused exclusively on jobs within the ad specialty industry. Visit the site at www.promogigs.com.

Redwood Classics Apparel (asi/81627) announced that it will support flood victims in Southern Alberta through a program called RW x YYC. Clients are encouraged to place orders in the month of July, and a portion of the proceeds from sales of the company's fleece collection will go to the Red Cross Alberta Flood Relief Effort.

Roland DGA Corp (asi/18201) received a European Digital Press award for its Eco-Sol MAX 2 ink. The solvent ink was recognized as the Best New Generation Solvent Ink Technology of 2013.

Stahl's ID Direct (asi/88984) is now offering precut letters and numbers in Thermo-FILM in 20 different colors. For more information, visit www.StahlsID.com/thermo-film.

Superior Uniform Group, Inc. (asi/339857) has announced that it will be acquiring HPI Direct, Inc., a uniform distributor/manufacturer operating out of Alpharetta, Georgia.

Sweda Company (asi/90305) has announced that Angela Quevado of Cetera Marketing, Laura Rosenfield of Buffalo Specialties Inc. (asi/149870) and Leslie Adams of L.A. Promotions are the winners of the company's iPad mini giveaway contest. The company held the contest from February 19 through May 31 for all customers who placed a sample order in the Sweda iStore.

Transfer Express (asi/91804) is now offering a how-to video for beginners who want to learn how to use a heat press to create custom apparel. The video is called "Meet Your New Screen Printer", click here.

Tri-Mountain (asi/92125) announced that it has hired John Perez as marketing associate.
Clear Backpack

This clear backpack (BP1310) has a fun and youthful quality. Featuring adjustable padded back straps, the backpack comes with colored trims and grey zippers. Other attributes include a large front zipper and a side mesh pocket for a water bottle. Available from BagWorld (asi/37980); www.bagworldpromo.com; (888) 929-2247.

Selling Tip: Clear backpacks are not only both funky and practical, they offer a transparency that may appeal to certain buyers in these security-conscious times. As for potential clients, try schools, camps, gymnastic centers, resorts, cruise lines, amusement parks, and cheer and dance troupes.
Q: I am looking for men's khaki work shorts – twill or cotton. Can you help?

A: Try A Design N Time Inc. (asi/30264); (719) 347-0166; www.dntproducts.com; which carries a cotton men's work short in khaki, moss and tan (item B275DKH), and a heavier 8.5 ounce cotton short in mushroom, charcoal and golden khaki. This supplier also has a 65% polyester/35% cotton twill work short with wrinkle-resistant fabric with stain-repel-and-release finish.

Alpha Shirt Company (asi/34408); (800) 523-4585; www.alphashirt.com; also has deep inventory in its 42283 Dickies work short, which comes in navy, khaki and black. If you need extra room for belongings and tools, be sure to check out Alpha's heavy-duty cargo short, item LR542.

Selling Tip: If a trades-industry client is interested in work shorts, chance are he'll need related apparel for the company's workers. Don't miss the opportunity to upsell these buyers hats, polo shirts, safety green T-shirts, hoodies and more.

Q: Do you know of a source to get large cooler bags?

A: Try Leed's (asi/66887); (724) 334-9000; www.leedsworld.com; which has two great choices: 3850-56 holds 56 cans in tote style and 3860-70 can hold 36 cans in a duffel style.

Meanwhile, Bullet (asi/42424); (305) 623-9223; www.bulletline.com; offers a unique cooler cinch bag, made of 600 denier polyester with a waterproof lining (item SM-7362). Also consider Bullet's Rooney can cooler, item SM-7302, which carries a whopping 48 cans and rolls with a sturdy handle.

Additionally, Atmec (asi/37435); (626) 337-2148; www.atmec.net; carries a wide variety of cooler bags, including items 1909, 1089, and 1270.

Selling Tip: Cooler bags are great items for race events, corporate picnics, beach-themed promotions, rewards programs, company stores, and more.
U.L. Down: Known as Ultra Light Down, it is used in women's and men's jackets to make an insulation layer that is at once light and very warm. U.L. Down jackets weigh less than a T-shirt, block more wind, and are warmer than even the heaviest fleece jackets. Plus, they are able to compress to the size of a water bottle.

Virgin Wool: A new wool that has never been woven or processed before.

Welded Shell: The outer layer of a bonded or welded garment, such as a jacket.
July 16-18, Chicago
ASI Show
(800) 546-3300; www.asishow.com

July 26-27, Nashville
Embroidery Mart – EAST
(800) 866-7396; www.nnep.net

Aug. 4-6, Las Vegas 
ISS Shows 
(508) 743-0532; www.issshows.com

Aug. 7-8, Long Beach, CA 
The SAAC Show 
(805) 484-7393; www.saac.net

Aug. 13-15, Shreveport, LA, Jackson, MS, New Orleans
Advantages Roadshow
(800) 546-3300; www.advantagesroadshow.com
Aug. 14, Knoxville, TN 
PPAMS Knoxville Road Show 
(615) 465-8109; www.ppams.com

Aug. 22, Bloomington, MN 
UMAPP Selling Solutions Showcase Room Show 
(651) 734-9767; www.umapp.org

Aug. 24-27, Ft. Lauderdale 
Fort Lauderdale Gift Show 
(678) 285-3976; www.ftlauderdalegiftshow.com

Aug. 25-28, Marlboro, MA 
New England Apparel Club Show 
(781) 326-9223; www.neacshow.com