SanMar To Offer Eddie Bauer Outerwear
 
To be available from SanMar (asi/84863) next month, this weather-stopping, three-layer soft shell by Eddie Bauer comes equipped to take on the elements wherever you may roam. Offered in three colors and in men's and ladies' sizes, the jacket features an open hem with drawcord and toggles, as well a 3000MM fabric waterproof rating.
These days, buyers are increasingly interested in promotional apparel that looks like it comes from a fashionable retail store. Good news then that SanMar (asi/84863) has announced that, beginning next month, it will offer select Eddie Bauer outerwear items as part of its product line. SanMar will initially provide 27 Eddie Bauer styles, including items from the First Ascent collection, and has plans to offer additional outerwear products in the future.

"For more than 90 years, Eddie Bauer has focused on providing the finest outerwear on the market," says John Spotts, senior vice president of licensing at Eddie Bauer. "SanMar is an ideal partner for Eddie Bauer as they are known for offering top-notch customer service and quality inventory to their customers."

Eddie Bauer jackets, shells, fleeces and layering pieces will be among the products available at launch. SanMar previewed the Eddie Bauer and First Ascent styles at the ASI Show Chicago two weeks ago. The line will also appear in SanMar's 2013 Apparel, Bags & Caps catalog and can be viewed at www.sanmar.com.

"Eddie Bauer is a legend in American sportswear," says Jeremy Lott, vice president of SanMar. "As part of this relationship, we've worked closely with them on ensuring that the product and selection meets the unique needs of our industry – including styling, sizing, inventory, pricing and logo placement."
Q&A: Game Bibs
 
Supplier Game Bibs (asi/55743) offers colorful striped overalls that are a unique addition to traditional fan wear.
Based in Chicago, IL, Game Bibs (asi/55743) has found a unique sports niche with its striped bib overalls, available in adult sizes as well as infant, toddler and youth. The supplier also sells men's cargo shorts and pants, and recently released a fitted skirt and a sundress. Joshua Coenen, founder/partner at Game Bibs, recently spoke to Wearables about his line of "super fan" wear.

Q: What got you interested in manufacturing Game Bibs?

Joshua Coenen: In the 1970s there was a company that produced a similar type of product for a couple of sports teams, one of which was Wisconsin. My dad had one of those original pairs. When I adopted the pair and started wearing it to football games, I received all kinds of attention and offers to buy the bibs off my back. A good friend of mine and I saw that there was a large demand for a unique fan apparel item like our Game Bibs, so we launched the company in 2003 and originally marketed to only two teams in Wisconsin, where we are from. Since then, we have expanded into more than 150 collegiate markets and several NFL markets. We are now moving into different sports markets and into promotional products.

Q: Which sport, as a whole, has the greatest demand for fan gear? Are there other markets that can use Game Bibs?

JC: Football, specifically college and NFL, has the greatest demand for our blank products. In addition to the sports market, we have seen our products used for musicals, bar staff, team uniforms, clown outfits, and much more.

Q: What is the most popular color combination that clients request?

JC: For 2012, our number-one-selling color combination is red and white. Other top sellers include black and yellow, green and gold, purple and yellow, and our orange and white checkered design.

Q: What process do you use to put the stripes on the Game Bibs?

JC: The process for our designs is called "Reactive Printing." This is a special process that minimizes color fading when washed over and over again. The base fabric is called "grey goods" and then our manufacturer's printer creates printing screens (on rollers) that are used to apply the stripes, checkers and any other designs to the fabric.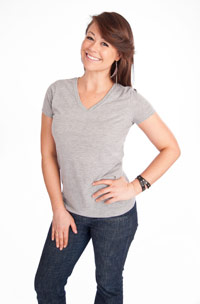 The Original X-Ray Tee

Truly one-of-a-kind, this unique T-shirt is made from X-Ray film and recycled cotton. Produced with superior quality, ringspun yarn, the 65/35 blend makes this T-shirt soft, form-flattering and comfortable. Fitted but not tight, the "X-Ray Tee" is made a bit longer to show off the glutes. Plus, the true eco purists out there will be happy to know that the shirt's color comes from the X-Ray film, so no dyes are needed. Offered in a stylish gray, the tee is available from earthspun apparel (asi/51443).

Selling Tip: This lightweight, quick-drying and super soft gray T-shirt is made without dye. Pitch it to health-care and progressive brands for the modern fit and cool factor – or anyone who is looking for an eco alternative that is Made-in-the-USA.


Broder Bros. (asi/42090) has launched a new four-part assurance program called the Performance Pledge. The four parts consist of:

• Inventory Pledge that guarantees strong inventory of the most popular styles and colors
• Order Accuracy Pledge that guarantees errorless picking, packing and shipping
• Pricing Pledge that guarantees that Broder will match any advertised price on any style in-stock at its competitor in a customer's delivery area
• Quality and Social Responsibility Pledge that guarantees that Broder will meet or exceed standards of quality, social responsibility and regulatory compliance.

CafePress (asi/43167) has teamed up with Penguin Books to launch an online store featuring a selection of products adorned with characters from favorite children's storybooks including The Little Engine That Could and Corduroy. Products offered include T-shirts, totes, water bottles and bibs.

Club Colors has publicly launched a new corporate website and e-commerce platform, as well as a new logo and tagline. Visit the new website at clubcolors.com.

Debco (asi/48885) recently hosted a summer barbecue event at the company's Concord, ON, location. The company welcomed more than 250 distributor guests who enjoyed a catered barbecue lunch and dessert from an ice cream truck.

Golden Pacific USA (asi/55549) announced that it has moved into a new 160,000-square-foot facility in Pomona, CA. The company's new address is 1040 Walnut Avenue, Pomona, CA, 91766.

Great Dane Graphics has added a variety of new military designs that are royalty-free, full-color stock designs. The artwork ranges from realistic to photographic to abstract. Designs can be purchased individually or as a package. For more information visit www.greatdanegraphics.com.

Imprintables Warehouse (asi/58475) offers QuickPrint printable CAD material designed for creating affordable, full-color transfers. QuickPrint will adhere to 100% cotton, 100% polyester and poly/cotton blends. It also has a low-luster matte finish, can be used for light and dark garments, and comes in a variety of lengths and widths.

Logomark (asi/67866) announced that the company's Advantage 24 FREE rush service, which allows distributors to submit catalog quantity rush orders as late as 9pm EST and have them ship the next day, is again up and running.

Pro Towels Etc. (asi/79750) was recognized as the 2012 Business of the Year by the Abbeville County Rotary Club.

Quality Certification Alliance has announced that Barton Nelson, Inc. (asi/38670), Gordon Sinclair (asi/57800), Prime Resources Corp. (asi/79530) and Sweda Company LLC (asi/90305) have all completed the necessary requirements to maintain their QCA Certified status.

World Emblem International (asi/98264) announced that it will be launching digital print emblems on August 1. The patches are available in standard and intricate laser-cut shapes and can include a merrow border or be borderless. For more information, visit www.WorldEmblem.com.