SPONSORED BY


VIDEO

Burn, Baby, Burn
You've seen burnout – you may have even worn burnout. But what is it and how is it made? Wearables Editor C.J. Mittica shares the details in this latest version of "Ask the Expert." Click here to watch the video.

Got a question you want answered in a future Ask the Expert video? Send it to cmittica@asicentral.com.



Trend Alert: Tank Tops
ADVERTISEMENT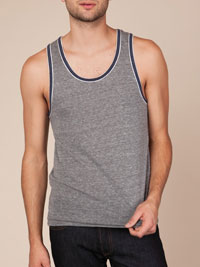 Tank tops, like this double ringer in contrasting colors (22060e1), are flying off shelves this summer for both men and women. This top is available from Alternative Apparel (asi/34850).

In the summer heat, fashionistas and their male counterparts no longer have to choose between being chic and being comfortable. That's because tank tops are a "hot" item for the season.

The sleeveless shirt has evolved from undergarment to full-fledged fashion wearable. The piece got the name "tank top" from its resemblance to the "tank suit," a swimming suit of the early 20th century. Tanks have stayed in vogue for women over the years, shifting in shape and style from the graphic and cropped looks of the '80s to the spaghetti straps and tube tops that dominated the '90s. Tank tops for men first enjoyed popularity in the '80s and are once again in style.

"The tank has become one of our best-selling styles across all channels," says Gina Kwok, director of marketing operations for Alternative Apparel (asi/34850). Selling well in metropolitan areas, the style is big in the younger, fashion-forward market with both men and women, says Kwok. "It's really a great layering piece that works well in all seasons," she says.

What styles of tanks are selling especially well this season? Scott Marino, president of Neon Tees (asi/73583), says that sales of neon tanks are "absolutely booming" right now. "The neon tank is a rapidly expanding trend," he says, "especially in the teenage, university, and sorority/fraternity market." Marino estimates that sales of his neon tanks, which are a throwback to the bright-hued styles of the 1980s, are clocking in at 10,000 per week. Recently, he fulfilled an order for the crew of popular music artists LMFAO. "We've made a huge commitment to these tanks in our inventory," says Marino. "We're continually dyeing them to meet demand."

Other popular styles this season include the ringer tank (which features contrasting colors around the neck and arm holes) and the racerback for women. "With the Olympics coming up this summer, we're seeing a lot of interest in the athletic look in tanks," says Kwok. She adds that sales for tanks in Alternative's new line of "pop" colors have been outpacing sales for the more basic and muted shades. Additionally, shape is becoming more important, especially in women's tanks. "We see this tank top trend moving from the younger crowd to more mainstream fashion and being around for a long time," she says. "At Alternative, we're really thinking about how to improve fit to keep up with the demand for stylish tanks."
ASI Education. Your Way.

We've added three new classes to our Online Learning Center. Earn points toward your BASI or MASI, and learn how to build your business and grow your sales. At ASI, we're committed to promoting your success! Visit www.asicentral.com/onlinelearning to take the classes.


WearablesUniversity
Grow Your Business Through the Education Market
In this webinar, you'll learn how to target decision-makers in the lucrative education sector, pitch the right apparel items, get repeat orders and more.

Business-Building Strategies
How to Make Business Come to You
In this webinar, you'll learn tactics to create new business opportunities from a panel of successful distributors.

Hot Niche Markets
Selling To The Pet Market
In this interactive, self-paced course, you'll learn about how to sell into the $55 billion pet market, including who to target and which products to suggest. You'll also hear success stories from distributors who broke into the pet market.

Sales Challenge: Cash-Strapped Clients


"We've got nothing left in the budget." It's a phrase no distributor wants to hear from a client. Still, when faced with a customer's tapped account, smart distributors take proactive measures that may generate business in the short and long term.

When, for example, a client tells Steven Flaughers that there is nothing left to spend, the owner of Proforma Eclectic Technical Systems (asi/300094) asks a simple question: "Really?" Often, Flaughers finds, the clients still have a little left in the tank. Maybe the buyer will not be able to undertake grander projects, but he or she can do some sort of promotional campaign involving ad specialty products. Flaughers has managed to sell to university clients who initially cried broke, but actually still had several hundred dollars to burn. "We'll find them something based on what they have to spend," he says. "It shows we respect them and care about helping them get the most out of what they have to work with."

Other times, Flaughers gets creative with billing to help clients get the apparel or products they need for a campaign even if they're low on cash. If a client's fiscal year is near an end, for example, Flaughers has rolled a portion of the amount owed into the next year when the new budget kicks in and the client can pay in full. "This has worked well in the collegiate field," says Flaughers. "We get them what they want, and we become more valuable to them because we're willing to work with them."

Of course, there will be times when a client's well has truly run dry. In those instances, Mike Welker, an account executive at Touchstone Merchandising Group (asi/345631), begins helping the client plan for promotional campaigns in the year ahead, when the budget will be replenished. Those discussions may involve developing creative apparel and product initiatives that will maximize results from the cash clients will have to spend in the coming year. "Instead of focusing on hitting a number with clients, we focus on finding the best solutions for their situation," says Welker. "When you do that, you become a true partner and they stay with you over the long haul."

Naturally, there may be cases in which you were counting on a client to spend a certain amount, but unanticipated budget constraints on their end will prevent them from doing so. Rather than get discouraged, take the setback as an opportunity. Check in with other clients for potential sales you may be missing and/or use your time to prospect for new customers. "All clients have different needs at different times, and it's our job to help them find the best solution at the right price point," says Thomas Rector, CEO of Rector Communications (asi/305623).






Anti-Pilling: A treatment applied to the garment to prevent pilling or the formation of little balls of fabric due to wear.

Buckram: A coarse woven fabric stiffened with glue, buckram is used to stabilize fabric for stitching. Buckram is commonly used to hold the front panel of caps erect.

Compression Stretch: The name given to the expansive stretch that is created by the spandex fibers used in the development of a compression fabric.

How To Sell It: Shorts



These fashionable gingham cargo shorts (MAS017) from Harvest Industrial and Trade Co. Ltd. (asi/61670) feature pockets large enough to hold a wallet or cell phone.

As summer kicks into high gear, pants retreat to the closet and shorts jump out of drawers and into everyday wear. A clothing staple that comes in countless styles and fabrics, there is a pair of shorts out there for every type of customer. With that in mind, check out three major markets for shorts that have their own distinct customers and selling strategies.

Sports: One of the biggest markets for shorts is the sports market, which has consistent customers that need shorts year-round for uniforms, warm-up kits and practice gear. "The major markets that are interested in our shorts are schools for Phys. Ed. uniforms, football teams for practice shorts, and soccer leagues for uniforms," says Derek Laffey, founder of Sports One Group (asi/50240). The busiest time, Laffey says, is right before school starts because schools need to get shorts for various team uniforms. When pitching new customers in the sports market, stress the fabric benefits of sport shorts, which feature moisture-wicking and antimicrobial properties as well as stretch fabric.

Work: A range of businesses and organizations desire shorts for workwear. "Our shorts are not just appealing to blue-collar workers; they are crossing over into the tourism, zoo, park, tour guide and campsite industries. Many of our customers are asking for companion styles for women as well," says Fred Haws, president of Carhartt Workwear & Haws USA (asi/43861). While the work shorts business booms nationally in the summertime, shorts are in demand in warmer southern states year-round. When selling work shorts, discuss pockets and performance materials. "Shorts now have more pockets to accommodate cell phones and other electronics," Haws says. "They are also being made out of ripstop materials, which are lightweight, flexible and durable."

Fashion: Trendy shorts that carry an appeal for the fashion-forward are popular in the ad specialty industry, too. Demand for fashion shorts is highest June through September, but peaks again in December when companies are looking for cruise wear. "Travel, hospitality and related markets are important for cruise and vacation wear. The spring demand increases in our corporate golf, sports and outdoor markets," says Ben Menendez, sales manager at Harvest Industrial and Trade Co. Ltd. (asi/61670). "Our customers are looking for light, natural and 'green' fabrics as well as comfortable styles." Besides corporate businesses, look to the fashion-conscious college market for potential new customers as well.

American Apparel (asi/35297) announced it grew its overall company sales by 16% in June to reach $52.1 million in the month. Further, its wholesale division produced a net sales increase of 8% in June and 10% overall in Q2.

AnaJet Inc. (asi/16000) has released AnaRIP version 2.0, the proprietary software that enables AnaJet's mPower series DTG printer to produce higher-quality images on garments and other products.

Bodek and Rhodes (asi/40788) has teamed up with Gildan throughout the month of July to offer a free iPad every business day to the customer with the highest total online purchase. In addition, all accounts that purchase Gildan items from the Bodek and Rhodes website are automatically entered into a drawing for a chance to win an iPad.

CafePress (asi/43167)recently partnered with KOR Water to launch a new line of customizable water bottles.

Dunbrooke Apparel (asi/50930) has announced that Linda Misiorowski & Associates will provide sales representation in IL, IN and southern WI.


Hanesbrands (asi/59528) recognized hundreds of Box Tops for Education coordinators at the National Box Tops University in Minneapolis. At the top of the class were Darlene Harris from California and Debbie Moermond from Wisconsin, who both won trips to Walt Disney World courtesy of Hanes and the Hanes4Education program. Pictured (from left): Hanes4Education "Mom" character; Jamie Wallis, Pam Davis and Hilton Graham from Hanes; and winners Moermond and Harris.

Heritage Sportswear, Inc. (asi/60582)announced it recently added four additions to its sales department: David Durbin, Kristin Egan, Michael Galati and Steve Mordecai.

Kanata Blanket Company (asi/63723) has been purchased by three Canadian investors. Financial terms of the deal for the British Columbia-based supplier were not disclosed.

Polyconcept North America announced its Trimark Sportswear (asi/92122) unit is expanding into the United States. Based in Ontario, Canada, Trimark in the U.S. will be known as Trimark Powered by Leed's. Michael Snyder joins Trimark as director of U.S. regional sales and national accounts. He will manage the northern Illinois and Wisconsin territory, as well as national accounts. The territory consisting of Maryland, Virginia, Washington D.C., Delaware and southern New Jersey will be managed by Scott Stokes.

Proforma (asi/300094) opened up five new offices in June. They are: Michael Barclay, Proforma Shout Marketing in Niagara Falls, ON; John Clauss, JMJ Direct Powered by Proforma in Warrington, PA; Darren Golden, Proforma Stand Out Branding in Powhatan, VA; Christian Townsend, Proforma Townsend Promotions in Memphis, TN; and Rick and Karey Wolstenholm, Proforma Wolstenholm Custom Marketing in Collierville, TN.

Prime Line (asi/79530) will donate 5% of sales from pink items between July 1 and Oct. 31, 2012, to breast cancer research, education and support. Visit www.primeline.com/pink to view all of the pink items offered.

Roland has expanded its line of inkjet printing accessories and supplies with i1Basic Pro 2 and i1Publish Pro 2, two color management solutions from X-Rite.

Stahls' ID Direct (asi/88984) will offer free educational Power Sessions at the ASI Chicago Show, July 17-19. Carleen Gray, vice president and chief marketing officer, will present two classes on July 18: "How To Create Dazzling Logos To Win Every Bid" and "Take Control of Your Decorating." For more information and to register, go to www.asishow.com/education.

Vitronic Promotional Group (asi/93990) has announced the appointment of Kristan Dunlap as product development manager.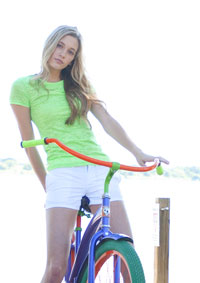 Neon Burnout T-Shirt

Put a fun spin on the traditional burnout T-shirt with the Neon Burnout tee. Featuring a fitted shape with a mild sheer pattern that makes it look relaxed, this T-shirt is made from a 50/50 polyester/cotton blend. It comes in four bright colors – neon orange, neon blue, neon green and neon pink – that tap into the color trend favored by the younger set. Available from In Your Face Apparel (asi/62494).

Selling Tip: This lightweight T-shirt is great for kids and teens. Pitch it to teen-friendly brands along with summer camps, pool clubs, hotels and resorts. Plus, the fact that it's made in the USA is a great selling point for buyers who like to know where their clothes are coming from.

Q: I decorate purses through my monogramming business. They are made of microfiber and come in tan, black, red and some pink. My customers love them. However, the company I ordered through no longer has these purses. Would you have any idea where I might find them?

A: You can find great purses like these from Joann Marie Designs (asi/63381); (714) 996-0550; www.joannmarie.com. Also, consider Ame & Lulu (asi/35232); (617) 730-9604; www.ameandlulu.com; or RuMe Bags (asi/82700); (303) 799-4256; www.rumebags.com.

Selling Tip: Higher-end purses monogrammed with the initials of valued female clients or employees make excellent holiday gifts. Additionally, salons, clothing boutiques, spas, and certain resorts could be interested in selling self-branded purses to their clientele.

Q: I have a customer that needs sports "batpacks" to hold their baseball bats and other equipment. Do you know where I can find bags like this wholesale?

A: Try product 411 from Augusta Sportswear (asi/37461); (800) 237-6695; www.augustasportswear.com. For more traditional bat bags, you may consider Troy Sunshade (asi/92252); (800) 833-8769; www.bagsbytroy.com; product 1643. Also, check out product 3071 from ACRO (asi/30981); (888) 747-2276; www.acrobag.com; for some heavy-hitting sales.

Selling Tip: "Batpacks" are a natural sell to school teams and youth baseball leagues.
July 17-19, Chicago
ASI Show
(800) 546-3300; www.asishow.com

June 21-23, Indianapolis
NBM Show
(303) 469-0424; www.nbmshows.com

July 27-28, Nashville
Embroidery Mart – EAST
(800) 866-7396; www.nnep.net

Aug. 8-9, Long Beach, CA
The SAAC Show
(805) 484-7393; www.saac.net

Aug. 12-14, Las Vegas
ISS Shows
(508) 743-0532; www.issshows.com

Aug. 15-16, Murfreesboro, TN
PPAMS MidSouth PromoShow
(615) 465-8109; www.ppams.com
Aug. 16, San Antonio
CAPPA Expo
(210) 630-34074; www.cappatexas.org

Aug. 16-18, Long Beach, CA
NBM Show
(303) 469-0424; www.nbmshows.com

Aug. 19-22, Edmonton, AB
Alberta Gift Show
(800) 611-6100; www.albertagiftshow.com

Aug. 21, Bloomington, MN
"Selling Solutions Showcase," UMAPP Room Show
(651) 734-9767; www.umapp.org

Aug. 25-28, Ft. Lauderdale, FL
Fort Lauderdale Gift Show
(678) 285-3976; www.ftlauderdalegiftshow.com

Aug. 26-29, Marlboro, MA
New England Apparel Club Show
(781) 326-9223; www.neacshow.com

Aug. 26-29, Marlboro, MA
New England Apparel Club Show
(781) 326-9223; www.neacshow.com