SPONSORED BY


VIDEO

Dyeing to Wear
You've heard the term ombré, but what exactly does it mean? Wearables Editor C.J. Mittica explains how ombré is created in this new edition of "Ask the Expert." Click here to watch the video.

Got a question you want answered in a future Ask the Expert video? Send it to cmittica@asicentral.com.



Trend Alert: Dolman Sleeves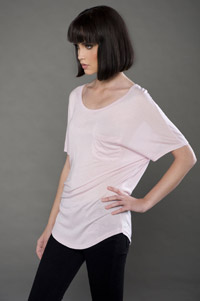 Blanks Plus (asi/40642) carries this short Dolman sleeve pocket tee (3MM111), which is made of fine jersey that features a loose drapey fit with slight tapering at the bottom and self-fabric binding at the neck. It's biodegradable and eco-friendly, and is available in custom colors.

From the runways to the red carpet, Dolman sleeves have been all the rage this year. From the Turkish word "dolaman" for "robe," Dolman sleeves feature wide armholes and no underarm seam, creating a flattering and feminine look that has caught on in all circles of women's wear, from casual to dressy. Celebrities such as country singer Carrie Underwood and actresses Zoe Saldana and Kerry Washington have all been spotted recently sporting dresses and tops with Dolman sleeves. Fashion designer Stella McCartney even created a short dress with one long Dolman sleeve.
Dolmans are selling strong in the promotional apparel industry as well. "We currently offer three Dolman silhouettes," says Abby de Joya, customer service manager at Blanks Plus (asi/40642). "All our Dolman sleeve cuts are selling well, especially this season. They fly out the door!"

Meanwhile, Brandwear Basics (asi/41545) carries a few Dolman sleeve styles, including a 3/4-sleeve piece (267). "The three-quarter sleeve is a classic cut that covers all demographics," says President Shurli Allinott. "The short sleeve is popular with women in their 20s and 30s. The Dolman is a very forgiving cut that flatters almost any shape. It's easy to wear, and the bamboo fabric makes it extremely comfortable."

Popular with promotional companies and apparel decorators that orchestrate apparel campaigns targeting youths, colleges and working women, the dolman will continue to remain popular, says de Joya. "It will continue on, with more fabric colors and print options, as well as neckline variations," she says. "It will be one of those basic must-have pieces."
ASI Education. Your Way

We've added five technical training courses for ESP Websites users to our Online Learning Center. Earn points toward your BASI or MASI, and learn how to use ESP Websites to build your business and grow your sales. At ASI, we're committed to promoting your success! Visit www.asicentral.com/onlinelearning to take the classes.

Elective Hands-On Technology Training Courses

ESP Websites Training, Module 1: Getting Started
In this ESP Websites video package, you'll get an overview of your ESP Website, learn about accessing your ESP Website and the Quick Launch, find out how to build your site in three steps, and learn about the administrative side of your ESP Website.

ESP Websites Training, Module 2: Site Settings
In this ESP Websites package, you'll learn all the details about your ESP Website, from setting up domain names to using Google Analytics and implementing e-commerce.

ESP Websites Training, Module 3: My Dashboard
In this ESP Websites video package, you'll learn how "My Dashboard" makes it easy for you and your customers to use and create orders on your ESP Website.

ESP Websites Training, Module 4: Design Studio
In this ESP Websites video package, you'll learn all about the design of your ESP Website, from the logo and colors to featured products, news, videos, and a lot more.

ESP Websites Training, Module 5: Features
In this ESP Websites video package, you'll learn about creating Select-A-Searches, showcasing custom products, managing content and preferred suppliers, and other vital features of your ESP Website.

Fast, Cheap Virtual Fit Technology Emerges


Tired of wasting countless hours over e-mail and on the phone trying to pinpoint the exact sizes clients want for their promotional apparel? Are you frustrated with the lost sales and money from refunding orders that "just don't fit right" or "aren't exactly what they had in mind"? If so, Styku, an innovative tech research and manufacturing company, might have a solution. With CAD 3-D imaging software and the Microsoft Kinect (the motion-sensitive camera that works in conjunction with the Xbox 360), Styku has created the Smart Fitting Room. "It will end up being a very disruptive technology that changes the apparel industry, making it smarter and more efficient," says Styku CEO and Founder Raj Sareen.

Multiple virtual fit software solutions have been developed over the last few years, but barriers exist that have prevented them from reaching critical mass – spending tens of thousands of dollars on buying heavy machinery to customize a fitting room, for example, or requiring customers to stand still for minutes on end. According to Sareen, Styku's Smart Fitting Room surmounts those hurdles. The virtual scan takes only three seconds; it creates a realistic model of the human form (accurate to a quarter-inch of all body types); it costs one-tenth of any other comparable scanning technology, of which there are few; and it can even fit into any room that can contain the Kinect and a standing person. The technology also works with a PC and video camera.

Impressed by the possibilities, Microsoft has selected Styku as one of 10 companies, out of a pool of 500 applicants, to take part in the Microsoft Accelerator Program for Kinect. Awarded companies will receive a $20,000 research grant and, as Sareen states, "about $160,000 worth of free software from Microsoft, or more. We essentially get a license for anything we want, for free." Styku was the sole fashion-focused company selected for the program. IM-Label, one of Toronto's leading providers of custom tailored menswear, has already replaced its hand-measured tailoring to utilize the Smart Fitting Room. Video demonstrations can be viewed on the tech company's website, Styku.com.






Damask: A glossy jacquard fabric that is usually made from linen, cotton, rayon, silk or blends. The patterns are flat and reversible. The fabric is often used in napkins, tablecloths, draperies and upholstery.

Face Finished Fabrics: Fabrics that have surface treatments that provide a variety of looks and effects on the fabric surface. These include brushing, sanding, sueding and more. The term also applies to more traditional fabrics such as meltons, jerseys and overcoatings that have been finished only on the face.

Hopsacking: Popular woolen or worsted suiting fabric made from a 2-and-2 or 3-and-3 basket weave.

Elbeco, Inc. has launched a Facebook site where it will educate potential clients and advertise its line of uniform-related products. 

Ennis (asi/52493), parent company of Alstyle Apparel (asi/34817), reported that its sales for the quarter that ended on May 31 fell by 0.5% to $142.5 million. Quarterly apparel sales dropped by 27% to $55.2 million, while print revenues increased to $87.3 million, a 30% year-over-year gain.

In Your Face Apparel (asi/62494) recently launched a new Neon Apparel Product Line made entirely in the USA, which combines its already popular Burnout Tee Line with four new neon color styles: pink, orange, blue and green.

Lands' End Business Outfitters (asi/250566) announced it has recently expanded into the Canadian market.

Leed's (asi/66887) has become the exclusive industry provider of several products from mobile accessories manufacturer Targus. Through a partnership deal, Leed's will initially offer 10 products from the Targus line, including backpacks, laptop cases and messenger bags.

Prime Line (asi/79530) has announced a contest that invites distributors to submit their best Prime Line success stories for a chance to win a 50" flat screen TV and other prizes. The contest runs through Aug. 31. For more information, visit the company's Facebook page by clicking here.

River's End Trading Company (asi/82588) has hired Bob Shell as the new vice president of sales for the promotional products division.

Roland DGA recently held a networking event and seminar for members of the Printing Industries Association, Inc. of Southern California (PIASC), where 30 members were educated about how the new wide-format inkjet could increase success in their respective businesses.

The Promotional Specialists (TPS) (asi/301163) has joined the Quality Certification Alliance's (QCA) Distributor Advocacy Council. TPS will work with QCA and other council members to raise standards of product safety and compliance within the industry.

Vitronic Promotional Group (asi/93990) has announced that Bruce Knisley will be the regional sales manager for the newly-established territory of Indiana, Kentucky and West Virginia.



Q&A: Bike USA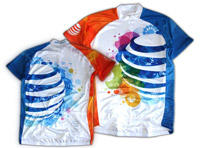 Besides making custom bikes and skateboards, Bike USA (asi/40518) can create all sorts of custom sublimated jerseys, like this top for AT&T.

Based in Bethlehem, PA, Bike USA (asi/40518) creates custom bikes, skateboards, helmets, and one-of-a-kind cycling jerseys for distributors who sell them to leading brands. Marc Weiner, vice president of sales, recently shared insight about Bike USA's sought-after cycling jerseys.

Q: What end-buyer markets are cycling jerseys most popular in?

Marc Weiner: We sell to some of the largest promotional agencies in the country. Agencies we have recently worked with include Sunrise Identity (asi/339206) and Staples Promotional Products (asi/120601). Our customers have resold our jerseys to major brands and companies, including Starbucks, AT&T, Takada, Staples and Citibank.

Q: Are cycling shirts for more than cycling?

MW: In addition to races, many of the end-users have placed these cycling jerseys in their online and on-campus company stores. Cycling has become very popular, and these moisture-wicking materials are perfect for this outdoor activity.

Q: What decoration method do you use to embellish cycling jerseys? 

MW: Our jerseys are fully sublimated. They're made of premium performance fabric for improved comfort, and we have the ability to use as many colors and logos as our client desires. All of our sublimated jerseys are a polyester mix, breathable, and will not shrink or fade.

Q: What tips can you offer distributors to help them successfully sell cycling jerseys to end-buyers?

MW: Customers want a quality jersey with these key components, which we offer and which should be emphasized to end-buyers: hidden zipper; three rear pockets; breathable, comfort fit; full sublimation, with as many colors and logos as needed; and multi-panel design with flatlock stitching.

Q: Beyond cycling jerseys, what other types of specialty apparel do you sell?

MW: We only sell sublimated jerseys, but in various types: large sleeve jerseys; polo shirts; running shirts; motocross; and triathlon.

Q: Are you working on any new exciting apparel or accessories?

MW: We have just designed and are marketing sublimated hockey and soccer shirts.
Come Travel On The Counselor Road Tour

Last week, three Counselor editors made it their mission to find out what makes up a great workplace in the ad specialty industry. Melinda Ligos, Andy Cohen and Joe Haley hit the highways for a summer road trip, visiting various companies that are on Counselor's 2012 Best Places to Work list.

If you missed the fun, don't worry. Catch up on all the action from the Road Tour website by clicking here.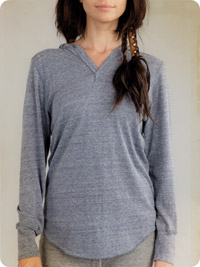 Lightweight Hoodie

An alternative to the traditional hooded sweatshirt, this lightweight, eco-friendly pullover style (01980E1) features a fashionable deep V-neck and rounded bottom hem. Part of Alternative Apparel's (asi/34850) Alternative Earth Collection, the unisex hoodie is made from organic cotton, recycled polyester and naturally-occurring rayon. Featuring 1x1 rib cuffs, set-in sleeves and exposed cover stitching, the trendy sweatshirt is available in extra small through 2X and comes in seven colors: royal blue, navy, oatmeal, black, brown, military green and gray.

Selling Tip: It may be summer, but lightweight hoodies like this are popular for cool evening beach parties and campfires. As such, pitch this item to everyone from adult beverage brands for their summertime promotions to resorts, bars and hotels in destination locations. Of course, the Earth-friendly features are a great selling point for eco-conscious clients any time of the year.

Q: I'm looking for bath and hand towels in college colors. The client needs me to embroider them for graduation gifts. Some of the colors are orange and black, maroon and gold, and red and navy. Can you help?

A: Check out Towel Specialties (asi/91605); (800) 938-6935; www.towelspecialties.com. You may also find the gifts you need from Pro Towels Etc. (asi/79750); (866) 860-1583; www.protowelsetc.com; or Vitronic Promotional Group (asi/93990); (800) 666-7117; www.vitronicpromotional.com.

Selling Tip: Towels with school spirit themes aren't just for graduation. Sell them to fraternities, sororities and university sports teams year-round.

Q: Do you know where I can find lime green 100% polyester long-sleeve T-shirts? I have found this type of shirt, but cannot find a lime color. Any help would be greatly appreciated.

A: You can start with product K227 from Broberry Mfg (asi/42057); (330) 995-0736; www.broberry.com; or check out Atteff International (asi/37455); (888) 828-8333; www.atteff.com; product V-N16700-G. In addition, BAW Athletic Wear (asi/37689); (800) 493-3745; www.bawonline.com; offers the shirt in lime green, product XT96, and Zorrel International (asi/99550); (800) 528-8688; www.zorrel.com; carries its own version: product Z1051.

Selling Tip: Wow your clients by having their 100% polyester apparel embellished with sublimation printing. The decoration method is ideal for creating crisp, vivid and long-lasting prints on polyester performance wear.
July 17-19, Chicago
ASI Show
(800) 546-3300; www.asishow.com

June 21-23, Indianapolis
NBM Show
(303) 469-0424; www.nbmshows.com

July 27-28, Nashville
Embroidery Mart – EAST
(800) 866-7396; www.nnep.net

Aug. 8-9, Long Beach, CA
The SAAC Show
(805) 484-7393; www.saac.net

Aug. 12-14, Las Vegas
ISS Shows
(508) 743-0532; www.issshows.com

Aug. 15-16, Murfreesboro, TN
PPAMS MidSouth PromoShow
(615) 465-8109; www.ppams.com
Aug. 16, San Antonio
CAPPA Expo
(210) 630-34074; www.cappatexas.org

Aug. 16-18, Long Beach, CA
NBM Show
(303) 469-0424; www.nbmshows.com

Aug. 19-22, Edmonton, AB
Alberta Gift Show
(800) 611-6100; www.albertagiftshow.com

Aug. 21, Bloomington, MN
"Selling Solutions Showcase," UMAPP Room Show
(651) 734-9767; www.umapp.org

Aug. 25-28, Ft. Lauderdale, FL
Fort Lauderdale Gift Show
(678) 285-3976; www.ftlauderdalegiftshow.com

Aug. 26-29, Marlboro, MA
New England Apparel Club Show
(781) 326-9223; www.neacshow.com
SPONSORED BY


Wearables Style and Wearables are trademarks of the Advertising Specialty Institute. You were sent this newsletter as a benefit of your ASI membership. Copyright 2012, ASI. All Rights Reserved.

If you'd like us to send Wearables Style FREE to anyone else at your company (or to your off-site sales reps), go to www.asicentral.com/newsletters and complete the online form.
Interested in advertising in Wearables Style? Send an email to ekoehler@asicentral.com
Click here to subscribe to Wearables™ magazine. The publisher has a right to refuse subscriptions to non-qualified subscribers.
Advertising Specialty Institute®, 4800 Street Road, Trevose, PA 19053