SPONSORED BY


PODCAST 
Wearables Staff Writer Matt George talks with Judy Garmaise, author of the forthcoming book, The Power of Follow Up, to learn three keys to help individuals overcome the common excuses and reasons for not following up with current and potential clients. Click here to listen.

What did you think of this podcast? Send your feedback to cmittica@asicentral.com.

 
Trend Alert: Hawaiian Shirts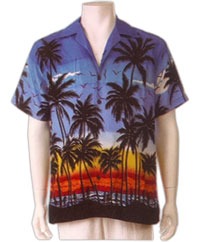 This Hawaiian shirt (MT175) with button front and short sleeves features a palm tree and ocean design. Available from ApparelStar Inc. (asi/36539)
In the 1930s, people had to travel to Hawaii to purchase a Hawaiian shirt. Today, the popular item can now be bought virtually anywhere. Hawaiian shirts continue to ride the periodic wave of popularity, and in recent years the shirts have been in high demand. They're a popular staple of most men's summer wardrobe, and the laid-back flair it brings has become a favorite this season for young men who had previously opted for flashier clothing outside the workplace. Dino Damelio, president of ApparelStar Inc. (asi/36539) says to look no further than the state of the economy as an indicator for its growing attraction.
"In turbulent times such as these, Hawaiian T-shirts bring a positive atmosphere to the workplace when an individual wears one," Damelio says. "Employees can also bring vacation to the office with the different designs and vibrant colors of each shirt."
Hawaiian shirts can be complimented with any design – ocean waves, surfboards, flames, palm trees, skulls and so on. But Damelio says the designs that continue to sell for his business are the shirts with floral or martini designs. "We sell a variety of shirts, 33 to be exact, but for some reason those two types attract customers the most," Damelio says.
And if you're looking to add Hawaiian shirts to your inventory, having a variety will keep customers inquiring for more options. "When we first started with this trend, we only had about four or five shirts. Needless to say, we weren't selling any," says Damelio. "But once we gave customers more designs to choose from, our phones have been ringing off the hook since."
Listen to ASI Internet Radio [asicentral.com/radio]
A team of ASI editors have launched the first-ever ASI Internet Radio show. For a half-hour each Tuesday, we debate the most important topics facing the industry, as well as offer an off-beat look at the market.

If you missed any of our shows, don't worry. Recordings are available at asicentral.com/radio. And, don't forget to join us every Tuesday morning 10:30 a.m. Eastern time when we broadcast our radio show live. We'll be taking calls from the audience, so please call us at (215) 953-4979 to hear your voice on the air.
Q & A: Sierra Pacific Apparel

 

Ronnie Alschuler is the executive vice president of sales for Sierra Pacific Apparel (asi/87224)

Wearables: What products do you offer?
Ronnie Alschuler: The apparel brands we offer are Sierra Pacific, FeatherLite, Rawlings and Hilton Sportswear. Sierra Pacific has a customer's core essentials: denims, polo fleece and twills. Our FeatherLite brand is probably one of the leaders in stain-resistant and liquid-repellant in this industry. It's all performance type products for business. Hilton is one of the leaders in bowling and racing in this marketplace. Rawlings is actually represented by a lot of men in America. It's our first year with the Rawlings brand and it already has had a solid start. We are a leader in this market because of the quality of all our brands.

Wearables: Would you say the quality of your products is what separates your company from others?
RA: Absolutely. I would say the overall quality and the price as well. That being said, we're not a low-cost provider. We don't make a polo shirt without a side seam. We won't offer our customers a regular T-shirt with a collar; we do more than that by going into detail. And I think that's why we have well-recognized brands in our industry.

Wearables: What type of customers do you work with?
RA: Our brands will attract virtually anyone. A client who needs a business-ready garment will find interest in the FeatherLite brand, where a customer who needs athletic apparel will enjoy Rawlings. Different brands will appeal to different customers.

Wearables: What has been the biggest challenge for you so far?
RA: It's definitely the business climate. Many Fortune 500 companies are cutting jobs left and right and one of the easiest things to cut is marketing money. When you have programs with major reference chains that are cutting back, you're seeing less money being spent. And without marketing your business, how can you get your name out there? For us, I think brand recognition and company stability is what keeps us in business.

Wearables: What type of tips would you offer to smaller businesses being affected by these turbulent times?

RA: Be honest, carry proper inventory and have good customer service. We pride ourselves on those three things and that's what has worked for us. Our inventories are heavy and we always deal with customers in the right manner. We have been around for 40 years and we plan on staying in business for a long time. 

New Course Available On ASI Education's Online Learning Center
Be sure to register for this exciting new ASI Education Online Learning course that's available exclusively to ASI members:

New Distributor Success Track: Marketing Your New Business 
One of the crucial steps to building a solid base of clients is to dedicate a portion of your company's resources to marketing your business. In this course, you'll learn how to attract new prospects and customers by adding a variety of tools to your marketing arsenal, including direct mail and e-mail marketing campaigns, and relatively new marketing tactics such as social networking. When you finish this course, you'll be well versed in how to craft a complete marketing campaign, measure its success, and learn how to become a master at networking.

Click here to experience ASI Education's virtual learning community. Be sure to login regularly – we're continually adding new courses from our New Distributor Success System.

Brought to you by ASI Education, Online Learning is the newest and most convenient way for distributors to get educated. On-demand, self-paced courses are the perfect way for distributors and decorators to learn more about the advertising specialty industry and hone their skills as top salespeople and brand consultants. We've launched this online campus that provides educational courses and information for the promotional products professional.

Large Giveaways More Than "One Size Fits All"


It's a classic dilemma: A client wants to buy a large number of shirts, where end-users can come in all shapes and sizes. In this situation, what's the right way to handle sizing?

"The answer to this question really depends on the audience," says Cristine Nigro of Proforma Creative Precision (asi/300094). "If the apparel is ordered internally by a company, there are many techniques you can use to get exact sizes, from samples to size charts. But if the event is a giveaway for a public audience, you won't be able to get sizes as easily."

In that case Nigro recommends asking the right questions. "Ask your client about the age and gender demographics, find out if there will be children or young adults and ask about the event the promotion will be used for." Once you know the audience, it's important to make sure you know the product.

You can start to learn the product by requesting sizing charts. "Make sure to get appropriate size charts for each brand," says Jim Dunne, director of major accounts at Broder Bros. Co. (asi/42090). "Most suppliers will provide you with any type of information you need concerning sizing and specs."

Here are three tips to get the right fit:

Know your client's audience. If an order is for internal employees, then it's vital to get sizing right. If a T-shirt is being given away to a mass audience, then an even split between medium, large and extra-large will probably suffice.
Ask questions. Find out the age and gender of your client's recipients. And make sure to understand exactly what the purpose of the promotion is and how the items will be given away.
Get samples. Brands of apparel differ greatly when it comes to sizing, so you have to get samples of every size that you're considering ordering. One company's large can be the same as another company's extra-large, so you have to be diligent with this step and be sure to send the samples to your client to make sure they're OK with the sizing of the brand you're considering.

| | |
| --- | --- |
| | TOP |

Organic Cotton T-Shirt (420)

Available From: Anvil Knitwear Inc. (asi/36350); (800) 223-0332; www.anvilknitwear.com

Sell To: The basics, when done right, never go out of fashion. This 100% organic cotton T-shirt, available in 10 basic and fashion colors, is perfect for your eco-minded clients.

Style Tip: It features a shoulder-to-shoulder tape, seamless collarette and double-needle stitching on sleeves and bottom hem. Opt for a tighter fit to make it a perfect base garment for layering.

| | |
| --- | --- |
| | TOP |

Question: I need your help.  A summer basketball team is looking for a reversible t-shirt.  I have looked at many sites on the web, but still cannot find the shirt. Is there any such shirt out there? Thanks!
Answer: Try, Force 2000 Athletic Apparel (asi/55056); (877) 503-6723; www.hooraysport.com; product GM-603MM. This reversible T-shirt features small holes for breathability. It's available in 21 colors.

Or, try Arrowear Athletic Apparel (asi/36915); (888) 276-9327; www.arrowear.com; product 2840. This reversible T-shirt is a polyester/cotton blend and it's available in six colors.

Finally, try Virginia T's Inc. (asi/93917); (800) 289-8099; www.virginiats.com; product 137. This reversible shirt is available in 19 colors. Good luck!

Selling Tip: Target local sport leagues, athletic shops or youth teams as potential clients. Inform them a reversible T-shirt can be used as a home and away jersey.

Question: Would you please try to find me a source for purchasing infant and toddler polo shirts?  We have some athletic teams that want these for younger siblings' spirit wear. I look forward to hearing from you.
Answer: Not a problem! Try, Dickies Occupational Wear (asi/49675); (866) 746-7934; www.dickieswear.com; product KS234. This toddler short-sleeved polo features a tagless label, a two-button placket and dyed-to-match buttons. It's available in dark navy, light blue, red and white.

Or, try S&S Activewear (asi/84358); (800) 523-2155; www.ssactivewear.com; product 4600-Toddler. This toddler polo is made of 100% cotton. It features a three-button placket with a welt collar and cuffs. Available in five colors.

Finally, try One Stop Inc. (asi/75085); (800) 968-7550; www.onestopinc.com; product EZ825. This toddler pique polo shirt features double-needle stitching, set-in sleeves, two-button packet and half moon on back. Available in eight colors. Thanks!

Selling Tip: Infant and toddler polos make a great gift for the mom-to-be employees of the company. Personalize the polo with the baby's name to make it more significant.

| | |
| --- | --- |
| | TOP |

Bella (asi/39590) has announced that it is launching a new video marketing campaign for 2010. The three-minute film will be released September 15 on www.bella.com and will show the brand's design process, styling and photo shoots.

 
BroderBros., Co. (asi/42090) announces new Total Team Guarantee Program. The program includes price match guarantee on all products carried by Broder, Alpha (asi/34408) and NES (asi/72808), where Broder will match the lowest advertised price on a style that is currently in stock at any one of its competitors within the region. It also includes an order fulfillment and packing guarantee and an in-stock guarantee for all its divisions.

Cotsworld introduces new earth-friendly stabilizer "Eco-Stick." This two-ounce tearaway is designed for hoopless or clamp embroidery. It supports medium-density stitch counts up to 12,000 stitches.

Dunbrooke (asi/50930) has announced the introduction of 10 best-selling styles from Towel Specialties (asi/91605) in their new 2010 catalog. The catalog will debut in August.

Garment Decorating Supply, LLC, a new company formed by Aaron Montgomery, former V.P. of Sales and Marketing at U.S. Screen Print and Inkjet Technology, provides screen-printing pre-press supplies and supper to screeners.

ONNO recently introduced five new colors in bamboo: charcoal blue, rust, brick, sky blue and heather great. The company has over 200,000 eco-friendly T-shirts in stock.

River's End Trading (asi/82588) and Columbia Sportswear have added 18 new independent territory sales executives to cover all 50 states.

Scott Fresener, developer of the popular industry color separation software FastFilms, has released a new version of the software and has renamed it T-Seps. It's a Photoshop plugin that does high quality automated color separations in less than one minute. Fresner also started a new Web site called T-Biz Network International, LLC at www.T-BizNetwork.com. The site features industry forums, blogs by leading industry experts, online training and certification and much more.


Terry Town (asi/90913) offers new waffle weave slippers (SW7001). The slippers are made of soft 100% cotton fabric with skid-resistant TPR sole. Available in sizes S-XL in white, pink, hot pink, lime, black and chocolate.

The North-American Association of Uniforms Manufacturers & Distributers (NAUMD) announced that the 2009 NAUMD Canadian Uniform Imagewear Conference will be held at the Hilton Toronto Hotel on October 15 & 16. NAUMD also announced the launch of its new Web site www.naumd.com. The goal of the new site is to expand exposure for the organization with all who purchase, sell, design, manufacture or distribute uniform and imagewear programs.

Vantage Apparel (asi/93390), the industry's only turn-key source for decorated adidas apparel, announced that it will match competitors published pricing for adidas products. 

 
 



Getting familiar with these terms will make any ad specialty distributor look like an apparel expert.


Cording: A technique that employs a single cord that is laid down on fabric and attached with transparent zigzag stitches. These are relatively simple, low-stitch-count designs featuring lots of swirls and curves. Different widths of cording are available to provide a wide range of looks. A special attachment is required for the embroidery machine.

Lycra: INVISTA's trademark for a synthetic fabric material with elastic properties of the sort known generically as "spandex."

Organic Cotton: The only difference between organic cotton and standard cotton is that organic cotton is grown without the use of pesticides or chemical additives. It is also grown in soil that has been chemical free for at least three years. Several levels of organic cotton exist, and each presents low impact to the environment.

Stitch Editing: Digitizing feature that allows one or more stitches in a pattern to be deleted or altered.