Gildan Relaunches Anvil Brand
| | |
| --- | --- |
| | |
| The women's mid-scoop French terry sweatshirt (7200L) was one of 15 new styles debuted by Anvil (asi/36350) at a fashion show during ISS Long Beach. It is made from a blend of ring-spun cotton and polyester terry fleece. |   |
|   |   |
When Gildan (asi/56842) purchased Anvil Knitwear (asi/36350) in May 2012, the marriage of the two companies seemed promising but needed an answer for its many areas of product overlap. In Long Beach for the ISS Show, the answer to that dilemma was finally revealed with Anvil's new direction as a fashion basics company. Besides its booth at the Long Beach Convention and Entertainment Center during the show, Anvil hosted a fashion show and party on Friday, January 17 in Long Beach's East Village Arts District. "The excitement and buzz about the [Anvil] brand has made us excited about what we've done," said Gildan President Mike Hoffman at the start of the event.

The first fashion show of the night showcased the 15 new fashionable styles for 2014 that are redefining Anvil's brand positioning. Models demonstrated several intriguing looks: off-the-shoulder lightweight tees; two-tone tank tops; lightweight hoodie tees with neon contrast draw strings; new midweight crew neck and scoop tees; and three long-sleeve French terry styles. "We really tried to differentiate the product lines and give it a reason to be," says Kevin Freeman, Anvil's director of product. "We moved toward combed ring-spun cotton, using French Terry and different fabrications, a lighter weight – all of it differentiates itself from what Gildan does."

Gildan and Anvil have made it clear that they are targeting a younger demographic with the relaunch, and that they see a growing market opportunity in the fashion basics sector. "Younger folks, they want to have a certain look and feel rather than just a basic, boxy T-shirt," said Hoffman in a one-on-one later with Wearables. "This just allows us to reach into other categories. We could have done it with Gildan, but we just believe we will be much more successful much faster using a name and reputation like Anvil's."
Nominate Now For Counselor's Hot List

Are you doing something unique, hip, fun or trendy in the industry right now? Do you know somebody who is?

Counselor magazine is looking for nominations of people for its annual Hot List. We're on the lookout for anyone in the industry who is taking an interesting approach to business, shaking up the status quo or simply networking like a maniac at all hours of the night. We're in search of those people who are making the industry a unique marketplace that's fun and energetic.

Send an e-mail by Friday, January 31, to Karen Akers at kakers@asicentral.com explaining why your nominee should be recognized on Counselor's Hot List. Please make sure to include a picture of the person you're nominating. Thanks!
How To Sell: Winter Gloves and Scarves
| | |
| --- | --- |
| | |
| The unisex Melton black and tan plaid scarf (BMUF-P-1029) with rope fringe is super soft, warm and fashionable. Available from Wolfmark (asi/98085) |   |
|   |   |
In this, the winter of the Polar Vortex, the task of selling winter scarves and gloves may be a no-brainer at present. "Right now you can just ask your clients to step outside," jokes Bruce Everakes, president of Wolfmark (asi/98085).

All kidding aside, the 27-year industry veteran believes in reminding the client that winter scarves and gloves are a necessity. Because of this, you can highlight the features of the piece rather than pitching the idea of the product. A good focal point is the material. "Our mid-priced lamb's wool and bamboo unisex scarves are selling extremely well," says Everakes.

If a client is looking for scarves or gloves, it makes sense to pitch the items in groups with additional add-ons like winter hats. Complementary patterns and ready-made sets just add to the value. "The customer will walk away happier if they leave with more than what they came for," Everakes says. And you will too, of course.

Everyone is a candidate to wear gloves and scarves this time of year. Examining the generalization closer, an effective sales technique is to make your gloves and scarves marketable to everyone for broader promotions. This means offering a diverse selection of patterns, colors, fits, and styles. From there, you can get more targeted. Quieter hues make a set of winter gloves more corporate-friendly than a loud yellow or pink, and prints make for a more memorable tradeshow giveaway. "We have some great plaids in bamboo," says Everakes. "We also offer rush delivery, which becomes important in the colder months."

There a lot of ways to sell, but to sell well with an item of necessity and high levels of competition, the key to success lies within a diverse array of styles, customization options and added benefits the client gets when choosing you. Wolfmark has several customer-friendly perks with their orders from same day shipping. Making your product easily accessible to the customer can make a big difference. "We offer complimentary samples for most of our items," adds Everakes. "Once a distributor gets one of our products in their hands and shows it to their client, it makes the sale that much easier."
Fashion Camo Hoodie

A fashionable light-layering piece, this full-zip Alternative printed hoodie (1970ea) capitalizes on two distinct trends. The soft hoodie caters to the growing demand for camouflage patterns, while also scoring points with eco-conscious clients because it's made partly from recycled polyester and organic cotton. A tri-blend that features rayon too, the hoodie's attributes include a split-front pouch pocket and brushed nickel zipper with natural tape. If camo isn't your client's thing, choose from other eco-infused color combinations, including "railroad/eco stone." Available from S&S Activiewear (asi/84358); www.ssactivewear.com.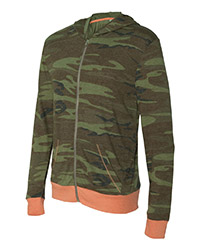 Selling Tip: Rock bands, independent record companies, tech start-ups and the youthful/fashionable crowd in general could find the look they're after with this tri-blend hooded sweatshirt. The combined eco and fashion attributes could also strengthen the hoodie's appeal to earth/animal-friendly nonprofits, which may want the item to outfit workers and volunteers.


American Apparel (asi/35297) announced its preliminary 2013 total sales increased to $633.9 million, a 3% year-over-year gain. Wholesale net sales, which include the company's promotional products revenues, rose 4%. Despite positive total-year numbers, American Apparel suffered through a difficult Q4, as revenues slipped 2%.

Bic Graphic (asi/40480) has announced the expansion of its Norwood Good Value collection to include 168 new products for 2014. In addition, the prices on four items (#45009 Captain's Chair, #45140 Budget Mug, #45624 Grocery Tote and #65073 Anodized Carabiner) have been lowered. Visit www.norwood.com for more details.

Bodek and Rhodes (asi/40788) announced that it recently unveiled a newly-designed trade show booth with 33% more space. The booth features a retail-inspired design with hi-definition videos playing continuously.

Brandwear (asi/41545) released its new digital catalog. Click here to view it.

Brother International Corporation (asi/12600) will be sponsoring a new fashion competition television series, Under The Gunn. Partnering with Emmy Award-winning host Tim Gunn, Brother will supply the show with sewing machines.

Charles River Apparel (asi/44620) announced a nationwide model search for its upcoming 2015 catalog photo shoot. Aspiring models are invited to log onto facebook.com/charlesriverapparel and submit a photo of them wearing any Charles River Apparel product. The grand prize winner will receive airfare, a hotel stay, plus guaranteed placement in the Charles River Apparel 2015 product Catalog.

Idea Custom Solutions has hired Jay Busselle as director of sales. Busselle will support the company's digital media sales initiatives in the promotional products space.

LarLu (asi/66390) has hired Jamie Hudson as a multi-line representative for the Southeast region. Hudson will be covering AL, GA, FL, NC, SC, TN and VA.

Leed's (asi/66887) announced it has introduced over 400 new items in 2014 and has expanded its decoration offerings. The supplier announced a brand partnership with Safety Works and will carry work gloves, vests, safety glasses and more. The company's proprietary four-color process, PhotoGrafixx, has now been expanded to include nearly the entire collection of Leed's bags. Laser decorating also has been expanded to include a wider range of categories such as stationery and blankets, and new maximized imprint sizes were also created.  Additionally, backpack strap decoration is available on a variety of our most popular styles for free when used as the first decorating location.

Perry Ellis International, Inc. (asi/77715) debuted its first-ever Jack Nicklaus Apparel collection at the PGA Merchandise Show in Orlando, Fla.

Rymax Marketing Services announced that Paul Gordon, vice president of sales, has been recognized by Global Gaming Business magazine as one of its 25 People To Watch in 2014. Gordon is the first loyalty marketing executive to earn the distinction from the publication, which covers the casino gaming industry.

Transfer Express (asi/91804) is now offering a decorating apparel calendar intended to provide marketing ideas all 12 months of the year. Additionally, on its website, there are sales flier templates, posters, displays and samples available to help clients bring the marketing ideas to life. To view the calendar, click here.

TSC Apparel (asi/90518) recently held a Super Bowl-related promotion where all customers in the Northeast had a chance to be entered into bi-weekly drawings by placing at least one order for Tultex items from November 1 and December 27. The grand prize included two tickets to the Super Bowl at Met Life Stadium in New Jersey, as well as a pre-game hospitality and party package.

World Emblem (asi/98264) has launched a new company website. Go to www.worldemblem.com to view the new site. The supplier also welcomed Cristian Britos to its executive team as the company's new information technology director.