SPONSORED BY


VIDEO

Fashion Finds Day Two
Wearables Editor C.J. Mittica went on the hunt at ASI Orlando to find the hottest new apparel trends available in the ad specialty industry. In this episode of Fashion Finds, he showcases some of his top apparel picks for 2012.

Click here to watch this edition of Fashion Finds from The ASI Show in Orlando.

Got a question you want answered in a future Ask the Expert video? Send it to cmittica@asicentral.com.



Trend Alert: Puffer Jackets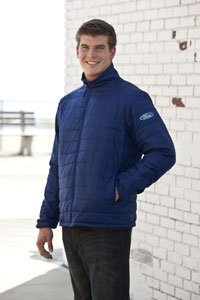 The Apex compressible puffer jacket (7320) from Vantage Apparel (asi/93390) is made of 100% polyester and features a quilted body, water-repellent finish, stand-up collar and an open-hem bottom with elasticized drawcord and cordlock.



Puffer jackets and vests are in again for those bitterly cold winter days. While the garments are best known for their bulky look (stemming from their Gore-Tex origins all the way through their rise to massive popularity with The North Face), they continue to evolve with thinner materials and more robust performance properties. Retail names both low and high, from Eddie Bauer to Burberry, continue to feature puffer jackets as a staple of their outerwear selections.

Industry suppliers too have tapped into the puffer trend. "We recently introduced the Apex, a new highly-thermal jacket compressible enough to pack into its own pocket," says Lauren Cocco, senior merchandiser at Vantage Apparel (asi/93390). "This puffer jacket is available in men's and women's styles (7320/7321), in either bright navy or black onyx."

Although puffer jackets and vests have been making appearances for a while (think of Marty McFly's rust-colored vest from Back to the Future), the fabrications and enhanced technologies are advancing. "For example, the Apex Compressible jacket is wind-resistant, water-repellent, breathable, ultra-soft, lightweight, highly compressible and thermally efficient," Cocco says. "It's been temperature rated from 5° to 50°F, which represents a guideline comfort range when worn as part of a clothing ensemble."

These technologically-advanced jackets and vests aren't just for kids; in fact, they're most popular with men and women between 25 and 40 years old, according to Cocco. She adds that clients should keep an eye on fabrications that are becoming even softer, more lightweight and more breathable. "Fabrics with ease of movement that complement active lifestyles are key," she says. "Look for more blocked silhouettes that use an additional fabric like fleece or contrasting zipper details."


Suppliers Offer 'Soft' Sell at ISS Long Beach



Suppliers are releasing many new tri-blend products in 2012, like this lightweight unisex hoodie (3939) from Bella + Canvas (asi/39590), made of 50% polyester, 50% combed ring-spun cotton and 25% rayon.

Known as the fashion mecca and domestic manufacturing hot bed of the United States, California served host to the leading apparel trends at the ISS Long Beach Show from January 20-22. And judging by the new products unveiled for 2012, there's one area that fashion suppliers are gravitating to: tri-blends. American Apparel (asi/35297), Bella + Canvas (asi/39590) and Next Level Apparel (asi/73867) all unveiled a host of new tri-blend products – branching out into pocket tees, long-sleeve shirts, hoodies and more. Royal Apparel's (asi/83731) new products this year include tri-blend raglans, tank tops, fleeces and a handful of new colors, including a unique treatment called tri-blend pepper. "There's been a lot of demand for it," says Royal President Morey Mayeri about tri-blends. "It's very popular and continues to be popular. With the tri-blend pepper, we're trying to take it to another level."

Tri-blends are valued for their softness, and while that quality has always been trumpeted by apparel suppliers, they were particularly upfront about it at the show. Bella + Canvas launched its No C.O.E. campaign – No Carded Open End Cotton. Through videos, catalogs and information-packed pamphlets, the supplier sought to educate attendees about the softer qualities of its combed and ringspun cotton garments. "We felt like people were asking for product from retail, but couldn't articulate exactly what they wanted," said Crystal Raymond, marketing director at Bella + Canvas, about the impetus for the campaign.

Meanwhile, Keya (asi/64602) is staking its claim in the industry on super-soft ringspun tees. The supplier had over two decades worth of history producing brand-name tees for companies like Hanes before striking out on its own this year. "We're introducing ringspun at a very aggressive price point," said Greg Brown, senior VP of sales and operation with the company. "We felt it was the right time to enter into the market."

What other trends were on display?

Snapback Hats: Otto International (asi/75350) and Flexfit were among the headwear suppliers debuting new caps with a retro-inspired adjustable snapback. Flexfit is using it in its new five-panel hat (six panel is the most common option), which has a raised crown and flat bill that is easier to embroider. "The trend is going to a five-panel cap," said Mark Stern, vice president of sales for Flexfit. "It's more retro. Thirty years ago, this is the style that everybody wanted."

Made in America: Heeding the call for domestically-produced goods, both SanMar (asi/84863) and Anvil Knitwear (asi/36350) debuted T-shirts that are sourced and manufactured in America.

Textured Polyester: The demand for performance wear is still as strong as ever, and suppliers are responding by reinventing the traditional polyester garment with additional textures and finishes. Tonix (asi/91440) debuted a quarter-zip warm-up jacket in a birdseye knit texture, while Zorrel (asi/99550) displayed heathered poly tees and brushed microfiber fleece pullovers.

Wearables Facebook Page Launches – Become a Fan!

In the biggest Facebook-related development since The Social Network … Wearables has just launched its very own fan page. The Wearables Facebook page will be your go-to social media stop for apparel news, posts and other musings. And don't forget to "Like" us. Not only will you join up with apparel experts and enthusiasts, but you'll be entered into a random drawing where three lucky fans will receive freebies from supplier Golden Goods (asi/57695). Interested? Click here to pay us a visit.

Q&A: FlopTopz




Fun patterns and custom branding are available with the FlopTopz, a new microsuede fabric insole for open-toe footwear.

FlopTopz (www.floptopz.com) are cushiony, microsuede fabric insoles designed specifically for open-toe-style footwear like flip-flops. Donna Hill, founder and president of FlopTopz, recently answered a few questions about this new product.

Q: How did you get the idea for FlopTopz? 

Donna Hill: I was on my way to a friend's party and wanted to wear my favorite flip-flops, but the insoles were not in the best condition. (Shall we say they were pretty tattered?) So, I took some fabric, traced and cut out my foot shapes, put the fabric through my scrapbooking sticker maker and then stuck the fabric 'feet' into my shoes.  They looked much better! After I revised the shape and selected the perfect foam, this idea turned into FlopTopz. The cushioning adds comfort and makes sandals fit better; the shape with the toe cut-out allows them to easily fit into any open-toe shoes with and without the thong. Plus, the fun colors really make your shoes look clean and nice, and  the anti-microbial coating helps keep your feet healthier as well.

Q: What are the most popular FlopTopz styles? And can they be branded? 

DH: Our current most popular styles are black swirlz, pink perfection and solid natural.  They can be branded with a logo as a secondary printing option. We can also run custom logo fabrics.

Q: What markets do FlopTopz sell best in?  

A: We were surprised that our initial target market was a complete miss. Shoe stores prefer to sell shoes, not an insole to renew or add comfort. But, we've found tons of other great opportunities. There are two major target groups; one is comfort seekers and one is fashion. We've been successful in: Gift and accessory stores, spas and salons, boutiques, small pharmacies, and sports teams/custom markets. We've had our largest success with catalogs.

Q: When it comes to selling FlopTopz, what tips can you give distributors of promotional apparel and accessories?

DH: FlopTopz are so new and unique they need a clear explanation stating what they are. This should include a few quick bullet points about why people would want or need them.  (At first glance people think they are just another pair of insoles – not truly a full-length insole made for any open-toe type shoe.) For any customer looking for something new, unique and useful, FlopTopz are a perfect solution! 

Q: Will you be introducing any new FlopTopz this year? 

DH: We're launching our 'eco-friendly' FlopTopz. We added in a few new features including our new Nupron Foam. These FlopTopz are odor-absorbing, moisture-wicking (to keep feet cool and dry) and are made from recycled foam. We've added a third solid color (solid gray) and five new pattern prints.  In the near future we're expanding to more sizes too!

Veteran Industry Members Wanted

Do you measure your industry experience in decades, not years? Do you remember the humble beginnings of the imprinted sportswear industry? Wearables is seeking long-standing industry members to talk about the early days of the wearables industry. To express your interest in participating, please contact Editor C.J. Mittica at cmittica@asicentral.com.

Alternative Apparel (asi/34850) has announced that Mark Robinson has been named director of sales.

Ash City USA (asi/37127) has announced that Laura Turner has been appointed to the new position of vice president, marketing.

Broberry Manufacturing (asi/42057) announced that starting in February, it will be selling a number of made-in-the USA items from Carhartt.

Cutter & Buck (asi/47965) has extended its agreement with The PGA of America, and will continue to be the lead apparel partner for PGA's spectator events, including the PGA Championship, Ryder Cup and the Senior PGA Championship. The agreement with continue through 2017.

Dalco Athletic now offers Dal-Plus, a new lettering/numbering material that provides a look and feel similar to screen printing. Dal-Plus features a matte finish, soft hand and an adhesive back. It comes in 14 traditional athletic colors, five metal flake colors, and neon pink and green.

Flexfit/Yupoong has announced a partnership with the Long Island Ducks and Bridgeport Bluefish baseball teams. The company is now the official on-field headwear provider for both teams, and will be the first choice for all retail sales at the Waddle In Shop and Bluefish Gear Shop during the 2012 season.

Gildan has announced the names of the charities that will receive donations based on their overall accountability, sustainability and impact in contributing to their communities. The recipients are Our Little Roses Foreign Mission Society, Genuine Stewardship Award ($50,000); Alberta Animal Rescue Crew Society, Impact Award ($20,000); Amizade Global Service-Learning, Sustainability Award ($10,000); Camp DreamCatcher, Accountability Award ($10,000); and YESIWUAH, Inc., People's Choice Award ($10,000).

Great Dane Graphics has added new stock images to its special event category, including a 50th birthday cake, a baby in a basket with a rattle and blanket, and a champagne bucket with a bottle of bubbling champagne and two filled glasses.

Hirsch International is now the distributor of Pulse, a new application that allows customers to create T-shirt designs on an iPad or PC/Mac for printing on Kornit DTG digital printers.

Imprintables Warehouse (asi/58475) now offers Spectra Eco-Film, a PVC-free digital cutter material made of ecological polyurethane. It can be used on 100% cotton, 100% polyester, poly/cotton blends, nylon and leather. Eco-Film is available in 60 colors.

One Stop (asi/75085) will launch a new Web service that allows customers to design their own website and start an online business at no cost. For more information, visit www.onestopinc.com and click "Custom Websites" under the Marketing Tools tab, or call 800-968-7550. The company has also released its 2012 catalog collection, which features 1,006 products from 100 brands.

Royal Apparel (asi/83731) has released its 2012 catalog, which features new styles including a range of new made-in-the-USA shirts.

Stahls' ID Direct (asi/88984) has introduced a full line of HotFix Rhinestones and HotFix Rhinestuds for creating designs and embellishments on existing garments.

Streetwear, Inc. named William D. Cappiello as its new president and chief merchandising officer. Cappiello has also served as executive vice president of JCPenney Inc. and president of The Sports Authority. Streetwear Inc., is a supplier of men's and women's streetwear and sports apparel for licensed brands Reebok, Adidas, NHL and more.

Transfer Express (asi/91804) has just released its new 2012 Marketing Kit, a full-color, personalized catalog featuring 152 pages of ideas, layouts and marketing aids.

Trimark Sportswear Group (asi/92122) has announced that Michael Snyder has been named director of U.S. business development. Snyder has been in the U.S. corporate apparel market for the past 15 years, including working as the director of sales for Tri-Mountain and the vice president of sales for Hartwell Apparel.

Vantage Apparel (asi/93390) announced it has digitized its 400,000th embroidery logo. The milestone was reached with a submission from distributor PromoShop (asi/300446) for its client CBS.

Vapor Apparel (asi/93396) launched the customizable Vapor Gaiter at the ISS Long Beach show in Southern California.
Sublimated Blanket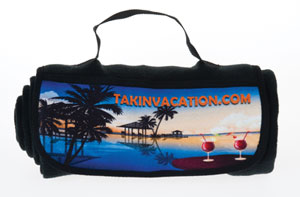 Picture-perfect days by the lake include grabbing the right blanket to lay down on the ground. Now, those picture-perfect days can be printed on the blanket too, thanks to the sublimation capabilities of the Image Blanket (Image-100) from Suntex (asi/90160). It folds up easily with Velcro and includes a nylon carrying strap. It's made of soft 100% polyester fleece and features a full-color sublimation printing area on the flap, anti-pilling finish on one side, rounded corners and a black whip-stitch hem. Tap into the growing popularity of sublimation and impress your customers.

Selling Tip: Outdoorsy vacation spots are a perfect setting to utilize these blankets, whether it's in the gift shop or as part of a welcome package for repeat customers.
Q: I am looking for yoga pants that fold over at the top. Can you help?

A: Head to American Apparel (asi/35297); (213) 488-0226; www.americanapparel.net/wholesaleresources; for product 8300, cotton/spandex jersey yoga pants with flared legs. Or, reach out to TSC Apparel (asi/90518); (800) 289-5400; www.tscapparel.com; for product A16, also cotton/spandex yoga pants. Also consider One Stop Inc. (asi/75085); (800) 968-7550; www.onestopinc.com. Product SF065 is a 95% cotton yoga pant with a foldover waist.

Selling Tip: Yoga pants are a hot sell to sororities, gyms, dance studios and natural health businesses.

Q: Got a customer that wants a fleece and nylon blanket with pockets. I found a Colorado Timberline blanket, but would like to know if there are any other sources out there.

A: You can buy these blankets from Avaline (asi/37590); 800-446-1154; www.avaline.com; product FLPB200. Also, consider product TRVLBLKT from Crown Products (asi/47700); 800-367-2769; www.crownprod.com. Finally, check out Wolfmark (asi/98085); 800-621-3435; www.wolfmarkties.com; product EXPB-001.

Selling Tip: These blankets would be a great addition to a holiday gift package. Also, they're a natural sell to cold-weather vacation destinations like ski resorts.
Feb. 1-3, 2012, Dallas, TX
ASI Show
(800) 546-3300; www.asishow.com

Feb. 3-4, 2012, New York City
Manhattan Vintage Clothing & Antique Textile Show and Sale
(518) 434-4312; www.manhattanvintage.com

Feb. 6-10, 2012, Seattle, Portland, Sacramento, Concord, San Jose
Advantages Roadshow
(800) 546-3300; www.advantagesroadshow.com

Feb. 7, 2012, Germantown, TN
PPAMS Memphis Roadshow & Promotional Products Showcase
(615) 465-8109; www.ppams.com

Feb. 8, 2012, Nashville
PPAMS Nashville Promotional Products Showcase
(615) 465-8109; www.ppams.com

Feb. 9, 2012, Knoxville, TN
PPAMS Knoxville Road Show & Promotional Products
(615) 465-8109; www.ppams.com
Feb. 13-17, 2012, Van Nuys, Newport Beach, Ontario, San Diego, Phoenix
Advantages Roadshow
(800) 546-3300; www.advantagesroadshow.com

Feb. 17-18, 2012, Orlando
ISS Show
(508) 743-0532; www.issshows.com

Feb. 18-21, 2012, San Francisco
San Francisco International Gift Fair
(678) 285-3976; www.sfigf.com

Feb. 19-22, 2012, Edmonton, AB
Alberta Gift Show
(800) 611-6100; www.albertagiftshow.org

Feb. 20-26, 2012, Washington, DC
DC Fashion Week
(703) 662-3239; www.dcfashionweek.org

Feb. 27-March 2, 2012, Detroit, Cleveland, Pittsburgh, Cincinnati, Indianapolis
Advantages Roadshow
(800) 546-3300; www.advantagesroadshow.com