SPONSORED BY


VIDEO

Ramp Up Marketing in 2012
In the latest installment of "How-To Minute," Dave Vagnoni, senior writer for Counselor, dishes hot tips on improving marketing in 2012. Click here to watch.

Got a question you want answered in a future Ask the Expert video? Send it to cmittica@asicentral.com.



Trend Alert: Layering
ADVERTISEMENT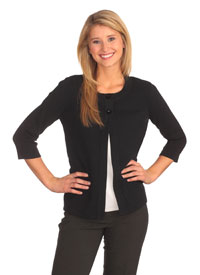 This swing style cardigan sweater (G502C) from Gabrielle Rohde-Royce at Sportco (asi/88792), featuring ¾ sleeves, two front fashion buttons and full-needle knitting, is a perfect layering garment.



Layering garments of different fabrics, textures, colors and weights can be a fun and interesting way to spruce up an outfit. In fact, layering is a popular trend right now across the board, from high school hallways to top designer houses. Dolce & Gabbana, Rag & Bone and Givenchy all recently featured layered looks, comprised of chunky jackets, sweaters, scarves, boots and leggings of various textures, on the catwalks. Fashion-forward women favor boots over leggings or knee socks, fitted tees paired with medium- or lightweight jackets, printed cardigans and colorful scarves. Men prefer chunky sweaters, jackets of various weights and materials and vintage tees under button-down shirts.

Layering is also great for the workplace. Gabrielle Rohde, merchandise manager at Sportco (asi/88792), emphasizes the use of women's cardigans for that same look. "Our full-fashioned knit cardigans fit better than others because they follow the lines of the body," she says. "All our sweaters are a machine washable 80/20 cotton/poly blend that doesn't pill."

Rohde believes that cardigans' versatility means they will always be a staple in women's daily wardrobe. "Layering is a necessity for women not only to keep them warm but also to allow them to cool off," she adds. Whether they're lightweight sweaters, jackets or scarves, "every women needs layering pieces," says Rohde.

As for the trend's longevity, Rohde is only optimistic. "Layering pieces are not only basic components of a woman's wardrobe; the variety of lengths, sleeve lengths and, most importantly, fashion details have also made them fun, not just needed," she says. "I think women are buying a layering piece to both compliment and coordinate with their outfit. It's a fashion statement that is also very utilitarian."
| | |
| --- | --- |
| Jerico (asi/63304) | Jerico presents bamboo, the next generation in textile fabrics. Bamboo is being embraced by fashion houses across the country for its exceptional softness. In addition to a hand comparable to silk, bamboo is eco-friendly, moisture wicking and anti-bacterial. Available in T-shirts for him and her. |

Q&A: ET Manufacturing & Sales/Ferber Plastics, The Co-opline



Because these sleeve-style credit card holders are enhanced with Privacy Protection Foil, they prevent thieves from using RFID scanners to steal your credit card information. Available from ET Manufacturing & Sales/Ferber Plastics, The Co-opline, (asi/53950).



Based in Passaic, NJ, ET Manufacturing & Sales/Ferber Plastics, The Co-opline, (asi/53950) recently signed an agreement with Bensons International Systems to manufacture and market items enhanced with "Privacy Protection Foil" to the advertising specialty industry in America. John Vuolo, director of operations at ET/Ferber, spoke recently about the exciting new deal.

Q: How did the deal with Bensons International Systems come about?

John Vuolo: We received a few phone calls from distributors looking for radio frequency identification blockers. We researched and found the manufacturer of RFID blocker foil. We then contacted them to try to buy and market items to the ad specialty industry here in the U.S. Bensons International was selling these items in Europe for the past several years. After Bensons International came to our factory, they gave us permission to manufacture items using Privacy Protection Foil.

Q: How does Privacy Protection Foil work? And how can end-users utilize the chips?

JV: These days, anyone can purchase RFID scanners over the Internet and use them to read RFID chips. That means anyone with a scanner can read your cards and steal your information without you knowing about it. But Privacy Protection Foil blocks the radio frequency waves that can read chips embedded in credit cards, debit cards, passports, building security ID cards, drivers licenses or any other item containing an RF Chip. We offer items like passport wallets and sleeve-style holders for credits cards that are enhanced with Privacy Protection Foil to protect sensitive information.

Q: What strategies or tips can you offer distributors for selling Privacy Protection Foil to end-users?

JV: The best strategy for distributors to use is to point out that recently there have been many TV and news shows that are warning people how their information is stolen without knowing about it. A person with a scanner just needs to get a couple of feet from you to steal the information read by the scanner. So to protect their private information, your clients should be using Privacy Protection Foil.

Wearables Facebook Page Launches – Become a Fan!

In the biggest Facebook-related development since The Social Network … Wearables has just launched its very own fan page. The Wearables Facebook page will be your go-to social media stop for apparel news, posts and other musings. And don't forget to "Like" us. Not only will you join up with apparel experts and enthusiasts, but you'll be entered into a random drawing where three lucky fans will receive freebies from supplier Golden Goods (asi/57695). Interested? Click here to pay us a visit.

Sales Challenge: Maximizing The Meeting


It can be a little discouraging: You arrive pumped for a meeting with a promising prospect, but quickly learn the person you're meeting with is not the decision maker. What do you do to make the visit productive and advance your goal of landing a sale?

Start by observing the golden rule. "You have to treat that person with utmost respect," says Danny Friedman, vice president of Northbrook, IL-based Added Incentives (asi/106725). "That person probably is directly involved with the decision maker and the decision-making process. They have influence. And even if they're not the decision maker now, they may be next year."

Without coming off like you're trying go over the person's head, find out who holds the buying power. "I ask them who besides them is involved in the decision-making process," says Friedman. "That way you're keeping them in the loop and not being condescending. If they tell me directly they're not the decision maker, I ask them directly who the decision maker is." Friedman then inquires if the person with the final say could join the meeting. If that's not possible, he proceeds with his presentation anyway. "You may never get to physically meet with the decision maker, so if you don't do a full presentation, you can miss out," he says.

Nina Shatz of Canton, MA-based Red Ball Promotions (asi/346567) says these meetings are a great place to lay the foundation of a strong business relationship. She recommends talking with the person you're meeting with about the company's previous promotions, finding out what worked and what didn't, what the prospect liked and didn't like. Also, discuss marketing initiatives the prospect may have coming up. Not only does this help you tailor a promotional solution to meet the prospect's tastes and needs, it shows the client you're interested in helping them build their business, rather than just moving product. That makes you a much more attractive partner, increasing the chance you'll earn the sale. Says Shatz: "Every opportunity presents a chance of starting a relationship; every relationship presents the opportunity for a sale."

Before leaving the meeting, tell the prospect that you'd like to follow up with him and the decision maker. You can offer to provide samples, too. Soon after, send handwritten notes to the person you met with and the decision maker, indicating how you have great ideas for helping their company meet its goals.

Six-Figure Success

Want to learn how to land the big sale? Then be sure to attend "How I Closed a Six-Figure Deal" at The ASI Show Orlando (Tuesday, January 17, 12:15 p.m). Wearables editor C.J. Mittica leads a panel of successful owners and sales reps who will share some excellent case studies and the sales strategies that continue to land them major deals. Go to www.asishow.com to find out more.




Stadium Scarves



Team spirit and competition will always run high, as evidenced by die-hard fans who continue to attend events decked out with their team's colors and logo. While some go all out with face and body paint, others don't have to be messy to show their support. These vintage, prep school-inspired stadium scarves from Tender Concepts (asi/90864) are perfect for winter sports spectators as well as for everyday wear. Each is available in soft fabrics and features a choice of a number of NCAA football helmet logos, branding on both sides, and traditional white tassels. Fans can show off team spirit with these comfortable, fashionable pieces at their next game or match.

Selling Tip: Team scarves are very popular in soccer, but not so much in other sports. Use that to introduce them as a unique keepsake for other outdoor collegiate sports, such as football, field hockey and lacrosse.




Q: I am looking for sleeveless black youth T-shirts. Any ideas?

A: Look to Teamwork Athletic Apparel (asi/90673); 800-333-6063; www.teamworkathletic.com. Products 1718P-4 and 1784-4 would be a good start. In addition, check out Colorado Timberline (asi/91263); 800-733-1033; www.coloradotimberline.com; for products KSG and KSS. Also, try product YBB-318DK from Force 2000 Athletic Apparel (asi/55056); 877-503-6723; www.hooraysport.com.

Selling Tips: Sleeveless youth T-shirts are a good item to pitch to summer camps, youth athletic organizations and businesses in the warm-weather tourism market.

Q: We're looking for 850 pairs of sunglasses – white with black text and possibly small one-color logos. Can you help?

A: See products WP16X and WP16WX from WOWLine (asi/98360); (800) 655-6650; www.wowline.com. Also, consider Bullet (asi/42424); (800) 749-7367; www.bulletline.com; product SM-7820. Finally, check out Hit Promotional Products (asi/61125); (800) 282-4480; www.hitpromo.net; for products 4000 and 6223.

Selling Tip: Sunglasses aren't just for the summer. They're popular in the fall and winter, too, because all the sports (from football and soccer to skiing) happening during those times of the year. Upsell your clients by adding sunglasses to apparel promotions in the cooler months, as well as the summer.




AA Patch Works Inc. (asi/30001) has joined ASI as a supplier decorator.

American Apparel (asi/35297) announced last week that it increased its sales by 15% in the month of December 2011, compared to December 2010.

Atlantic Coast Cotton (asi/37355) will host an open house on March 30, 2012, at the company's warehouse at 14251 John Marshall Highway, Gainesville, VA 20155. Exhibitors will include major industry vendors for apparel and accessories, as well as select embroidery and digital printer equipment suppliers. Register by calling 800-262-5660.

Beacon Promotions (asi/39250) announced that it has moved Canyon Outback Leather Goods' customer service, credit, order processing and sales operations to the Beacon offices. Inquiries for both Beacon and Canyon can be made to 800-628-9979 or orders@beaconpromotions.com.

Bodek and Rhodes (asi/40788) has announced that it will expand its offerings to include the entire Next Level Apparel (asi/73867) line of 36 styles and various colors.

Brother will be introducing their new GraffiTee series of DTG printers at the Imprinted Sportswear Show in Long Beach, CA, from January 20 to 22.

Bullet (asi/42424) has released their 2012 catalog that features 200 new products in the brand's 13 categories.

EMT (asi/52263) has added the Heart Shaped Swivel Bag Hanger to its purse accessories line. It features polished nickel plating and a chain-suspended full-color emblem.

Fashion Biz (Canada) Ltd. has named George Cooper to the position of national sales manager.

Fields Manufacturing (asi/54100) has announced the following promotions at its TargetLine (asi/90640) division: Chris Flynn, national sales manager; Niki Brooks, inside sales coordinator; Catrina White, customer service manager; Lee Mills, director of purchasing; Jeff Minick, production manager.

GSG announced it is offering high-quality Amagic screen printing foils in a variety of colors. The foil can be adhered using a screen printing foil adhesive or by pressing it down firmly on plastisol ink as it comes out of the dryer.


Hanes (asi/59528) announced that The Graphic Cow (asi/213007) employee Andy Coyne wore 249 Hanes T-shirts at one time, thereby reclaiming the Guinness World Record for Most T-Shirts Worn by an Individual, at last week's PPAI show.

Heritage Sportswear (asi/60582) and Gildan Activewear announced the winner of the 2012 Chevy Cruze giveaway at last week's PPAI show in Las Vegas. Kerry Gardner from Northwest Graphics in Utah correctly guessed the number of tees stuffed into the car parked in the show lobby and won a three-year paid lease on a 2012 Cruze.

Hirsch International has announced that three-time world champion sumo wrestler Byambajav Ulambayar will be part of the company's launch of the new Tajima Sumo large-format embroidery machine at the Imprinted Sportswear Show in Long Beach, from January 20 to 22. Ulambayar will sign autographs and take pictures with attendees.

Inkcups Now Corp. has recently made available the SuperWHITE ink for screen printing or pad printing on dark textiles. A special pigment increases print opacity and allows mixed ink to maintain proper viscosity during the production shift.

Leed's (asi/66887) will be introducing 850 new options in their 2012 product line, with focused growth in drinkware, bags and pens.

Madeira USA has launched a new referral program, called "Stitch Your Friends into the Loop," in which the new customer receives a Welcome Kit with savings off their first order and the existing customer receives $10 off their next order.

PikiCentral Pty Ltd. and Wilcom Pty Ltd. have announced a joint venture in forming a new entity, DecoNetwork Pty Ltd, to develop and manage the DecoNetwork Platform.

Pro Towels Etc. (asi/79750) announced that it has named Keith Lofton as its southeast territory manager covering the states of AL, FL, GA, KY, MS, NC, SC and TN.

Proforma (asi/300094) has announced that employees at their Cleveland-based Support Center raised over $2,000 in cash and gifts for local needy families through the Adopt-a-Family program.

SANITIZED AG will be releasing an improved version of Sanitized TH 22-27 to the North American market. This hygienic textile finish was developed for use on synthetic and wool fabrics that may require high-wash durability and come in direct contact with skin.

SanMar (asi/84863) has debuted its 2012 full-line catalog. The catalog features over 70 new styles, including the Port & Company All-American tee, which is 100% sourced and manufactured in the USA.

Signature Printing Co. (asi/87251) has joined ASI as a supplier decorator member.

SnugZ USA (asi/88060) announced that it has released a Youtube video to unveil its new products in 2012. Click here to view the video.

Vitronic Promotional Group (asi/93990) has announced that Rory Campbell, regional sales manager, received a Most Valuable Partner Award from Proforma Albrecht & Company (asi/116308).
Jan. 14-17, 2012, Seattle
Seattle Gift Show
(678) 285-3976; www.seattlegiftshow.com

Jan. 15-18, 2012, Marlboro, MA
New England Apparel Club Show
(781) 326-9223; www.neacshow.com

Jan. 16-18, 2012, Orlando
ASI Show
(800) 546-3300; www.asishow.com

Jan. 18-21, 2012 San Francisco
San Francisco International Gift Fair
(678) 285-3976; www.sfigf.com

Jan. 20-22, 2012, Long Beach
ISS Show
(508) 743-0532; www.issshows.com

Jan. 21-23, 2012, Orlando
Orlando Gift Show
(678) 285-3976; www.orlandogiftshow.com

Jan. 23-27, 2012, Boston, Long Island, Seacaucus, NJ, Philadelphia, Baltimore
Advantages Roadshow
(800) 546-3300; www.advantagesroadshow.com

Jan. 28-Feb. 2, 2012, New York City
New York International Gift Fair
(800) 272-7469; www.nyigf.com

Jan. 29-Feb. 2, 2012, Toronto, ON
Toronto Gift Show
(800) 611-6100; www.torontogiftshow.org

Feb. 3-4, 2012, New York City
Manhattan Vintage Clothing & Antique Textile Show and Sale
(518) 434-4312; www.manhattanvintage.com/home/index.php

Feb. 1-3, 2012, Dallas, TX
ASI Show
(800) 546-3300; www.asishow.com


Feb. 6-10, 2012, Seattle, Portland, Sacramento, Concord, San Jose
Advantages Roadshow
(800) 546-3300; www.advantagesroadshow.com/index.html

Feb. 7, 2012, Germantown, TN
PPAMS Memphis Roadshow & Promotional Products Showcase
(615) 465-8109; www.ppams.com

Feb. 8, 2012, Nashville
PPAMS Nashville Promotional Products Showcase
(615) 465-8109; www.ppams.com

Feb. 9, 2012, Knoxville, TN
PPAMS Knoxville Road Show & Promotional Products
(615) 465-8109; www.ppams.com

Feb. 13-17, 2012, Van Nuys, Newport Beach, Ontario, San Diego, Phoenix
Advantages Roadshow
(800) 546-3300; www.advantagesroadshow.com/index.html

Feb. 17-18, 2012, Orlando
ISS Show
(508) 743-0532; www.issshows.com

Feb. 18-21, 2012, San Francisco
San Francisco International Gift Fair
(678) 285-3976; www.sfigf.com

Feb. 19-22, 2012, Edmonton, AB
Alberta Gift Show
(800) 611-6100; www.albertagiftshow.org

Feb. 20-26, 2012, Washington, DC
DC Fashion Week
(703) 662-3239; www.dcfashionweek.org

Feb. 27-March 2, 2012, Detroit, Cleveland, Pittsburgh, Cincinnati, Indianapolis
Advantages Roadshow
(800) 546-3300; www.advantagesroadshow.com/index.html