SPONSORED BY


PODCAST 
Wearables Staff Writer Matt George talks with Rachel Holman of CherryPlanet.com to address how to attract attention, get new customers and maintain their loyalty with a limited advertising and marketing budget. Click here to listen.

What did you think of this podcast? Send your feedback to cmittica@asicentral.com.

 
How To Sell It: Cutting-Edge Fashion
The latest fashions are always a debatable sell in the ad specialty market. After all, promotional buyers tend to hope that their targeted audience actually hangs on to items for longer than just the next fashion cycle. What's in tomorrow and out the next day usually doesn't work well for end-users. However, the more "in" a product is, the more likely it is that promotional recipients will want to wear an item in the first place and give it valuable shelf space in their closets at home. They want promotions that have the cut, color, fit, feel and style of pieces that are on the cutting edge of fashion.
Luckily for branded apparel clients, their end-users are more interested in what's cutting-edge at retail than what's cutting-edge on the catwalk. Retail styles, while runway inspired, are often infused with a sense of classic style that give them a broad appeal and make them more accessible to the average customer. Distributors who take the initiative to become well versed in these cutting-edge retail styles and to educate their clients about the benefits of providing updated, fashion-forward looks for their promotions will be ahead of the curve on customer satisfaction.
There are some challenges to getting clients on the fashion bus. "I believe that one of the biggest challenges to selling cutting-edge styles is getting customers to understand that these types of products are even available," says Erin Talbot, national account executive for Bella-Alo (asi/39590). "In this economy, fashion tees are actually up 20%, and I think a lot of this has to do with the fact that people want something more than a basic. … They are willing to spend a little bit more for something stylish and fashion-forward." 
Michelle Swayze, marketing director for In Your Face Apparel (asi/62494), says that on the distributor side, "A major challenge is not being knowledgeable enough to sell the features or techniques of these garments." Margaret Crow, director of marketing for S & S Activewear (asi/84258), agrees that distributor education is key to succeeding with fashionable items. "The challenge is being educated about all that is available and how to get it," Crow says. "Distributors have to know what is cutting-edge so they can suggest it to their clients."
Introducing ASI Show Live
The ASI Show Live is making its debut at The ASI Orlando Show – if you're not going to be at the show this year, you can watch select the 2010 Fashion Show LIVE at www.asicentral.com/asishowlive. The Fashion Show takes place today from 5-6 p.m. EST.
Trend Alert: Hiking Boots


This boot (5059) was made for walking. Features a padded collar, rubber bottom, removable cushion insole and a 200GM 3M Thinsulate Insulation to keep your feet warm no matter what Mother Nature throws at you. Available from Rothco (asi/83708).

In 2009 the hiking boot experienced a revival, as companies like Timberland offered redesigned classics that had the polished look of yesteryear's boots with the functionality of today's technologies. And indeed, manufacturers have come a long way in producing boots that are suitable for hiking in unpredictable terrain. The stiff leather boot of the past is now more lighter and conductive to comfort while giving the hiker the same level of protection from the trails and the elements.

"Today, end-users are looking for more bang for their buck. That means they want boots that will last through any type of weather," says Chuck More, sales manager at Rothco (asi/83708). "If you are buying a new pair of hiking boots each year, maybe you should consider looking elsewhere."

The most popular hiking boot Rothco offers is The Venturer. And More says it has been a hot seller for the four years it's been represented in the company's inventory because it has all the features an outdoor enthusiast looks for in a hiking boot.


"This is a seasonal shoe so it's popular in the months of September through March," Moore says. "Not only is it 100% waterproof and completely breathable, but it features a 200GM 3M Thinsulate Insulation for warmth down to five degrees. So if you're looking to add hiking boots to your footwear catalog, I suggest looking into one that offers plenty of functions to consumers."

Listen to ASI Internet Radio
A team of ASI editors has launched the first-ever ASI Internet Radio show. For a half-hour each Tuesday, we debate the most important topics facing the industry, as well as offer an off-beat look at the market.

If you missed any of our shows, don't worry. Recordings are available at asicentral.com/radio. And, don't forget to join us every Tuesday morning 10:30 a.m. Eastern time when we broadcast our radio show live. We'll be taking calls from the audience, so please call us at (215) 953-4979 to hear your voice on the air.

Q&A: Marketing Your Business


Wearables talks to Jeremy Judah, director of marketing for Stitch Designers, about some smart marketing tactics that distributors can try in 2010.

Wearables: What's a good way to market your business?
Jeremy Judah: I think it really depends on your budget. We do e-mail blasts, represent ourselves in business magazines and even call business owners directly. With e-mail blasts, you want to make sure it's going to the right people. If you've been e-mailing the same person and they have yet to inquire about the subject, call them directly. Some people like to be contacted through e-mail, where others prefer the phone. It's all about understanding what your client base is more comfortable with.

Wearables: How about social networking? Is it good to get involved with Facebook and Twitter?
JJ: Of course. You must stay up-to-date with technology. Facebook and Twitter certainly appeal to the younger generation, and if your clients are younger, it's a great marketing choice. But you want to stay away from friends and family that are not involved with your business. If you're creating a Facebook account, you want to base it around your business. This way, everything you post is business-related. It'll be relevant to your Facebook fans because they will want to know what's new with your business.

Wearables: What's one common mistake business owners make when it comes to marketing?
JJ: Simple! They don't know how much they can handle. For example, if you're sending an e-mail blast to 75,000 people and only 200 people respond, that's fine. But can you handle those 200 responses? Let's say you send out an e-mail blast on a discounted item. Well 200 people are going to want to receive this decorated T-shirt that you just put on sale, and you'll have a lot of work to do. You need to know how much work you can handle and how much you can't. If you are a small business, you may want to limit your blasts to customers who are constantly ordering from you. 

Wearables: Should every decorating business have a Web site?
JJ: Personally, I think you need to have one. If you do, make sure it's functional and user-friendly. Your customers won't want to spend time at a site that they don't know how to operate. Also, constantly update it with useful information. Consider having a blog that lets your customers know what's new with your business daily. Even if there's nothing new on the business end, let your customers know what your day consists of.

Atlantic Coast Cotton (asi/37355) has announced that it will host an open house on April 9, 2010. The event will take place at the company's warehouse in Gainesville, VA. Go to www.accinfo.com for more information.

Broder Bros. Co. (asi/42090) announced that it is welcoming customers to its 2010 Northeast Imprintable Sportswear Expo, to be held January 28 and 29, 2010 at the MGM Grand Hotel at Foxwoods in Mashantucket, CT. For more information, go to www.broderbros.com/expo.

Busco/Prestige (asi/42830) has announced that in a mutual agreement it will no longer represent Dress Code Sweaters (asi/48342) in the industry. Dress Code now has its own ASI number.

Calibre International LLC (asi/43442) has named Michael Leigh its new president.

Executive Apparel (asi/53418) announced that it will be giving away a free msi Wind laptop at The ASI Show Orlando.

Great Dane Graphics has added a variety of wildlife designs to its collection of stock clip art for screen printing, digital direct-to-garment printing, transfers and graphics printing.

Printa Systems offers the 770 series, a commercial press available as a four-color/single station, a four-color/four station and a six-color/four station.

Vantage Apparel (asi/93390) announced that it has established a new division called Vantage Premium Brands to market its luxury brand offerings, including Polo Ralph Lauren and Greg Norman.



Knowing these terms will make ad specialty distributors who just started sound like they've been in the business for years.


Calico: cotton cloth imported from India. Originated in Calcutta, India, and is one of the oldest cottons. Rather coarse and light in weight. The pattern is printed on one side by discharge or resist printing.

Qiviut: fiber that comes from the hair of the musk ox. It resembles pale gray cashmere but does not shrink. Can be very hard to find.

Sarcenet: a soft thin silk in plain or twill weaves.
| | |
| --- | --- |
| | TOP |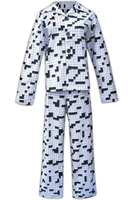 Available from Hammacher Schlemmer (asi/59444), the crossword fanatic will love this women's pajamas printed with the word puzzle's monochromatic scheme. The generous fit allows freedom of movement as well.
Style Tip: The pajamas have a long-sleeve top with a notch collar and drawstring front pants with elastic in the back so they can be pulled on and off without being untied.

| | |
| --- | --- |
| | TOP |
Question: A customer of mine is looking for a laptop bag with plenty of pockets. I'm sure that shouldn't be too hard to find. Thanks in advance.
Answer: You're right, it wasn't hard at all. Try Toppers LLC (asi/91530); (800) 523-0825; www.toppersllc.com; product 1013. This laptop bag is made of 600-denier ripstop polyester and features an MP3 player pocket with earphone port, cell phone and water bottle pockets and is available in four colors.
Or, try Debco (asi/48885); (800) 263-3554; www.debcosolutions.com; product PT4160. This laptop bag features a main double-zippered compartment, dividers with zippered compartment, two back slash pockets and a reinforced bottom base.
Also, try IDR LLC (asi/62419); (913) 461-5954; www.gogearbags.com; product 11109. This nylon computer backpack with full-length side organizer pockets features a main compartment for storage and zip-out water bottle pockets. Good luck!

Selling Tip: Laptop bags make great gifts for college students. Target local college gift shops and even offer to decorate it with the school's logo to personalize the bag.
Question: I made the mistake of telling one of my clients I can find a bag for him, but I have had no luck. He wants a leather laptop bag with a pullover flap. Any ideas? Thanks.
Answer: No problem! Try Clava American (asi/45335); (888) 452-5282; www.clava.com; product 11521. This leather laptop bag features a front flap, accordion folders with three sections and interior organizers. Available in black, café or tan.
Or, try M2 Enterprises Inc. (asi/68316); (800) 743-6212; www.m2enterprises.com; product 17207. This full-grain leather bag has rounded corners, a Smart Sleeve which slips over the handle of an upright suitcase and multiple pockets.
Finally, try David King & Co. Inc. (asi/48632); (877) 848-2273; www.ussuitcase.com; product 110. This leather computer bag features a large zippered main section under a flap, mesh pockets for computer disks and two magnetic snaps. Hope this helps!
Selling Tip: You never want to tell a customer you can get her something without knowing you can deliver the goods. Make sure you are 100% you will be able to have the item available.
| | |
| --- | --- |
| | TOP |
JANUARY 2010

Jan. 3-5, Orlando, FL
ASI Show
(800) 546-3300; www.asishow.com

Jan. 10-13, Marlboro, MA
New England Apparel Club Show
(781) 326-9223; www.neacshow.com

Jan. 15-17, Orlando, FL
Orlando Gift Show 
(678) 285-3976; www.orlandogiftshow.com 

Jan. 18-22, Boston, Long Island, NJ, Philadelphia, Baltimore
Advantages Roadshow
(800) 546-3300; www.asishow.com

Jan. 22-24, Long Beach, CA
ISS Show
(800) 241-9034; www.issshows.com

Jan. 25-29, Raleigh, Charlotte, Atlanta, Nashville, Memphis
Advantages Roadshow
(800) 546-3300; www.asishow.com

Jan. 27, Atlanta, GA
Stitches Roadshow
(800) 546-3300; www.asishow.com