SPONSORED BY

Click here to listen to the podcast.
In an unstable economy, many businesses are making crucial mistakes that put them behind in revenue. It's the "little things" companies should take into consideration to maintain or even increase profits today. Stitches and Wearables staff writer Matthew George talks with John Haskell, author of Profit Rx, to hear what those little things are. Click here to listen to the podcast.

What did you think of this podcast? Send your feedback to cmittica@asicentral.com.

   Green with Envy


If you're looking for a casual carryall, check out the Organic Alternative Totes (OATs) by SOS From Texas. The larger size measures 18" x 25", which makes it ideal for holding groceries, books, shoes and more. The smaller bag measures 16" x 18" and will hold up to 20 pounds. Both totes feature a set-in reinforced rib handle. The handle of the larger bag easily fits over the shoulder.

SOS From Texas has been producing organic cotton since 1992 and is certified by the Texas Department of Agriculture. Documentation of its organic certification is included with every initial order to ensure a genuine organic cotton product. The company's apparel is grown, knit, cut and sewn entirely in the United States. 

 



From SOS From Texas, the Organic Alternative Tote (OAT) comes in two different sizes to fit your needs.

ADVERTISEMENT


Style Doctor
When you think of scrub fashion "prints," do baby ducks, pink giraffes and Scooby-Doo come to mind? It's time to shape up your scrubs style with some adult alternatives. Dickies Medical Uniforms (asi/49670) offers a huge variety of sophisticated patterns (as well as a few pink giraffes) for the medical professional looking for a trendy new style. Shop by pattern or style at their Web site, www.dickiesmedical.com.

 



From Dickies Medical Uniforms (asi/49670), in style 80307, this floral black and white print will look sophisticated in any work environment.

 
 

Try a funky colored scrub pant to liven up a more traditional top. Instant Tee House (asi/62690) offers the Landau line, which serves up a healthy dose of Limeade color in a pair of Tailored Fit Flare pants. The contoured waistline features a grommet drawstring to fit a natural waist. They're also functional with two off-seam pockets, two back pockets and one cargo pocket mid-thigh. Check out all of Landau's medical apparel at www.landau.com.

 

From Instant Tee House (asi/62690), in style 8350, this Landau Tailored Fit Flare Pant is not only flattering, but funky in a bright, hip Limeade hue.

Q&A: Todd Proffit, Alstyle Apparel & Activewear (asi/34817)

Q: What's the history behind Alstyle Apparel?
Todd Proffit: The company started in 1981 as a distributor of major U.S. brands such as Hanes and Fruit of the Loom. In 1990 Alstyle started its own brand of T-shirts. It was privately held until 2003, when it was sold to Centrum Equities. In 2004, the company merged with Ennis, Inc. (NYSE symbol EBF).  
  
How has the company evolved over the years? 
TP: In 1999 the company consolidated manufacturing operations in Anaheim, California under their "Under Single Roof" project. There was approximately 750,000 square feet of manufacturing and distribution space. Alstyle moved and expanded in 2000 to its current location, also in Anaheim. Currently we produce enough fabric to produce 64,000 dozen T-shirts a day.



Todd Proffit is the marketing director of Alstyle Apparel & Activewear. He can be contacted at toddp@alstyle.com.




Q: What is Alstyle best known for within the industry?
TP: Alstyle Apparel is best known for our 6 oz T-Shirt as well as our re-labeling and private labeling capabilities.

Q: What are the company's biggest challenges today?
TP: Our biggest challenge today is working through this downturn in the economy.

Q: What's new for Alstyle in 2009? What products will distributors be excited about? Who can they sell these products to? Do you have any cool tips for how to decorate them or logo locations?
TP: New styles for 2009 include Alstyle's 3362, which is our Girls Sheer Jersey Tee 30/1. This garment comes in 4.3 oz. 100% Ringspun Cotton and is available in 10 colors. We are also introducing our 1ZEE Infant Onesie 3-snap bottom closure. This garment comes in 4.3 oz 100% Ringspun Cotton as well and is available in white, pink and powder blue. We have added lime as a new color and added yellow, purple, royal, turquoise and silver to certain items in the line. Since the '80s are back this year, logo placement seems to be going back to the '80s as well with center back screen prints.
Listen to ASI Internet Radio [asicentral.com/radio]
A team of ASI editors have launched the first ever ASI Internet Radio show. For a half-hour each Tuesday, we debate the most important topics facing the industry, as well as offer an off-beat look at the market.

If you missed any of our shows, don't worry. Recordings are available at asicentral.com/radio. And, don't forget to join us every Tuesday morning 10:30 a.m. Eastern time when we broadcast our radio show live. We'll be taking calls from the audience, so please call us at (215) 953-4979 to hear your voice on the air.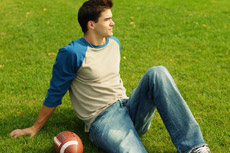 [ OUR FAVORITE WEARABLES ]


Available From: Barry T. Chouinard Inc.; (802) 485-8600; www.dyehouse.com

Sell To: Capitalizing on the popular retro look, this raglan-sleeve baseball jersey (7066) is perfect for company sporting events. The shirt's combination of six different common colors can match most company hues. 

 Style Tip: It's pigment dyed and enzyme washed to create the trendy, worn look. Pair it with pants that go with the traditional contrasting colors on the collar and sleeves for a different look. 

[ NEWS BRIEFS ] 
Dalco Athletic offers new Thermo Image Metal Series, a series of eye-catching digital-effect designs. The designs have the glossy look of reflected light and come in navy, light gold, smoke, kelly, scarlet, purple, royal, maroon, black, orange and teal. 
 
 
 
 

Educational Outfitters based in Cary, NC will become the largest retailer of school uniforms, team athletic uniforms and school spirit gear in the United States, according to the nation's two largest school uniform wholesalers and other industry sources.

 
 
 

Hirsch International offers Quick P RIP Software, a powerful raster-imaging program to help users achieve multiple colors and shades on light and dark garments. It features new tailor-made screening and calibration processes for garment printing and innovation tools to adjust color saturation, sharpen images and achieve optimal results. 

 
 
 
 
| | | |
| --- | --- | --- |
| Imprintables Warehouse offers a new how-to video, instructing viewers on how to use Cad-Color Solutions Clear, a new print-and-cut material that allows you to print a four-color process design on a clear media.  |   | |
|   |   |   |
| | | |
| --- | --- | --- |
| Sierra Pacific (asi/87224) offers the Journey Jacket (3701). It's an all-weather hooded classic that features a 100% nylon taffeta windproof shell with a comfortable, warm blended fleece lining in traditional heather gray. |   | |
|   |   |   |
S.O.S. From Texas adds an infant's one-piece snap crotch outfit that's free of any harmful substances. Featuring a crew neck, short sleeves and rib knit trim on the collar and leg openings, it's available in the natural creamy shade of cotton.  

 
 
 
 

United Feather & Down has announced it's offering SilverFill, MicroMax and Lyocell Down to the outdoor apparel industry. The three high-performance fills are warm, breathable and have varying assets.

 

VF Corp., the parent company of VF Image Wear (asi/93150) and whose brands include Vans, Jansport, 7 For All Mankind, North Face and Wrangler, expects lower 2009 earnings and revenue results due to the stronger U.S. dollar and increased pension expenses.

[ ASK AN EXPERT ] 
Question: I was wondering if you could help me find some booney hats. I would like them to be in a variety of camo colors though. Any ideas? 

Answer: Ah, the beautiful booney hat! These are great, especially for outdoor activities. Blue camo ones are difficult to come by, but I happen to have a couple of connections that found what you needed. Try product F5502-12 from Uniform's Manufacturing (asi/92402); (800) 222-1474; www.umidirect.com. The hat comes in a variety of camo colors including urban camo and midnight camo. 

Selling Tip: Pitch camouflage booney hats to the employee or client who spends their weekends outdoors. They make the perfect gift during the winter holidays and the start of hunting season.  
Question: Do you know where I can get Russell brand T-shirts (Russell NuBlend red 50% cotton/ 50% poly) and Russell shorts (100% cotton blue seven-inch inseam) and  Yale mesh shorts (100% polyester blue seven-inch inseam)?

Answer: I found your Russell brand NuBlend tee as product 64030MK from TeamMates (asi/90674); (866) 866-2837; www.teammatesinc.com. It comes in great colors like burnt orange, kelly green, and red. It's made with both polyester and cotton fabrics. For the Russell shorts, I did find youth cotton shorts with a six-inch inseam in royal blue. Try product 42715B0 from Team Mates. They also carry the same adult sized shorts with an eight-inch inseam in a variety of colors including royal blue. Check out product 42715MO. I couldn't find the Yale brand polyester shorts.  But I did find shorts that I think you'd like with a seven-inch inseam made of 100% polyester wicking mesh that comes in blue color combinations. Look at products 735 from Augusta Sportswear (asi/37461); (800) 237-6695; www.augustasportswear.com. Also, product 842 comes in single color combinations, has an elastic waistband with drawstring cord and also has a seven-inch inseam.

Selling Tip: A shirt that pairs well with shorts of the same brand and color is always a gift that's sure to please all recipients. Go the extra mile by embroidering your company logo on it to generate exposure each time it's worn.

[ WEARABLES TERMS ] 
Getting familiar with these terms will make any ad specialty distributors sound like an apparel expert.
Bengaline: Lustrous, durable fabric with a heavy crosswise rib made from textile fibers in combination. Used to make coats and suits.

End-on-End: A two-ply weave of different color yarns that run parallel each other so that both colors are visible, creating a soft contrast in the garment.

Moiré: An undesirable pattern sometimes resulting when two sets of lines or dot patterns in a process-color design overlap.

Saxony: General term used for especially high-quality fabrics of merino wool, often used for coats and suits.

[ SHOW LIST ]
Jan. 19-30, Boston; New Jersey; Philadelphia; Baltimore; N. Detroit; S. Detroit; Cleveland; Columbus, OH; Cincinnati
The ASI Advantages Roadshow         
(800) 546-3300; www.asishow.com
Jan. 23-25, Long Beach, CA 
ISS Show Long Beach 2009
(800) 933-8735; www.issshows.com
Jan. 30-Feb 1, Allentown, PA 
Vastex's Screen Print Training Program
(610) 434-6004; www.vastex.com
SPONSORED BY

Wearables Style and Wearables are trademarks of the Advertising Specialty Institute. You were sent this newsletter as a benefit of your ASI membership. Copyright 2008, ASI. All Rights Reserved.
If you'd like us to send Wearables Style FREE to anyone else at your company (or to your off-site sales reps), go to www.asicentral.com/newsletters and complete the online form.
Interested in advertising in Wearables Style? Send an email to ddienna@asicentral.com 
Click here to subscribe to Wearables™  magazine. You must be a member of ASI to subscribe to this publication. The publisher has a right to refuse subscriptions to non-members.
Advertising Specialty Institute®, 4800 Street Road, Trevose, PA 19053