How To Sell It: Watches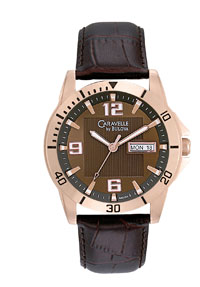 Indigo (asi/62560) carries the Caravelle by Bulova (44C103), a popular high-end watch that exemplifies the rose gold trend in timepieces.

If your customers want to give a valuable client or employee a memorable gift, then pitch them on the accessory that never goes out of style: watches. Indeed, timepieces are a good fit in a variety of arenas, from service/retirement awards, loyalty programs and corporate anniversaries to company stores, consumer promotions, and casino high roller gifts. Holidays are an especially good time for selling watches, but the timepiece trade can spike at other times of the year as well, like during nurses week and hospital week, says Dean Resnekov, owner of Indigo (asi/62560). That said, watch sales are not contingent on the seasons. "Any time is a great time for a watch," says Rhonda Reilly, national sales manager for Hampden Corporation (asi/59473).

To make money with watch sales, distributors need to stay on top of timepiece trends. One way to do that is by asking trusted suppliers for advice. "They're not you're competition; they're there to assist," says Resnekov. "Take advantage of virtual proofs and find out about exclusive promotional product designed items that are branded but not available at retail." Since watches say a lot about the wearer – and the person/company giving them – it's critical to keep a client's particular style and promotional goal top of mind in order to connect them with the right timepiece. "Watches are fashion statements," says Reilly. "My best advice is to market to clients' sense of taste. Another selling point for our watches is that they are USA- and union-assembled."

Currently, one of the big trends in watches is rose gold. "Rose gold colored bands are the 'it' color for 2012," says Reilly. The style was on display in abundance at the MAGIC Fashion Show in Las Vegas, and many major brands, including Michael Kors and Marc By Marc Jacobs, are featuring rose gold timepieces in their collections. Indigo and Hampden both carry rose gold watches in their lines, as well. For example, Indigo has the Caravelle by Bulova, a stainless steel, chocolate-color strapped watch with rose-gold Arabic numerals and a rose gold ion-plated finish. Additionally, white straps, watch bracelets, and mechanical watches are trending, too. "Large face dials are very popular for men and women," says Reilly. "Ceramic is still very popular too."
Enter The Stitches Golden Needle Awards

Enter the 2012 Stitches Golden Needle Awards and show off your embroidery and digitizing skills and creativity! Finalists will be selected by a panel of veteran embroiderers and digitizers. Winners will be featured in the November 2012 issue of Stitches and online. So, select the entry category that fits your skills, and show us your talent.

Click here for more details and to enter.
Q&A: Wolfmark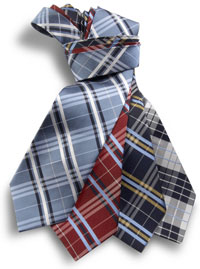 Wolfmark (asi/98085) has introduced a new line of stain-treated, silk plaid patterned ties that come in four color combinations, including navy/yellow/light blue (PLDS-058-501) and red/blue (PLDS-058-502).

No matter the garment – shirts, jackets, hats and more – plaid is always in style. The same applies for ties, one reason why Wolfmark (asi/98085) has just released a new collection of silk plaid ties. Wearables talked with Bruce Everakes, owner of Wolfmark, about his company's new offering.

Q: Why did you decide to add this product to your line of ties?
Bruce Everakes: We updated our line to reflect the current trends in fashion. Right now plaids, along with our new paisley line, fit this criterion. Because we offer the most complete line of neckwear patterns in the industry, we know that our customers look to us for the most fashion-forward items. 

Q: What markets are they good for?
BE: They're especially good for uniform programs in upscale environments such as hotels, theaters or high-end food service venues. 

Q: What are the best ways to pitch this product?
BE: Oftentimes a client may be looking to update their look and doesn't want to go through the expense of acquiring new sport coats, for instance. Simply adding a necktie will change the look completely. The great thing with our line of neckwear is that they're part of our in-stock line, so it's easy to add products for new employees and new uniforms.
Wearables Facebook Page Launches – Become a Fan!

Be sure to check out the Wearables Facebook page. We want it to be your go-to social media stop for apparel news, posts and other musings. And don't forget to "Like" us. Not only will you join up with apparel experts and enthusiasts, but you'll be entered into a random drawing where three lucky fans will receive freebies from supplier Ash City (asi/37143) during the month of February. Interested? Click here to pay us a visit.


AG PrintPromo Solutions (asi/101271) has been named one of the Top 100 diversity-owned businesses in Ohio in the annual Div100 listing.

Ares Sportswear (asi/123308) and Dyenomite Apparel (asi/51185) have moved to larger facilities. Ares Sportswear is now located at 3704 Lacon Rd., Hilliard, OH, 43026, and Dyenomite at 3706 Lacon Rd., Hilliard, OH, 43026. All phone and fax numbers will remain the same.

Atlantic Coast Cotton (asi/37355) will hold an open house at its facility from 1 p.m. until 4 p.m. on March 30 to celebrate its loyal customers and its 25th year in business. For more information, visit www.orderacc.com.

Image Source (asi/230121) has named Hawkins Embroidery their Supplier of the Year for 2011, based on criteria such as customer service, product quality, delivery and overall value. The company also announces that Sheryl Williams has been promoted to vice president of finance and operations.

Imprintables Warehouse (asi/58475) has announced that Steven Jackson, sales and education representative, has begun a weekly video series called "Training Time Out." The series will cover various topics, including how to use a Roland VersaCAMM printer/cutter and software to create heat-applied transfers. For more information, visit www.myversacamm.com.

L.A. T Sportswear (asi/65948) has launched the "Are You a Rabbit Head?" contest to celebrate the 30th anniversary of the Rabbit Skins line. The contest will continue at ISS Atlantic City, where one person will win an iPad 2.

River's End Trading Company (asi/82588) continues to build on its partnership with Columbia Sportswear and will add seven new Columbia styles to its line in 2012.

Royal Apparel (asi/83731) has added a new unisex tank top featuring tri-blend fabric to its product offerings. The top is made of 50% polyester, 37% cotton and 13% rayon, and comes in vintage tri gray, tri navy denim, tri onyx and tri oatmeal.

SANITIZED AG, maker of Sanitized Silver antimicrobial treatment, has announced that Urs Stalder has been appointed chief executive officer.

Transfer Express (asi/91804) now offers full-color custom vinyl banners measuring 4 feet by 8 feet that can be shipped in three business days.

Vitronic Promotional Group (asi/93990) has announced that the company achieved a score of 99% on a Workplace Conditions Assessment Report audit recently conducted by Intertek.

Acetate: A manufactured fiber formed by a compound of cellulose, refined from cotton linters and/or the wood pulp of the mulberry trees. This material is then combined with acedic acid and is extruded through a spinneret and then hardened.

Beading: Variety of insertion laces or embroideries having rows of holes through which ribbon is laced.

Breathability: The movement of water or water vapor from one side of the fabric to the other, caused by capillary action, wicking, chemical, or electrostatic action. Also known as moisture transport.