SPONSORED BY


VIDEO

Fashion Finds In Dallas
Nicole Rollender, editor of Wearables' sister publication Stitches, shows off some of the trendy apparel she found at The ASI Show Dallas. Click here to watch the video.

Got a question you want answered in a future Ask the Expert video? Send it to cmittica@asicentral.com.





Trend Alert: Track Pants
ADVERTISEMENT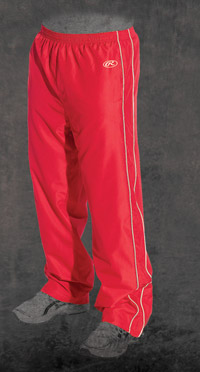 Hilton Apparel Group (asi/60930) offers these water-resistant track pants (9500). Made of 100% polyester dobby, the pants feature side-entry pockets and double-piped contrast legs.

Track pants are an athleticwear staple, but now their sport-inspired details are creeping into fashion lines as well. Recently, Alexander Wang and Stella McCartney featured bright patterns with loose fits and zippers, and Vera Wang showcased generous skirt pockets. Meanwhile, Rag & Bone's collection had pants with a drawstring waist and side ruching.

That melding highlights the continued appropriation of casual wear into super-stylish designs. And it makes sense, since track pants continue to be popular. "Track pants are sold year-round," says Ronnie Alschuler, executive vice president of sales at Hilton Apparel Group (asi/60930). "However, we do see a spike in the spring and fall seasons." Rachel Palumbo, client relations manager at Hilton Apparel, says the company currently runs two track pant styles in its Rawlings collection. "One is our 9500 100% poly dobby water-resistant pant, and the other is our 9505 100% poly double-knit track pant. Both have covered elastic waistbands with drawstrings as well as 9" lower leg zip bottoms and side pockets."

At Redwood Classics Apparel (asi/81627), track pants are tech-ready, being constructed with a hidden key/smartphone pocket in adult versions. Designed for comfort and durability, the pants (such as the 1615) feature flat-lock stitching. "Each of our garments is carefully designed and crafted for longevity as well as function," says Kathy Cheng, director of sales & marketing for the supplier.

Meanwhile, Tri-Mountain (asi/92125) has added the Charger Pants (2347/2345), the Tornado Pants (7347/7345) and the Cheryl (042) to this season's offerings. "The Charger Pants are your traditional warm-ups constructed of a windproof/water-resistant polyester shell with a polyester mesh lining," says Danny Tsai, vice president of merchandising. Meanwhile, the Tornado Pants, made of a midweight polyester fleece with mesh face, are ideal for colder climates. "They're also considered performance fleece because they feature Tri-Mountain UltraCool moisture-wicking technology," says Tsai. "Plus, the Charger and Tornado styles have coordinating jackets." The women's Cheryl lifestyle pant is made of lightweight 90% poly/10% spandex jersey; the style also features UltraCool.

Tsai says Tri-Mountain added some innovative features to the Cheryl style. "This type of pant traditionally does not have pockets, because it's made of a lightweight material and used in active environments," he says. "But we added a hidden waistband pocket for securing valuables. We also added a triangular gusset to enhance comfort and full range of motion."

For best results, Cheng recommends pitching track pants to the fitness, athletics and school markets, while Tsai says his company has had luck with track, dance and cheer teams. "We see track pants as a necessary item in most parts of the country," says Palumbo. "The exception is in some warmer-weather climates like Florida or Southern California where shorts replace the need for a pant."
How To Sell It: Bags



Made of natural materials, the Luna Sea (CE5633) bag from Sun N Sand Accessories features beaded embellishment, an accessory pocket and snap closure.

Bags come in a wide variety of styles. Still, says Kirsten Logan, all bags have something in common that distributors should emphasize when trying to sell them. "Bags are a great way to get your logo out there and moving around in the world," says Logan, vice president of sales for Clava (asi/45335), a bag and accessory company. "They make effective moving billboards. Every time the recipient carries a logoed bag, it is a reminder of the brand."

Marty Seaborn, director of marketing for Sun N Sand Accessories, says the key to selling clients a bag that will work for them lies in understanding the customer's needs. "The best tip on selling bags is that you have to know the intended end-usage and what customers' expectations of bag quality are," he says.

For Sun N Sand, the best sellers are bags made of natural materials, like the Luna Sea (CE5633), which includes beaded embellishment, an accessory pocket and snap closure. Metallic bags, like Sun N Sand's Palermo bag (CE5647), are also trending popular. Meanwhile, the taste for bags with animal motifs and Native American designs is growing, too. "The latest upcoming motif to trend is Navajo designs," says Seaborn. "We are developing a line potentially called Nava Go."

Meanwhile, Logan says cross-body style bags have been a hot seller for several years. "We live in a more casual world, and so many people carry their laptops with them," she says. "However, I have noticed that more traditional briefcases are falling back into favor as well."

Bag trends can be seasonal, too. "Totes may begin to sell more in the coming months because people will begin to travel more in the spring and summer," she says. Additionally, bag trends have not been immune to the resurgence of all things 1980s. "As far as materials and colors, neons are hot for spring, and more lightweight fabrics like nylon seem to be hot," says Logan.

Nonetheless, Logan notes that Clava has several staple styles that sell well regardless of which way the trend winds are blowing. Featuring six exterior pockets and a drawstring-and-flap closure, the leather pocket backpack (XL 2170) is one of those classics. "Leather bags aren't for every project," says Logan, "but should be considered when a higher budget is available and when an end-user wants to make a lasting impression." Meanwhile, Clava's lower price point Wellie Market Tote (88-8012) – offered in bright colors, stripes and neutrals – appeals widely to end-users looking for a fun retail-style bag.

Given the breadth of bags available, it's no surprise this accessory category appeals to a variety of markets. Clava bags, for example, are sold to everyone from banks and law firms to travel industry and technology companies. Sun N Sand bags are often part of travel events and incentive programs, and have recently started selling in boutiques. Says Logan: "The great thing about a bag is that trends may come and go, but a bag is a bag and you can always use another."

Is Your Company One Of The Fastest Growers?

Counselor is on the hunt for the fastest-growing companies in the ad specialty market. Did your company increase its revenues by double digits in 2011? We want to hear from you. Enter Counselor's Fastest-Growing Companies (both suppliers and distributors can enter) awards by clicking here and filling out the online form.

The top 10 Fastest-Growing Suppliers and Distributors will be honored in the May issue of Counselor. Click here to enter now.

Q&A: 2Tone Apparel




These unique hoodies (HDZP) were created using 2Tone Apparel's (asi/92407) design patented manufacturing concept, which allows a seam to run continuously from the neck to the end of each sleeve, bringing together two different colors of the same material.

When 2Tone Apparel (asi/92407) launched in 2009, the company had one mission: revolutionize the apparel industry. In the ensuing years, the Phoenix-based company has invented a patented process that produces unique apparel that is rapidly growing in popularity. Owner Gerald Turner recently took some time to chat about his company.

Q: What is unique about your company's offerings?

Gerald Turner: 2Tone Apparel's design patented manufacturing concept incorporates corporate, collegiate, team, historic and patriotic two-color schemes with one color on the front and the other on the back of a garment. This unique patented concept is created by implementing a seam that runs continuously from the neck to the end of the sleeve on both the left and right sides of the garment, bringing together two different colors of the same material.

Q: What products of yours are most popular?

GT: Hoodies are our most popular products. Every clothing company sells hoodies, but we are the only one that sells hoodies that incorporate two colors, one on the front and one on the back. This is very popular for team apparel, where we incorporate the two main colors that most sports teams and universities have. Polos and women's apparel are also both very popular.

Q: What markets does your apparel sell best in? What other markets do you forecast significant growth in?

GT: The markets in which our products sell best are universities, nonprofits, high schools, corporate apparel and pro sports teams. In the future, we see significant growth in hospitality, resorts, and dance and cheer teams.

Q: What advice can you give distributors to help them sell end-users on 2Tone?

GT: The advice I can give to distributors is that they need to push the fact that change can be good. So many people buy only what they are used to. Our products are very unique and will help the end-user stand out because they are wearing what nobody else is wearing.  This will help fans at a game to stand out and help nonprofits stand out. Businesses will stand out because the clothing gets people talking. If you don't accept change, you will be left behind. This goes with apparel as well.

Wearables Facebook Page Launches – Become a Fan!

Be sure to check out the new Wearables Facebook page. We want it to be your go-to social media stop for apparel news, posts and other musings. And don't forget to "Like" us. Not only will you join up with apparel experts and enthusiasts, but you'll be entered into a random drawing where three lucky fans will receive freebies from supplier Ash City (asi/37143) during the month of February. Interested? Click here to pay us a visit.

American Apparel (asi/35297) announced that it increased sales in January to $41.4 million, a 14% rise. When compared to January 2011, American Apparel said its wholesale division grew sales by an estimated 21%.

Ancient City Screen Graphics (asi/36019) has joined ASI as a supplier decorator member.

Brother Industries has announced that the company has been named a Thomson Reuters 2011 Top 100 Global Innovator.

Bullet (asi/42424) has unveiled its new Enterprise Resource Planning system, which will ensure that customers continue to receive low prices and reliable service from the company.

Eversole Run (asi/53040) has announced that Bob Simon of Simon Sales & Marketing will now be representing the company in Nebraska, Iowa, Missouri and Kansas. The company has also named Tony Pinto of Pinto Marketing the company representative in Texas, Oklahoma and Louisiana.

Imprintables Warehouse (asi/58475) recently designed aprons for Wild Mountain Bakery in Morgantown, WV, using Eco-Print, a digital cutting material. The bakery's grand opening made the local news on WBOY, where owner Eran Guse was interviewed while wearing one of the aprons.

Justin Case (asi/63698) announced that it has appointed Martin Lockhart to the position of vice president of sales & marketing.

Madeira USA has announced that it will be contributing a portion of every sale of a Madeira Thread Can filled with six cones of Classic Rayon #40 or 100% polyester Polyneon #40 to "Paws with a Cause" during the first months of 2012.

The National Network of Professional Embroiderers has added a new trade show to its 2012 lineup. The Embroidery Trade Show will take place at the Sawmill Creek Resort in Huron, OH, from March 30-31.

Pro Towels Etc. (asi/79750) has named Steve Klein its new West Coast territory manager. He will support the states of Alaska, Arizona, California, Hawaii, Idaho, Nevada, Oregon, Utah and Washington.

Proforma (asi/300094) has announced that eight new offices have joined the company's network: Kathleen Roman, Proforma PromoLady, Amsterdam, NY; Deb and Raymond Orofino, Proforma PromoSensations, Edwardsville, IL; Michelle Toler, Proforma Coastal Business Solutions, Daphne, AL; Dhana and Nissar Jan, Ad Your Print & Promo, Magnolia, TX; Sherry Valentine, Proforma YESS, Maple Valley, WA; Randy Freedman and Lesley Gordon, Proforma CGPP, Toronto, ON; Kord Cernich, Proforma Arctic Branding & Apparel, Anchorage, AK; and Cheryl Lascelles, Proforma Corporate Attire & More, Temecula, CA.

Sassy Scrubs has announced that its new Chef & Home Cooking product line now includes a Chef's Hat.

Southern Plus (asi/88367) has hired multi-line representatives Bob Ferguson and Rachel Webb to manage the company's sales in Oregon and Washington.

Stahls' ID Direct (asi/88984) has announced the CAD-PRINTZ Challenge, in which – to prove the versatility of its CAD-PRINTZ heat-applied decoration – the company will imprint any submitted product with a full-color CAD-PRINTZ logo free of charge.

Sweda Company (asi/90305) has hired two new outside sales representatives. Mark Shearer will represent the company in Minnesota, North Dakota and South Dakota. Nick Chipchase will represent the supplier in Virginia.

Vantage Apparel (asi/93390) has hired G. Spencer Ritchie as national sales manager for Vantage Apparel Canada.
Stink Ink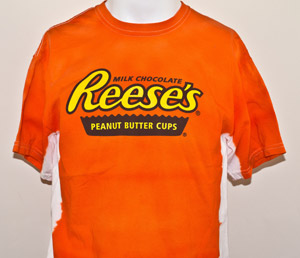 The color of an eye-popping embellishment on a promotional garment may be great for branding, but how about the smell? That's exactly what the team at Atlas Screen Printing and Embroidery (asi/37245) has been dishing out recently. Their Stink Ink process adds a scent to garment embellishments for optimal branding. Customers can choose from a variety of different scents, including coconut, blueberry, peanut butter and even fresh cut grass, the latter being perfect for an NFL or MLB promotion. Smell is the sense most closely connected to memory, so a tee with a distinct brand-related scent may just be the key to making a long-lasting impression.

Selling Tip: Food and candy are great promotions for scented decoration, but tying it in with a sports team or athletic event is an inspired and unexpected choice.

Vinyon: A synthetic fiber polymer made from polyvinyl chloride. In some countries other than the United States, vinyon fibers are referred to as polyvinyl chloride fibers and are similar in nature to vinyl. Able to bind nonwoven fibers and fabrics, vinyon was invented in 1939.

Viscose: The most common type of rayon. It is produced in much greater quantity than cuprammonium rayon, the other commercial type.

Wales: In a knitted fabric, the series of loops that are formed by a single needle that runs vertically or lengthwise.
Q: Can you help me find recycled T-shirts?

A: Try the Anvil Recycled T-shirt from Bodek and Rhodes (asi/40788); (800) 523-2721; www.bodekandrhodes.com; product 520. It's made of preshrunk 69% pre-consumer recycled cotton. Also, product 450 from the same supplier is the Sustainable cotton T-shirt, made of 50% ringspun organic cotton in conversion / 50% post-consumer PET recycled polyester.

In addition, check out SanSegal Sportswear (asi/84867); (801) 566-3248; www.greenbrand.org. Product 1100 is a T-shirt with 75% recycled cotton; product 1890 is the ladies' version. Product 2010 is made of 65% recycled cotton and 35% recycled polyester. The supplier has several other options as well.

Finally, product C1500 from Screenmates/Paragon (asi/85988); (800) 438-1246; www.centuryplace.com; is a 100% post-consumer recycled performance polyester pique T-shirt.

Selling Tip: T-shirts are often a price-sensitive choice for many clients, so reinforce the necessity of eco messaging when trying to sell a (slightly more expensive) organic or recycled shirt.

Q: I have a customer looking for hooded fleece jackets, both full-zip and pullover styles, but they must be made in the USA. Can you help?



A: The supplier for you is 20 Degrees Below (asi/92366); (800) 413-2129; www.20belowasi.com. Particularly, products J102-JACKET, P123-SHIRT and PP123-SHIRT are hooded fleece jackets that meet your requirements. They are available in adult and youth sizes.

Selling Tip: Demand for Made-in-the-USA products is rising. Prepare to meet this demand by talking to large suppliers about their domestically-made offerings, and learn about smaller suppliers that specialize in made-in-the-USA goods.
Feb. 13-17, 2012, Van Nuys, Newport Beach, Ontario, San Diego, Phoenix
Advantages Roadshow
(800) 546-3300; www.advantagesroadshow.com

Feb. 17-18, 2012, Orlando
ISS Shows
(508) 743-0532; www.issshows.com

Feb. 18-21, 2012, San Francisco
San Francisco International Gift Fair
(678) 285-3976; www.sfigf.com

Feb. 19-22, 2012, Edmonton, AB
Alberta Gift Show
(800) 611-6100; www.albertagiftshow.org

Feb. 20-26, 2012, Washington, D.C.
DC Fashion Week
(703) 662-3239; www.dcfashionweek.org
Feb. 27-March 2, 2012, Detroit, Cleveland, Pittsburgh, Cincinnati, Indianapolis
Advantages Roadshow
(800) 546-3300; www.advantagesroadshow.com

March 4-7, 2012, Marlboro, MA
New England Apparel Club Show
(781) 326-9223; www.neacshow.com

March 4-7, 2012, Montreal, QC
Montreal Gift Show
(800) 611-6100; www.montrealgiftshow.com

March 9-11, 2012, Atlantic City, NJ
ISS Shows
(508) 743-0532; www.issshows.com