SPONSORED BY


VIDEO 

 Pop-Up Party
Performance properties: You know they work, but sometimes it's a mystery understanding the technology behind them. Well, we hope to ease the confusion with our Performance Primer video – with some help from our handy little pop-up bubbles. Click here to watch the video.

What did you think of this video? Send your feedback to cmittica@asicentral.com.

 
Trend Alert: Khaki
ADVERTISEMENT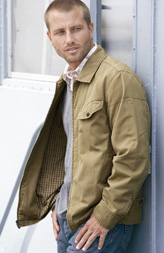 This washed-cotton twill canvas Timberland jacket (13TL021) from S & S Activewear (asi/84358) is toasty on the inside with a classic plaid cotton fleece lining.

Jumpstart your year by shifting gears; specifically, put it in neutral by going the khaki route. With the recent emergence of military and safari, this impartial tone blends right in. "Our Timberland jacket falls in line with the military look," says Margaret Crow, director of marketing for S & S Activewear (asi/84358). "It's easy to dress up with navy or black slacks or pair with jeans to enjoy a more laid-back look."

But there's more to khaki than being a straight preppy or military staple. Spring's fresh take on khaki is slightly feminine with preppy accents that really make the whole look pop. For women, think about creating some contrast with a flirty chiffon top, a studded clutch or a blazer in a deep hue. A neutral palette keeps things subtle, so this look can easily go from day to night. Men too can pair khaki with a multitude of other colors. Here are some fresh ways khaki is sweeping the fashion spectrum:


Pants: Khakis are like jeans – one pair is never enough. A built-in cuff increases the fashion quotient of plain-front khakis. Pair with equally contemporary clothes, like a casual jacket. The perfect khaki pant will go with many separates and work its way well into summer.


Shirts/sweaters: A slim-cut utility shirt can become office-appropriate when accented with black accessories like a knit tie for men, cap-toe shoes for women and a leather belt for both. Striped sweaters can also finish off a khaki look.


Jackets: The Timberland jacket (13TL021) from S & S Activewear shown here is made of weighty canvas, making for a rugged yet approachable look. Men should pair it with an untucked washed-cotton shirt and black-rinse jeans.


Skirts/dresses: Khaki skirts and dresses can be kicked up a notch with feminine accents like ruching, pleating, waist ties and frilly trim.


Accessories: Colorful accessories are the key to pulling off the new khaki trend. Add a tie-dye scarf in varying shades of orange, yellow and brown to a dress or skirt outfit to add a bit of color. Also, look for a bag in khaki brown, orange or yellow to pull the whole outfit together. The best part about a khaki bag is that it can take a beating and still look stylish!
When paired with the right outfit accents, khaki will have your clients looking less like members of the A-Team and more like chic G.I. Janes.
Answer Our Wearables Color Poll Question
Quick: If you had to choose one color to use in a promotion, what color would that be? Click here to take the poll and give us your answer. The results will be included in an upcoming issue of Wearables.

Quick Hit: Hanesbrands Imagewear



As part of its environmental initiatives, Hanesbrands Imagewear (asi/59528) is incorporating 5% recycled polyester for all of its ComfortBlend Eco Smart products.

Hanesbrands Imagewear (asi/59528) has strived to make a social and environmental difference, and as a result the accolades for the company are streaming in. This past December, the company announced it was accredited by the Fair Labor Association. It won an Energy Star 2010 Partner of the Year Award and also ranked 91st on Newsweek's list of the 500 Greenest U.S. Companies. For 2011 the apparel supplier is planning to use 5% recycled polyester in its ComfortBlend Eco Smart line – an estimated recycling of 10 million 20-oz. plastic water bottles this year. Matthew Waterman, senior marketing manager for Hanesbrands Imagewear, talked to Wearables about the company's accomplishments.

Q: What is Hanes' philosophy when it comes to environmental practices?
Matthew Waterman: Sustainability to Hanes is not just doing things that are good for the environment, but also doing things that are beneficial to the consumer from a price standpoint. We don't want to make things so expensive that no one can afford it. It's about using less resources, and in doing that, saving the customer some money. And it's the philosophy of how we run our manufacturing plants. When we're on an island like the Dominican Republic, we use things that are available there, like rice husks or coconut shells to feed boilers.

Q: Hanes typically isn't thought of as an eco apparel company. Why is that?
MW: I don't think we talk about it enough. I think that's something Hanes decided to do a better job of and is starting to communicate that. The ComfortBlend Eco Smart shirts, that's one way we can start doing that. It's hard to say when you're looking at a shirt that it was made in a plant that was powered by coconut shells. We needed to get the story out about our Energy Star partnership, and the fact that we're starting to get recognized in the industry and with the environmental groups for the work that we've been doing.

Q: And what about your corporate social compliance efforts?
MW: The thing we try to do is in the areas where we operate, we like to give back to those communities. One of the biggest benefits is getting people back to work. Haiti was absolutely decimated, but Hanes was one of the first apparel plants to come back online to get people back to work. That was really, really important. In addition, we provide education to make sure people get their degrees, things like that. We're trying to really empower employees.

Q: Are clients in the wearables industry asking for certifications and proof of these accomplishments?
MW: I think it's more important in this industry than at retail. Because in the promotional products industry, if I'm putting my name on a shirt, I want to associate my brand with a company that does things the right way. If I'm IBM, I don't want to put my logo on a shirt and find out it's made in a sweatshop by 10-year-old kids. As a result, people ask a lot more questions. And these are things which we take a lot of pride in and focus on. It's always about doing the right thing, from a corporate standpoint. You walk through our offices and everywhere you go there's a mirror that says, "Do the right thing." Can you look in a mirror and say, "Hey, are we doing the right thing?" That's really, really important to me.

New Course Available on ASI Education's Online Learning Center 
Start working toward achieving your BASI (Bachelor of Advertising Specialty Information) or MASI (Master of Advertising Specialty Information) by taking self-paced, on-demand courses at ASI Education's Online Learning Center. In our newest Hands-On Technology course for distributors, "Insider ESP Web Tips: Increase Sales and Streamline Your Operations," you'll learn the basics of ESP Web, including how to navigate through the ESP Web homepage, search for products, use the clipboard and create personalized presentations. You'll also learn how to use the advanced supplier search and the ideas and event planner. Click here to take the course.

Sales Challenge: Generating a Great First Quarter


Want to beat the winter sales doldrums and have a great first quarter? Distributors need to plan ahead. "January business happens before January," says Howard Schwartz, founder and CEO of HDS Marketing (asi/216807). The same holds true with February, March and April. Distributors should meet with top clients in the fourth quarter to identify their first-quarter needs in the coming year and to get a feel for the client's promotional budget and marketing initiatives. "It allows you to get ahead of the game and plan," says Adam Thornton, general manager of Match-Up Promotions (asi/264230).

Additionally, there are certain apparel pitches distributors can key in on to help drive first-quarter sales. With spring around the corner, it's a great time to fill orders for golf shirts. "You want to have those sales done now so you can have them delivered to the client and ready to wear before the spring," says Schwartz.  

Seth Weiner, owner of Sonic Enterprises (asi/329865), recommends keeping marketing efforts cranked up to drive first-quarter sales. At the end of 2010, Sonic sent holiday gifts to top clients, including umbrellas with notes that read, "We got you covered." The gifts put Sonic in clients' minds and helped set the stage for possible business in the new year. "You can't slack off on your marketing," Weiner says.

Staying in contact with key clients through the year's early months can also fuel first-quarter business. Touching base helps ensure you are maximizing service to current clients and can lead to an unexpected sale or two. "We try to have as many touch points with our clients as we can, including social media and online marketing," says Thornton.

Relaxed-Fit Full-Zip Jacket






Feel stylish and comfortable in this new Enza ladies' relaxed-fit full-zip jacket (EZ337) from One Stop Inc. (asi/75085). The cotton/polyester/spandex blend makes it a comfy choice, while the princess seams offer a trendy cut. It's available in sizes XS-4X and six colors: berry, black, navy, pistachio, pomegranate and white.

Selling Tip: Zip-front hoodies and warm-up jackets continue to be big players in fashion among the under-30 crowd, particularly teams. Athletes want jackets that work on the field as well as when hanging out with friends afterward. Fashionable zip-ups are the answer, so start by targeting local sports teams.

Bella (asi/39590) announced that it is now offering The Favorite Tee (Bella style #6004) and The Unisex Tee (Canvas style #3001), both 100% cotton, at a lower price point of $2.99 apiece.

Broder Bros. Co. (asi/42090) has announced that its annual Philadelphia Apparel Showcase will be at Lincoln Financial Field on Thursday, February 24 from 10 a.m to 6 p.m. It will feature exhibits, seminars, lunch and a cocktail reception, and prizes will be given out throughout the day.

Charles River Apparel (asi/44620) announced that sales representative Nancy Wood was appointed to be president of the Chesapeake Promotional Products Association (CPPA) for 2011.


Dalco Athletic introduced a new Dal-Nylon Extra matte-finish cutter film, which has a special adhesive that allows it to stick to most nylon fabrics.

Hartwell Apparel (asi/60135) announced that it has increased production by up to 540 decorated garments per hour since purchasing the M&R Diamondback R-Series six-color Automatic Textile Press this month. It has also added a heat-press machine and a four-color hat press to its screen-printing and embroidery division. The company has also added three new people to its senior management team: Allen Darwin as chief executive officer, Robert Davies as chief operational officer/chief financial officer and Kirk Russell as vice president of sales.

Heritage Sportswear (asi/60582) announced that, in conjunction with Liberty Bags, it has reduced prices 18% to 30% on nine popular bags in basic black through the end of this month.


Imprintables Warehouse (asi/58475) released a new printable cutter material called Glowprint, which will glow in the dark for eight hours when exposed to light.

L.A. T Sportswear Inc. (asi/65948) launched a new training video on its website and YouTube that highlights the differences in fit between the ladies', juniors' and girls' styles it offers.

Proforma (asi/300094) announced its recognition as the number-five Top Low-Cost Franchise for 2011 by the Franchise Business Review, whose list honors franchise organizations that require an average overall investment of under $100,000.

SanMar (asi/84863) announced it will be holding a webinar on February 23 at 12:00 EST titled "From Cotton To Textiles: Production, Consumption & Future Implications." Click here after Feb. 15 for more information.


Stahls' ID Direct (asi/88984) introduced CAD-CUT Glitter Flake, which features a texture similar to actual glitter and is available in gold, pink and silver.

Woolrich (asi/98192) announced that it has promoted Christa Bergey to merchandise manager in the design and merchandising area.



Knowing these terms will make distributors who just started sound like they've been in the business for years.

Ahimsa silk - An alternative, non-harmful method of producing silk. Silk is woven by making use of empty cocoons rather than harvesting live moth pupae. Cultivated on forest trees, the silk is spun after the silkworm metamorphoses into a moth and flies away, leaving its cocoon.

Aramid - A manufactured fiber in which the fiber-forming substance is a long chain of synthetic polyamide. Strong and resistant to high temperatures and extreme external forces, aramid fabrics are used in thermally protective clothing.

Pongee - The most common form is a naturally colored lightweight, plain-weave, silk-like fabric with a slubbed effect. Used for blouses, dresses and more. Originally made of wild Chinese silk with a knotty, rough weave.
| | |
| --- | --- |
| | TOP |
Q: Do you have any suggestions for possible vendors for Class 3, lime-green vests on which we can embroider a utility company's logo?

A: There are a number of good sources for Class 3, polyester mesh, short-sleeve lime vests. First, try S & S Activewear (asi/84358); (800) 523-2155; www.ssactivewear.com; product 1242. This zip-front vest comes in sizes M-5XL, has 2″-wide silver reflective tape on contrasting orange, and features outside and inside pockets.

Also consider Atteff International (asi/37455); (888) 828-8333; www.atteff.com; product V-C16004G. Offered in sizes M-2XL, this zip-front vest has horizontal 2"-wide retro-reflective PVC stripes, and outside and inside pockets.

For a vest with a tear-away hook-and-loop front, check out product 14550 from ERB Safety & Fame Fabrics (asi/51204); (888) 777-7702; www.e-erb.com. This vest features silver reflective trim and comes in sizes M-5XL.

Selling Tip: Lime green is a standard color for safety apparel, but it's an unusual choice for other industries and promotions. For anything with a safety theme, use a bright color to drive the message home.

Q: Where can I find good-quality "Realtree" clothing and caps?

A: For a huge variety of Realtree caps and visors, plus a button-down, long-sleeve shirt (product CLS-1000), go to Outdoor Cap Co. (asi/75420); (800) 826-6047; www.outdoorcap.com.

Tri-Mountain/Mountain Gear (asi/92125); (800) 824-6464; www.trimountain.com; carries Realtree short- and long-sleeve T-shirts (products 122C and 622C), a hoodie (689C) and a water-resistant, three-season jacket (8886C).

Another great source for a range of Realtree caps is S & S Activewear (asi/84358); (800) 523-2155; www.ssactivewear.com. S & S also carries a variety of Realtree hoodies and jackets, including a ladies' zip-front canvas jacket (product 9042) and a lined fleece hoodie (9570).

Selling Tip: The "realtree" look is an easy sell to rod and gun clubs in the market for branded shirts and hats. 


Feb. 16-18, Dallas
ASI Show
(800) 546-3300; www.asishow.com

Feb. 17-19, Dublin, OH
The NNEP 15th Anniversary Tradeshow
(800) 866-7396; www.nnep.net

Feb. 20-23, Edmonton, AB 
Alberta Gift Show
(800) 611-6100; www.albertagiftshow.com

Feb. 21-25, Cincinnati, Columbus, Pittsburgh, Cleveland, Detroit
Advantages Roadshow
(800) 546-3300; www.asishow.com

Feb. 21-27, Washington D.C. 
D.C. Fashion Week
(202) 271-7235; www.dcfashionweek.org

Feb. 24-26, Orlando, FL
ISS Show
(800) 241-9034; www.issshows.com 
Feb. 27-Mar. 2, Marlboro, MA
New England Apparel Club Show
(781) 326-9223; www.neacshow.com

Mar. 6-9, Montreal, QC 
Montreal Gift Show
(800) 611-6100; www.montrealgiftshow.com

Mar. 7-11, Minneapolis, Des Moines, Omaha, Kansas City, St. Louis
Advantages Roadshow
(800) 546-3300; www.asishow.com

Mar. 11, St. Louis
Stitches Roadshow
(800) 546-3300; www.asishow.com

Mar. 11-13, Atlantic City, NJ
ISS Show
(800) 241-9034; www.issshows.com

Mar. 14-18, Houston, San Antonio, Austin, Dallas, Oklahoma City
Advantages Roadshow
(800) 546-3300; www.asishow.com