SPONSORED BY


VIDEOCAST 
In this episode of Fashion Finds, Staff Writer Matt George shows off some eye-catching wearables items he found while walking the tradeshow floor at The ASI Show in Dallas. Click here to watch the video.

What did you think about this video? Send your feedback to cmittica@asicentral.com 

 
Trend Alert: Cotton Ties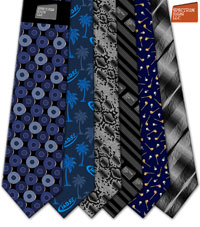 Caption: The 100% cotton-printed skinny tie remains a popular trend because it's consumer friendly and washable. With cotton fabrics, end users are able to wash their ties with their cotton oxford or poplin dress shirt without the fear of color bleeding. Available from Spectrum Ideas LLC (asi/88638).

As men's fashion trends change, the necktie remains a staple in the apparel marketplace. But even this ever-popular accessory is branching out. The popular power ties long favored in the corporate world are now supplemented by a casual look, featuring neckwear made out of 100% cotton.

"100% cotton ties are certainly being well received in the fashion world because you can wash that particular fabric with your dress shirts," says Rafael Perez, owner of Spectrum Ideas LLC (asi/88638). "Other fabrics such as silk or polyester may bleed and the colors won't be as vibrant after multiple launderings."

In addition, Perez has capitalized on the voracious demand for skinny ties by introducing countless new styles in December, targeting wearables buyers in spring. He has already received thousands of orders for them. And to no surprise, Spectrum Ideas chose to merge the two popular trends with skinny cotton ties. "For our business, we explore the latest fashions and find a way to incorporate them," he says. "Today, it's 100% cotton ties and skinny ties. We just decided to combine the two."
Listen to ASI Internet Radio
A team of ASI editors has launched the first-ever ASI Internet Radio show. For a half-hour each Tuesday, we debate the most important topics facing the industry, as well as offer an off-beat look at the market.

If you missed any of our shows, don't worry. Recordings are available at asicentral.com/radio. And, don't forget to join us every Tuesday morning 10:30 a.m. Eastern time when we broadcast our radio show live. We'll be taking calls from the audience, so please call us at (215) 953-4979 to hear your voice on the air.
Smart Outfit Strategies


Andrea Pearman, president of Diversified Marketing Strategies Inc. (asi/181308), recently completed yet another order for a client looking to improve its trade show look. It's a common approach these days – outshine the competition at a trade show simply by having booth staff that look sharper. In outfitting the staff for a recent show, Pearman helped her client select Cutter & Buck (asi/47965) shirts because the company wanted to convey a quality image.

Over the years Pearman has learned a few tried-and-true lessons when it comes to trade show clients. For starters, when selecting any item for a large staff, one needs to keep in mind all shapes and sizes. The easiest way to do this is to "consider the women first. It's easier to revolve a program around the ladies shirt. No unisex anything – it has to be a woman's cut," she says. "And it has to be easy-care, sports dry-wicking, no-wrinkle – anything that will travel well for the show."

Another major factor is the shape and size of each employee. Are there any tall people? Will XXXL sizes be necessary? "There is nothing more annoying than pitching an entire program and finding a supplier no longer carries an item or size," says Pearman.

This is particularly common today, as some suppliers have reduced expenses by carrying less inventory. Pearman's suggestion: always find out size and color needs in advance from clients so you can check with suppliers on availability. "It just happened to me," she says about a supplier running out of product. "They had the items two and a half weeks ago, and now they are no longer carrying an item."

When it comes to trade show exhibitors ordering shirts with the intention to give them away to attendees, Pearman recommends giving attendees vouchers that they can redeem. "This way they don't have to carry it home with them," she says. Plus, the client won't have to order the shirts in advance without knowing exactly how many they'll be giving away; this strategy can definitely help budget-conscious clients run a trade show giveaway without incurring the overrun costs they may have experienced before.

New Course Available on ASI Education's OnlineLearning Center 
Be sure to register at http://www.asicentral.com/asionlinelearning for some exciting new courses available exclusively to ASI members. Brought to you by ASI Education, Online Learning is the newest and most convenient way for distributors to get educated. Here are some of the courses from our New Distributor Success Track available now:

NEW: Green Apparel From A-Z: Grow Your Eco-Wear Business. Wearables makes up 30% of the nearly $20 billion ad specialty industry annual sales -- and that includes its growing eco-wear subset. In this course, we'll teach you about the most fundamental eco-friendly fabrics, the important global standards and practices, and the tips to help sell eco-wear and improve your business.

Course Track: New Distributor Success
* Nailing Down the Basics
* Write Your Business Plan
* Marketing Your New Business
* Steps to Selling Success
* Creative Case Studies
* Avoid These First-Year Pitfalls
* Managing Your Business
* Wearables Crash Course
* Building Profitable Client Relationships

Coming Next Month:
* Social Networking Tactics That Deliver Results

Company Spotlight: Cutter & Buck (asi/47965)


Joel Freet is the manager of corporate sales for Cutter & Buck

Wearables: How was Cutter & Buck founded? 

Joel Freet: We were founded in Seattle in 1990 by two partners and a handful of employees that had left other Seattle apparel companies in the late '80s. Cutter & Buck was established as a classic American sportswear company and quickly found a home in specialty retailers, resort shops, and golf clubs across the country.

Wearables: What type of wearables does the company offer?
JF: In our Cutter & Buck brand, we offer performance fabric polos in a range of styles that range from on-course performance to executive level luxury. Dress wovens, sweaters, sweatshirts, and casual and performance outerwear are all included. In our Clique and New Wave Brands, we have stylish basic cotton and performance polos, cotton and polyester fleece, and basic and performance outerwear.

Wearables: What new trends will be or have been introduced for 2010?
JF: We have continued to add to our Epic Easy Care collection of woven shirts for men's and ladies, and this category has been trending very well for us in 2009 and into 2010. Performance overknits are blowing out in retail as well as corporate, and ladies outerwear continues to be successful by pushing the limit on styling.

Wearables: What markets are attracted to CB the most? 
JF: Certainly the Services sector has been a large part of our business because we have really great options for employee purchase programs. Because of our intense focus on supplying complimentary ladies items, we have built very strong tradeshow and event business as well.




This Mossy Oak camouflage cap (ECUB3-278855) is made of a 60%/40% cotton/poly blend. Features an all-over pattern and a two-piece Velcro closure. One size fits most. Available from Panther Vision (asi/75825).

Selling Tip: This hat features two 15,000+ MCD ultra-bright white LEDS concealed under the brim and one 30,000+ MCD spot light high beam, illuminating an area up to 50 feet. It makes a perfect grill light for summertime barbecuers.




American Ad Bag (asi/35290) has launched a new eco-friendly line made from 100% bamboo. For more information, go to: www.adbag.com.

Ash City (asi/37127) has appointed Brent Rebus to the position of chief operating officer.

EnMart has announced the debut of the Ricoh GX e3300N printer. It combines the speed and durability of a laser printer with the affordability and convenience of inkjet color, and offers an economical and efficient new method for sublimation printing.


Hirsch International offers NEO2 (TEJT-IIC1501), a fully-automatic singlehead 15-needle embroidery Single-head.

KTP Design Company (asi/63773) has announced it recently received a Suppliers Achievement Award from Promotional Products Association International in the category of Screen Printing on Textiles.


Royal Apparel (asi/83731) has introduced this youth baby rib tank top (RA4025). It's made of 30/1 combed ringspun 100% cotton and is available in eight colors.

Stitch Designers (asi/741145) has hired Seth Porter to provide sales representation in MO, KS, NE, IA and IL.


The Penn Emblem Company (asi/62485) is offering a new embellishment program called PennEdge, providing an identification product that uses a special type of stitched border.

TSC Apparel (asi/90518) has announced it will open a 100,000 sq. ft. distribution center in central Georgia and a sales office and pickup warehouse in Atlanta. The facilities are expected to be open in April. The company also announced that Image Works won the $10,000 grand prize awarded to TSC'S Texas Hold 'Em No Limit Poker Tournament champion. The tournament was held at the Mandalay Bay Casino poker room in Las Vegas.

US Branding Group LLC has created a new division called Luminous Branding (asi/68181). The division will be responsible for all marketing and manufacturing associated with the ThreadLites line of illuminated branded apparel.

Vantage Apparel (asi/93390) was presented with two top awards at the 54th annual PPAI Suppliers Achievement Awards competition, sponsored by Promotional Products Association International.




Knowing these terms will make ad specialty distributor who just started sound like they've been in the business for years.

Derby: a man's stiff felt hat with dome-shaped crown and narrow brim

Jackboot: a heavy military boot made of glossy black leather extending above the knee and worn especially during the 17th and 18th centuries; a laceless military boot reaching to the calf

Ruche (or ruching): a decorative strip of gathered, pleated, fluted, ruffled or frilled fabric on a garment
| | |
| --- | --- |
| | TOP |
Question: I'm in the process of creating a clothing line and I'm in need of cardigan sweaters I can embroider on. Can you give me a line on where to purchase wholesale?
Answer: Try SanMar (asi/84863); (800) 346-3369; www.sanmar.com; product LSW280. This ladies' cardigan sweater features a seven-button placket and hand-linked sleeves for strength and longer wear. Available in five colors.
Or, try Ash City USA (asi/37127); (905) 787-2650; www.ashcity.com; product 71001. This ladies' cardigan sweater is made of 72% cotton/27% nylon and is available in eight colors.
Finally, try Edwards Garment Co. (asi/51752); (800) 253-9885; www.edwardsgarment.com; product 010. This cotton cardigan sweater features matching buttons and elasticity in cuffs and waist for shape retention. Thanks! 
Selling Tip: Cardigan sweaters are great back-to-school promotional items. Reach out to local schools and let them know you can embroider the left chest with their school logo or mascot. 
Question: I have a team that wants camouflage shirts. The wilder the better - pink, blue, orange, etc. Any clue?
Answer: Try Carhartt Workwear & Haws USA, Inc., (asi/43861); (919) 267-3231; www.hawsusa.com; product 56910. This women's workwear long sleeve cotton termal features blended cotton and spandex knit cuffs. Available in green and pink camouflage.
Or, try S & S Activewear (asi/84358); (800) 523-2155; www.ssactivewear.com; product 2206. This youth camouflage T-shirt is made of 100% cotton and is available in nine unique camouflage colors.
Also, try Dyenomite (asi/51185); (888) 777-1916; www.dyenomite.com. This ringer T-shirt features black and white camouflage and also has black neck and sleeve bands.
Lastly, try Alpha Shirt Company (asi/34408); (800) 523-4585; www.alphashirt.com; product 2969. This youth camouflage hooded sweatshirt features a fleece-line hood and pouch pocket, coverstitched neck, shoulders and armholes and made of bleed-resistant ink.
Selling Tip: Camouflage is a trend that never seems to lose popularity. But don't think that camo is just suited for hunters. Youth teams, prep squads and student groups – all of them will go nuts for camo apparel.
| | |
| --- | --- |
| | TOP |
FEBRUARY

Feb. 19-21, Orlando
ISS Show
(800) 241-9034; www.issshows.com

Feb. 21-24, Edmonton, Alberta 
Alberta Gift Show
(888) 823-7469; www.albertagiftshow.com

Feb. 24-26, San Diego
The ASI Show
(800) 546-3300; www.asishow.com 

Feb. 28-March 3, Marlboro, MA
New England Apparel Club Show
(781) 326-9223; www.neacshow.com

MARCH 2010

March 1-5, Minneapolis, Des Moines, Omaha, Kansas City, St. Louis
Advantages Roadshow
(800) 546-3300; www.asishow.com

March 5, St. Louis
Stitches Roadshow
(800) 546-3300; www.asishow.com

March 12-14, Atlantic City
ISS Show
(800) 241-9034; www.issshows.com

March 15-18, Dallas, Austin, San Antonio, Houston
Advantages Roadshow
(800) 546-3300; www.asishow.com

March 18-20, Columbus
National Network of Embroidery Professionals Conference
(800) 866-7396; www.nnep.net 

March 23-26, Orlando, Tampa, Sarasota, Ft. Lauderdale
Advantages Roadshow
(800) 546-3300; www.asishow.com
Correction
A camouflage infant zip-up hoodie that was displayed in Volume 115 of Wearables Style should have been attributed to SanMar (asi/84863) as part of its Precious Cargo brand.
SPONSORED BY


f
Wearables Style and Wearables are trademarks of the Advertising Specialty Institute. You were sent this newsletter as a benefit of your ASI membership. Copyright 2010, ASI. All Rights Reserved.
If you'd like us to send Wearables Style FREE to anyone else at your company (or to your off-site sales reps), go to www.asicentral.com/newsletters and complete the online form.
Interested in advertising in Wearables Style? Send an email to ddienna@asicentral.com 
Click here to subscribe to Wearables™ magazine. The publisher has a right to refuse subscriptions to non-qualified subscribers.
Advertising Specialty Institute®, 4800 Street Road, Trevose, PA 19053