SPONSORED BY


With ASI Show Dallas taking place this week and ASI Show New York set to begin in a month, take a look back at Orlando with this video. ASI Staff Writer Dave Vagnoni talks with attendees of the Tony Robbins Keynote at the ASI Show Orlando to get their impression of the presentation. Click here  to watch the video.
What did you think of this video? Send your feedback to cmittica@asicentral.com.
[ TRENDS ] 
Pay On Time
Your business was running pretty smoothly with sales and profits growing. But then the credit crunch hit, someone said the "R" word and everything started slowing down almost overnight. Most troubling of all, your customers have been paying you later, as if they're using your money to help in their own personal credit crunch. Here are five ideas to encourage your customers to pay on time.
Improve credit-granting practices. On the front end, screen new customers more closely before granting a credit line. Spend a few dollars to get a credit report and a few minutes calling a couple of their credit references to get a sense of the relationship they have with your potential customer.
Commit to collection effort all the time. Make collection follow-up a key duty of at least one person in your company. Don't make the mistake of giving the job to your controller to handle in her spare time. Assign the job to someone who is a good negotiator, has an amiable phone personality and who understands this is a key job.
Call ahead of time to make sure they're ready to pay. Have your collection person call the customer's Accounts Payable department a few days before the due date for payment as a courtesy to your customer. It will make sure everything is in order. 
Offer discounts for prompt payment. Consider this: A 2% discount for paying 20 days earlier amounts to an annual return of 36%; not a bad yield for a customer whose savings account is probably earning 2% a year. Even if your customers planned to pay in 45 days, getting them to pay in 15 days represents an annual return to them of 24%. Juggle the numbers any way that makes sense in your industry, but the key is getting the customer to understand the value they get from paying promptly.
Have a preferred customer plan. Consider a special program for customers – free overnight delivery on rush orders, extra discounts, advance notice of price changes or even special sales. Promote this as a customer benefit and make it available only under certain conditions. Use it as an opportunity to reward the customers who pay on time and you enjoy doing business with. 

Listen to ASI Internet Radio [asicentral.com/radio] 
A team of ASI editors have launched the first ever ASI Internet Radio show. For a half-hour each Tuesday, we debate the most important topics facing the industry, as well as offer an off-beat look at the market.

If you missed any of our shows, don't worry. Recordings are available at asicentral.com/radio. And, don't forget to join us every Tuesday morning 10:30 a.m. Eastern time when we broadcast our radio show live. We'll be taking calls from the audience, so please call us at (215) 953-4979 to hear your voice on the air.

Online Education: How To Survive & Thrive In '09
Don't let the uncertain economy stall your sales efforts. There are plenty of distributors who are surviving – and even thriving – as we head into 2009. In a recent online education session, we discussed: 
Selling secrets from successful distributors who are forecasting growth
Strategies for working with clients who are cutting back on their marketing
Tactics for selling to price-conscious prospects
New markets and sectors that are projected to thrive in 2009
Creative ideas for marketing your services in a difficult economy
The live webinar, which was moderated by Counselor Editor Andy Cohen leading a panel of distributors and business experts, is now available for viewing. Simply go to www.asicentral.com/webinars to watch the session at any time.

A speech in difficult times can be anything from a formal company-wide address to casual remarks at the start of a new shift. But the intent is always the same: to keep employees focused, motivated and working hard. To make your speech more motivating, follow these guidelines:
Lead with the facts: Be as open, honest and forthcoming as possible. Give a complete account of the situation as objectively as you can. If you hold anything back or if you're evasive, you will feed your employees' fear and compromise your credibility.
Acknowledge people's feelings: Don't turn your speech into a therapy session, but if you ignore your employees' feelings, they will think that you're out of touch or simply don't care. Acknowledge their feelings in a general way by using broadly applicable words like difficulties, worries, concerns, anxieties or fears.
Create a positive metaphor: "Yes these are tough times, but we've been through tough times before. We're battle-tested veterans. We don't give up. And we leave no one behind." This will renew your employees' determination. Use an image that you personally believe in.
Be action oriented: You can't change how people think or feel –only they can do that – but you can change how they act. And by doing so, you create the possibility that they'll change their thoughts and feelings.
Don't go overboard: During these times, people aren't in the mood for pep rallies and rah-rah celebrations. Tell anxious people to cheer up and put on a happy face, and they'll be less likely to do so. Be ebullient and you'll be unbelievable. Instead, be confident, positive and purposeful.
Tell the truth: Part of why the economy is in such sad shape is because some prominent leaders have been mistaken, unreliable or downright dishonest. People aren't as willing as they once were to take the word of their leaders. You have to prove your trustworthiness.
BIO: CHRIS WITT is the founder of Witt Communications and an executive speech coach with more than 25 years of professional experience. For more information call (619) 295-8411, or visit www.wittcom.com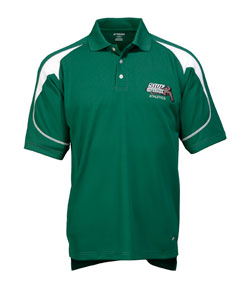 [ OUR FAVORITE WEARABLES ]

Available From: Tonix Corporation (asi/91440); (510) 651-8050; www.tonixteams.com

Sell To: This new team polo shirt (933) is great for company sporting events. Or, give it to the employee who coaches on the weekends. Available in 10 different colors.   

Style Tip: It's moisture-wicking, made of ultra-soft knit fabric, contains colorfast properties to better hold color and has tagless labeling for extra comfort. 

[ NEWS BRIEFS ] 
Avidere, LLC, the premiere image consulting firm, joined together with Landau, a leading health care uniform manufacturer, to prove image training for health care professionals.
| | |
| --- | --- |
| Charles River Apparel has announced the hiring of Rob Haughey to vice president of sales. Haughey will be responsible for the company's nationwide sales force as well as exclusive partnerships with key national franchises. | |
|   |   |
Fersten Worldwide announced it has entered into a license agreement with Fila Luxembourg S.a.r.l., under which it will manufacture and sell apparel and headwear products for the golf and the corporate promotional sales channels in the U.S. and Canada.
| | |
| --- | --- |
| FiberLok won seven awards at SGIA '08 for Flocked Products (Gold, Bronze and Honorable Mention), Heat Transfers – Textile Products (Silver, Bronze and Honorable Mention), and Heat Transfers – Non-Textile Products (Bronze).  | |
|   |   |
| | |
| --- | --- |
| Stahls' ID Direct introduces CAD-CUT Fashion-FILM Metallic, a distinct luster and sheen that's perfect for creating unique, custom designs. Available in gold and silver. | |

[ ASK AN EXPERT ] 
Question: My client needs to have embroidered beer koozies! I can't find them anywhere Can you help me, please? Thanks.

Answer: I've found your beer koozies! Look at product (39202) from California Innovations Inc. (asi/43512); (888) 413-2665; www.asisupplier.com/ca-innovations. These golf ball-shaped koozies can be embroidered, and hold one can or bottle. They also have an am/fm radio and ear phone jack. If you want something a little more basic that can also be embroidered, try product 501-OS from Mohr's International Ent. Inc. (asi/71960); (800-458-1509; www.mohrs.com). This is a 100% polyester foam can wrapper with a Velcro enclosure that comes in a variety of bright colors. These products should be just what you're looking for.

Style Tip: Distribute can koozies at company events held outdoors. Or, give them to clients with your company logo on them with something catchy like "Our business is in your hands!"
Question: I have a customer who wants low-profile hats without a top button. I've looked and looked to no end – nothing! Can you help me? Thank you.

Answer: If you're looking for hats without a top button, look for fitted caps. They usually don't have them. Try product FP710 from Fersten Worldwide Inc. (asi/53974); (800) 565-7462; www.fersten.com.  Not only is this cap made from organic material, but it comes in a great selection of colors. You can also check out product C218 from Cal-Stitch Embroidery Inc. (asi/43510); (888) 999-2399; www.calsportswear.com. This cap is a polyester mesh fitted cap with an elastic sweatband. They also offer a corduroy fashion cap (product C191) in khaki, navy, and olive that doesn't have a top button.

Style Tip: Hats are always an easy gift. With warmer weather right around the corner, consider giving logoed hats to employees or clients to keep the sun out of their eyes.  

[ WEARABLES TERMS ] 
Getting familiar with these terms will make any ad specialty distributors look like an apparel expert.
Bean Stitch: Three stitches placed back and forth between two points. Often used for outlining, because it eliminates the need for repeatedly digitizing a single-ply run stitch outline.

Jump Stitch: Movement of the pantograph and rotation of the sewing head without the needle going down. Used to move from one point in a design to another or to create stitches that are longer than the machine would normally allow.

Lock Stitch: Commonly referred to as a lock-down or tack-down stitch, a lock stitch is formed by three or four consecutive stitches of at least a 10-point movement. It should be used at the end of any element in your design where jump stitches will follow, such as color change or the end of a design. May be stitched in a triangle, star or in a straight line. Also the name of the type of stitch formed by the hook and needle of home sewing machines, as well as computerized embroidery machines.

[ SHOW LIST ]
Feb. 3-4, Portland, ME
New England Apparel Club Show
(781) 326-9223; www.neacshow.com
Feb. 4-6, Dallas
ASI Show
(800) 546-3300; www.asishow.com 
Feb. 6-7, New York City 
Manhattan Vintage Clothing & Antique Textile Show and Sale
(518) 434-4312; www.manhattanvintage.com
Feb. 7-10, San Francisco 
San Francisco International Gift Fair
(914) 421-3200; www.sfigf.com
Feb. 9-13, Seattle, Portland, Sacramento, San Jose, San Francisco 
ASI Advantages Roadshow
(800) 546-3300; www.asishow.com
Feb. 15-18, Edmonton, Alberta 
Alberta Gift Show
(888) 823-7469; www.albertagiftshow.com
Feb. 15-22, Washington, D.C. 
DC Fashion Week
(202) 271-7235; www.dcfashionweek.org
Feb. 16-20, Van Nuys, Long Beach, Irvine, San Diego, Phoenix 
ASI Advantages Roadshow
(800) 546-3300; www.asishow.com
Feb. 20, Phoenix 
The Stitches Roadshow
(800) 546-3300; www.asishow.com
Feb. 20-22, Orlando
Orlando Imprinted Sportswear Show
(800) 394-4426; www.hirschinternational.com
SPONSORED BY


Wearables Style and Wearables are trademarks of the Advertising Specialty Institute. You were sent this newsletter as a benefit of your ASI membership. Copyright 2009, ASI. All Rights Reserved.
If you'd like us to send Wearables Style FREE to anyone else at your company (or to your off-site sales reps), go to www.asicentral.com/newsletters and complete the online form.
Interested in advertising in Wearables Style? Send an email to ddienna@asicentral.com 
Click here to subscribe to Wearables™  magazine. You must be a member of ASI to subscribe to this publication. The publisher has a right to refuse subscriptions to non-members.
Advertising Specialty Institute®, 4800 Street Road, Trevose, PA 19053