SPONSORED BY


VIDEO

In this episode of "The Joe Show," Managing Editor Joe Haley shows off some of the latest winter headwear to hit the ad specialty market. Need an idea for an upcoming cold-weather promotion? Want some cool hat options to show clients in 2012?
Click here to watch the video.

Got a question you want answered in a future Ask the Expert video? Send it to cmittica@asicentral.com.



Trend Alert: White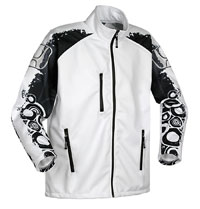 The men's sub soft-shell sleeve (176) from Bishop the Garment Company (asi/40585) is made of a triple-layered bonded wind- and water-proof fabric and features right chest and front zipper pockets as well as sublimated sleeve panels with custom artwork.

Remember the old fashion rule that prohibited white garments before Memorial Day and after Labor Day? Throw it out the window! White and off-white hues are exceptionally popular for winter and right into spring and summer. White jeans and blazers have shown strong sales at retail recently; now look for tops and bottoms for both men and women in off-white and bone, in contrast to their bright, crisp counterpart.

"As a custom house, we offer almost all of our 300-plus styles in white and/or off-white," says Norman Bishop, president of Bishop the Garment Company (asi/40585). "The color is in high demand, especially among women from 20 to 40 years old." Crisp whites for spring and summer usually feature blue or gray undertones, perfect for the hottest days. But whites in the winter include cozier off-white or bone undertones.

Both bright whites and ivories made numerous appearances on the runway this year: Belgian fashion designer Dries Van Noten recently featured men's off-white trousers at his Fall/Winter 2011 show. At the Spring 2011 New York Fashion Week, Michael Kors featured crisp white shirts and Joseph Altuzarra displayed a bright white biker-inspired suit for women. Calvin Klein and Reed Krakoff introduced suits and louche dresses in ivory. And Narcisco Rodriguez, Donna Karan and Thakoon Panichgul, among others, presented flowing dresses, sheer tops, jumpers, jackets and vests in off-white and bone, some layered with true white to add more pop and depth.

"The main demand we're seeing for white and off-white is in soft-shell jackets and wool melton coats," says Bishop, "though the soft-shell demand is exceeding the wool demand at the moment." Bishop is optimistic about the white and off-white trend in the coming year. "I see it continuing at the current rate and possibly growing in 2012."
How To Sell It: Jackets



For extra warmth, choose the women's and men's Alpine jacket companion styles crafted of wind- and water-resistant Alterra Dobby Taslan Nylon with Thinsulate insulation. Available from Charles River Apparel (asi/44620).

With so many variations, from polar fleece and windshirts and three-season jackets to parkas, there's no reason that distributors can't offer outerwear solutions no matter what part of the country they live in. Even Los Angeles and Miami have cool evenings and rainy days on the golf course. "Unlike traditional hard goods, outerwear is used more often, seen by more people and more highly valued by the end-user," says Jim Dunne, director of strategic accounts for Broder Bros., Co. (asi/42090). "Outerwear comes at a higher price point than other branded apparel, but the benefits to the client who makes an investment in outerwear are many."

Here are five tips for selling outerwear to get you started in selling this all-season product.

1. Education First
"It's very important to work with your supplier to try and educate yourself on the different kinds of outerwear, not only in price but in feature sets and functionality" says Glenn Oyoung, COO of Tri-Mountain (asi/92125). "We offer everything including standard light jackets, windbreakers, bonded softshell jackets, 3-in-1 system jackets, high-visibility, ANSI-certified jackets with 3M tape. The variety can be overwhelming, so use all of the tools at your disposal – your local sales representative, the catalog and the website."

2. Choose Right
"The first thing you have to do is listen to your customer," says Oyoung. "What is the jacket going to be used for? Is it a corporate gift? Is it a uniform that will be used on a daily basis? What environments are these pieces going to encounter in their daily use? Are there extreme temperatures or weather conditions? Will they be used at night or in limited-visibility environments? And, of course, what kind of budget is involved?" Armed with the answers to those questions, the distributor can start to make their jacket selection.

3. Stress Versatility
"Many times a great piece can be worn both to the office and on the weekend and will be wearable in different seasons," Kate Souza, PR & internal communications specialist for Charles River Apparel (asi/44620). "The versatility of a great jacket gives more exposure for your client's logo and a greater return on investment."

4. Technology Rules
"We continue to infuse new techniques into our fleece and we've had much success with some of our pieces," Souza says. "What has become particularly popular is using bonded techniques to make garments that are thin in weight, yet still incredibly warm."

5. Decorate Demurely
"Because outerwear is worn so frequently, it's often seen by the end-user as a representation of their style," says Dunne. "This is a great reason to ensure that the decoration is tasteful, appropriate and understated."

Work Toward Your ASI Certification



Nearly 13,000 ASI members are actively working toward their BASI and MASI certifications. Taking part in the ASI Education Certification Program is cost-free and completely user-friendly for ASI members. Achieving your BASI or MASI designation is a great investment in yourself and your career. To get started right now, visit www.asicentral.com/onlinelearning.

ASI's Online Learning Center has more than 300 on-demand courses available 24/7. Here are some brand-new classes we've added:



The Next Level: 20 Strategies to Become a Sales Superstar
In this self-paced course, you'll learn 20 advanced sales strategies to take you to the next level of sales success.



Top-Level Social Media Marketing to Increase Sales and Grow Your Brand
In this self-paced course, you'll learn how to leverage social media marketing. We break the discussion into three areas: 1) Why engage in social networking? 2) How do you engage effectively? and 3) What's your measure of success?



Business Builder: Improve SEO


Improving SEO – or, search engine optimization – is a key to increasing the online visibility of your company. When potential customers search for promotional apparel, accessories and products, you want your company's website to rank high in Google's results. So what's the secret? Here's what the SEO experts say:

Step #1 – Start With Google Places
According to Google, about 20% of searches are related to location. That's 2.3 billion local searches every month. Google Places – a free platform – allows smaller businesses greater recognition. To list your business in Google Places (which links to Google Maps), you simply need a Gmail account and a primary phone number. After verifying the listing (either by phone, postcard, or SMS text), you can personalize it by adding your company's physical address, e-mail and website. "You can also add pictures, improve your company's description and respond to negative reviews," says Scott Salwolke, owner of Ad Hoc Marketing.

Step #2 – Choose Keywords Wisely
Choosing proper keywords for each webpage you create is critical to any SEO strategy. "If you don't pick the right keywords, it's like building a great ship, being out to sea for six months and then ending up in the wrong place," says Charlie Preston, an Austin-based SEO consultant. Translation: design around specific keywords. If you sell T-shirts, for example, don't pick "T-shirts," choose a keyword phrase like "custom imprinted promotional T-shirts."

Step #3 – Create Unique Content
Even if your website isn't flashy, it needs to be updated often. Providing fresh content – through blogs, videos, quizzes, testimonials and product descriptions – has become even more important for SEO because of recent Google Panda updates. "Content is king," says John Deacon, CEO of SEO consultancy Profitworx. "With Google, it's the quality of content that matters." In presenting quality content, remember to use the keywords you entered into your code within your copy. If you can afford to post lots of differentiated products (and highlight them with demos and pictures), your site will get a major SEO boost.

Step #4 – Make Navigation Simple
Having great content won't help if nobody can find it on your site. Experts say having easy-to-navigate pages will improve your Google search ranking. "Google records every hit and every bounce back," says Steve Wiideman, a creative search strategist. "If a user finds what they're looking for on your site, Google makes an inference and you get a point." Conversely, if a user clicks off your page and chooses another site, you lose a point. Remember, the faster your page loads, the better for SEO. Use text links instead of animation or drop-down menus. Make discounts or special offers prominent. Finally, have a useful 404 page in case of errors.

Bodek and Rhodes (asi/40788) has introduced a new website called Bodek and Rhodes Mobile, developed especially for mobile devices, at m.bodekandrhodes.com.

Brother International Corporation's Home Appliance Division has announced that Betsy Lambert, an avid quilter and sewer from Michigan, won the $5,000 grand prize in the company's first-ever nationwide sweepstakes. The sweepstakes awarded 20 $1,000 prize winners and one $5,000 grand prize winner for testing out new Brother sewing and embroidery machines.

Cap America (asi/43792) has announced that Lee Pearson and Associates were presented with the top sales award at the company's recent annual sales meeting in St. Louis.

Cintas (asi/162167) announced that it increased revenues in its most recent quarter by 9%. Further, the uniform rental and promotional products company said that it increased net profits by 33% in its fiscal 2012 second quarter, which ended on Nov. 30, 2011.

Ennis (asi/52493), the parent company of Alstyle Apparel & Activewear (asi/34817) has announced its revenues decreased by 9.6% in the quarter ended on November 30, falling from $134.8 million during the same period in 2010 to $121.8 million this year. Quarterly print sales at Ennis were flat, but apparel sales fell to $52.6 million, a decline of $12.7 million or 19.5%.

GroupeSTAHL announces it has entered into a joint venture partnership with Great Dane Graphics, a graphics company that specializes in four-color process, highly detailed stock and custom full-color artwork.

Proforma Global (asi/300094) announced that it has joined Startup America Partnership to provide startup businesses with effective marketing and branding strategies. Proforma Global is offering printed materials, promotional products, apparel, website design and multimedia services at discounted pricing to member companies to help them operate more effectively and reach their target audiences.

Sassy Scrubs has donated scrubs to military medical personnel through the Landstuhl Hospital Care Project.

Sweda Company LLC (asi/90305) announced the 35 winners of its Oakley Roller Bag Giveaway contest. To find out the winners of the contest, which was held in honor of the company's 35th anniversary, e-mail the company at sales@swedausa.com or visit www.swedausa.com.

Wisconsin Knitwear (asi/97595) owner Steven Arenzon recently donated warm knitted hats and gloves to his son Scott's good deed project. Scott gave the knitwear to local kids in his community in preparation for his upcoming Bar Mitzvah.
 



Challis: A lightweight, soft plain weave fabric with a slightly brushed surface. The fabric is often printed, usually in a floral pattern. One of the softest fabrics made, challis is most often seen in fabrics made of cotton, wool, or rayon. The word "challis" is derived from the Native American term "shalee," meaning soft.

Dotted Swiss: A lightweight, sheer cotton or cotton blend fabric with a small dot flock-like pattern, which is either printed on the surface of the fabric or woven into the fabric. End-uses for this fabric include blouses, dresses, baby clothes, and curtains.

Faille: A glossy, soft, finely-ribbed silk-like woven fabric made from cotton, silk, or manufactured fibers.
Veteran Industry Members Wanted

Do you measure your industry experience in decades, not years? Do you remember the humble beginnings of the imprinted sportswear industry? Wearables is seeking long-standing industry members to talk about the early days of the wearables industry. To express your interest in participating, please contact Editor C.J. Mittica at cmittica@asicentral.com.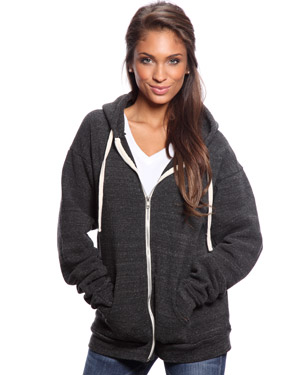 Tri-Blend Hoodie

Ultra-popular in fashion T-shirts, tri-blend fabrics have now made their way into comfortable and trendy hoodies. This fleece hoodie (25050) is made from a 50% polyester/37% cotton/13% rayon blend that is both super soft and lightweight. It offers fashionable contrasting details in its white zipper and drawcords, and has two front kangaroo pockets for ease of use. It comes in a trio of colors: onyx, navy denim and vintage gray. Available from Royal Apparel (asi/83731).

Selling Tip: Customers assume that only the most basic of apparel garments are manufactured domestically, so use this Made-in-the-USA hoodie to change their minds about the fashion items that are available from American factories.
Q: I am looking for a source of women's and children's rain boots that can be monogrammed on the side. I would like to offer this service with my own custom designs.

A: Consider "Wet Wellies" rain boots from Neet Feet (asi/73525); 760-721-1944; www.neetfeet.com. The product is called WELL and comes in several sizes and colors.

Toddler and youth-size rain boots are available from UMI Direct (asi/43851); 800-222-1474; www.umidirect.com. Product 561 is pink kitty rain boots, which are waterproof and rubber.

Plastex Products (asi/78308); 800-209-7246; www.ppprainwear.net; has several sizes/styles of rain boots, including products BBR110 and BYR100.

Finally, drop by Speed Promotional (asi/88686); 818-882-2146; www.speedpromo25.com; for "cowboy style" rain boots for men, women and kids (product SP100667).

Selling Tip: Pitch children's rain boots to daycare centers, pre-schools, children's church groups and community youth organizations. Embellish the logo of these organizations on a cute sample, and demonstrate to them how they could promote themselves and turn a profit by selling the branded footwear.

Q: I'm looking for women's johnny collar knit shirts, long-sleeve and ¾-length sleeves as well as short sleeves. Any in this area? 

A: Tri-Mountain (asi/92125); 800-824-6464; www.trimountain.com; carries product 133, a 3/4-sleeve Johnny collar ladies' shirt. This supplier carries several similar styles as well.

Virginia T's (asi/93917); 800-289-8099; www.virginiats.com; offers product 337W, a ladies' short-sleeve Johnny collar sport shirt with stain-resistant finish. It comes in sizes S-2XL.

In addition, get another 3/4-sleeve version available in sizes up to 5XL from Zorrel International (asi/99550); 800-528-8688; www.zorrel.com; product Z5013.

Finally, head to Dickies Occupational Wear (asi/49675); 800-336-7201; www.dickiesb2b.com; for product FL024, a comfy-looking long-sleeve contrast-color johnny collar shirt that comes in sizes XS-XL and four colors.

Selling Tip: Johnny collars offer a sleek, feminine look that will appeal to end-buyers who want a business-ready, fashionable garment.
Jan. 7-10, 2012 Oaks, PA
Philadelphia Gift Show
(678) 285-3976; www.philadelphiagiftshow.com

Jan. 14-17, 2012, Seattle
Seattle Gift Show
(678) 285-3976; www.seattlegiftshow.com

Jan. 15-18, 2012, Marlboro, MA
New England Apparel Club Show
(781) 326-9223; www.neacshow.com

Jan. 16-18, 2012, Orlando
ASI Show
(800) 546-3300; www.asishow.com

Jan. 20-22, 2012, Long Beach, CA
ISS Shows
(508) 743-0532; www.issshows.com

Jan. 21-23, 2012, Orlando
Orlando Gift Show
(678) 285-3976; www.orlandogiftshow.com

Jan. 23-27, 2012, Boston, Long Island, Seacaucus, NJ, Philadelphia, Baltimore
Advantages Roadshow
(800) 546-3300; www.advantagesroadshow.com
Jan. 28-Feb. 2, 2012, New York City
New York International Gift Fair
(800) 272-7469; www.nyigf.com

Jan 29-Feb 2, 2012, Toronto, ON
Toronto Gift Show
(800) 611-6100; www.torontogiftshow.org

Feb. 1-3, 2012, Dallas, TX
ASI Show
(800) 546-3300; www.asishow.com

Feb 3-4, 2012, New York City
Manhattan Vintage Clothing & Antique Textile Show and Sale
(518) 434-4312; www.manhattanvintage.com/home/index.php

Feb. 6-10, 2012, Seattle, Portland, Sacramento, Concord, San Jose
Advantages Roadshow
(800) 546-3300; www.advantagesroadshow.com/index.html