SPONSORED BY


VIDEOCAST

[ VIDEO SELLING TIP ]

Behind the Scenes. Wearables and Stitches Editor Nicole Rollender takes you behind the scenes at a Stitches magazine photo shoot at ASI headquarters in Trevose, PA. You'll meet the cast of quirky characters who make the shoots happen, plus you'll see how much fun we have shooting the cover and cover story images each month. Click here to watch the video.

What did you think of this videocast? Send your feedback to nrollender@asicentral.com.

ADVERTISEMENT


 

[ TRENDS ] 

 Laser It


This high-tech, computerized branding technique can produce images, text, logos and textures on your newest fleece apparel. By using lasers to remove fleece down to the liner, a custom logo can be etched into place, revealing a darker, richer image on your color of choice. Companies such as ID Wear (asi/62095) offer laser branding on most of their fleece apparel.

 
 

 

According to ID Wear's Marketing Manager, Michelle Spezowka, "This kind of decoration service is ideal for micro fleece and denim apparel. The laser makes a permanent impression on the fabric and essentially lasts forever." Wear-tested laser samples haven't shown signs of wearing out.

"Laser etching can achieve great detail and texture in the artwork and takes an average of 10 to 15 seconds to produce one impression for most logos," Spezowka says.

 



From ID Wear (asi/62095), this polyester micro fiber anti-pill fleece jacket (5714) was decorated with laser technology.

ADVERTISEMENT

Selling Tip: Steer buyers to colored fleece for this type of branding. According to Wendy Gray, creative director of Vantage Apparel (asi/933390), polyester fleece in mid-tones is an ideal choice for a tone-on-tone effect. Black and light colors don't show as well.

Hues Today
When it's anything but green outside, why not brighten up your day with an organic fashion tote in a bright color? Designed to be durable as well as fashionable, this premium weight, twill weave cotton bag from Continental Clothing USA (asi/46410) features quality stitching in seven vibrant colors. The two-week countdown to its debut starts now.

 



From Continental Clothing USA (asi/46410), style EP75 from the 100% organic EarthPositive collection; these tote bags are available in seven fun colors.

"All these tote bags are manufactured in India, solely using wind power, generated from renewable energy," says Simon Bliss, media coordinator for Continental Clothing USA (asi/46410). "The reason we're unique is because our factory has been inspected and certified by the Carbon Trust as being 'Climate-Neutral.' No other apparel manufacturer has thrown open the doors to their entire supply chain the way we have." The carbon footprint of the EarthPositive totes and T-shirts is more than 89% lower than that of traditionally manufactured non-organic products.

"The development project for EarthPositive apparel has taken two years to complete, and it is designed to provide an industry blueprint for ethical and sustainable production," Bliss sayss. The line is made using sustainable energy and is produced under the Global Organic Textile Standard, Oeko-Tex 100 Standard and certified by The Control Union, The Soil Association and Carbon Trust.

 

Fun Tip: Calculate your business's carbon footprint by visiting http://www.carbonfootprint.com/businesscalculator.aspx. 

 

Another color palette that's hot for winter is pastel. In two weeks, Monterey Club (asi/30205) will introduce its new Bamboo Charcoal Dry Swing polo for spring. The pistachio color featured here is perfectly on trend. The fabric "wicks moisture away from the body with odor management features," according to Alina Acebo, vice president of sales and marketing at Monterey Club. Made from a soft blend of polyester and bamboo charcoal, the shirt is easy to care for and machine washable. Ladies, don't get jealous, because a female style will also be available (2085). Both men and women can choose from seven color options. For more information, e-mail mkt@montereyclub.com.

Selling Tip: Suggest that buyers layer neutral clothing with a pop of color, whether it's a fun bag or a bright shirt.

 

From Monterey Club (asi/30205), this brand-new polo (1085) rocks the pastel trend in a cool pistachio color

Join the Million Dollar Sales Summit
Attention high-performing distributor sales reps: ASI has a targeted and exclusive learning opportunity that's taking place during The ASI Show in Orlando on January 3, 2009. During the Million Dollar Sales Summit, you'll be one of the first reps in the industry to receive a copy of ASI's groundbreaking Advertising Specialties Impressions Study, which will give you powerful ammunition to convince clients to increase their budgets for promotional products. This study compares the ROI of promotional products against other advertising mediums.

Additionally, you'll hear from a nationally-recognized sales strategy consultant, who will focus on leveraging your client base in these economically challenging times. The program will conclude with a networking reception where you will have a chance to network with peers and talk with key industry suppliers about trends for their product line in 2009.

Click here for more information and to view a special invitation from ASI President and CEO Tim Andrews. http://cdn.asishow.com/asishow/email/html/AS-7458.html

Q&A: Nicole Britt, Bella-Alo (asi/39590) 

Q: What's the history behind Bella?

Nicole Britt: The company started about 16 year ago and it's kind of a neat success story because the two owners, Marco DeGeorge and Daniel Harris, are best friends from high school. They started a screen-printing company and got their big break when they were introduced to people from Gap Inc. Working with Gap, they tried to find ladies' apparel to supply them with and discovered a huge niche that wasn't being filled: fitted women's apparel. Slowly, they concentrated on developing Bella, Alo and Canvas and eventually got out of private labeling and manufacturing for retail. Bella means "beautiful" and fits the philosophy of the company: to create high-quality clothing for women to make them feel beautiful. Canvas is the company's men's section and Alo offers performance wear for men and women.


Q: What was the first year of business like?    

NB: Because there was a huge niche in the industry that hadn't been filled, it took a lot of educating our customers. People were still getting used to having a ladies' cut tee rather than boxy-cut T-shirt. It took a lot of educating of people that boxy-cut tees weren't wanted. Customers weren't accustomed to paying a little more for something pretty and that fit physiques better.


Nicole Britt is the national account executive for Bella. Contact: nicole.britt@bella.com.




Q: How has the company evolved over the years?

NB: It went from offering somewhat basic apparel, like T-shirts and spaghetti straps, to having over 3000 SKUs. Today, Bella offers T-shirt dresses, camisoles with strap adjustments, burnout tees, inside out tees, vintage tees and so much more. We have everything from polo shirts to thongs. The way we sell products has improved as well: There is a more simplistic purchase process and the Bella and Canvas Web sites have new product locators so customers can easily locate the style or color they need.  

Q: What's Bella best known for within the industry?  

NB: We're known for our range of high-quality products that are competitively priced. We have a wide style offering and arrangement of colors as well as a consistency in our production line. I've worn our products and washed them a million times and they're still around. The embellishments last longer, too. We want to make our customers happy and create a loyal customer base.

Q: What are the company's biggest challenges today?

NB: We have to train customers that while Bella is great for the junior market, it's not just for juniors. Some people see a medium and think that sizes run small. We have size Small through XX, which is equivalent to a size zero through size 14. Our T-shirts are made for the female physique and it's not "one size fits all." It takes a little bit of educating to teach the customers that didn't know about ladies apparel that women will pay extra money for a garment that would make them feel beautiful. My whole family wears Bella: from my 14-year-old niece to my mother at 55 and grandmother at 73. 

Q: What's new for Bella in 2009? What products will distributors be excited about? Who can they sell these products to?

NB: We have a lot of new styles. We're introducing longer length styles and new colors like light aqua and plum, which are big trends in retail for spring. Some new additions to the Bella line are our burnout tee, T-shirt dress and the super-soft tissue tee. The market range is so vast for Bella. We can go into any company, whether it be corporate or not, and there's something suitable for everyone. We work with university book stores, athletic teams, airports, casinos, resorts, Disney, Coca-Cola, brides and cheerleaders, just to name a few.
Listen to ASI Internet Radio [asicentral.com/radio] 
A team of ASI editors have launched the first ever ASI Internet Radio show. For a half-hour each Tuesday, we debate the most important topics facing the industry, as well as offer an off-beat look at the market.
If you missed any of our shows, don't worry. Recordings are available at asicentral.com/radio. And, don't forget to join us every Tuesday morning 10:30 a.m. Eastern time when we broadcast our radio show live. We'll be taking calls from the audience, so please call us at (215) 953-4979 to hear your voice on the air.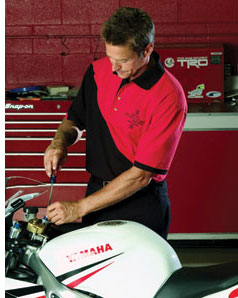 [ OUR FAVORITE WEARABLES ]

The RPM
Available From: Featherlite Apparel (asi/53907); (713) 688-4455; www.featherliteapparel.com
Sell To: This stylish placket shirt with the popular racewear look is ideal as a work uniform or for a wide range of corporate, race-themed events. Distribute to clients who are big NASCAR fans.
Style Tip: Its color-blocked pattern features half the shirt in black and the other half in a contrasting color on a unique diagonal slant. Available in red/black, white/black, gold/black and orange/black.

[ NEWS BRIEFS ] 
| | | |
| --- | --- | --- |
| Cap America awarded TR Spoltman and Associates with its coveted 2008 Cap America Distinguished Sales Award at the annual sales meeting held in St. Louis, Missouri. Tom Spoltman (right) and Doug Yount (left) accepted the award from Bruce Watson (middle). |   | |
Charles River Apparel (asi/44620) President Barry Lipsett has aided in raising $35 million dollars in the Pan-Massachusetts Challenge towards the fight against cancer. All proceeds will be donated to the Jimmy Fund. 
| | | |
| --- | --- | --- |
| Colman & Company has a Golf Ball Kit which offers customers the opportunity to get a complete package of products which can include golf shirts, golf towels and golf balls imprinted with a pro shop logo, tournament logo or corporate logo. |   | |
EmbSupplies.com offers new printable inkjet canvas framing kits. It includes two types of canvas, five frames measuring 11 by 11 inches, a framing jig and a can of textile post treatment to be applied after printing.
| | | |
| --- | --- | --- |
| Great Garment Graphics recently revamped and updated its Web site to include additional educational and training opportunities. Find the latest schedule of two-day workshops held on a monthly basis throughout the country. For more information, visit www.greatgarmentgraphics.com. |   | |
ASI Awards: 2008 In Review
With only a few weeks left in 2008, it's time to take a step back and reminisce about some of the outstanding achievements and awards that ASI doled out during the year.
The ASI Central team's blog has a full wrap-up. Read it today at http://asicentralblog.com. Who knows? You could end up in the winner's circle in 2009.
If you have questions, comments or any type of feedback regarding ASI Awards or anything ASICentral, don't hesitate to contact feedback@asicentral.com.

[ ASK AN EXPERT ] 
Question: One of my customers had seen an over-the-shoulder nylon bag that held a raincoat and a blanket. Any ideas?
Answer: I most certainly do have some ideas! In fact, I think I found a product that is exactly what you were looking for. Look at product T-839 from Topaz Trading Inc. (asi/91492); (905) 850-8555; www.topaztrading.com. They offer a three-in-one blanket and rain poncho with outer nylon shell and fleece blanket. They fold into a carry bag with shoulder strap and carry handle, available in blue, green, and black.
Selling Tip: Products that offer multiple features are always a favorite of the recipient. Distribute this particular item as a great holiday gift for an important employee or client. 
Question: I'm looking for different color denim shirts besides light and dark blues. Any suggestions?
Answer: They do make denim shirts in colors other than light blue and dark blue … the trouble is finding them. Look at product 7180 from S&S Activewear (asi/84358); (800) 523-2155; www.ssactivewear.com. This supplier offers a 100% cotton denim long-sleeved shirt in black, medium stone, natural, and stone bleach. Product BW1 from A Design N Time Inc. (asi/30264); (719) 347-0166; www.dntproducts.com is a solid snap denim shirt available in red. Also check out product OB42 from Atlantic Coast Cotton (asi/37355I); (800) 262-5660; www.accinfo.com. This poplin denim/woven shirt comes in single and double color combinations like French blue, French blue-white, pink-white, white, white- French blue. For even more color options (like black, dark green, earth brown, indigo, khaki, mustard and sky), try product HDN-L from Cobra Cap (asi/45575); (800) 523-1598; www.cobracap.com. Short-sleeve denim shirts are available in the same colors and are listed as product HDN-S. If you're looking for ladies denim shirts, look at product 8967C which comes in lilac and pink from Bodek and Rhodes (asi/40788); (800) 523-2721; www.bodekandrhodes.com.
Selling Tip: Give out denim shirts to clients and personalize them with their name or your company logo on it. Also, create company parties that relate to the style, such as a country-western or a '70s theme. 

[ WEARABLES TERMS ] 
Synthetic Fibers
Here are some of the popular fibers used in apparel manufacturing. Being familiar with these will help you educate end-users about why their shirt or jacket is so comfortable
Microfiber: Very thin fibers, including polyester, nylon, or acrylic, that are less than one denier per filament. Typically creates very strong fabrics with a softer hand that are durable, water-repellent, windproof and have the ability to retain color.
Nylon: A synthetic polymer - a plastic, durable fabric used in apparel and other everyday items. Invented by DuPont Corporation in 1939, today it's used in many apparel items and is popular for its resistance to moisture and wrinkles and its unending durability.
Polyester: A strong, durable synthetic fabric with low moisture absorbency. Polyester is popular for its comfort and doesn't wrinkle or fade. It is often blended with cotton to produce a longer-lasting garment that wrinkles less.
Spandex: The name for many of the elastic textile fibers most often made from polyurethane. Its ability to stretch and snap back to its original form makes spandex ideal for a blend used in garments designed to hold their shape. It was developed in 1959.

[ SHOW LIST ]
Jan. 3-5, Orlando 
The ASI Show Orlando
(800) 546-3300; www.asishow.com.
Jan. 12-16, Las Vegas 
PPAI Expo
(972) 258-3075; www.theppaiexpo.org
Jan. 16, Tempe, AZ 
US Screen's T-Jet Printing Workshop
(480) 929-0640, www.screenprinters.net
Jan. 16-17, Knoxville, TN 
Floriani Commercial Products Two-Day Educational Workshop
(423) 413-7514; www.rnkdistributing.com
Jan. 19-30, Boston; New Jersey; Philadelphia; Baltimore; N. Detroit; S. Detroit; Cleveland; Columbus, OH; Cincinnati
The ASI Advantages Roadshow         
(800) 546-3300; www.asishow.com
Jan. 23-25, Long Beach, CA 
ISS Show Long Beach 2009
(800) 933-8735; www.issshows.com
Jan. 30-Feb 1, Allentown, PA 
Vastex's Screen Print Training Program
(610) 434-6004; www.vastex.com
SPONSORED BY


Wearables Style and Wearables are trademarks of the Advertising Specialty Institute. You were sent this newsletter as a benefit of your ASI membership. Copyright 2008, ASI. All Rights Reserved.
If you'd like us to send Wearables Style FREE to anyone else at your company (or to your off-site sales reps), go to www.asicentral.com/newsletters and complete the online form.
Interested in advertising in Wearables Style? Send an email to ddienna@asicentral.com 
Click here to subscribe to Wearables™  magazine. You must be a member of ASI to subscribe to this publication. The publisher has a right to refuse subscriptions to non-members.
Advertising Specialty Institute®, 4800 Street Road, Trevose, PA 19053