How To Sell It: Kids' Wear
While it's true kids can't wait to grow up, it's also true that adults can't wait for kids to look like grown-ups. Trends in kids' wear have trickled down from adult apparel so that they bear more than a passing resemblance. "Children's styles are following adult fashions, which is where the main influences in trends originate," says Gina Watson, CEO of L.A. T Sportswear, which carries its Rabbit Skins line of clothing for kids. "Products that capture that 'mini-me' characteristic are very popular for children right now. Not only do children like to dress like their adult counterparts, but adults also like to see their little ones dress like them." 


| | |
| --- | --- |
| | |
| Pullover hoods aren't used for infants but are popular for toddlers. This toddler pullover fleece hoodie (684) is made from ring-spun cotton for superior comfort. Available from The Greene Company (asi/58227) | |
| | |
| | |
So it's no surprise that just like with adults, the casual style of T-shirts is a big-time seller. In the Precious Cargo line at SanMar (asi/84863), infant tees, toddler tees and infant 1x1 rib 1-piece are considered their most popular kids' items. The supplier recently updated the line to focus on coordination and fit. "Everything in the Precious Cargo line is color coordinated. That means the colors in our tees match the colors in our fleece that also matches the colors in our bibs and so on," says Stacie DuBois, merchandiser at SanMar. "We wanted to help our customers put together a truly matching set with these coordinating pieces."

For The Greene Company (asi/58227), 90% of their business comes from selling infant and toddler T-shirts. Infant zip hoodies also sell well, but "infant pullover hoods do not sell at all – probably because mothers do not want to struggle with pulling the hood over a baby's head," says Eydie Greene, president and owner at The Greene Company. "Toddler fleece pullover hoods [do] outsell toddler zip hoodies."

The slim and skinny fit styles that have become popular in recent years are also translating to children's clothing. Dickies (asi/49675) is adding new slim and skinny styles in 2015 for their kids' twill, denim, cargo and carpenter shorts. The clothing is made with lightweight and flex fabrics with added cotton. "Our kids' line is also very versatile and can easily be worn to school and on the weekend. Kids are rough with their clothes, so parents are looking for quality fabrics that are also in style," says Marie Johnson, kids wear general manager at Dickies.

For customer preference, softness matters too. The Greene Company, for example, uses ring-spun yarn in its children's products. Top markets for kids' wear include summer camps, back-to-school items, daycares, hospitals, and charity events. Screen printing and embroidery are top decoration methods, but be careful to avoid non-compliant inks or other techniques that may contain metals or lead.


ASI Radio: Responding When Top Talent Leaves
On last week's Tuesday Morning Show, the hosts gave callers advice on what to do when an excellent employee leaves. How can you keep sales or service from slipping? How should you react if employee morale suffers? How can you demonstrate effective leadership?

Click here to listen to the complete call-in segment. If you missed any other part of the show, a recording is now available at www.asicentral.com/radio. And, don't forget to join us for our next broadcast on Tuesday, August 12. Log on at 10:30 a.m. ET to listen to the show – and give us a call at (215) 953-4979 to hear your voice on the air.
ADVERTISEMENT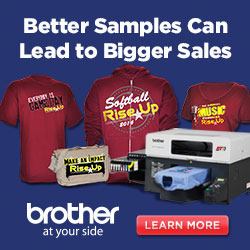 Sales Challenge: Treating Clients
Winning over clients takes more than smart advertising or excellent customer service. A fun outing will show how you much value them. Here are eight great ideas:


Go to a Baseball Game: Sure, you can impress your business partners with box seats at a major league stadium. But, don't fret if that's not in your entertainment budget. Minor-league games can provide good times too, and at bargain prices. For a list of minor-league teams and stadiums in your area, go here: www.littleballparks.com
Hold a Happy Hour: Call your local clients and rally them together at a favorite watering hole. Offer an open bar for an hour, order a few appetizers and you've got yourself a casual soiree that will pay off.
Host a Party: Looking to do something larger scale? Host a client appreciation party. Have the festivities catered and consider theming the event – perhaps something outdoorsy, like a barbecue. If you really want to up the impact, combine work with pleasure by inviting a few trusted suppliers in to display new items for clients to check out.  
Get on the Greens: You don't have to pull together an entire golf tournament (although you could), but a few hours on the links with a couple of hot prospects could just be enough to seal the deal. Hone your skills at the driving range beforehand.
Cast a Few Lines: Fishing provides just the right mix of relaxation, excitement and time for chatting. Charter a boat, grab a few mates and you're sure to hook a sale. 
Head to an Outdoor Concert or Play: Do your top clients' tastes trend more to the cultural? Then take advantage of the warm evenings by treating them to performances in the park or similar events. You'll be the star of the show if you do.
Take to the Wine Trail: Treat clients to a tasting event at a nearby winery – or consider having a sommelier lead a tasting at your office or a swankier location. Lucky to be in an area where wineries are clustered? Then rent a limo or van and have your clients safely shepherded to several of the estates for sipping.
Do a Dinner Cruise: Scenic and relaxing, dinner cruises provide ample opportunity for relationship-building. You'll become a friend rather than just a business associate – a distinction that goes a long way toward encouraging customer loyalty.


Bodymapping: The strategic placement of component materials in garment design and construction to provide the best possible movement and balance to enhance stamina or reduce fatigue for the wearer

Coroplast: A solvent ink used in printing coroplast blanks.

Tulle: A fine net of acetate, nylon, rayon or silk used for the embroidery of imitation laces.




Ash City (asi/34063), now part of alphabroder, has released its Fall 2014 collection that includes 27 new Ash City styles. Click here for more information.

Bodek and Rhodes (asi/40788) recently held a celebration called "BuildFest" to thank employees for their patience during the construction of a new 100,000-square-foot warehouse. Click here to view event photos.

Bullet (asi/42424) has launched more than 80 new items across several categories, including technology, bags, drinkware and stationery, all at affordable price points. For more information, head to www.bulletline.com.

Charles River Apparel (asi/44620) received a Bronze Award at the 35th Annual Telly Awards for its promotional video entitled "Look Good. Feel Good. Charles River Apparel." Visit www.charlesriverapparel.com and www.tellyawards.com for more information.

Debco Solutions (asi/48885) introduces Ask Darcy, an intuitive interface to whom users can ask questions while searching for products online. Ask Darcy is available on select technology products as indicated with an Ask Darcy logo. For more information and to try Ask Darcy, visit www.debcosolutions.com.

Fersten Worldwide (asi/53974) announced two additions to its Canada sales force, Sandy Baer and Beth Timbers. They will represent Fersten Worldwide and FILA in the Greater Toronto Area.

Gemline (asi/56070) has recently added Bret Clemons as vice president of sales and Mark Shearer as regional sales manager for Minnesota, Wisconsin, Iowa, Nebraska, North Dakota and South Dakota.

Gildan Activewear (asi/56842) announced it increased its revenues by 13% in its recently-completed quarter. The company had revenue of $694 million for the quarter, representing growth of 12.9% compared to the same quarter last year.

Graphic Solutions Group has released a new publication which will detail the latest products, trends, and technical advances in the industry. The Pulse will be published monthly and is available online and by mail. Visit www.gogsg.com for more information.

J.A. Uniforms has promoted Sabine Salnave to order processing manager after being with the company for over a year as an administrative assistant.

Leed's (asi/66887) has released new collections and branded pieces at a variety of price points. Items include Cutter & Buck Pacific Fremont Collection, the Fair Isle Collection, the Cross Prime collection and a new Carhartt line. For more information, visit www.leedsworld.com.

Penn Emblem (asi/77120) now offers PennTrans, a line of versatile, high-definition heat transfers that can be applied to a broad range of fabrics and offer a soft hand, and effective stretch and recovery. For more information, visit www.pennemblem.com.

Proforma (asi/300094) recently concluded its 27th Annual Convention & Family Reunion in Grapevine, TX, at the Gaylord Texan Resort. The event drew a record-breaking 850 attendees, who experienced more than 90 educational sessions, interactive panels and personalized training instruction provided by author Eric Lofholm. Proforma also welcomed 18 new members into its Million Dollar Club at the event and nine new members into its Multi-Million Dollar Club.

SanMar (asi/84863) has launched its new product line for fall, which includes 130 new products and a revamping of the Precious Cargo line of infant and toddler clothing and accessories. Visit www.sanmar.com for more information.

The Wild Side is now offering a variety of designs in a range of processes including plastisol, puff inks and rhinestones for the cheerleading market. These durable heat-applied graphics can be adhered to any color of shirt that is made of 100% cotton, 100% polyester and also 50/50 blends. For more information, visit www.thewildside.com using keyword, "cheer."

Transfer Express (asi/91804) is offering a new demo video that walks you through the process of using its Easy View online designer. The demo outlines the steps of choosing a layout, clip art, lettering and colors. Then it shows creating a proof to send your customer for approval before ordering. Click here for more information.

Trimark Sportswear Group (asi/92122) has released its 2015 collection that includes 44 new styles. Click here for details.

Vantage Apparel (asi/93390) has named Jeff Jennings the facility manager for its West Coast sales and embroidery facility in Santa Ana, California. Jennings has been working for the company for the past 11 years in a customer service role at the St. Louis embroidery location.