SPONSORED BY


VIDEO

Hire Power
How to get the most out of your decorating shop? Hire the right employees. Wearables and Stitches staff writer Christopher Ruvo covers the best strategies in this video. Click here to watch this video.



Trend Alert: Gingham
Heritage Sportswear (asi/60582) offers this line of Van Heusen dress shirts (13V0225) that feature the gingham pattern. They're available in green, amethyst, and periwinkle gingham.
 
 
When it comes to fashion, the 21st century seems to be the era of the "throwback." High fashion lines and runways are crowded with vintage trends that have been adapted and improved for modern style. A favorite blast-from-the-past over recent seasons is gingham. The checkered two-tone pattern was the go-to look for housewives in the mid 1950s and is now being reborn as a chic, sophisticated, and fun pattern that's adorning everything from formal wear to sleepwear. "I think there is just a big revival of the retro look in fashion," says Cindy Sims, PR & promotions manager at Heritage Sportswear (asi/60582).

While gingham appears as a print for summer dresses or tank tops, it's also being used on winter jackets, men's dress shirts and children's clothing. According to Ashley Adams, marketing coordinator at S&S Activewear (asi/84358), this versatility is largely the cause for its popularity. "We offer the gingham pattern in a variety of colors which allows the customer to wear the garments year-round," says Adams. This makes gingham an ideal pattern for promotional apparel.



ADVERTISEMENT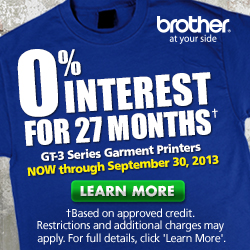 Due to the popular retail demand for the pattern, Heritage Sportswear now includes gingham Van Heusen men's dress shirts in its product lineup. "Businesses everywhere are becoming more relaxed about their dress codes," says Sims, "so I think that's a great target market for the pattern. If need be, it can look very professional paired with a solid color tie but it can also be casual if worn with a pair of jeans." In addition, Adams attributes gingham's success to the pizzazz it can add to a garment. "It's a consistent pattern that gives the product a trendier look then just a solid color would," she says.

However, it is important to be cautious when decorating gingham for promotional apparel. "For decorators, sometimes any kind of pattern is a deterrent," Sims warns. "It can be a challenge to add decoration to any pattern that has a horizontal stripe. If you have a long logo that has a definite horizontal Y, you run the risk of it looking crooked against the pattern. But with a round logo or emblem, it's not an issue." Branding issues aside, there's no denying the pattern's rising popularity. "Wholesale mimics retail but lags about a years and a half," says Sims. "The pattern has been huge in retail so the promotional apparel industry is finally picking it up."


WHAT'S HOT ON WEARABLESMAG.COM

Plenty Of Polos
Learn the sales strategies and defining styles of this corporate and casual staple. Click here to read.

Logo or No Go
How to tell if a customer-supplied logo is up to snuff for screen printing? Follow these five steps. Click here to read.

Tanking It
Find out how hot tank tops are and which markets are best to sell them to. Click here to read.

Be sure to visit www.wearablesmag.com to read these stories and more.
Ash City Debuts 2014 Collection With Launch Event



Combining trendy city sophistication with uncompromising outdoor performance and functionality, the Enroute (78684) is one of the highlights of the new 2014 collection from Ash City (asi/37127). Like the male companion piece (88684), the Enroute's distinguishing features include a heat reflect lining for added warmth, soft touch rib storm cuffs and more.
 
 

At a special launch event at its corporate headquarters outside Toronto, Ash City (asi/37127) debuted a 2014 collection that delivers everything from cutting- edge performance technology and hip urban style to attractive, value-driven traditional items priced to meet every budget. "The strength of the collection is its versatility," says product line manager Elson Yeung, noting Ash City is offering more than 100 new styles. "We've covered everything from price points to on-trend styling."

In an impressive showroom outfitted like a retail boutique, Yeung showcased key pieces from the new collection. The clothing fell in categories that ranged from base layers (performance polos, wovens) and mid-layers (bonded fleece jackets, fleece vests) to protective layer (soft shell and waterproof jackets) and outer layer (insulated jackets and 3-in-1s) garments

Showcasing Ash City's push to be at the forefront of apparel technology within the industry, items in the new collection are enhanced by smart-tech attributes. That includes UTK warm.logik, a heat reflect technology that provides a higher level of thermal comfort and warmth without adding movement-restricting bulk. Moisture is pulled away from body to the surface at an accelerated rate with the company's Quick Dry performance technology. Ash City also singled out apparel like the Fuse Polo (85113/75113), which uses heavier, sturdier fabrics and a more structured drape to better protect against snags – a tech development the supplier calls Snag Protection Plus. "Our goal is to always stay ahead of the game with what we offer," says Yeung.

Such ambition comes to fruition in new pieces like the Enroute (88684/78684), a sophisticated city jacket with a textured shell and UTK warm.logik Heat Reflect lining. The jacket is part of Ash City's North End Sport Blue line, a brand that blends fashion-forward urban style with outdoor performance and functionality. "These pieces really represent a lifestyle," says Mabel Kwok, director of design and merchandising for the company.

During the launch, Ash City also featured the Ventilate (88680/78680), an exciting 2014 outerwear piece from the North End Sport line. Boasting fashion-forward elements like laser perforation at the collar, the Ventilate is a seam-sealed insulated jacket with cold-repelling features like a neck warmer system and storm cuffs.

Of course, the new collection was about much more than just outerwear. Garnering attention were the Extreme brand's Fuse Shirt (87042/77042) – which has UV protection and a handy pen slot – and the wrinkle-resistant cotton blend dobby stripe shirt known as the Establish (87041/77041). Regardless of the Ash City brand or style, Yeung says each piece was painstakingly created to embolden logos. "All garments," he says, "are designed not to interfere with decoration but to help make the most of it."

After debuting the new collection, Ash City representatives led a tour of their lab facility, which subjects fabrics to a battery of tests that measure performance and durability, covering everything from wicking rate to colorfastness. Just outside the lab, amid the heart of the 272,000 square foot distribution center/headquarters, Ash City's cut-and-sew operation buzzed with activity while thrumming embroidery machines evidenced the supplier's robust in-house decorating operation. "Because of our backend capabilities," says Laura Turner, vice president of marketing, "we can market and sell all our products with a high degree of confidence."

ASI Shark Tank Is Looking for You

Are you an ASI supplier with a new product idea that will rock the advertising specialty industry? If so, the producers of ASI Shark Tank are looking for YOU. We're on a nationwide search to discover the next hot item to hit the promotional products market. In a first-ever ASI Show event in Orlando in 2014, ABC reality hit Shark Tank co-hosts Barbara Corcoran and Kevin O'Leary will judge live pitches from innovative suppliers.

Click here to learn more and enter our casting call.

How To Sell: T-Shirts



This juniors tee (DT260) from the District line of SanMar (asi/84863) features an innovative microburn fabric, drop hem and relaxed fit.
 
 

It's the simpliest of garments, yet its popularity remains more wildly outstanding than that of Justin Beiber or the late Michael Jackson back in his moon-dancing prime. Once again, the T-shirt takes the gold, as it's the number-one selling item in the ad specialty industry.

Christopher Bernat, co-founder and chief revenue officer of Vapor Apparel (asi/93396), has an explanation. "The T-shirt is part of the American lexicon," he says. "For 100 years we have seen the T-shirt build brands for everyone from Coca Cola to Texaco." He goes on to express that a T-shirt is not only a reliable method to build brand awareness – it's also a smart one. "If a T-shirt 'speaks' to the customer, it can establish a relationship in a way that no other promotional item can."

Selling the tee doesn't have to be a frightening concept to most companies. It's been a process going on for years, and a successful one at that. "People like receiving T-shirts," says Rhea Aslin, senior brand manager at SanMar (asi/84863) for its District and District Made lines. "There's often a story about where or how someone got one, and people tend to keep them for a while. Tees are ideal for everyone!"

When determining where to sell, pretty much every market is an open target. The range of potential buyers is exponentially large due to the ubiquitous nature of this item. Pretty much everyone wears the T-shirt, and at the very least, they'll purchase it for one reason or another. However, you don't want to have the typical, yawn-encouraging sales strategy that's often seen across the board. Today, companies are looking for intriguing, attention-grabbing new ways to spice up their sales pitch.

That includes finding and pitching unique products and decorations. "We focus on techniques traditional screen-printing simply cannot do," Bernat says. "For example, all-over print and photographic art can help a promotional shirt stand out in a crowd." Thankfully, there are a lot of hot new trends happening now that makes creativity and individualistic appeal easy to come by. "Right now for ladies, wider necklines, different hemlines and lace accents are desired," Aslin says. "Guys are enjoying interesting fabrications and cool seaming details." Heathers also continue to be a favorite, Aslin adds, along with tri-blends that feature fabric softness, interest and texture. Where the T-shirt is involved, possibilities are endless, and with the right approach, sales are pretty much a guarantee.



Improve Customer Loyalty

On today's Tuesday Morning Show, the hosts took questions from callers who were looking for advice on how they can boost customer retention. Plus, we shared our Favorite Things, discussed how to put together a strong business plan, and offered tips on how to become more persuasive.

If you missed the show, a recording is now available at www.asicentral.com/radio. And, don't forget to join us for our next broadcast on Tuesday, August 13. Log on at 10:30 a.m. ET to listen to the show and give us a call at (215) 953-4979 to hear your voice on the air.

T-Shirt Dress

This casual but sleek dress is made of 100% jersey material for the ultimate comfort-meets-style garment. It comes in eight eye-catching and vibrant colors and features a unique form-fitting shape, which lends it a sexy and comfortable appeal. The dress features capped shoulders and a loose-fitting collar for a more casual look. Available from American Apparel (asi/35297).

Selling Tip: This dress can be paired with almost any jacket and adorned with a broad range of accessories, which makes the garment extremely versatile. Customers can increase the visibility of their brand with apparel that can be worn year-round.



American Apparel (asi/35297) has acquired high-end, New York-based retailer Oak. Financial terms of the deal were not disclosed.

Americraft Products (SEMCO) (asi/86364) announces addition of the following Multi Line Rep Groups: Sinatra Enterprises (WI, IL), Select Lines Marketing, LLC (MO, KS, IA, NE), M.H. Michalson Inc.(WA, OR, ID, AK) and Pete Rosica Promotions (NY, NJ, PA, DE, MD, DC).

Ash City (asi/37127) has appointed Brent Neal as a dedicated sales representative for the southern Alberta and southeastern British Columbia territory.

BITO has announced that it has partnered with Tohoku Seiki to acquire Proel s.r.l, an embroidery and standalone laser equipment company based in Italy. The purchased company will be renamed Proel TSI and will be led by Keitaro Harada, recently appointed president.

Brother International Corporation (asi/12600) has officially extended a 0% Financing Program on its GT-3 series digital garment printers (models GT-341, GT361 and GT-381). This special financing program is on offer through September 30.

Fersten Worldwide (asi/53974) announced that its catalog and the FILA catalog for 2014 are now available. Both catalogs are now available in the traditional hard-copy format, as well the digital version, which can be downloaded at www.fersten.com.

Gildan Activewear (asi/56842) announced last week that net income in its fiscal third quarter surged 47%, helped by lower cotton costs and increased sales volume. The company further said that it increased its sales in the period ended June 30 by 2.3% to reach $614.3 million in the quarter.

Graphics One, LLC (asi/14975) is launching a new hybrid UV ink and curing system that upgrades any new or used eco-solvent printer into a hybrid UV printing system. For more information, contact Christian Sam at christians@graphicsone.com.

Great Garment Graphics announced it is presenting four free educational webinars in August. To register, click here.

GSG is hosting its annual Hank Granberry Golf Classic Tournament Party on Friday, Sept. 6, at the Stonebriar Fazio Resort in Frisco, Texas. This tournament is held in honor of Hank Granberry, father of GSG President Mark Granberry, who passed away of pancreatic cancer. Deadline for registration is August 30. For more information, contact Lauren Mason at (214) 712-6232 or marketing@gogsg.com.

Inkcups Now has opened a new 3,000 square-foot warehouse, demo room and office in Lake Elsinore, CA. The warehouse stocks the company's complete line of Sapphire ink products, inkjet inks and a wide selection of printing plates and other supplies.

Madeira USA has released its newest Source Guide, featuring the company's complete catalog of supplies. View it online at www.madeirausa.com.

Next Level Apparel (asi/73867) has relocated. Phone numbers and e-mail addresses will remain the same. The company's new address is: YS Garments Inc. dba Next Level Apparel, 15730 S. Figueroa St., Gardena, CA 90248.

Polyconcept North America announced that Sharon Willochell has been promoted to president of Trimark Powered By Leed's (asi/92122) and Michael Snyder has been promoted to vice president of merchandising and national accounts.

Proforma (asi/300094) recognized top suppliers at its 2013 Annual Convention & Family Reunion in Las Vegas. The following vendors won Preferred Limited Partner Awards at the Gold Level: SanMar (asi/84863) – apparel; Polyconcept North America, including Leed's (asi/66887), Bullet (asi/42424), JournalBooks/Timeplanner Calendars (asi/91340), and Trimark Sportswear Group (asi/92122) – promotional products; Discount Labels (asi/49890) – business documents; and Independent Folders (asi/62554) – commercial printing. The following suppliers were named ProExclusive Partners of the Year: Trimark Powered by Leed's and Vitronic Promotional Group (asi/93990).

SanMar (asi/84863) has announced that its 2014 Apparel, Bags & Caps catalog, which includes the company's newest full-line collection as well as a large showcase of tall sizes, has been released. View the catalog at www.sanmar.com.

Stahls ID Direct (asi/88984) is offering a $100 credit through August 31 with the purchase of a Hotronix heat press. Customers can also receive $50 credit for purchasing a Hotronix cap press. For more information call 1-800-4-STAHLS or click here to place your order.

Stormtech Performance Apparel (asi/89869) has launched its new fall 2013 collection, which includes 60 new styles. For more information, visit www.stormtech.ca or call 866-407-2222.

T-Biz Network International has announced two new fall dates for its Printers Boot Camp series of workshops. The next Printers Boot Camp will be held in Nasvhille, TN, from September 12-15, and an additional Camp will be held in Scottsdale, AZ from November 22-24.
Q: I am looking for dressy, moisture-wicking shirts that could be worn with a suit. Can you help?

A: Polyester is the best for a strictly wicking shirt, so if you decide to go that route, try Alpha Shirt Company (asi/34408); (800) 523-4585; www.alphashirt.com. Product 3045 is a short-sleeved shirt that wicks away moisture.

For something that breathes and wicks, try NES Clothing Company (asi/72808); (800) 782-7770; www.nesclothing.com. Product 7005 is a 60/40 cotton/poly blend that also provides wicking with the added breathability of cotton.

Also try Edwards Garment Co. (asi/51752); (800) 253-9885; www.edwardsgarment.com. Product 1230 is a 65/35 cotton/poly blend short-sleeved poplin shirt.

Selling Tip: Apparel with moisture-wicking capabilities has across-the-board appeal, with buyers ranging from schools, small businesses and nonprofits to corporations, auto dealerships and many more.

Q: We have started doing a lot of work with the military and I need to know where I can find camo aprons, bags, hats, etc. These will be for ladies and men involved with the military.

A: Head over to Aprons, Etc. (asi/36558); (800) 467-1996; www.apronsetc.com; product number V3000CAMO for a customizable twill camo apron that's sure to please. You have a variety of hats to choose from.

Also try Alpha Shirt Company (asi/34408); (800) 523-4585; www.alphashirt.com; for a military cap with a distressed look and contrast stitching, product number AH73. There are plenty of options out there for bags as well.

For one that the men will prefer, pay a visit to Acehigh Tech Corp. (asi/30537); (888) 869-7789; www.acehightech.com; for a camo backpack that will be a hit, product numbers 81860 or 84145.

For the ladies, go with a stylish tote from Broder Bros., Co. (asi42090); (800) 521-0850; www.broderbros.com; product number HY801.

Selling Tip: While its appeal to the military market is obvious, camouflage items are also popular with hunting and fishing clubs, outfitter tours, outdoor guide companies, certain schools and universities, and, increasingly, the baby and children's wear segment.
Compression Stretch: The name given to the expansive stretch that is created by the spandex fibers used in the development of a compression fabric.

Opacity: In screen printing, this refers to an ink's ability to cover the underlying color of the substrate.

Simulated Process: A screen-printing technique that is usually used for the reproduction of photographic or full-color images. Involves the use of color separation software and printing certain colors of opaque inks in a particular order on high mesh count screens.
Aug. 13-15, Shreveport, LA, Jackson, MS, New Orleans
Advantages Roadshow
(800) 546-3300; www.advantagesroadshow.com

Aug. 14, Knoxville, TN
PPAMS Knoxville Road Show
(615) 465-8109; www.ppams.com

Aug. 22, Bloomington, MN
UMAPP Selling Solutions Showcase Room Show
(651) 734-9767; www.umapp.org

Aug. 24-27, Ft. Lauderdale
Fort Lauderdale Gift Show
(678) 285-3976; www.ftlauderdalegiftshow.com
Aug. 25-28, Marlboro, MA
New England Apparel Club Show
(781) 326-9223; www.neacshow.com

Sept. 16-19, Raleigh, Charlotte, Atlanta, Nashville
Advantages Roadshow
(800) 546-3300; www.advantagesroadshow.com

Sept. 17-20, Las Vegas
Las Vegas Souvenir & Resort Gift Show
(678) 285-3976; www.lvsouvenirshow.com

Sept. 26-28, Fort Worth, TX
ISS Shows
(508) 743-0532;www.issshows.com

Sept. 30-Oct. 4, Van Nuys, Ontario, Newport Beach, San Diego, Phoenix
Advantages Roadshow
(800) 546-3300; www.advantagesroadshow.com