SPONSORED BY


VIDEO

Star-Studded Affair
To promote the worthy cause of giving industry apparel a home, Wearables has organized a telethon to drum up support. Which famous athletes and actors will stop by to take part in this Wearables Celebrity Telethon Extravaganza? Click here to find out.


What did you think of this video? Send your feedback to cmittica@asicentral.com.


Trend Alert: MAGIC Fashion Show Trends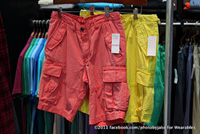 Bright-colored shorts and chinos for men were a big hit at the MAGIC Fashion Show in Las Vegas.

How bright is the future of apparel? Judging by the colors on display at the MAGIC Fashion Show in Las Vegas last week, very bright indeed. Continuing the ultra-bright trend from this past spring into fall, clothing lines eagerly demonstrated their affinity for color in classic items like dresses and jackets as well as more unusual fare, such as brightly-colored shorts and chinos for men. "This color thing has really taken hold in men's," Barry Miguel, president of popular jeans maker Seven For All Mankind, told Women's Wear Daily.

The colors were a bright spot in a diverse show that featured everything from relaxed tailoring to continuing trends like military influences and classic Americana. Popular trendsetter American Apparel (asi/35297) was on board with the brights, featuring its new neon collection with items like hoodies and crop tops. And well-known brand Victorinox (asi/93755) leveraged the trend with a wave of strikingly-hued nylon jackets. Trendwatcher Fashion Snoops highlighted a number of key colors for spring, including brights like Orangeade, Poppy and Ink.

Not everything, however, was dyed to within an inch of its life. Khaki emerged as a key men's wear piece as part of the Americana heritage trend, with companies displaying shirts, jackets and pants all featuring the popular fabric. Relaxed tailoring manifested itself in both women (drapey tanks and slouchy tops) and men, with key items like loose-cut jackets and drop-crotch pants poised to make a comeback.

Promotional apparel suppliers were also making their presence known at the show. Perry Ellis International (asi/77715) jumped on the popular safari theme and also highlighted a new line of black garments slated to debut this fall. Weatherproof (asi/68318) got the jump by revealing its fall 2012 line, which featured its 32 Degree Heat collection of outerwear in several new items. And Cockpit USA (asi/43022) featured everything from camouflage prints galore to Hawaiian shirts.


Apparel Design Awards Nominations Now Open
Wearables is pleased to announce that we are now taking submissions for our annual Apparel Design Awards. You've worked hard at creating the best apparel in this industry – why not be honored for it? All you need to do is take a few minutes of your time and nominate some of your best products. The contest is open to suppliers, decorators and distributors. E-mail Editor C.J. Mittica at cmittica@asicentral.com for further details.


Q&A: Carhartt Scrubs



Carhartt has launched a new line of durable medical scrubs for men and women, with plans to expand the line even further in spring 2012.

Carhartt has designed a new line of medical scrubs to be released this fall. The work wear manufacturer is in the process of finalizing a partnership with CID Resources, the line's new licensee. Carhartt Premium and Carhartt Ripstop styles will be available through select Carhartt and uniform specialty retailers and on carhartt.com. Rick Fecowicz, Carhartt's director of licensing, talked about the new offerings.

Q: How did the partnership with CID Resources come about?
Rick Fecowicz: Many of our retailers encouraged us to provide them with a scrubs product category. They highly recommended CID Resources, having worked with them in the past. During the research phase, we also spoke with industry veterans who shared the same sentiment.  

Q:Why did Carhartt decide to launch a medical apparel line?
RF: As a leader in the work wear industry, we felt it was a natural fit for us to extend our line into the growing health-care field to provide medical scrubs that have Carhartt attributes like quality, durability and functionality.

Q:What kinds of products are being offered?
RF: For the current season, we are offering premium basics for both women and men. Our Carhartt Premium line features a cotton-rich, blended fabric that is lightly brushed and very comfortable. This line contains three tops and three bottoms in a mix of unisex pieces as well as styles geared toward women. Our Carhartt Ripstop line also features cotton-rich, blended fabric that is very comfortable to the touch. This line is styled for men and includes two tops and a multi-cargo pant. All of the styles have details that are hallmarks of our brand, such as triple-needle stitching, multiple pockets, bi-swing back yokes for ease of movement and a very comfortable fit.

Q:Where do you see the company going with the new line?
RF: For spring 2012, we'll expand the line to add unique print tops for women, plus four to six styles of lab coats – for both men and women – that feature anti-microbial fabrics. As a leader in work wear, we want to ensure that we're providing medical workers with a compelling product assortment that meets their needs for quality, comfort and value. We'll sell our medical scrubs line through traditional uniform specialty shops, medical uniform catalog retailers and e-commerce retailers in addition to a number of Carhartt apparel retailers. 

Q:How will both Carhartt and CID Resources benefit from the new line?
RF: We will continue to grow our reputations as leaders in premium work wear by providing our retailers and consumers with new and innovative products from a brand they trust. 



Nominate the SGR Supplier Sales Rep of the Year!
Supplier Global Resource, the industry's only magazine dedicated to ad specialty suppliers, is holding its 2nd annual Supplier Sales Rep of the Year contest to recognize outstanding performance, exemplary service and top-notch professionalism.

Distributors, do you work with a supplier sales rep who's gone above and beyond for you this year? Do you have a supplier partner who always puts you and your customers' needs first and has a "do whatever it takes" attitude to make you shine? If you know the perfect contender, e-mail the nominee's name and details regarding what makes him or her award-worthy to Michele Bell (mbell@asicentral.com), editor of Supplier Global Resource, by Friday, September 16, 2011. The winner will be profiled in ASI's magazines and get to bask in his or her own fabulousness for the year!



Sales Challenge: Discontinued Apparel


It's nearly that time of the year again. Suppliers are releasing fresh catalogs full of new apparel items. At the same time, they're launching closeout sales on garments that are discontinued. Is it a good idea to pitch apparel that is being discontinued to clients and prospects? It can be.

Patti Zingale of I.D. ME Promotions (asi/229317) of Tarzana, CA, scored success with a client in the health-care industry by matching the organization with a fleece vest that was being discontinued. The client intended to give a nice apparel item to employees as a holiday gift, and Zingale knew the vest would be a perfect fit. After ensuring the supplier had the right colors and sizes in stock, Zingale pitched the health-care provider, who liked the style of the vest and its bargain price: $20, instead of the original $35. "You have to make sure the stock is deep and that you'll be able to get what you need, but it can work out," says Zingale.

Kimball Smith, business development director at Cavanaugh Marketing Network (asi/159262), says the Pittsburgh-based distributorship has generated sales by taking a targeted approach to pitching clients on discontinued apparel. Cavanaugh begins by assessing what items are available from its leading suppliers. After identifying quality offerings, Cavanaugh uses Constant Contact to send an e-mail to clients who have purchased similar apparel in the past. Including a picture of the item with the e-mail, Cavanaugh communicates that the shirt or jacket is being offered at a one-time-only low price and will be available for a limited time. Several days after the e-mail goes out, a salesperson follows up with clients to see if they're interested in purchasing the apparel, be it for an imminent event or for use down the road. "We're up front. We don't use the word 'discontinued,' but we make it clear this is something available for a limited time at very good pricing," Smith says.

If a client has an apparel program through Cavanaugh, then the distributor contacts the program administrator and relates that quality apparel that may mesh with the organization's tastes is available at a bargain rate. After confirming with suppliers that necessary stocks are on hand, Cavanaugh offers to run a special sale for the client in which employees can order the discontinued items for a limited time – say 10 days. "We make a profit on in it, and it's a good value-added service we provide to our clients," Smith says.

As Smith and Zingale indicate, it is important to ensure that stocks are adequate when working with closeout items. That can be challenging, though. "With discontinued apparel, it always feels like you're trying to fit a square peg into a round hole," says Brandon Kennedy. The marketing consultant at Proforma Progressive Marketing in Bakersfield, CA (asi/300094) further notes that margins tend to be lean with discontinued items, leaving little room for error. "If something goes wrong, you can lose your margin entirely," Kennedy says.

Additionally, not being able to reorder the discontinued apparel can cause headaches for clients and distributors, even if the customer knows up front that the apparel is on closeout. Kennedy points to a time when he came through with an order of discontinued jackets for a client that needed the outerwear for an event. Normally $75, Kennedy got the client the jackets for $30 apiece. He was a victim of his own success, though: The jackets and the price point were such a hit that the customer wanted to order more a few weeks later. By then, the jackets were gone. The client understood, but it was still frustrating for Kennedy. "We missed a chance for a sale," he says.



Anvil Knitwear (asi/36350) was a sponsor of the Farm Aid 2011 concert, which featured six exclusive Farm Aid T-shirts, made from Texas cotton by organic and transitional growers. Anvil's Shirt Scan technology gave concertgoers access to exclusive concert content.

Boxercraft (asi/41325) announced that it has released a new 48-page catalog that features the supplier's entire line of spiritwear, accessories and embellishment options.

Coastal Business Supplies is now offering the new Trans-O-Matic 3446 heat press for expanded decorating options. The machine is ideal for volume imprinting of mouse pads, large plastic and metal signs, and more.

Cutter & Buck (asi/47965) announced the launch of a new brand identity, "Genuine Spirit of the Pacific Northwest." The brand initiative incorporates the introduction of a denim-based fashion line for spring 2012, as well as the unveiling of a modernized logo.

Dalco Athletic is now offering a new 8 Bit dye-sublimation appliqué design. The retro-style typeface with gradient color provides a 3-D look for sportswear, team jerseys, jackets and bags.

DYMO Endicia, a provider of shipping and mailing postage technology solutions, is the official retail shipping sponsor of Soles4Souls, a charity that collects footwear from shoe warehouses and individuals and distributes them to people in need.

Gemline (asi/56070) announced that it has expanded its team product line, after recently launching its new fall line featuring over 40 team-specific items in 11 popular school and team colors.

Great Garment Graphics will offer free educational webinars for heat-applied graphics in September. GGG also offers videos, booklets and DVDs at www.greatgarmentgraphics.com.

Leed's (asi/66887) has released an exclusive new line of specialized professional women's tote bags: the Nicole Gloss Tote, the Sophia Meeting Tote and the Sophia Checkpoint-Friendly Compu-Tote. The company is also now offering free embroidery on select blankets and bags.

Levy Advertising Enterprises (asi/253164) has announced that the company has purchased the assets of Universal Adwear. The new entity will be an LLC under the name of Adwear by Levy, a subsidiary of Levy Advertising.

Pacific Western Sales (asi/75731) has announced that John Short has been named the company's new national sales manager.

Proforma (asi/300094) announced that it has created a Hall of Fame and has inducted John Vento as its inaugural member.

Transfer Express (asi/91804) now offers custom bumper stickers in standard and custom sizes. Customers can use their own art or go online to transferexpress.com and design a logo using Easy Prints templates and clip art.

TSC Apparel (asi/90518), a subsidiary of ProFill Holdings, has acquired wholesaler All Star Activewear. To accommodate increased orders in the region, TSC has also expanded its Houston distribution center by more than 50%.



Capillary Action: A process by which liquids are drawn through the fabric and into pores found between fibers and yarns.

Colorfastness: A term used to describe a dyed fabric's ability to resist fading due to washing, exposure to sunlight and other environmental conditions.

Gauze: A thin, sheer plain-weave fabric made from cotton, wool, silk, rayon or other manufactured fibers.


Inverse Technology Windshirt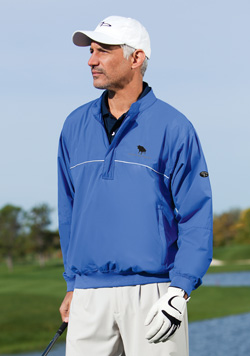 Golfers everywhere love to play around in the sunny, cool temperatures of autumn. As such, the need for a light jacket with performance versatility is a must when the weather begins to mellow. That's why this Page & Tuttle Free Swing Inverse Technology Windshirt (P1840) is perfect. This unlined, microfiber polyester twill windshirt is wind- and water-repellent, and allows for range of motion with a riding waistband to prevent discomfort. And now, the Page & Tuttle (asi/72725) division has merged with River's End Trading Company (asi/82588) to form one sales team, website, catalog and product line. The transition will take place over the next four months, with restructuring of sales staff likely to be completed by Oct. 1. Along with both of these brands under one roof, expect to see three new exclusive brands in River's End's 2012 catalog, including Brooks Brothers. Windshirt available from River's End Trading Company.

Selling Tip: This windshirt would make a great gift to longstanding clients or even as an appreciation gift to business partners.


Q: I'm trying to gain a customer in the restaurant business. They are looking for Guayabera- or Cubavera-type Mexican shirts. I've never heard of them until now; I Googled some businesses, but I need a wholesale company that provides these. Can you help?

A: Be sure to check out Perry Ellis International (asi/77715); (866) 231-4309; www.pei-corporateapparel.com; which carries the Cubavera line of shirts. One of its many options is the Pieced Bedford Cord Camp Shirt (product C6SW0003), a 68/32 rayon/polyester shirt with a sand wash finish.

Also check out Bodek and Rhodes (asi/40788); (215) 673-6767; www.bodekandrhodes.com. This supplier carries the style for ladies (product C100) and men (product CM176).

Lastly, try Apparelstar Inc (asi/36539); (702) 269-4521; www.apparelstarimports.com, product AS-5000.

Selling Tip: Inspired by the color and vibrancy of Hispanic culture, these shirts make a natural sell to any business or organization branded with a Latino image. The shirt styles are a natural, too, for events with a Hispanic theme.

Q: I need help! I have been hunting for at least three months for nice sueded navy jackets in assorted sizes for ladies. They have to be worn with long dresses. Can you help me find a resource? Please!

A: While I could not find any ladies' navy jackets that are made of suede, I found several options that are sueded and made of similar materials. First off, check out Fersten Worldwide (asi/53974); (800) 565-7462; www.fersten.com. The supplier carries a women's three-layer full-zip "Trek" jacket, 100% sueded polyester bonded (product FW3025). The jacket is available in navy, among other colors, and in sizes XS-2XL.

Additionally, Cottontex Canada (asi/46775); (800) 361-4651; www.cottontexcanada.com; offers a two-way sueded jacket with fur, made of polyester with zippered pockets and a full-zip front (product 60522). It comes in navy and in sizes S, M, L, XL and 3XL.

If you are interested in sueded fleece, take a look at One Stop Inc (asi/75085); (800) 968-7550; www.onestopinc.com. Product EZ332 is the Enza ladies' relaxed fit sueded fleece jacket. It is available in many colors, including navy, and in sizes XS-4XL.

Selling Tip: Fall is the ideal time for sueded jackets. Schools, local organizations, booster groups and more will all go crazy for these outerwear pieces.