Q&A: Rohde Royce and Sportco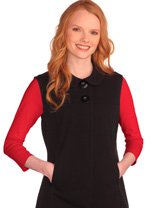 Gabrielle Rohde designed this double-knit, flyaway style Ponte vest for her Gabrielle Rohde Royce line, now a Sportco (asi/88792) brand.

In January, Naperville, IL-based Sportco (asi/88792) acquired the Rohde Royce brand, including all new and existing products in the Gabrielle Rohde Royce and GabiSport lines. Over the past six months, Gabrielle Rohde, founder of the Rohde Royce brand, and Sportco have worked together on a release of new designs for the 2012 catalog, which were presented for the first time at The ASI Show Chicago. Rohde talked about the new launch.

Q: What kind of products are you launching?
GR: In the Rohde Royce line, we have full-needle fashion sweaters. One is 80/20 cotton- nylon with ¾ sleeves, which comes in both a flyaway style and swing style with two buttons. We're also introducing a vest made of Ponte – a double-knit, dressier, machine wash-and-dry fabric. It's a tailored, hip-length, flyaway style with two buttons at the top that opens when you sit and closes when you stand. It's perfect for hospitals and admin staff.

In the GabiSport line, we have two new tailored sweatshirts that are truly for women. They come in 10 ladies' sizes, from misses and XS to XL, and women's plus sizes 1X – 5X, and are made out of comfy sweatshirt fleece that fits under your coat. One is a hockey lace-up V-neck with thumbholes that keep hands warm. Sportco will also line the hood with jersey fleece and screenprint it. The other sweatshirt has a cozy shawl collar that you can turn up, instead of a hood, and a large decorative button. It's more tailored than regular hoodies, so it's comfortable but classy. It's perfect for corporate branding.

Q: Which markets are you targeting?
GR: The Rohde Royce sweaters are updated pieces that are casual, yet classy enough for the corporate customer. The GabiSport hockey lace-up hoodie will be popular with female athletes — it's the look they want and the fit they need. The shawl collar sweatshirt is an updated, casual, feminine piece for corporate events. Women like sweatshirt fleece, but it's more versatile when it fits right. You can layer ours with outerwear.

Q: What does the launch do for both Rohde Royce and Sportco?
GR: The launch gives new life to the Gabrielle Rohde Royce and GabiSport lines. Sportco really believes in the products, understands the market and is committed to it 100%. They're also a full-service decorator that has been in the business for 20 years. With these new designs and the decoration, there's a lot of synergy. We both brought unique things to the table.
Listen to ASI Internet Radio
Be sure to tune in each week as a team of ASI editors takes to the airwaves for the ASI Internet Radio show. For a half-hour each Tuesday, we debate the most important topics facing the industry, as well as offer an off-beat look at the market.

If you missed any of our shows, don't worry. Recordings are available at asicentral.com/radio. And, don't forget to join us every Tuesday morning at 10:30 a.m. Eastern time when we broadcast our radio show live. We'll be taking calls from the audience, so please call us at (215) 953-4979 to hear your voice on the air.
In The News: Gildan Breaks Guinness World Record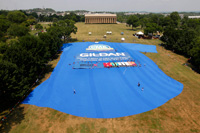 Gildan Activewear unveiled a royal blue shirt measuring an estimated 170 feet wide and 262 feet long that broke the Guinness World Record for largest T-shirt.

Gildan Activewear unveiled its latest T-shirt, but anybody who tries to wear it will find it a little baggy. The T-shirt manufacturer broke the Guinness World Record for largest T-shirt at the Country Music Association (CMA) Music Festival in Nashville. "The idea for this project started as just a passing thought," says Garry Bell, Gildan's vice president of global marketing. "Once we researched and realized it was something that we could actually achieve, we immediately took on the challenge!"

The royal blue shirt measures an estimated 170 feet wide and 262 feet long, almost the size of a football field. It weighs about three tons. The fabric was produced from North Carolina yarn in Gildan's textile facility. "We used a sophisticated pattern design computer system that ensured that it would be in the same proportions as a regular large shirt," Bell explains. Over four weeks, final construction took place in Utah, where the company used machines on a track that sewed the rolls of fabric into larger panels.

The final product, unveiled at the CMA festival in June, used the same amount of material as 12,000 standard-size Gildan t-shirts. The company will donate the same number of tees to Keep the Music Playing (KTMP), CMA's charity program started in 2006 to support music education in Metro Nashville Public Schools. "Youth and education have always been focuses of our community involvement initiatives and we were excited to partner with KTMP," says Bell. After the event, the shirt will be reused. "It was shipped back to our Honduras facilities where it will be repurposed – cut up, cleaned and recycled," he says.

That's not the only charitable endeavor Gildan has embarked on this year. Continuing its annual "I Support…" program to benefit charities, Gildan has donated $30,000 to nonprofits through its Giving Good Cards. The cards allow industry members to direct an immediate $50 donation from Gildan to the charity of their choice. Gildan is partnering with Network for Good, a nonprofit that facilities online giving with cards that can be redeemed through a website. Nominated charities in the "I Support …" program are considered for additional donations from Gildan of up to $50,000 based on their demonstration of characteristics like accountability and sustainability.
What's In My Closet?
Wearables has kicked off a new running feature called "What's In My Closet?" We are asking our readers a simple question: What is your favorite branded apparel item in your closet? Send in a photo of you and your favorite garment, and tell us in a paragraph why you love it. We'll run one submission each issue, and that lucky winner will receive a $25 Visa Gift Card. Be sure to send a photo and your written entry to Editor C.J. Mittica at cmittica@asicentral.com.


Bodek and Rhodes (asi/40788) announced that, after introducing its complete virtual sample tool with the Apparel Design Studio, it has now expanded the program to allow users to post samples and their own designs through Facebook, Twitter and MySpace.

Broder Bros. Co. (asi/42090) has launched the Promotional Apparely Buyer's Guide, an end-user version of its Selling What Sells sales tool.

Cintas (asi/162167) reported revenues of $1.01 billion for its most recent quarter, which ended on May 31. The result is an 11.3% year-over-year increase.

Cutter & Buck (asi/47965) announced it has received its Quality Certification Alliance accreditation following a year-long review process.

Hanesbrands Imagewear (asi/59528) announced it cooled off runners in the annual "Beat the Heat" 5K road race in Winston-Salem, NC, with its new Hanes Cool DRI T-shirts.

Heritage Sportswear (asi/60582) partnered with Fruit of the Loom at The ASI Show Chicago to give away decorated tees, cameras, GPS units and iPADS throughout the event. Two dozen prizes plus 200 tees were awarded. Heritage also announced the hiring of new sales team member Rachel Hare, who can be reached at rhare@herspw.com.

Hirsch International announced it has changed its web address to www.hic.us. E-mail addresses for all staff also reflect this change. They are constructed of the person's first initial, last name and @hic.us.

Imprintables Warehouse (asi/58475) announced its new Spectra Dark Glow material, which glows in the dark by casting off a fluorescent light.

Madeira USA announced that is has the ability to ship thread and supplies on Saturday and Sunday by working with UPS Express Critical service.

Proforma (asi/300094) announced it has added six new owners to its network in July.

PVH Career Apparel (asi/75633) announced it has been granted Oeko-Tex Standard 100 certification for its men's dress shirt lines marketed under these brands: Calvin Klein, Tommy Hilfiger, Van Heusen, Izod, and Arrow.

Royal Apparel (asi/83731) announced it now offers free freight on in-stock merchandise including clearance, samples and sale items.

Superior Uniform Group, Inc. announced it was named to APPAREL Magazine's 2011 list of Top 50 companies. The company is ranked 38, up two positions from 2010.

The Cedarstream Co. Inc. (asi/44365), based in Cedartown, GA, has joined ASI as a supplier decorator member.

World Emblem International (asi/98264) announced the opening of its Canadian manufacturing plant on August 1. This is World Emblem's 10th manufacturing operation worldwide, with multiple U.S. locations as well as international locations in the United Kingdom, France and Mexico.


Encapsulation: A process in which the fibers of a fabric are coated with a filmy substance to create certain high performance qualities, such as breathability.

UV Degradation: The breaking down of fibers or fabrics when exposed to ultraviolet rays.

Vinyon: A synthetic fiber polymer made from polyvinyl chloride. In some countries other than the United States, vinyon fibers are referred to as polyvinyl chloride fibers, and are similar in nature to vinyl.