SPONSORED BY


PODCAST 


Wearables Staff Writer Matt George talks with Don Schmincke, business consultant and author of the bestseller The Code Of The Executive, to learn how business owners can flourish through these turbulent times by incorporating longstanding management principles. Click here to listen.

What did you think of this podcast? Send your feedback to cmittica@asicentral.com. 

 
Listen to ASI Internet Radio [asicentral.com/radio]
A team of ASI editors has launched the first-ever ASI Internet Radio show. For a half-hour each Tuesday, we debate the most important topics facing the industry, as well as offer an off-beat look at the market.

If you missed any of our shows, don't worry. Recordings are available at asicentral.com/radio. And, don't forget to join us every Tuesday morning 10:30 a.m. Eastern time when we broadcast our radio show live. We'll be taking calls from the audience, so please call us at (215) 953-4979 to hear your voice on the air.
How to Sell It: Jackets
ADVERTISEMENT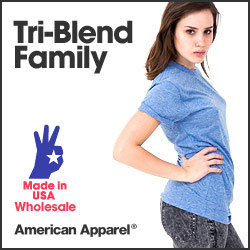 With the crisp fall air just around the corner, it's time to start thinking about jackets. While some companies with recurring jacket orders may place them as early as April, late summer and early fall are the best time to find new clients in the jacket market. "We are pre-selling jackets during the hottest months of the year, and it can be difficult for end-users to focus on a heavyweight jacket in the spring and early summer," says Nicole Parker, corporate sales manager for Dri Duck Traders (asi/50835).

The first step to becoming a successful jacket provider is to consider and understand all the different types, styles and weights of jackets available. Though there are many different types of jackets, distributors can separate jackets into three basic categories: lightweight, heavyweight and three-in-one. "Lightweight jackets include windshirts, golf windshirts and other lightweight jackets worn in the spring and fall seasons," says Howard Headden, vice president of sales for Ash City (asi/37127). Heavyweight outerwear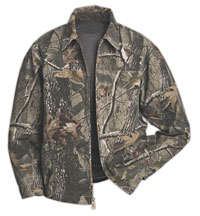 This camouflage cotton twill jacket (5041-HD) features on-seam pockets, detailed sewing accents and snap cuffs, heavy-duty metal zipper and inside cell phone and patch pockets with Velcro closure. Available from Dri Duck Traders (asi/50835).

includes winter jackets in various lengths created to provide a high level of protection against the cold. Finally, three-in-one jackets include a combination of a shell with a reversible fleece piece inside. In addition to these three major categories, an emerging category of jacket that is extremely popular right now is the soft-shell jacket, known for great fit and the same protection as heavier outerwear with half the bulk.

Being versed in these basic categories of jacket isn't the only knowledge you need to ensure that you're ready to service your clients and take on new jacket accounts. "Know your fabrics," says Jason Neve, creative director at Boardroom ECO Apparel, (asi/40705). Boardroom ECO Apparel, for example, offers lightweight layering jackets that don't offer wind or water resistance; they also offer lightweight jackets that feature a wind- and water-resistant shell. Because suppliers' jacket offerings are so diverse, it's crucial for distributors to understand and research the different types of fabrics and technical capabilities of the jackets you're presenting.
Lands' End Expands Ad Specialty Presence


Lands' End, the Wisconsin-based clothing retailer known for its catalog and Internet sales, has launched a promotional products collection – beyond solely apparel – that will be marketed and sold directly to end-users. "Lands' End Business Outfitters is expanding our product offering to better serve our customers by providing a single, reliable source of branded products, from polo shirts to drinkware," said John Maher, vice president of Lands' End Business Outfitters.

For the past 16 years, Lands' End has offered branded corporate apparel, but the company is now expanding its reach to provide client gifts, employee rewards and corporate branding programs. Initially, according to its business blog, Lands' End is offering roughly 350 promotional products, with an emphasis on golf equipment, mugs, pens and planners. Each category contains an eco-friendly option, with items made from post-consumer materials as well as resources like cotton and bamboo. "We have selected items for our collection that are not only useful but also tasteful, professional and, in many cases, sustainable," said Maher.

Besides offering promotional products, Lands' End is additionally launching an online store application, allowing businesses to create custom sites with uploadable logos.
Lands' End, which bills itself as a direct merchant that works with mills and manufacturers, began as a sailboat equipment company in 1963. In 2002, the company was purchased by Sears, Roebuck and Co. for $1.9 billion.

Attend A Free ASI Education Webinar
Before the industry's top distributors and suppliers gather for the ASI Power Summit 2009 (November 1-3), join Counselor Senior Editor Michele Bell as she moderates a Webinar joined by Power Summit speakers. Topics will include tips on sales and marketing strategies for growth, advice for employers in this tough economy, and the 2010 outlook for distributors and suppliers.

Entitled "Power Summit Preview: Hot Topics Roundtable," the Webinar will take place on Thursday, September 10 from 2 p.m. to 3 p.m. eastern time. Panelists will include Vera Muzzillo, co-owner of Counselor Top 40 distributor Proforma (asi/300094), David Nicholson, president of Counselor Top 40 supplier Polyconcept North America and Memo Kahan, president of Counselor Top 40 distributor PromoShop (asi/300446).

Click here to register now.

Trend Alert: Hippie Style


This 100% heavyweight cotton tie-dye T-shirt (G2000 142) is an example of the traditional "Roy G. Biv" style. Features double-needle stitched neckline, sleeves and bottom hem. Available from Giraffe-X Graphics Inc. (asi/57050)

In the early '60s, Bob Dylan hailed a new era with his song, "The Times They Are A-Changin'." But with all due respect Mr. Dylan, it seems not much has changed, at least from a fashion standpoint. The hippie trend – everything from bellbottom pants to extended blouses to leather braided belts – has endured since the '60s as a continuing element of mainstream fashion. And with the 40th anniversary of Woodstock this August, the time is ripe to pluck some of the grooviest styles from that era.

So how can you partake in the peace and love movement? Look no further than tie-dye shirts. Supplier Giraffe-X Graphics Inc. (asi/57050), an Indiana-based company went a step further by offering customizable tie-dye shirts. "We work with customers to see what kind of style and colors they'd like to mix and match rather than keeping a few selections in stock," says Sharon Maurer, president at Giraffe-X. "Usually it's the traditional Roy G. Biv T-shirt they admire, but a number of consumers take a liking to the two-color shirts as well."

The release of a new mainstream movie, "Taking Woodstock," and the subsequent attention paid to the anniversary of the seminal music festival should also generate interest. "We source out to local fundraiser events, schools and corporations that have unique colors in its logo," says Maurer. "I'm sure we'll get business from an unexpected customer as we're well known for our shirts, and the anniversary will have them in high-demand."

Another reason tie-dyes will do well for your business is the current state of the economy. Not only is a tie-dye shirt inexpensive (with the average being around $10), but it also gives off a point of expression. "When you're wearing a tie-dye shirt, you're really showing your individuality. During these times, multi-colored shirts seem to make the wearer and anyone who crosses the wearer's path happy," says Maurer. "And the brighter the colors, the brighter the smile on the face of both."

Charles River Apparel (asi/44620) has announced the hiring of Thomas Graham Lovelace as an account executive. Lovelace will cover Georgia, North Carolina and South Carolina.

EnMart expanded and relocated its warehouse and shipping facility located in New Jersey. The EnMart East facility is now located at 148 71st Street, Guttenberg, NJ, 07093.

Imprintables Warehouse offers free in-shop training in October for VersaCAMM, a unit that prints using solvent-based inks and then contour cuts each image creating instant full-color transfers that can be heat applied. For a current list of dates, go to www.garmentua.com.

NAUMD has announced that a new Imagewear Uniform Innovation Committee will be created. The committee, chaired by Career Apparel President John Gillie, will provide members with the latest innovations in products, fabric enhancements, green initiatives and a host of other areas.

Pulse has released Tajima DGML, version 13.1, which includes a range of new stitches and tools to increase the software's capabilities and special effects. The Fur Stitch and Cascade Stitch have been added to the version.

S&S Activewear (asi/84358) has released its Forerunner catalog, containing a preview of fall and winter styles for 2009-2010. The new catalog is available for viewing online, click here.






Knowing these terms will make ad specialty distributor who just started sound like they've been in the business for years.


Finishing: Processes performed after embroidery is complete. Includes trimming loose threads, cutting or tearing away excess backing, removing topping, cleaning any stains, pressing or steaming to remove wrinkles or hoop marks and packaging for sale or shipment.

Frame: Holding device for insertion of goods under an embroidery head for the application of embroidery. May employ a number of means for maintaining stability during the embroidery process, including clamps, vacuum devices, magnets or springs.

Logo: Name, symbol or trademark of a company or organization. Short for logotype.