SPONSORED BY


VIDEOCAST 


Wearables Staff Writer Matt George shows off some of the smaller products in the industry that can help your business in a big way, with a little help from his miniature buddy! Click here to watch the video.

What did you think of this video? Send your feedback to cmittica@asicentral.com.

 
FTC Cracks Down On Greenwashing Claims
ADVERTISEMENT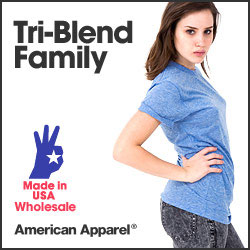 The Federal Trade Commission (FTC) has charged four non-industry apparel manufacturers with deceptively marketing their products as eco-friendly when the companies' production processes were, in fact, harmful to the environment. "With the tremendous expansion of green claims in today's marketplace, it is particularly important for the FTC to address deceptive environmental claims," said David Vladeck, director of the FTC's Bureau of Consumer Protection.

The accused companies, which use the business names of Jonäno, Mad Mod, Pure Bamboo and Bamboosa, have claimed some of their clothing products are made from bamboo fiber. Instead, the FTC says those clothes are actually made of rayon, a man-made fiber created from the cellulose found in plants and trees and processed with a harsh chemical. With its latest action, the FTC is pledging to more tightly scrutinize greenwashing, a term used to describe unsubstantiated environmental claims about products. "When companies sell products woven from man-made fibers, such as rayon," Vladeck says, "it is important that they accurately label and advertise those products."
While Jonäno, Mad Mod and Pure Bamboo have agreed to settlements, the FTC is continuing litigation against Bamboosa, also known as The M Group. None of the accused companies have acknowledged wrongdoing, but the settling manufacturers have agreed to end their eco-friendly claims.
To support fair advertising among manufacturers, the FTC has produced a new publication designed to help businesses properly sell clothing and textile products that are made from bamboo. For more information and for FTC compliance rules, go to: www.ftc.gov.
Listen to ASI Internet Radio [asicentral.com/radio]
A team of ASI editors has launched the first-ever ASI Internet Radio show. For a half-hour each Tuesday, we debate the most important topics facing the industry, as well as offer an off-beat look at the market.

If you missed any of our shows, don't worry. Recordings are available at asicentral.com/radio. And, don't forget to join us every Tuesday morning 10:30 a.m. Eastern time when we broadcast our radio show live. We'll be taking calls from the audience, so please call us at (215) 953-4979 to hear your voice on the air.

Business Spotlight: Pro Towels Etc.

 

This 35" x 68" heavyweight beach towel (BTUSA-18) is an example of how a company's logo can be widely recognized when seen by others. 

Stephanie McClintock is the Director of Marketing for Pro Towels Etc. (asi/79750)

Wearables: How was Pro Towels founded?
Stephanie McClintock: In December of 2006, Towels Etc. (asi/91608) acquired Professional Towel Mills (asi/79750) and became Pro Towels Etc. (asi/79750). The combined strengths brought product quality, award-winning decoration and international manufacturing capabilities to the marketplace.

Wearables: What kind of items do you supply?
SM: Many end-users think we're a supplier of only towels – not true. We offer robes and blankets as well as towels. What makes us unique is that our towels are one-size-fits-all. We don't like to categorize ourselves as an apparel company, because most apparel doesn't offer that capability.

Wearables: With a towel's versatility, how can they be used in a variety of situations?
SM: Like you said, towels are completely versatile. You can use one of our micro-fiber towels on a golf bag. They can also be used for other sports such as tennis, football or baseball. We sell beach towels that can be used for beach-goers. Our one line is called "CleenFreek." These towels are micro-fiber and moisture-wicking and are perfect for cleaning. It helps prevents germs and odor.

Wearables: What kind of customers do you work with?
SM: Anyone and everyone. Towels are used everyday. When you get out of a shower, you need a towel. When you're going on a boating trip or swimming, you need a towel. That's what makes us so productive in this industry. We're well-received by our customers and we're here to stay for a long time.

Wearables: What sets you apart from other companies that may offer towels?
SM: We pride ourselves in recognition, durability and value. We can help your company be recognized if you allow us to put your 25" x 50" logo on a beach towel. It's the largest area to imprint amongst other promotional products. Our towels are also very durable. You won't have to worry about buying another towel as they're machine washable for endless use. Furthermore, we are extremely customizable. I don't know about other companies, but we work with customers to give them what they want.

Wearables: What has been the company's biggest challenge?
SM: Surprisingly, not the economy. Many companies are struggling today, but we aren't seeing any setbacks in sales. I'd say the biggest challenge is brand recognition. Again, we are sometimes looked upon as an apparel company. There is no specific category for only towels so that makes it difficult to be recognized in this industry. But with our reliable customers, I'm sure that will change.

New Course Available On ASI Education's Online Learning Center
Be sure to register at www.syberworks.com/asicentral for some exciting new courses available exclusively to ASI members. Brought to you by ASI Education, Online Learning is the newest and most convenient way for distributors to get educated. On-demand, self-paced courses are the perfect way for distributors and decorators to learn more about the advertising specialty industry and hone their skills as top ad specialty salespeople and brand consultants. We've launched this online campus that provides educational courses and information for the promotional products professional.

Trend Alert: Fedora Hats


Available from ATT Headwear (asi/30245), these fedoras (8643) are made of 100% brushed cotton twill. Available in black or white.

Fedora hats are back! But in truth, they never went away, remarkably impressive for a clothing accessory that was born in the late 1800's. From magazine covers (like Lauren Conrad on CosmoGirl) to paparazzi shots (actresss Hillary Duff and rapper Ne-Yo have been seen wearing them recently), celebrities continue to drive forward this trend. And in the apparel marketplace, it doesn't take much for end-users to dig an item once they notice it's being rocked by their favorite celebrity.

"Celebrities are seen as role models. When they are wearing a particular piece, the public will take notice and become instantly attracted," says Anderson Kuo, CFO of California-based company ATT Headwear (asi/30245). "This is a dinosaur style, but the Penelope Cruz's and Katie Holmes's of the world have brought this trend back in the lime light."

Despite Hollywood's hottest red carpet walkers wearing this fashion accessory, another reason Fedoras will attract consumers is because of their versatility. Today, black, grey, tan, brown and red remain the most popular colors. But for consumers who are looking for a more upbeat outfit, consider adding pink, plaid, wool, navy blue, and striped fedoras to your inventory. Another suggestion, inform customers there are plenty of ways to wear them as well.

"With a fedora hat, consumers have a few options on how they'd like to wear one. They could tip the hat back to shield their face and scalp from the sun or give off the air of mystery by tipping the hat forward to hide their face," says Kuo. "Regardless of the way your customer wears hers, a fedora hat will certainly add a chic look to any outfit."

Brother International has announced the first delivery and installation of the new GT-782, an inkjet garment printer with the ability to print multiple prints simultaneously.


Equipment Zone now offers EZ Artist 2.0, an upgraded version of FastArtist. This program offers an array of new tools and features to enable users to create graphics for digital direct-to-garment printers.

Green Leaf Promotions (asi/58152) has announced the launch of its new Reclaimed Billboard Program. The program reclaims old vinyl billboards then cleans, preps and transforms them into promotional works of art.

Hirsch International recently released its second quarter results. For the second quarter of 2009, net sales were $6.2 million, compared to $10.2 million in the second quarter of 2008.

Sassy Scrubs is partnering with San Francisco's Walden House to help clothe those in need. Nursing scrub uniforms are handed out to new arrivals to wear while Walden House workers help to replace their dirty clothes.


Stahls' ID Direct has teamed up with Boxercraft (asi/41325) to provide new decorating and personalization options. Stahls' will offer eight popular patterns that can be produced onto a design that dealers can then sew onto a variety of garments.
Vitronic Promotional Group (asi/93990) has selected Brian Hiner to serve as regional sales manager for IL, IN and MI and has selected Bob Heintz to serve as regional sales manager for PA, NJ, DE, MD, DC and VA.






Getting familiar with these terms will make any ad specialty distributor look like an apparel expert.


Chenille: Form of embroidery in which a loop (moss) stitch is formed on the top side of the fabric. Uses heavy yarns of wool, cotton or acrylic. Created by a chain stitch machine that has been adjusted to form this stitch type. Also known as loop piling.

Facing: A piece of fabric that is sewn to the collar, front opening, cuffs or arms of a garment to create a finished look.

Straight-Stitch Machine: A machine that features needles that move up and down in one spot. The pantograph punches the design along. The majority of commercial embroidery machines use this type of needle movement.

Topping: Material hooped or placed on top of fabrics that have definable nap or surface texture, such as corduroy and terry cloth. This is done prior to embroidery. The topping compacts the wale or nap and holds the stitches above it. Includes a variety of substances, such as plastic wrap, water-soluble plastic, foil and open-weave fabric that has been chemically treated to disintegrate with the application of heat.
| | |
| --- | --- |
| | TOP |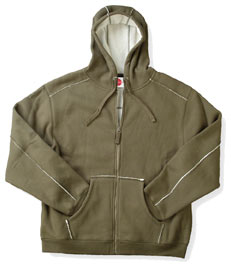 DAMIAN (HDM113)
Available From:  International Merchandise Concepts (asi/62820); (800) 331-6624; www.imc-miracles.com
Sell To: This men's hooded jacket is made of 80% cotton/20% polyester thermal and bonded with 100% acrylic Sherpa trim piping. Hoodies make great incentives for employees during those cold months. Personalize the hoodies with a company logo or name of the recipient for additional value. 
Style Tip:The trim piping on the shoulders, sleeves, pockets, upper back and hood creates a modern, fashion-forward look.
| | |
| --- | --- |
| | TOP |
Question: I've been looking for flip-flops with a Velcro closer, but have yet to find any.
Answer: No problem. Try Footprints USA (asi/55030); (800) 381-8940; www.footprintusa.net; product S101. These flip-flops feature an adjustable Velcro strap and an optional "Talking Footprint." It leaves a footprint impression of your logo in the sand!
Or, try Neet Feet Inc. (asi73525); (760) 721-1944; www.neetfeet.com; product NFCR. These flip-flops feature a three-layer color recessed sole, arch support and adjustable strap.
Also, try Hammacher Schlemmer (asi/59444); (866) 714-0530; www.hammacher.com; product 75092. These sandals have footbeds lined with up to 675 flexible, rubber nodultas that invigorate your feet and stimulate circulation as you walk.

Selling Tip: Flip-flops make great incentives for clients during the summer. Target resorts, spas and bath and body shops.
Question: I have a client who does construction. They recently asked me if I could embroider some of the workers' names onto bandanas. I've searched for a supplier, but haven't found any that offer bandanas! Please help!
Answer: I think I may have found what you're looking for. Try Its All Greek To Me (asi/62960); (800) 523-0825; www.iagtm.com; product 3039. These are poly/cotton blend bandanas. Available in nine colors.
Also, try APB Accessories (asi/30218); (866) 865-1444; www.apbacc.com; product 22000. These 100% bandanas are available in 23 colors.
Finally, try Country Line Inc. (asi/46764); (800) 310-7880; www.countryline.ca; product BAN01. These square bandanas are made of 65% polyester/35% cotton. Available in over 20 colors.
Selling Tip: Bandanas are a great accessory to wear when trying to keep sweat off your brow or the sun from beating on your neck. Target employees who do a lot of work outdoors: gardening, lawn care or sports.