SPONSORED BY


VIDEO

The Next Generation
Senior Writer Theresa Hegel traveled to Central Piedmont Community College in Charlotte, NC, earlier this year to find out what's on the curriculum of college screen-printing classes. To see the students in action, watch the video. And read the full feature in our August issue.



Trend Alert: Garment-Dyed Apparel
| | |
| --- | --- |
| | |
| Comfort Colors (asi/56842) offers the full zip-up women's hoodie (1598), available in 34 different garment-dyed colors. | |
| | |
| | |
The great thing about garment-dyed apparel is that every generation can appreciate its lived-in look and feel, allowing for an easy promotional item to offer customers. "The softer hand from the ringspun cotton, along with the earthy tones in the pigment dye, creates a unique finish that is in high demand," says Scott Marino, owner of Neon Trees/Panda Apparel (asi/73583). "They are soft right out of the box and get even softer with additional laundering. They quickly become one of the most comfortable shirts people own."
Most garments are "mill dyed," where the fabric is dyed first on large rolls before an item like a T-shirt is created. With garment dying, Marion says, manufacturers take the "raw knitted fabric, sew it into T-shirts and then dye them with special pigments." While it's a longer process, this ultimately creates the "unique weathered earth tones" and deep, rich colors that win customers over.

What else is making garment-dyed items popular right now?
The college market: College students and groups, always color savvy, have picked up the trend because of its custom capabilities and opportunity to create fun alternatives to school colors. "Garment-dyed products offer our customers the opportunity to custom dye colors to meet their end user's needs," says Lea Robinson, vice president of sales and marketing at Staton Corporate and Casual (asi/89380). In addition, college markets are usually ahead of trends and can be a good lead to follow. "Hot trends in the college market often precede other markets by a year or two," Marino says. "We are anticipating the pigment-dyed look and finish to be a growing trend over the next several years."
Fresh looks: Garment-dyed apparel can add something different, especially when it comes to T-shirts. "Garment-dyed products are viewed as an upgrade from your typical T-shirt," says Robinson, whose company offers Comfort Colors. "Consumers are looking for something a little different, and garment-dyed products allow our customers to offer a familiar product with a certain uniqueness." That uniqueness also ups an item's value. "When the customer is offered something new and different, it has a higher perceived value and it presents an opportunity to price it with better margins," Marino says.
Following retail: Customers are often looking to keep up with popular trends, and garment-dyed items allow them to do just that. "Customers often want what they see in the retail channel. Having viable options in this industry is very important," says John Spivey, marketing manager for Hanes Branded Printwear (asi/59528). "A wide range of consumers love the 'washed' look that makes a garment feel like a vintage art piece."
ADVERTISEMENT
WHAT'S HOT ON WEARABLESMAG.COM


Future or Fantasy?
Where do wearable tech devices fit in with the promo products industry? Suppliers and experts weigh in.

The Old College Try
Many successful industry entrepreneurs got their start back in their school days.

Soften Up
Learn how leading T-shirt suppliers produce the softest fabrics around.


Be sure to visit www.wearablesmag.com to read these stories and more.
How To Sell: Caps



Walk into any sporting goods store, and you'll see a wall full of high-profile, flat-brim snapbacks. Donned by the likes of singer Justin Bieber, the stiff style has gained popularity among millennials – but it's also drawn quite a backlash. Just do a Google search on "flat-brim caps," and you'll quickly get the picture.

GQ recently sounded the trend's death knell, publishing a slideshow of celebs working the curved brim, a style synonymous with "angsty teen rebellion" in the '90s, according to the magazine. Hip-hop artist Kendrick Lamar and actors Jake Gyllenhaal, Bradley Cooper and Shia LaBeouf have all been spotted with a curve to their brims.

The 100% cotton twill low-profile cap (19-536) is Otto International Inc.'s (asi/75350) most popular baseball cap style.



The phenomenon carries over to the ad specialty world as well. "Flat-bill caps are a fad," says Gary Mosley, owner of Kati Sportcap (asi/64140). The company gets more orders, by far, for curved bills, he adds. The same holds true at Otto International Inc. (asi/75350). "Our curved baseball caps are still going strong," says Tina Liu, marketing manager at Otto.

Still, Liu adds, flat-brim caps have their demographic – mostly young millennial men. The lingering trend even prompted Stahls' Hotronix to release a tutorial video on decorating the underside of a flat brim, using a heat press and the company's hat bill platen. An underside print adds a new dimension to the fad and is likely to impress the young set still buying this hat style.
No matter the curvature of the brim, hats are a versatile item for decoration and have near universal appeal. Foam-front trucker caps are idea for screen prints and heat transfers, according to Liu. For most hats though, the high-end look of embroidery is preferred.




ADVERTISEMENT




Call for Nominations: Supplier Sales Rep/Supplier CSR of the Year



Supplier Global Resource, the industry's only magazine dedicated to ad specialty suppliers, is holding its sixth annual Supplier Sales Rep of the Year contest to recognize outstanding performance, exemplary service and top-notch professionalism. In addition, the magazine will recognize the best supplier customer service rep – a person who continually goes over and above for his or her distributor clients.

Distributors, do you work with a supplier customer service rep who makes your job infinitely easier, faster and more streamlined? Do you have a supplier sales partner who always puts you and your customers' needs first and has a "do whatever it takes" attitude to make you shine? If you know the perfect contenders for both awards, email the nominees' names and details regarding what makes her or him award-worthy to Michele Bell (mbell@asicentral.com), editor of Supplier Global Resource, by Friday, Sep. 4.




Sales Challenge: Improve Off-Hours Service




Few people are fond of automated, push-button phone systems. Shep Hyken doesn't like them, either. "The automated system is a potential turnoff to people. They want to get somebody," says Hyken, founder of Shepard Presentations and author of The Cult of the Customer.

So, rather than setting up an automated "Press 1, Press 2" system, Hyken suggests setting up a simple voicemail and automatic email system during non-business hours that lets customers know when they can expect a reply. "You have to set an expectation. We're not necessarily a 24/7 business, so we let our customers know: We're always going to get back to you within one business day," he says. "If they call us at 4 in the afternoon, I'd like to get back to them by 5, but at worst, they're going to hear from us the next day."

Hyken says the same mentality applies for Saturdays and Sundays. "Every once in a while we'll get a call or email on the weekends, and if somebody happens to see it, we want to acknowledge it, and if we can fix it easily, great. Otherwise, we'll get back to you first thing Monday morning," he says.

However, Hyken says business owners should consider providing cell phone numbers as a way to build confidence among customers. "If I recognize I have to separate myself from my competitors, there is no way I am not going to give my customer my personal cellphone number if they have a problem so they can call me anytime, 24/7," he says. "They're probably not going to call me at 4 in the morning, but I want them to have my number. I just want them to have that confidence that I'm there for them."





American Apparel (asi/35297) announced its total second-quarter revenues fell 17% to $134.4 million, while also warning in a filing that its weakened financial position raises "substantial doubt" that the company may be able to stay in business.

Antigua Group Inc. (asi/36320) has hired Michelle Michelsen to serve as its national sales manager.

Bodek and Rhodes (asi/40788) has been named AIA's (asi/109480) 2015 Velocity Award Winner for "Most Innovative & Effective Promotions." The supplier also announced it has added the Columbia Sportswear brand.

GoodHopeBags Inc. (asi/57702) has appointed Clark & Clark as its multiline representation for IA, KS, MO and NE.

Graphics One Inc. has released its new GoTx Fabric Pre-treatment system that is offered in 74-inch or 104-inch sizes. For more information, visit www.graphicsone.com.

Inksoft was recently ranked number 573 of the nation's fastest growing companies on Inc. magazine's 34th annual Inc. 500|5000.

ImprintsUSA (asi/14971) now offers fully sublimated socks, made of 95% polyester and 5% Lycra. Go to www.imprintsusa.com for more information.

Madeira announced it will be hosting a webinar on Wednesday, Sept. 2 at 2:30 p.m. The seminar will focus on mastering small letters and intricate details.

Proforma (asi/300094) announced that the following eight member owners have been named to the Inc. 5000 list of the fastest-growing, private companies in the U.S.:

Brandon Kennedy, owner of Proforma Progressive Marketing
Kevin, Mark and Scott MacKinnon, co-owners of Mack Packaging, Powered by Proforma
Luis Ostos, owner of Proforma Diversified Corporate Solutions
Dennis Funk & Rich Bewley, co-owners of Proforma Signature Solutions
Steve Raucher, owner of Proforma GPS Global Promotional Sourcing
Bob Michel, owner of Proforma Marketing Agency
Jeff Levy & Jeff Bowles, co-owners of Proforma Promotionally Yours
Pat Lenehan, owner of Proforma ASAP

Roland DGA (asi/18201) launched its new HeatSoft PLUS heat transfer material (HTM3) and polyester transfer mask (PTM2) to its line of high-quality media offerings. In addition, the company named Ralph Abdelhak as its new director of product management and Mark Czerniakowski as regional sales manager for the Northeast Region.

Terry Town (asi/90913) has hired Aaron Bradley as its new strategic national account manager.

The Next Trend Designs Inc. (asi/283375) has announced that co-founder and owner Janine Taylor has been named to the W100 ranking of Canada's leading female entrepreneurs for the second consecutive year by Profit/Chatelaine magazines.

Transfer Express (asi/91804) will host a free webinar, entitled "5 Reasons to Heat Print, Even if You Screen Print," on Thursday, Sept. 10, at 2:00 pm ET. For more information, email info@transferexpress.com or go to www.transferexpress.com.

Vitronic (asi/93990) announced the hiring of Joe Gavern, TAS, as the new regional sales manager for the West Coast.

Workhorse Products announced it will host a beginner's workshop Sept. 19-20 focusing on how to start your own T-shirt screen-printing business. Click here to register.
Anti-pill: A treatment applied to garments to resist the formation of little balls on the fabric's surface due to abrasion during wear.
Bobbin: A spool or reel that holds the bobbin thread, which helps form stitches on the underside of the fabric. A stitch is formed when the upper thread and bobbin thread are joined together through the sewing process.
Tencel: A fabric made from the cellulose found in wood pulp which is processed into a silk-like, delicate fabric.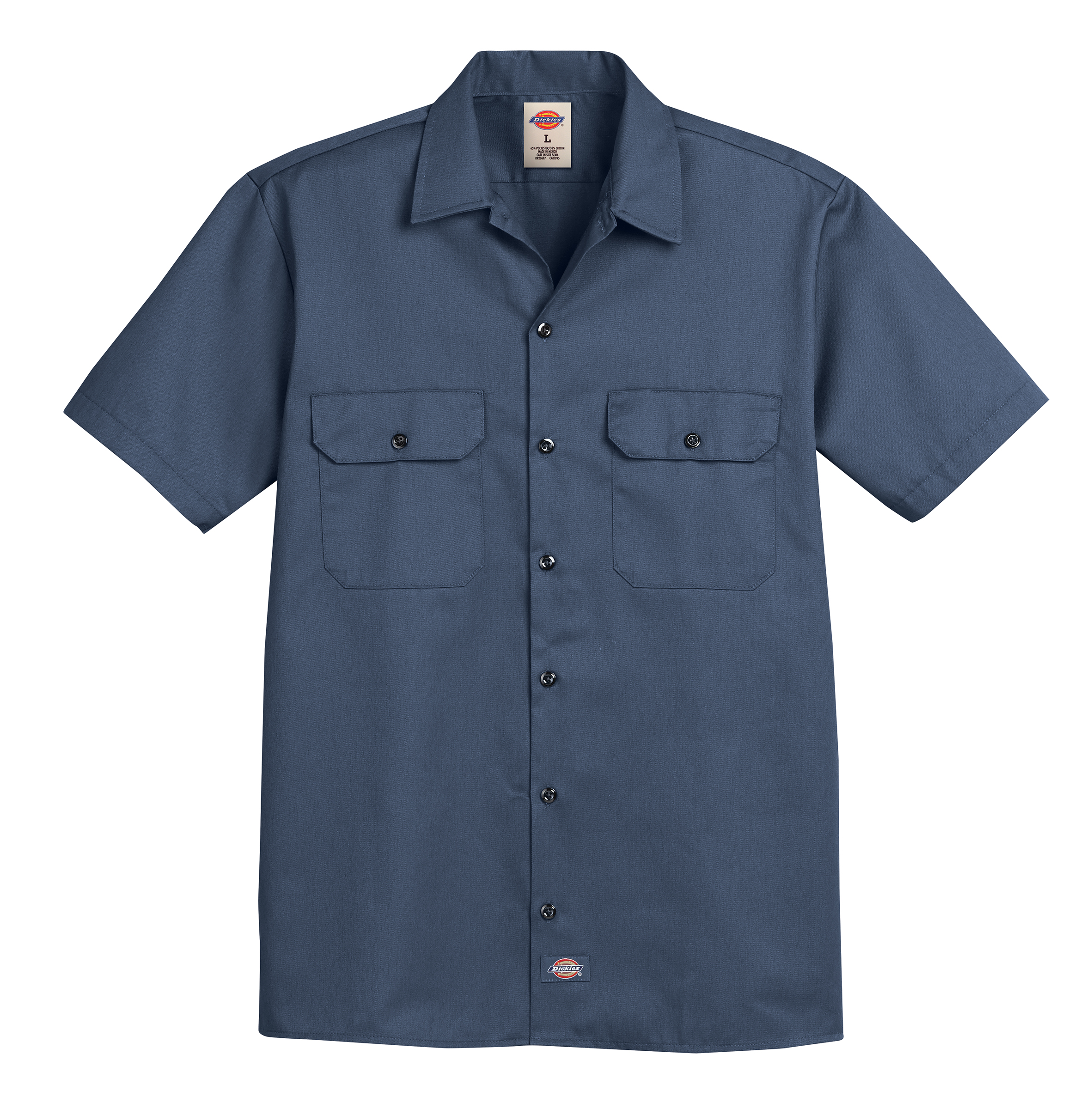 Twill Work Shirt
This new stretch twill work shirt (WS675), made of 65% polyester-35% cotton, is lightweight and highly breathable (up to 80% more breathable than before), and offers moisture-wicking and soil-release properties. Other features include a pencil division in the left pocket and a generous fit across the shoulders. Available from Dickies Occupational Wear (asi/49675); www.dickies.com.
Selling Tip: Pitch garments with performance features for outdoor workers. They'll appreciate the comfort of a shirt with moisture-wicking an extra breathability.
Q: I'm in search of youth V-neck T-shirts. Any idea where to find them?

A: Head to American Apparel (asi/35297); www.americanapparel.net/wholesaleresources; for the Youth Fine Jersey V-Neck T-Shirt (2256), made in the USA with 100% fine jersey cotton and available in five colors.
Or, size up the Bella + Canvas Youth Jersey V-Neck T-Shirt (3005Y) from alphabroder (asi/34063); www.alphabroder.com; which consists of 100% combed ringspun cotton. Unisex, it comes in youth sizes S-L.
Then, stick your neck out with the Youth V-Neck Crossover Shirt (1111 Youth) from Ramco (asi/80630); www.ramcoapparel.com. This top features polyester construction, as well as moisture-management and anti-snag properties.
Selling Tip: Keep a short list of suppliers who carry similar items in both adult and youth sizes. You never know when a client will need youth-size versions of the apparel they've ordered for adults.

Q: Help! I need your expertise to find surgical caps fast for a medical staff.
A: Operate with the Surgical Bouffant Cap (NC530) from Adcapitol (asi/31260); www.adcapitol.com. Containing muslin material, this one-size-fits-all cap features an elastic sewn-in bottom. You could also scrub in with the Scrub Cap (68707-SC) from Marathon Mfg. & Supply Co. (asi/68707); www.marathonmfg.com. Made in the USA, this hat is available in a wide variety of colors.
Finally, shine with the help of Sparkling Earth Products (asi/88449); www.sparklingearth.com. This supplier carries a Cotton Surgical Cap (210), which features a soft, absorbent terrycloth sweatband and is made in the USA.
Selling Tip: Hospitals, clinics and medical schools need items like caps, lab coats and scrubs. Once you provide these items, you'll be a life saver.
Aug. 29-Sept. 1, Ft. Lauderdale, FL
Fort Lauderdale Gift Show
(678) 285-3976; www.ftlauderdalegiftshow.com

Aug. 29-Sept 2, Boston, MA; Long Island, NY; NY/NJ; Baltimore, MD
ASI Roadshow
(800) 546-3300; www.asiroadshow.com

Sept. 10-12, Orlando, FL
ISS Shows
(508) 743-0532; www.issshows.com

Sept. 16-19, Las Vegas, NV
Las Vegas Souvenir & Resort Gift Show
(678) 285-3976; www.lvsouvenirshow.com
SPONSORED BY


For free information on products advertised in Wearables Magazine, click here: www.wearablesmag.com/freeinfo now!
Wearables Style and Wearables are trademarks of the Advertising Specialty Institute. You were sent this newsletter as a benefit of your ASI membership. Copyright 2015, ASI. All Rights Reserved.

If you'd like us to send Wearables Style FREE to anyone else at your company (or to your off-site sales reps), go to www.asicentral.com/newsletters and complete the online form.
Interested in advertising in Wearables Style? Send an email to ekoehler@asicentral.com
Click here to subscribe to Wearables™ magazine. The publisher has a right to refuse subscriptions to non-qualified subscribers.
Advertising Specialty Institute®, 4800 Street Road, Trevose, PA 19053