VIDEO

Spring Forward
In this episode of The Joe Show, Wearables Managing Editor Joe Haley shows off several unique items to help you build great promotional campaigns for clients. Looking for an item perfectly targeted to traveling businesspeople and vacationers? How about a springtime item that would be a seasonable reminder in anybody's backyard? Or, a bag that beachgoers would surely appreciate? Then watch the latest episode of The Joe Show.



Trend Alert: Army Green
| | |
| --- | --- |
| | |
| The Port Authority stain-resistant roll-sleeve twill shirt (S649) from SanMar (asi/84863) is made of 55/45 cotton/polyester and features epaulets, button-down chest pockets and roll sleeves with button tabs. | |
| | |
| | |
It's official: Army green isn't just for GIs anymore. It's become increasingly popular in recent haute couture collections, and not just as an accent color. Designers are outfitting their models in head-to-toe army green, making it a must-have shade for 2015. Even celebrities are getting in on the action. Rihanna recently turned heads in an army green jumpsuit while out and about in Los Angeles.

Suppliers in the promotional industry aren't surprised. Army green has enjoyed continuous popularity in fashion-forward apparel lines. "It's part of an earthy, natural palette that, while fluctuating with seasonal and fashion trends, definitely has staying power," says Andrea L. Routzahn, vice president of portfolio and supplier management for alphabroder (asi/34063). "Now, army green is popular for active looks that are crossing over into corporate outfitting." Currently, alphabroder offers performance wovens, outerwear and knits in dark oakmoss in its North End Excursion collection, inspired by active outdoor brands.

While 2014 saw huge demand for camouflage, that trend is gradually evolving into what Routzahn calls "utilitarian, military uniform and safari- or trekking-inspired looks." Popular from catwalks to retail to wholesale, these neutrals, including army-inspired greens, grays, navys and khakis, "are definitely a fresh break from the neons and brights that dominated the market for the past several seasons."

Meanwhile, Vicki Ostrom, senior designer at SanMar (asi/84863), sees inspiration for army green and similar hues stemming from preparations for the 2016 Olympics in tropical, lush Rio de Janeiro. "There's also a lot of interest in military-inspired items, from baby clothes on up, including on the runways," she explains. SanMar offers a stain-resistant roll-sleeve twill shirt (S649) from its Port Authority line in the shade that Ostrom says is "perfect for uniforming and has military-inspired epaulets and a crisp, professional look."

Routzahn says army green is perfect for uniform programs at forward-thinking companies, because "it's a fresh take on the traditional corporate identity look. We're seeing opportunity with entrepreneurial companies involved with environment, craft and new-industrial movements." She also cites craft breweries, farmers markets, landscapers, organic farming and environmental industries as promising markets.

Outdoors-centered companies are definitely a good fit for army green, adds Ostrom. "There was a lot of army green in winterwear this year," she says. "It's ideal for avid sportsmen and any company looking for a military-inspired look and feel."


| | |
| --- | --- |
| | ADVERTISEMENT |
| | |
WHAT'S HOT ON WEARABLESMAG.COM

Behold, The T-Shirt
It's time for all of us to improve upon the industry's most popular item.

Tip of the Cap
Highly customized headwear creates a big impact.

Craving Color
Sublimation gets a fashion makeover at Epson's New York Fashion Week show.


Be sure to visit www.wearablesmag.com to read these stories and more.
Q&A: Brother International


It's been 10 years since Brother International Corp. entered the direct-to-garment printing world, with its GT series of printers. Digital printing has evolved in the last decade, with more and more decorators embracing the technology that allows them to create full-color photo-realistic prints and short runs with ease. Wearables spoke with Mark Bagley, director of marketing for Brother's industrial products division, about the company's contributions to digital garment printing.



| | |
| --- | --- |
| | |
| Brother International Corp. (asi/12600) this year is celebrating the 10th anniversary of its direct-to-garment printers. | |
| | |
| | |

Q: How has the DTG industry changed over the last 10 years?

Mark Bagley: The biggest change is the amount of equipment now using industrial print head technology. Early on, most manufacturers modified existing printers, and operators had to know how to replace print heads, maintenance stations and other components of the ink delivery systems. As more DTG manufacturers started using industrial print heads, speed increased, enabling a faster return on investment for decorators.

From a user's perspective, the biggest change is the artwork. Early on, most of the artwork I saw being digitally printed was vector designs or solid text using a couple of colors. It took several years before garment decorators bought into the idea of improving graphic design skills. Now, you see more artwork with gradients, shadows, strokes, dimension and other advanced graphic design effects that help separate a DTG printer from most screen printers.

Q: What sort of innovations has Brother brought to the market?

MB: The GT-541, released in early 2005, had a versatile platen system that allowed for quick size changes and enabled easy decoration of shoes and other large items. Later, in 2008, Brother the GT-782 featured a white ink retrieval system that allowed users to clean the lines without have to flush all the white ink, minimizing maintenance costs while still ensuring reliability.

Q: What is unique about Brother's products?

MB: From the start, Brother understood that printing on sewn garments has more challenges than printing on paper or rolls of materials. Garments have features that don't always allow them to lie flat. So, Brother designed its print heads to allow for a larger gap from the bottom of the print head to the top of the garment. This lets Brother GT printers maintain a crisp, detailed design while going over seams, pockets, zippers and more. In addition, this has led into printing the full fronts of caps (from crown to bill), shoes and other challenging items.

Q: How has interest in DTG evolved in the last decade?

MB: When DTG technology was first released, the talk was about how it would change the garment decorating industry, but soon after, DTG's reputation suffered, after many people invested in the technology without really understanding how to be successful. Issues revolved around white ink and equipment maintenance. As more manufacturers invested in developing equipment and white ink chemistry that was more user-friendly, DTG started to climb back up as an important decorating technique.



Want To Shake Up Your Shop?

Our recurring "Shop Shakeup" series helps decorators overcome the hurdles that are holding them back. We pair shops with experienced screen-printing and management consultants who will offer customized advice and actionable strategies. The goal is to get your shop on the right track to success. If your shop is a good candidate for future installments of "Shop Shakeup," email Editor C.J. Mittica at cmittica@asicentral.com. Please include information about yourself and your business as well as your greatest areas of need.

ADVERTISEMENT





Sales Challenge: Master Email Marketing


Unlock the revenue-driving potential of email marketing with these helpful strategies.

Target Current Clients: While email marketing can generate new customers, it's primarily a tool for driving business with existing clients. Email outreach is an excellent way to stay top-of-mind and spark promotional ideas in the minds of buyers. Most significantly, it's great for driving target buyers to your website, where value-adding content can interest them in contacting you.

Keep The Tone Conversational: Write emails as if you are addressing a specific individual, advises Natalie Henley. Emails that sound like they're crafted as a "blast" often are less attractive. "More conversational emails usually get more engagement," says Henley, VP of client services at Volume Nine, a Denver-based digital marketing company.

Go Easy On Design: Email marketing with a wealth of graphics, colors and other busy content may look appealing to you. But the reality, says Henley, is that superfluous bells and whistles make it harder to read the email and more difficult to load on mobile phones. Some marketers have generated highly successful campaigns through emails with virtually no design. Still, other experts maintain that a balanced mixture of text and unencumbering images in the email body is optimum. Experiment with what works best, but generally aim to avoid graphic overload.

Segment Your List and Deliver Compelling Content: Analyze your client roster and group similar types of customers together. Then create marketing emails with content that appeals to the different groups, knowing that tips, tricks and best practices specific to a segment tend to perform best. Say, for example, that you have a number of manufacturers among your clientele. Send an email with a link to a blog in which you discuss how manufacturers can better promote adherence to safety procedures among workers. House the blog on your website, which should be built as a conversion tool.

Be Concise and Catchy: Of course, just sending links with no explanation won't do; you need to contextualize the content. Include "teaser" text in the email body – text that captures prospects' interest, making them want to learn more by clicking the link, which should come with a call-to-action like "read more." In-body text should be no longer than a couple paragraphs, and should feature standout headlines and attention-snaring first and last sentences.



Counselor Ad Awards – We Need Your Vote!



The finalists have been chosen for the Counselor Ad Awards. Now, all we need is your input. Please click here to vote in the Best Ads categories for Counselor, Email Express, ESP, catalogs and Advantages. You can select up to three per category; limit of one ballot per person, please.

The ballot will be available for a limited time only, so vote now. Thanks for your help!


Combed Cotton: Cotton yarn that has been combed to remove short fibers and straighten or arrange longer fibers in parallel order resulting in a smooth yarn used in finer garments.

Extended Tail: When the back portion of the garment is longer than the front. Assists in keeping the garment tucked in during normal activity.

Houndstooth: A medium-size broken check effect knit into the fabric.

Agfa Graphics announced the launch of new inkjet systems, workflow and inks at the International Sign Association's (ISA) Sign Expo in Las Vegas. The announced products include the Jeti Tauro high-end hybrid UV inkjet press, the Jeti Mira 6 color and white UV inkjet flatbed printer, new automation and more feature integration in the wide-format workflow Asanti 2.0, and new UV inks. For more information, visit www.agfa.com.

Coastal Business Supplies is inviting its customers to celebrate 25 years in business with an anniversary party on May 1, held at the company headquarters in Maryland Heights, MO. Starting at 1 p.m. there will be a barbecue, cake and games conducted in the facility parking lot. From 9 a.m. until noon there will be a sneak peek workshop on the new Virtuoso sublimation printing system and the chance to learn from some of the industry's most knowledgeable experts.

Evans Manufacturing (asi/52840) hired Tom Clouser as senior account manager for the Ohio Valley region, Jennifer Thornton as senior account manager for the North Central region and Linda Apfel as senior sales manager for the Upper Midwest region.

Gemline (asi/56070) hired Andy Logan as director of global solutions and Andy Blahnik as quality and compliance manager.

Graphic Solutions Group will host an open house at its Baton Rouge location from noon to 4 p.m. on April 23. Attendees will have an opportunity to enter a giveaway for two Louisiana State University baseball tickets, as well as enjoy a free lunch, network with peers and learn about new equipment, supplies and techniques. The facility is located at 11614 Richcroft Ave., Baton Rouge, LA 70814.

InkSoft welcomes James Sparks and Jacob Schellenberg as software developers.

Kornit Digital Ltd. (asi/14972) announced that it launched its initial public offering (Nasdaq: KRNT) and CEO Gabi Seligsohn rang the closing bell at the Nasdaq MarketSite in New York on April 2.

Perry Ellis International (asi/77715) announced that Howard Headden is now the national account manager for the Callaway brand.

Polyconcept North America announced the spring launch of products from Bullet (asi/42424) and Leed's (asi/66887). Go to www.pcna.com for more information.

Printavo announced improvements on its business management software for screen printers, including a pricing matrix, internal messaging, improved job scheduling, public API, Zapier.com partnership, affordable pricing plans and more. Visit www.printavo.com for more information.

Pro Towels (asi/79750) has launched a new responsive website that has been optimized for all desktops, smartphones and tablets. Visit www.protowels.com for more information.

Roland DGA (asi/18201) will host imagiNATION 2016, its inkjet user conference, on April 20, 2016 in Orlando, FL at the Orange County Convention Center. The event will be co-located with the 2016 ISA Sign Expo. For more information, visit www.rolanddga.com/
imagination2016.

Selco (asi/86230) has hired Craig Naumann as customer service manager.

SGIA announced that its "Screen Making: Basic to Advanced Workshop" will be held in Fairfax, VA, from May 11–15. The weeklong event features classroom presentations and hands-on demonstrations. To register, click here. In addition, the SGIA Expo was named one of the Top 250 Trade Shows in the US in 2014, by Trade Show News Network.

Sportsman Cap & Bag (asi/88877) has doubled the size of its Shawnee, KS, warehouse, allowing the company to carry more cap and bag styles. Visit www.sportsmancaps.com for more information.

Stahls' (asi/88984) recently donated a 16-by-20-inch Hotronix Fusion heat press and pre-sewn distressed lettering kits in several styles for a five-day workshop hosted by SGIA at its Fairfax, VA, location. "Totally T-Shirts! Garment Screen Printing: Basic to Advanced" was presented by Charlie Taublieb of Taublieb Consulting in Greenwood Village, CO.

Vastex International now offers the new six-station, six-color model V-1000-66 commercial-grade screen printing press. It features all-heads-down printing, rubber coated steel pallets and a unique floating head design with tool-free micro registration. Visit www.vastex.com for more information.

Vitronic Promotional Group (asi/93990) welcomes Donnell Avila as the new regional sales manager for Texas.

The Wild Side now offers Marilyn Monroe-inspired screen-printed stock transfers, including hot rods, cowboys, tattoos and more. To see the full selection, visit www.thewildside.com.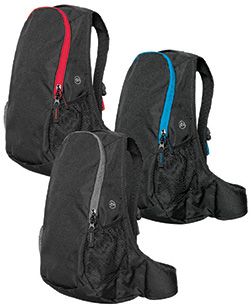 Contrast Zipper Backpack

This sporty Stormtech Beetle Day backpack (SBX1) is made of 100% polyester. The main zippered compartment features an inside pocket, and exterior side mesh pockets offer more on-the-go storage. It also features padded mesh adjustable shoulder straps. Available from Sportsman Cap & Bag (asi/88877); www.sportsmancaps.com.

Selling Tip: Backpacks aren't just for the student population. With summer on the way, people of all ages are planning camping, hiking and other outdoor-oriented activities, all of which require a handy portable storage solutions: namely, a backpack.

Q: My client requested ladies' denim sleeveless shirts, and I'm having trouble finding them. Please help?

A: Try the Ladies' Sleeveless Denim Shirt (4005) from Tiger Hill/Cottex (asi/91261); www.tiger-hill.com. Made of 100% cotton denim, it features a left-chest pocket, a back yoke with box pleat and a locker loop.

Another choice is the Ladies' Sleeveless 100% Cotton Denim Shirt (5205) from Sierra Pacific Apparel (asi/87224); www.sierrapacificapparel.com. It offers a spread collar, double-needle stitching, darts for a feminine fit and pearlized buttons.

Finally, visit Caplee (asi/43798); www.capleecorp.com; for the Ladies' Sleeveless Denim Shirt (11546), a washed cotton denim garment with a tailored placket and horn-tone buttons. Two replacement buttons are included.

Selling Tip: Denim never goes out of style, and it's a great choice for all demographics. Consider denim for customers that want to portray themselves as casual, strong and reliable.

Q: I had a customer ask for caps with LED work lights in the brim. Any suppliers you know of?

A: Check out the Washed Cotton Twill Cap (HIB-652) from Outdoor Cap Co. (asi/75420); www.outdoorcap.com/promoproducts. It's got three white LEDs in the sandwich visor and one under the brim.

Alternately, with 68 hours of run time, the Structured Cap with 4 LEDs (PS4-178) from Panther Vision (asi/75825); www.panthervisionpromo.com; has two LEDs pointing outward for distance and two more angled downward for close-up tasks.

Third is the Port Authority Hi-Beam Cap (C827) from SanMar (asi/84863); www.sanmar.com. This cotton/polyester hat contains three white LEDs in the visor and one on the undervisor, plus an easily accessible on/off button.

Selling Tip: Anyone who works in dark spaces – think mechanics, plumbers, exterminators, electricians – can benefit from a cap with built-in lights.


April 27-30, Detroit, MI; Cleveland, OH; Indianapolis, IN; Chicago, IL
ASI Roadshow
(800) 546-3300; www.asiroadshow.com

May 5-6, New York City, NY
ASI Show
(800) 546-3300; www.asishow.com
May 17-20, New York City, NY
National Stationery Show
(800) 272-7469; www.nationalstationeryshow.com

May 28-31, Las Vegas, NV
Las Vegas Antique Jewelry & Watch Show
(239) 732-6642; www.lasvegasantiquejewelryandwatchshow.com