The Top 5 Most Popular T-Shirts

We are down to the elite. Which promotional T-shirts made the top five? We'll reveal the choices this week, counting down to our number-one selection. Check out the countdown here.

Agree or disagree with us? Got your own suggestions? Let us know on Facebook or e-mail. And send in photos of you with your own classic tees to be entered into a $50 gift card giveaway.
How To Sell It: Neckties
With workplace dress trends swinging back toward more polished looks, now is a good time to consider adding neckties to the list of accessories you pitch. One major upside of neckties is that they sell in a wide variety of markets. "In just about every industry there can be a use for neckwear," says Bruce Everakes, president of Wolfmark (asi/98085).

The financial and education markets provide particularly fertile ground for tie sales. "For these markets, silk ties are more popular than polyester," says Patrick Walsh, president of KTP Design Company (asi/63773), whose Hydropose line of stain- and water-resistant ties is sought after by education and financial buyers. The medical and hospitality industries also are keen to purchase ties. The list of possible buyers goes on, especially for specialty ties. Wolfmark's equestrian-themed ties, for example, are popular with race track employees, while nautical ties have a built-in audience. "Custom ties are also popular for trade shows," says Everakes.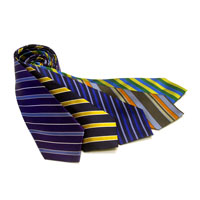 The SWT-4 100% silk woven necktie from Buffalo Bay (asi/42416) is popular in the corporate market.

If you want to sell ties, it's important to be on top of current trends in neckwear. Channeling retail styles, woven ties, such as the SWT-4 100% silk tie from Buffalo Bay (asi/42416), have surged in popularity. "They work especially well in corporate neckwear," says Buffalo Bay's VP of Sales Kelly Holmes. "By using single thread colors for logos, we create a more retail appearance by incorporating the logo subtly." Wet-dyed ties in both silk and polyester are hot in the advertising specialty market, notes Walsh. "In addition, we're seeing a movement toward thinner ties, from 3.75 inches wide to 3.5 inches wide," he says. Pointing out that paisley and plaid ties are popular fashion choices, Wolfmark's "Beckett" is a solid tone-on-tone tie popular with end-users looking for a more upscale look. "The end-user has a wide variety of choices when selecting neckwear," Everakes says.

While over-the-top ties are sometimes desired, it's more common that end-users want a tie that is attractive without being overly loud. Relatedly, end-buyers want ties that look sharp, as if bought at a nice store in the mall. Says Holmes: "The more retail in appearance, whether a distributor's client leans towards classic conservative or more trendy looks, the more likely the target audience is to wear a custom tie." Echoing the adage that seeing is believing, Walsh says distributors should show prospects samples of tie styles adorned with the prospect's logo. "Once clients can visualize how their custom tie might look, they're that much closer to placing an order," he says, noting KTP creates custom tie presentations consisting of several designs for distributors.

Sales success stories involving neckties abound. A Buffalo Bay client, for example, landed a lucrative deal selling to an investment firm. "By using the single thread color woven look, we created several stripe looks," says Holmes. "From a distance they appear to be retail stripes, but up close the woven logos are revealed. It was a fashionable twist for the client's text-dominant logo."

Meanwhile, Wolfmark helped a distributor secure a deal selling ties to a political organization. For the tie, Wolfmark created a unique design that incorporated an animal symbol used by the end-buyer and then produced a high-end seven-fold tie. Says Everakes: "Based on retail store pricing for a seven-fold tie and our list price, our distributor client and his customer were very pleased."

In an example of great return on investment, KTP produced a custom necktie and corresponding ladies' scarf for a university fundraising campaign. Used as gifts to prospective donors, the ties helped fuel what became the most successful fundraising campaign in the university's history. Says Walsh: "One individual alone donated more than $100 million."
Take The State Of The Industry Survey

Counselor is currently polling professionals in the industry – both distributors and suppliers – to see how the market did in 2011 and to get impressions on where the industry is headed in 2012. We need your input. Please take some time to click the appropriate link below and complete the annual State of the Industry survey. Your responses will remain anonymous and you'll be helping to create Counselor's annual State of the Industry report.

Distributors click here to take the distributor State of the Industry survey.

Suppliers click here to take the supplier State of the Industry survey.


Ash City (asi/37143) has hired Wendy Fraser as communications manager.

Bodek and Rhodes (asi/40788) has added new sizing and order options to UltraClub, its popular private-label brand.

Broder Bros. (asi/42090) and Bella + Canvas (asi/39590) executives will be participating in a webcast hosted by CNBC contributor Ron Insana. The webcast will be held on April 25, from 12 p.m. until 12:45 p.m. ET. Insana will be asking the interviewees about the state of the industry and its current trends and opportunities. For more information, click here.

Fashionizer won the Best Managed Boutique Contract award at the Professional Clothing Awards 2012 for the high-quality uniforms it designed for London's St. Pancras Renaissance Hotel.

Hirsch International (asi/14982) has released the Auto Hoop, a pneumatic ribbon-holding device that holds tape in place for faster production.

M2 (asi/68316) announced that it is adding the Puma, Hurley and Skullcandy brands to its product offerings.

Pacific Emblem Co. has announced that its uZAPPit Smart Tag was given Best of Expo honors at the 2012 Promotional Products Expo.

Polyconcept North America has hired Ron Neugold as senior vice president of sales and market development.

Proforma (asi/300094) has announced that seven new owners have joined the company's network:


Phil and Kelsi Compton, Proforma TigerInk, Loveland, CO
Debbie and Scott Johnson, Proforma DS&M, Tracy, CA
Tom Navratil, Proforma TWN Graphic Solutions, Glenview, IL
Lori Roberge and Adair Vaccarella, Proforma Specialty Products, Seminole, FL
JoAnna Smart, Proforma Smart Business & Marketing, Rogers, AR
Mick and Lynn Sprinkle, Proforma Lead Dogs, Orlando, FL
Alika and Terry Thompson, Proforma Thompson & Associates, Columbus, NE
Roland has announced that the VersaUV LEC printer/cutter line won a silver award at the 2012 Foil & Specialty Effects Association Golden Leaf Awards in Las Vegas.

Vantage Apparel (asi/93390) has promoted Marci Newsom and Jeff DePalma to regional sales manager positions. The supplier has also hired Mark Thieleke as its sales representative for NC, SC, TN and WV.

Band (Rocap): A separate band of body fabric sewn on and turned down so the attaching seam is not visible. Inside the band is a separate lining.

Faille: A glossy, soft, finely-ribbed silk-like woven fabric made from cotton, silk or manufactured fibers.

Foulard: A lightweight, twill-weave fabric made from filament yarns like silk, acetate and polyester. Often used in men's ties, the fabric features a small allover print pattern on a solid background.