PODCAST

Latest Styles for 2011

Wearables and Stitches staff writer Christopher Ruvo talks to Hank Harrell, vice president of sales and marketing at leading supplier Broder Bros. Co. (asi/42090), about trends and challenges in the promotional apparel marketplace. Click here to listen to the podcast.
Trend Alert: The Canvas Bag
ADVERTISEMENT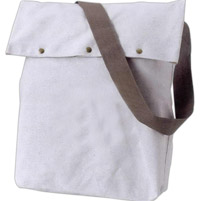 Carry all your important items in style with this sling canvas bag (B559NT) with triple snap closure from K&R Precision Corporation (asi/63770).

From the taxi trunk to the airplane luggage rack, durable canvas totes are experiencing a fashionable moment this spring. Though they've been around for decades and are a staple of boaters, beachgoers and outdoor enthusiasts, recent trends in canvas bags translate to high style benefitting both the environment and the wallet.

Canvas bags don't discriminate based on age, gender or tax bracket. They can be a reusable alternative to plastic and paper grocery bags, or an easily-packable weekend bag. In terms of marketing, they're great promotional items as they have high visibility and large imprint areas.

Industry suppliers are quickly catching on to these trends and beginning to provide bags that imitate the high-end totes seen on runways and magazines. "Our Carina line bags are our best-selling items right now," says Kirsten Logan, vice president of sales and marketing at Clava American (asi/45335). "They are made of coated canvas, which creates a fresh, sophisticated look, and they have contrasting zippers with beautiful heavyweight hardware."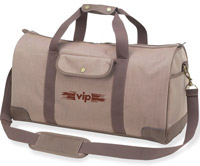 Picnic at Ascot (asi/78060) puts out this superior 600 denier poly canvas duffel bag (8001NH-EOL) in two-tone fabric with a cotton lining and snap closed-hand grip.

Besides being fashionable, canvas bags are also practical. The canvas shell is actually tightly woven cotton, making these bags durable and affordable. Deep canvas bags offer excellent hauling capacity and tidy stowage of daily necessities. Retail giants like Whole Foods found that they could self-promote, help the environment and save on the cost of paper or plastic by selling their own reusable canvas grocery bags emblazoned with their name and logo. Along the same lines, canvas bags can be decorated many ways, from monogramming a wedding date to imprinting a grandchild's photograph.

The canvas bag also plays into the current military, safari and neutrals trends. The recipe? Mix animal print pieces and khaki basics (like safari jackets) with a twist of olive – the result is a great canvas bag for men and women. The canvas tote has also recently been combined with a messenger bag to create a popular computer/duffel bag with a flap closure and padded laptop handles for the business professional or weekend traveler.

It comes as no surprise that these totes are available in a wide range of sizes, colors and prints with a variety of handles, closures and embellishments. Small totes like the featured sling canvas bag (B559NT) from K&R Precision Corporation (asi/63770) are perfect for a dinner date. Larger duffels, like this one (8001NH-EOL) from Picnic at Ascot (asi/78060), are an ideal takeaway bag for the weekend. These totes are the same ones that have been adorning L.L. Bean and Lands' End's catalog pages for decades, so they won't be fading into fashion history anytime soon.
ADVERTISEMENT


ASI Education Looking for Dynamic Speakers
Do you have what it takes to be a top-notch industry educator? Do you have a passion for sales, marketing or business management? Are you an industry consultant or skilled ASI distributor? If so, the ASI Education team is looking for you!

We're looking for candidates who can deliver compelling presentations on the most effective tools and techniques used in business today. We want you if you're a thought-provoking sales, marketing or business-building guru who can showcase your talents at the 2011 ASI Show education programs. This is a priceless opportunity to help brand you as an expert in your field – and also provide amazing networking opportunities to grow your bottom line and your career.

Click here to connect with us.
Sales Challenge: Managing A Botched Order


Despite distributors' best efforts, the occasional botched order will occur. Nonetheless, wrong-colored shirts or corporate caps with an incorrect logo don't have to be a fatal blow to a business relationship, provided distributors act fast and ethically. "Do whatever it takes to fix it and make things right," says Sally Oberle, president of Blue Hen Promotions Inc. (asi/141810).

Begin by being forthright and acknowledging the error. After apologizing, ensure the client that you will work to deliver the correct order as soon as possible. Keep the client informed about what's going on with their order and when it will reach them. Then, ensure that the correct order reaches the client expeditiously.

If the blame for a wrong order falls squarely on a distributor's shoulders, then the distributor should eat the cost, says Oberle. "We absorb it if it's our fault," she says. If the mistake was the supplier or decorator's fault, Oberle says distributors should look to have them swallow the loss. Once the order is filled correctly, distributors can follow up with clients in a personal way – say, a hand-written card thanking the client for the business and again apologizing for the mistake. Says Oberle, "It comes back to you, whether you made it right or if you were difficult to deal with."

Counselor Hot List Nominations Are Now Open
Are you doing something unique, hip, fun or trendy in the industry right now? Do you know somebody who is?

Counselor is looking for nominations of people for its fourth annual Hot List, which will be published in August – our Hot Issue. We're on the lookout for anyone in the industry who is taking an interesting approach to business, shaking up the status quo or simply networking like a maniac at all hours of the night. We're in search of those people who are making the industry a unique marketplace that's fun and energetic.

Send an e-mail by Friday, May 6 to Karen Akers at kakers@asicentral.com explaining in 50 words or less why your nomination should be recognized on Counselor's Hot List in August. And, please make sure to include a picture of the person you're nominating. Thanks!

Q&A: Polyconcept Acquires Trimark


Last week, Counselor Top 40 supplier Polyconcept North America acquired Trimark Sportswear Group (asi/92122), an apparel supplier based in Ontario, Canada. The deal marked PCNA's first move into the apparel category in North America. A 100-employee strong company, Trimark, which sells in the Canadian marketplace, will continue to operate as a separate entity with no change in its management or sales teams. Trimark's Chief Executive Officer, Derrick Milne, recently discussed the change.

Q: Why did this deal make sense for Trimark?

Derrick Milne: There is a great fit between our companies. We will only strengthen relationships with our distributors by sharing information, best practices, purchasing power and decorating expertise with Polyconcept. There are resources that we can apply in terms of additional marketing and sales tools. Plus, we'll able to help distributors do their job better; we'll be able to better assist them in becoming more effective and more profitable.

Q: Trimark was founded in the 1970s. What have been the company's strengths through the years?

DM: We consider one of our biggest strengths our reputation for service and delivery. Most customers today – and this is certainly shown in the surveys we've done over the last five years – rank us as either first or a close second in customer service.

Q: What are Trimark's goals going forward?

DM: We want to maintain and enhance our leadership position in Canada. Clearly at this point PCNA does not have a presence in the largest market in the largest sector, which is apparel in the U.S. market. We have some expertise and some experience in the U.S. market that we can bring to bear, which is something we'll certainly look at going forward. More medium term and short term, we want to make sure that coordination and cooperation between ourselves and the sister companies in PCNA – Bullet (asi/42424), Journalbooks (asi/91340) and Leed's (asi/66887) – goes smoothly and that we get off to a good start, particularly as it relates to dealing with our distributors. Once that is going smoothly, we'll look for expansion opportunities.

Lilac Bloom






There was a time when finding industry clothing designed for a woman was a struggle. That however, has rapidly changed, and women have scored another victory with the launch of the Lilac Bloom collection. This line of corporate and casual apparel, designed by a team of all-female designers, features eight styles that offer women fashion-forward, feminine looks. It includes everything from dressy tops to active wear to a windproof/water-resistant trench coat. The unmistakably feminine silhouettes and lively colors ensure that women have a stylish choice when it comes to corporate apparel. Available from Tri-Mountain/Mountain Gear (asi/92125).

Selling Tip: It's important to inform your clients that women's workwear has changed – they no longer just order an XS of a men's polo. Now, the women's companion to the men's polo is a shirt with a Johnny collar, or gathered placket, but departs from that standard men's 2-3 button placket shirt with shape. Women still want to look like women, even while wearing a uniform.

Anvil Knitwear (asi/36350) has announced that it's a sponsor of Earth Day New York. Additionally, Anvil held a press conference at Grand Central Station on Thursday, April 21 to announce support for a new education initiative to bring organic farming to New York City classrooms.

Bodek and Rhodes (asi/112380) has announced the four winners of its Apple iPad drawing from four recent industry trade shows, where all customers who visited its booth were placed in the raffle.

Coastal Business Supplies is now offering its tutorial book T-Shirt Artwork Simplified in both the CorelDraw and the Adobe Photoshop/Illustrator series.


Dalco Athletic has introduced sublimation game balls appliqué, which pairs your choice of ball with team name and sport to create a full-front appliqué design.

Inkcups Now has hired Luis Gunera as its application specialist in Honduras as part of its expanding operations in Central America.

SanMar (asi/84863) has hired 17-year merchandising veteran Rhea Aslin as senior brand manager to lead its District Threads brand, which offers modern and fashion-forward apparel targeted towards the junior and young men's markets.

Shockwaves Promotional Apparel (asi/87144) has joined ASI as a supplier decorator.

The International Oeko-Tex Association has updated its Oeko-Tex Standard 100 textile product certifications to confirm compliance with global textile regulations. The Oeko-Tex Standard 100 certification ensures that textile products are tested to be free from unsafe levels of more than 100 chemicals that are believed to be detrimental to human health.

White House Custom Screen Printing Inc. (asi/97072) has joined ASI as a supplier decorator member.

Woolrich (asi/98192) has sponsored and participated in the Backpacker Magazine's 2011 Get Out More Tour to educate consumers about the skills and equipment needed to enjoy the outdoors and inspire healthy active lifestyles. The tour began last week in Raleigh, NC and will make 67 stops at retail stores, events and festivals before finishing in early December in Houston, TX.



Knowing these terms will make distributors who just started sound like they've been in the business for years.

Bast fiber: A natural fiber collected from the inner bark surrounding the stem of certain plants. Most bast fibers are obtained from herbs cultivated in agriculture, including flax, Jute, hemp and ramie, but can include wild plants as well.

Nainsook: A lightweight plain weave cotton fabric, usually finished to create a luster and a soft hand. Common end-uses are infants' wear, blouses and lingerie.

Polypropylene (Olefin or Polyolefin): A manufactured fiber characterized by its light weight, high strength and abrasion resistance. Polypropylene is also good at transporting moisture, creating a wicking action. End-uses include not only thermal underwear and activewear apparel, but also rope, indoor-outdoor carpets, lawn furniture, and upholstery.
ADVERTISEMENT


ADVERTORIAL
Pro-Tect Wear's Top-Notch Fire-Retardant Garments

According to government reports, more than half of severe and fatal burn injuries are due to the individual's clothing igniting and continuing to burn, not to the exposure itself. The difference between suffering only minor burns and being seriously or fatally injured is often only a matter of seconds. The longer a thermal-protective garment can protect the skin from heat, flames of a flash fire, or resist ignition by an electrical arc, the higher the chances of survival and escaping the accident with only minor burns.

Fire-retardant (FR) garments will self-extinguish and char rather than continuing to burn, limiting potential body burn percentage. Therefore, FR garments provide protection during an exposure and after the source of the ignition is removed. When sourcing FR garments, it is important to know that all FR garments using FR-treated cotton fabrics are supplied by companies that test and post all of their FR values as per the findings from independent laboratories.

It is also important to recognize that in the event of a momentary electric arc flash, flash fire or molten-metal splash exposure, the FR fabric used to construct the garment is a critical factor in determining the amount of protection the garment will afford the wearer. The critical nature of flame-resistant protective clothing fabrics requires that extensive testing at independent laboratories be carried out to evaluate the protective capabilities these fabrics exhibit when exposed to electric arc flash and flash-fire hazards.

When sourcing FR garments, you can be assured that Pro-Tect uses only cotton fabrics that are tested and post all their FR values based on findings from independent laboratories.

Industries that rely on Pro-Tect garments include:

Electric Arc: electrician, electric utility lineman, tree services

Flash Fires: refinery, chemical, oil, mining, pharmaceutical, armed forces, fire departments, forestry, race-car circuit

Ferrous Metal: foundries, flame cutting, welding

Combustible Explosion: workers in paper and pulp industry, food procession, paint and cotton mills.

Pro-Tect for the best and most comfortable fire-retardant garments – quality you can trust.