VIDEO

Worth the Weight
Want to get your sales in shape? Hit the gym, where athletic apparel and sporting goods sales increased by 18% in a five-year span. Wearables Editor C.J. Mittica runs down the latest in gym apparel ... and brings in a few helpers to do the heavy lifting. Click here to watch the video.

What did you think of this video? Send your feedback to cmittica@asicentral.com.
Trend Alert: Pleats
ADVERTISEMENT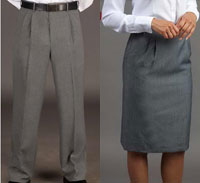 Pleats are back in the fold this spring. Be sure to look for them in a subtle form, such as this ladies' pleated skirt (2303) with back walking slit. And for the fall, be ready for the comeback of pleated trousers, such as these men's poly/wool front-pleated pants (1259). Both are available from Executive Apparel (asi/53418).

Pleats aren't just on the skirts of cheerleaders; they're gracing the runways and retail stores as a spring staple. For women, pleating adds a feminine punch to the most basic closet companions, including shirts, skirts and dresses. They're even showing up on handbags this season. There's something for everyone, with styles ranging from tightly stitched clutches to more haphazardly pleated totes.

Most dominant in apparel are knife pleats and their distant relative, the sunray pleat. Knife pleats are single pleats that all go in the same direction; sunray or sunburst pleats are knife pleats that are cut to start smaller and get wider toward the bottom, creating a fun, flared-out effect.

As a spring trend, pleats are showing up in the form of lightweight fabrics – not boxy, schoolgirl pleats but flowing, cathedral ones. This calls for lighter-weight fabrics like silk and chiffon. For now, while the sun isn't yet shining as bright as many would like in the early part of April, pair a softly pleated dress or skirt with tights or add some warm layers on top in the form of a cardigan or even a leather biker jacket to spice things up.

Also, keep your eyes peeled this fall for pleated trousers, which are poised to make a comeback. While flat-front pants, especially for men, have become de rigueur in recent years, pleated pants have remained common in such classic categories as men's suits. Look for pants to gain a touch of sophistication as pleats come back in style. Now or later, it will pay to mind your pleats and q's.
ADVERTISEMENT


Interested in Becoming a Wearables Contributor?
You've learned a lot working with apparel – and now's the time to share your knowledge with our readers. Are you a master marketer? A champion salesperson? An eco or performance expert? Then consider this your invitation to write an article for our "Business of Wearables" department. We're looking for wearables people with useful tips or lessons learned to share with other readers.

If you're interested in writing, send a short bio and summary of your topic to Editor C.J. Mittica at cmittica@asicentral.com. We're looking forward to hearing from you.
Sales Challenge: When to Call a Prospect


You already know timing is everything. The cliché is particularly true when it comes to sales. Contacting a current or prospective client at the right time can be a pivotal step along the road to successful closing. So when is the right time to call? When it comes to existing clients, the answer is pretty straightforward: Learn their schedule and contact them at times that are convenient for them, says Adam Thornton, general manager at Match-Up Promotions (asi/264230). Adds J.P. Shea, sales development lead for American Solutions for Business (asi/120075): "You need to understand their wants and needs, and that includes understanding when they want to be seen."

The best times to call prospects are in the morning before the business day gets swinging and in the late afternoon, when the day winds down, distributors say. "They can focus and think," says Karen Hunter, owner of distributorship Head of the Hunt. "If you call in the middle of the day, they have so much going on and it's harder to get somewhere." A study from InsideSales.com testifies to Hunter's assertion. The analysis, which examined three years of data from six companies, determined that sales associates had the most success contacting prospects and initiating the sales process when calling between 8 a.m.-9 a.m. and 4 p.m.-5 p.m. "We have seen our best responses from 7:30 a.m.-9 a.m.," says Kevin J. Scharnek, president of 14 West LLC (asi/197092).

Additionally, the InsideSales.com study determined sales associates who contact prospects on Wednesday and Thursday stand a better shot of ultimately landing a deal. Still, that doesn't always hold true in practice. Scharnek says Fridays have proved an excellent day to get ahold of prospects and turn them into clients. Hunter agrees. "If you're still working to get clients at 3 p.m. on a Friday afternoon when everyone else has gone off for the weekend," she says, "it shows you are going to be available to them when they need you."

Vote Now for the Industry's Best Ads
The finalists have been chosen for the Advertising ASI Spirit Awards. Now, all we need is your input. Please click here to vote in the Best Ads categories for Counselor, Email Express, ESP, catalogs and Advantages. You can select up to three per category; limit of one ballot per person, please.

The ballot will be available for a limited time only, so vote now!

Case Study: Honda Goes Retro




Honda is tapping into the retro vibe with T-shirts that recognize the automaker's heritage.

Retro: It never seems to get old. And if you can wed a vintage look to something substantive about a brand's heritage, you have potential for a match made in promotional-apparel heaven. Just ask American Honda Motor Co. Inc. The automotive giant recently teamed up with Hubris Factory, a creative consultancy, to develop the Honda Heritage Clothing Collection. The retro line will consist of T-shirts and sportswear that will feature re-imagined versions of Honda logos and insignias from the 1970s and 1980s. "We wanted to take what made Honda interesting back then and capture that youthful vibe and spirit in apparel," says Jon Alain Guzik, founder of Hubris Factory.

So far, Honda is offering three 100% cotton T-shirts. Available in grey, white and black, the first shirt features the address and logo of Honda's first American storefront, which opened in Los Angeles in 1959. The next shirt's graphic displays an advertisement from a 1973 Honda Civic hatchback catalog – "Hatched Back in 1973," the shirt says. The third shirt has a car graphic from a 1974 Civic sales brochure. (Check out the tees at www.lockerloop.com). Manufacturer Crate Denim heavily washed the shirts to give them an authentic vintage feel. "We decided the best thing was to beat them up a bit," says Chad Hilton, founder of Crate Denim. "The look pays homage to the period they're from."

Crate Denim produced the shirts in Los Angeles, where it plans to design and manufacture the rest of the heritage line, which could ultimately include vests, windbreakers, casual wear and leather and nylon jackets. "American Honda was founded in Los Angeles in 1959, and the fact that these pieces are being designed and produced by partners in Los Angeles is a perfect fit for these historic pieces," says Steve Center, vice president of American Honda's national marketing operations.

Honda initially began selling its own collection of shirts, jackets and accessories in the 1970s after its brand of fuel-efficient cars and motorcycles surged in popularity. "Honda is excited to celebrate its heritage by recreating styles and accessories from the past," says Center. "We hope that fans of Honda and vintage clothing will celebrate with us."

Laundry and Beach Bag





Spring has sprung – the perfect time to plan a vacation and get geared up for summer travel. This means no work, no cleaning, no cooking and no laundry. But to do with all the dirty laundry that accrues during a trip? This jumbo laundry bag (C1 7001) from LBU Inc. (asi/65952) is ideal for warm-destination travels since it doubles as a beach bag. It measure 22″ x 35″ with cabana stripes, cotton bottom, mesh top and drawcord closure.

Selling Tip: Consider this for a licensed giveaway for incoming college freshmen. After all, at college, mom isn't around to do their laundry anymore.

Ash City's (asi/37127) New England sales representative, Dave Mattson of DJM Sales, has been awarded the 2010 Barker Specialty Co. (asi/132690) Sales Representative of the Year award.

Broder Bros. Co. (asi/42090) has launched its "Selling What Sells" educational series, an industry-first program that provides salespeople with valuable apparel knowledge and presentation tips.

Cooler Graphics (asi/80345) has introduced flip-flops with full-color sublimation or flat-color imprints to its popular line of beverage sleeves and can coolers.

Gildan has launched "I Support…" 2.0 and will again run the "Tell us your Story" campaign, funded by sales of its SoftStyle men's and ladies' T-shirts. The program will offer five charitable donations in 2011.

Hartwell Apparel (asi/60135) has announced that it signed a new five-year lease on the 250,000-square-foot facility that it has occupied for several years.

Madeira USA has launched updated, quicker versions of its three websites: www.madeirausa.com, www.madeiramart.com and www.ezeebacking.com. The company also introduced the industry's first mobile website for ordering embroidery supplies from most smartphones.

Proforma (asi/300094) has been named the #6 Top Franchise Opportunity for 2011 by the Franchise Business Review, jumping up three spots from last year's ranking. The company was also named the #1 Top Franchise in the Advertising & Sales Category.


Royal Apparel (asi/83731) has added five new colors to its retro-inspired collection of tri-blend crewnecks. Those colors are tri chocolate, tri pool, tri Kelly, tri purple, and tri pepper.

Sportco (asi/88792) has announced the addition of Gustavo "Tavo" Rodriguez as the company's new production manager.

Woolrich (asi/98192) has announced its partnership with Jager di Paola Kemp Design to create and implement a global brand-development strategy.

World Emblem International's (asi/98264) partner company in the United Kingdom, J & A International, has launched its first Workwear2U retail location in Lincolnshire, UK.



Knowing these terms will make distributors who just started sound like they've been in the business for years.

Bedford cord: Strong ribbed-weave fabric with raised lines or cords produced by warp stuffing threads. May be wool, silk, cotton, rayon or combination fibers. Bedford cord fabric is used for dress goods, upholstery and work clothes. First made in America in New Bedford, MA, giving it its name.

Crocking: The rubbing-off of dye from a fabric. Crocking can be the result of lack of penetration of the dyeing agent, the use of incorrect dyes or dyeing procedures, or the lack of proper washing procedures and finishing treatments after the dyeing process.

Foulard: Lightweight twill-weave fabric made from filament yarns – like silk, acetate and polyester – that features a small all-over-print pattern on a solid background. The fabric is often used in men's ties.
Apr. 10-13, Marlboro, MA
New England Apparel Club Show
(781) 326-9223; www.neacshow.com

Apr. 11-15, Montreal, Ottawa, Toronto, Burlington
Advantages Roadshow
(800) 546-3300; www.asishow.com

Apr. 18-21, Milwaukee, Chicago, Indianapolis, Louisville
Advantages Roadshow
(800) 546-3300; www.asishow.com

Apr. 29-30, New York City
Manhattan Vintage Clothing & Antique Textile Show and Sale
(518) 434-4312; www.manhattanvintage.com
May 2-6, Salt Lake City, Denver, Albuquerque, Tucson, Las Vegas
Advantages Roadshow
(800) 546-3300; www.asishow.com

May 3, Denver
Stitches Roadshow
(800) 546-3300; www.asishow.com

May 5-7, Columbus, GA
Apparel Decorating Extravaganza
(877) 793-3278; www.coldesi.com

May 9-13, Vancouver, Calgary, Edmonton, Winnipeg
Advantages Roadshow
(800) 546-3300; www.asishow.com

May 18-20, San Diego
ASI Show
(800) 546-3300; www.asishow.com