SPONSORED BY


VIDEO 



Heady Stuff
In our new segment, Wearables Monthly Trend, we take a look at the popularity of headbands. What trends are "heading" your way? Is no "head" pun safe in this video blurb? Click here for our new video to get some actual useful tips.

What did you think of this video? Send your feedback to cmittica@asicentral.com 


 
Trend Alert: Arm Warmers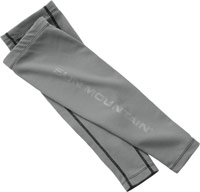 These polyester arm warmers from Sun Mountain Sports (asi/90139) come in charcoal as well as white and black. Available in sizes S-XL. 
A golfer knows that while a bulky jacket can keep you warm, it doesn't do any favors for your golf swing. With an emphasis on performance, athletes of all kinds are opting for something different than the standard heavy outerwear: arm warmers. Also known as arm sleeves, these items work exactly as promised: a pull-on sleeve that keeps arms warm when paired with a polo or shirt. Sun Mountain Sports (asi/90139) targets golfers by pairing the warmers with its Rain Flex short-sleeve jacket. "Arm warmers can be worn in the morning when it's a little bit cooler," says Anne Hughes, Sun Mountain Sports' director of PGA Tour and corporate sales. "And as soon as it warms up [players] are able to take the arm warmers off. The players really like the short-sleeve jacket because your range of motion is so much better."
Arm warmers have received notoriety through pro basketball, but the skin-tight Lycra version that NBA players wear bears little resemblance to the model favored by other athletes. Sun Mountain Sports makes its arm warmers out of soft polyester in a waffle weave. "The reason they're made like that is obviously for comfort, stretch and breathability," Hughes says.
Sun Mountain Sports primarily sells its sleeves to golf shops, but their versatility can be used for all sports – everything from the intense exercise of running to more relaxed, outdoor sports like fishing. With a little embroidery at the top near the bicep, the arm warmers become a perfect addition for gym stores and charity run giveaways.
Listen to ASI Internet Radio
Be sure to tune in each week as a team of ASI editors takes to the airwaves for the ASI Internet Radio show. For a half-hour each Tuesday, we debate the most important topics facing the industry, as well as offer an off-beat look at the market.

If you missed any of our shows, don't worry. Recordings are available at asicentral.com/radio. And, don't forget to join us every Tuesday morning at 10:30 a.m. Eastern time when we broadcast our radio show live. We'll be taking calls from the audience, so please call us at (215) 953-4979 to hear your voice on the air.

Company Spotlight: Eye-Dye (asi/53448)



Robert Bizzell is a sales manager with Eye-Dye (asi/53448)

Wearables: Tell us a little about your company.
Robert Bizzell: We're a company that specializes in T-shirts. We started in 1988 with traditional tie-dye and since then we have expanded to other dye processes and treatments, including our scented T-shirts which we just introduced. We have a catalog of scents, or we can work with customers on developing custom scents as well. We also have full art, design, and graphics capabilities.

Wearables: How does your scented tie-dye apparel work?
RB: Most of the scented apparel produced in the industry uses a topical application that is not woven into the fibers of the garment, which is why you see a lot of scratch-and-sniff screenprints. We use micro-encapsulation technology, which works almost like breaking eggshells. Scent capsules are dyed into the shirt fibers and as the wearer moves around, the capsules break and the scent is released.

Wearables: What are the benefits of using a product like this in promotional programs?
RB: With this product we have initially found that when you engage two senses at once you can attract attention visually with the tie-dye or graphic, but when you also engage the olfactory senses, it only increases the number of connections a customer makes with the product. It creates a more tangible experience. It's not just the novelty of a scented shirt that's going to make it a hit. There needs to be thought behind how the scent, along with the graphic, is going to sell the product.

Wearables: Where do you see potential for this product down the line?
RB: We definitely see it with fragrance companies like Calvin Klein or even Axe Body Spray, because we have the capability of working with these companies to produce customized scents. So instead of handing bags or cosmetic cases to customers as a gift with purchase item, they can give out T-shirts with the fragrance scent and extend their brand marketing even further.

Wearables: So these scented shirts are an off-shoot of traditional tie-dye apparel. What other things can be developed in the future?
RB: There are many off-shoots of tie-dye today, including acid-washing and tea-staining. With regards to adding scents to shirts, you can take it a step further by adding things like vitamin E oil or lavender or peppermint to garments so wearers not only get the scent, but even the secondary benefits of vitamin E oil on their skin. Lavender and peppermint scents would be a good promotion to consider for yoga or wellness centers. There's a lot that can be done; tie-dye has definitely carved a niche for itself that isn't going away just yet.

Nominate Your Company For The Best Places To Work Contest


For the third year in a row, Counselor is setting out to identify the industry companies that employees simply love to work for. These are the distributors and suppliers that have a loyal work force and that provide a work environment which employees want to go to every morning.

Counselor will be unveiling its third-annual Best Places To Work issue in September, and it will undoubtedly include an elite list of industry companies. Do you want your company to be considered? Getting involved is easy – and it's completely free to participate. The only necessary qualification is that a company has at least 10 employees. To nominate your company, or any others in the market that you think deserve to be recognized, simply click here. Also, there's no risk to participating. Only the honorees – those companies with the best scores from the survey – will be published in Counselor.

So, don't delay. Click here to register your company to be considered for one of the most exclusive lists in the ad specialty market: Counselor's Best Places To Work.

Retro Styles On The Rise



This spring, retro will rewind back to two decades that are immediately recognizable for their iconic styles and uses of colors and prints: the 1950s and the 1970s. From the 1950s, look to see dresses with fitted bodices and full circle skirts, form-fitting bombshell dresses that evoke Marilyn Monroe and the straight-leg Capri pants and crisp white men's shirts tied in front. Also, prepare to see breezy, bright patterned sundresses.



Styles from the 1950s are on the rise, like this classic bowling shirt (BSHRWBNK) from Cruisin' USA (asi/47743). 

Also popular this season is 1970s retro athletic and casual wear. "Styles are more structured like they were in the 1970s," says Mark Smalley, marketing manager of American Apparel (asi/35297). "Waistlines are raised, which makes shorter tees more in demand. I've been seeing more demand for cropped tees and baby-doll styles."

Soft-handed fabrics that emulate well-worn clothing you might actually have leftover from the 1970s are also hot. "Heathering also seems to be popular," says Smalley, "which goes with the retro trend. Anything with a vintage feel." Expect to see vintage garments like retro-gym inspired shorts and crop teees from American Apparel (asi/35297) on retail racks this summer.

Also keep in mind suppliers that specialize in novelty apparel from these two decades. Cruisin' USA (asi/47743) offers everything from 1950s-styled bowling shirts to '50s diner apparel and even the iconic poodle skirt.

While your corporate clients may not be looking for such styles to go with their promotional programs, they make great giveaways and are perfect for event- or theme-based promotions. Other great retro pieces from Cruisin' include the straight-leg capri pants, cinch belts and monogrammed and varsity letter style sweaters.

 

Ash City USA (asi/37127) has announced that John Gibson, sales representative, has been voted the Great Lakes Sales Rep of the Year by members of the Michigan Promotional Professionals Association.

Avaline (asi/37590) has been awarded accreditation by the Quality Certification Alliance.

BDA (asi/137616) announced that it has been named the official promotional licensee for NASCAR.

Broder Bros. Co. (asi/42090) has added three Gildan styles in a total of 24 colors to its Total Team Guarantee selection of products. The company also announced it will be hosting an apparel showcase at Philadelphia's Lincoln Financial Field on May 6. The showcase will feature exhibits, seminars and a reception. Broder will be giving away prizes and offering tours of the stadium.

Brother has announced the launch of a sewing machine with interchangeable Fashion Faces Decorative Skins, which changes the look of the machine to fit each owner's style. In addition, it revealed six new machines and accessories while at the 2010 Sewing Dealers Trade Association.

Cintas (asi/162167) has been selected by the Payment Card Industry Security Standards Council to become a participating organization of its global forum.

Great Garment Graphics announced it is offering free educational webinars in May. Visit the website for more info.

Hanes Imagewear (asi/59528) announced that its EasyColor swatchcard recently won an award for most beneficial sales and marketing aid. The tool is designed to make it easy for customers to shop the entire Hanes Imagewear collection by color and by style.

Imprintables Warehouse announced it has launched a Facebook page. The page will include announcements of the latest educational videos, webinars, chats, and workshops held during trade shows and at company facilities.

Prime Line (asi/79530) announced it has expanded its line of bags and coolers.

Rulegolf announced it is partnering with both Gold Bond (asi/57653) and Ball Pro Promotional Group (asi/38120).


Siser North America is offering new Easyweed Glow In The Dark cutter material.

ThinkGeek (asi/91123) announced the winners of its Electronic Rock Guitar Shirt Video Contest. The winning videos can be viewed on ThinkGeek's website.


U.S. Screen Print has announced the creation of a special support section on www.T-BizNetwork.com for owners of U.S. Screen Print products as part of an overall site makeover.




Knowing these terms will make ad specialty distributors who just started sound like they've been in the business for years.

Nap: A fuzzy, fur-like feel created when fiber ends extend from the basic fabric structure to the fabric surface. The fabric can be napped on either one or both sides.

Off-pressing: Pressing done after the garment is completely sewn.

Wales: In a knitted fabric, the series of loops that are formed by a single needle, which runs vertically or lengthwise.
French Terry Sweatshirt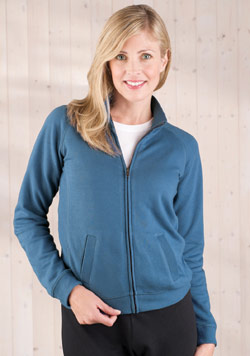 This lightweight V-neck sweatshirt (3655) is made from a cotton/poly blend of rich French terry and features a full-zip closure, raglan sleeves and soft shaped silhouette. A versatile item for corporate or casual apparel promotions. Available from L.A.T. Sportwear (asi/65948).

Selling Tip: Use the luxurious appeal of terry cotton to sell this item as a premier tie-in promotion to spas, resorts and incentive trip attendees. Embroider trip or conference dates and locations, or a company name, on the left chest or back of the sweatshirt.
| | |
| --- | --- |
| | TOP |
Question: I'm looking for a wholesale source for Columbia shirts. I need the vented back button-up and polo styles. I've searched and searched and can't seem to find them anywhere. I sure hope you can help!!!
Answer: I think I've found what you're looking for. Try River's End Trading (asi/82588); (800) 488-4800; www.riversendtrading.com; product 7130. This Columbia short-sleeve shirt is made of 100% cotton. It's available in five colors.
Or, try Mighty Moose Print & Embroidery (asi/71150); (866) 683-6686; www.themightymoose.com; product C7044.This Columbia ladies' short-sleeve garment features zippered front pockets, label above left pocket and is fully vented. Available in six colors.
Also, try Horizon-Logo Outlet (asi/61761); (678) 380-6022; www.promotethislogo.com; product C6016. This Columbia men's short-sleeve polo is made of 100% omni-dry polyester. It features radial sleeves, a solid matching collar and is vented. Available in 24 colors. I hope this helps!
Selling Tip: The simple fact is brand name apparel often costs more than its private label counterparts. Warn your clients before they buy so they don't blow their stack when they get the bill.
Question: Hi!  I really need to know if you can help me or not. I am going to be running a magazine ad next month and I need to see if I can get navy sweater or sweater set. Do you know where I can find them?
Answer: No problem! Check out the sweater stash at Sunderland of Scotland (asi/90145); (800) 999-6599; sales@dwhbrands.com; products LSC100 and SZ100. They have brand name lines such as Glenbrae that feature fine Merino and Cashmere navy sweaters in both men's and women's styles.
Add a patterned punch with Hammacher Schlemmer (asi/59444); (866) 714-0530; corporateorders@hammacher.com; product 77217. Their genuine wool blue/navy argyle cardigan sweater is made from Merino sheep fleece.
For sweater sets, consider Edwards Garment (asi/51752); (800) 253-9885; edwardsg@edwardsgarment.com; product 012.They offer a navy cotton cashmere crew neck twin set with short-sleeved shirt and matching button-up cardigan sweater.
Selling Tip: Navy happens to be a very popular color for men's and women's sweaters, and they are available in a plethora of different styles. Target navy sweaters as a color and item that will work equally well with both genders.
| | |
| --- | --- |
| | TOP |
April 26-27, Portland, ME
New England Apparel Club Show
(781) 326-9223; www.neacshow.com

April 28-29, Hyannis, MA
New England Apparel Club Show
(781) 326-9223; www.neacshow.com

MAY

May 6-8; Fort Worth
The NBM Show
(966) 893-7682; www.nbmshows.com

May 10-13, Boise, Salt Lake City, Denver, Albuquerque
Advantages Roadshow
(800) 546-3300; www.asishow.com

 

May 11-12, Hartford, CT
New England Apparel Club Show
(781) 326-9223; www.neacshow.com

May 12, Denver
Stitches Roadshow
(800) 546-3300; www.asishow.com 

May 16-19, New York
National Stationery Show
(800) 272-7469; www.nationalstationeryshow.com 

May 18-20, Atlanta
SPESA Expo 2010
(919) 872-8909; www.spesaexpo.com

May 24-27, Los Angeles, Ontario (California), San Diego, Phoenix
Advantages Roadshow
(800) 546-3300; www.asishow.com