SPONSORED BY


PODCAST 

On Tuesday's ASI Internet Radio Show, the hosts had a special guest call in to join in on the fun: New York real-estate mogul Barbara Corcoran. She shared her no-nonsense success stories, explaining how she has built a billion-dollar business out of a $1,000 loan. Plus, listen in to this podcast as she shares strategies for building buzz for your company on the cheap. Click here to listen to the Barbara Corcoran interview segment from Tuesday's show.

What did you think of this video? Send your feedback to cmittica@asicentral.com

 
Trend Alert: Colored Watch Faces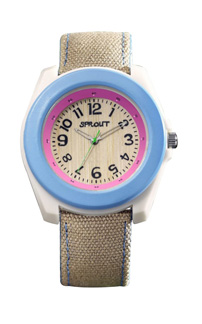 The Sprout line of analog wrist watches comes in an assortment of colors for men, women and children just in time for spring. Available from Castle Merchandising (asi/44315). 
Watches are often the perfect item to honor employees and clients because they offer practicality and style in one package. But instead of implementing a monochromatic watch incentive program, spice things up with the latest in colored watch faces, bezels and decorative watch bands this season.
"Colored watches are bright and vibrant; they're the perfect accessory to be worn during spring and summer," says John Costelli, vice president of Castle Merchandising (asi/44315). Pearled pinks and blues and deep navy colors are the most common, along with rich tones such as sepia and brown. Also new and just in time for spring is the eco-friendly Sprout line of watches that feature bright color schemes and a unique twist on colored watch faces. The Sprout watch gives the appearance of an earthy wood texture on the face and is comprised of natural bamboo.
"Watches are meaningful promotions because they can be printed or engraved on the dial or band, and every time the wearer looks at it, they will be reminded of the reason the watch was received," says Costelli. "We look at our watches 30 to 40 times per day, so that's a lot of message reinforcement!"
 
Listen to ASI Internet Radio
Be sure to tune in each week as a team of ASI editors takes to the airwaves for the ASI Internet Radio show. For a half-hour each Tuesday, we debate the most important topics facing the industry, as well as offer an off-beat look at the market.

If you missed any of our shows, don't worry. Recordings are available at asicentral.com/radio. And, don't forget to join us every Tuesday morning at 10:30 a.m. Eastern time when we broadcast our radio show live. We'll be taking calls from the audience, so please call us at (215) 953-4979 to hear your voice on the air.

Sales Challenge: Enticing Clients To Buy Apparel


Luke Scoby makes sure to walk the fine line, to be persistent but not overbearing. On one hand, "I don't like to bug them," says Scoby, a sales rep with Custom Specialties (asi/173252). "I'd rather sit back and have them come to me." On the other hand, when opportunities arise, he is sure to send clients an e-mail every few months.

What tactic works best in apparel? Scoby will train his eyes to closeout specials offered by his favorite apparel suppliers and be sure to pass those along to a customer. "More than anything, I'm not just sending them a link to a Web site," he says. "I'll find a couple specific items in there which I think are really great buys with good inventory." The Lenexa, KS-based rep will tailor his choices based on a client's industry and previous sales, but the most important aspect is to point out the value. "They might see a nice $12 polo that's normally $40. That to me has worked better than about anything," he says.

Scoby's first priority is to take care of his existing clients, "but then when I do get downtime," he adds, "I love to sit down and hammer through a dozen calls right in a row." Salespeople in general may get intimidated by cold calls, but Scoby's never had a problem; it appeals to his competitive nature. He says, "My mentality is I view it as a little game that I want to win."

Nominate Your Company For The Best Places To Work Contest


For the third year in a row, Counselor is setting out to identify the industry companies that employees simply love to work for. These are the distributors and suppliers that have a loyal work force and that provide a work environment which employees want to go to every morning.

Counselor will be unveiling its third-annual Best Places To Work issue in September, and it will undoubtedly include an elite list of industry companies. Do you want your company to be considered? Getting involved is easy – and it's completely free to participate. The only necessary qualification is that a company has at least 10 employees. To nominate your company, or any others in the market that you think deserve to be recognized, simply click here. Also, there's no risk to participating. Only the honorees – those companies with the best scores from the survey – will be published in Counselor.

So, don't delay. Click here to register your company to be considered for one of the most exclusive lists in the ad specialty market: Counselor's Best Places To Work.

The Right Price With Wovens


Finding the right price is more of an art than a science. The first thing to consider is whether or not the client has purchased wovens in the past, and at what price point. If they are used to a luxurious herringbone woven at a premium price point, you won't want to show them a basic button-down with no performance properties.

"The best way to find out what price point a client is in is to simply walk in and look at what they are currently wearing," says Alisa Buckner, merchandise & marketing director for Dunbrooke (asi/50930). "Just by looking at what the employees or clients have on, you can tell if it's more geared towards high or low end."

Beyond looking at their prior purchases, another way to look at price point for a client is from a turnover rate perspective. "Look at a fast-food restaurant as opposed to a bank," says Buckner. "The turnover rate for the fast-food restaurant will tend to be much higher than that of the bank, so you should not expect the fast-food restaurant to make an investment in a high price-point woven, as they will be replacing them often. The bank will buy a nicer quality shirt for employees because they expect them to stay longer."

 

Dalco Athletic is offering new zebra and giraffe patterns in its Dal-Fashion heat-seal cutter material.

Hanes (asi/59528) has been honored with the 2010 Environmental Protection Agency Energy Partner of the Year Award for its work in reducing carbon emissions.

Imprints Wholesale (asi/62486) has added five new fleece styles to its J. America product line, including a fleece hooded sweatshirt, a long sleeve thermal T-shirt and a track jacket.

Penn Emblem Company (asi/62485) announced that Richard Hirsh has joined the company as a national sales account manager of its Extended Market Division.

Spectrum Uniforms (asi/88680) announced that it is offering new sales materials, including customizable and downloadable sales flyers.

Standard Coating Corporation has announced the creation of a new division, T-Print Products, and the introduction of direct-to-garment inkjet ink called T-Print that will work in any Epson based print head direct-to-garment printing machines.



Tri-Mountain (asi/92125) has launched its new 2010 spring collection. The company's latest catalog can be downloaded at: www.trimountain.com.

World Emblem International (asi/98264) is now offering heat-sealable designs called Trimax Transfers. The supplier also recently opened its eighth manufacturing operation in Reno, Nevada. This new location was strategically placed next to SanMar (asi/84863), allowing garments to easily be purchased and decorated all in the same vicinity




Knowing these terms will make ad specialty distributors who just started sound like they've been in the business for years.

Carding: A process which eliminates fibers too short for inclusion in the spun yarn. The process also removes dirt and foreign matter still remaining in the fiber mass, and arranges the fibers into a very thin layer.

Lapel: The front fold on a shirt that is a continuation of the collar.

Resin-Treated: A finishing process associated with the application of synthetic chemical compounds to the fabric to provide wrinkle-resistance, wash-and-wear characteristics, or an improved hand.
Sporty Slingpack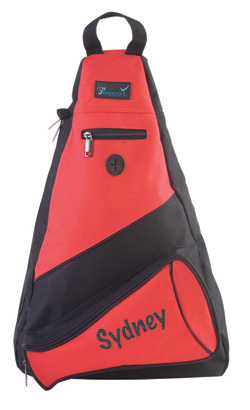 This slingpack (SL50) is made from 600D polyester with heavy vinyl backing and features an exclusive megaphone shaped zipper pocket. Additional storage for MP3 players and shoes are also included. Use a fast hoop for easy embroidery on the megaphone pocket. Available from Pizzazz Performance Wear (asi/78230).
Selling Tip: Get local cheer teams ready for another season of high school and collegiate sports by personalizing these slingpacks for cheerleading squad members and pep rally organizers. Make a special gift for graduating seniors or active alumni by adding their graduation year.
| | |
| --- | --- |
| | TOP |
Question: I need your help. A summer basketball team is looking for a reversible t-shirt.  I have looked at many sites on the Web, but still cannot find the shirt. I need the shirt to be light in color and cotton.  Is there anything like it out there?
Answer: Try, Force 2000 Athletic Apparel (asi/55056); (877) 503-6723; www.hooraysport.com; product GM-603MM. This reversible T-shirt features small holes for breathability. It's available in 21 colors.

Or, try Arrowear Athletic Apparel (asi/36915); (888) 276-9327; www.arrowear.com; product 2840. This reversible T-shirt is a polyester/cotton blend and it's available in six colors.

Finally, try Virginia T's Inc. (asi/93917); (800) 289-8099; www.virginiats.com; product 137. This reversible shirt is available in 19 colors. Good luck!
Selling Tip: Clients can't decide which color to settle on? Have them choose two! A reversible shirt is a perfect way to create multiple looks, particularly in the athletic arena.
Question: Would you please try to find me a source for purchasing infant and toddler polo shirts? I am specifically looking for black polo shirts in sizes 12 months-3T. We have some athletic teams that want these for younger siblings' spirit wear. I look forward to hearing from you.
Answer: Try, Dickies Occupational Wear (asi/49675); (866) 746-7934; www.dickieswear.com; product KS234. This toddler short-sleeved polo features a tagless label, a two-button placket and dyed-to-match buttons. It's available in dark navy, light blue, red and white.

Or, try S&S Activewear (asi/84358); (800) 523-2155; www.ssactivewear.com; product 4600-Toddler. This toddler polo is made of 100% cotton. It features a three-button placket with a welt collar and cuffs. Available in five colors.

Finally, try One Stop Inc. (asi/75085); (800) 968-7550; www.onestopinc.com; product EZ825. This toddler pique polo shirt features double-needle stitching, set-in sleeves, two-button packet and half moon on back. Available in eight colors. Thanks!
Selling Tip: When selling uniforms to youth sports teams, don't hesitate to offer matching apparel for parents and fans. You can possibly double or triple an order in lieu of selling just a uniform set.
| | |
| --- | --- |
| | TOP |
April 14, Dallas
Stitches Roadshow
(800) 546-3300; www.asishow.com

April 14-17, Dallas, Austin, San Antonio, Houston
Advantages Roadshow
(800) 546-3300; www.asishow.com

April 19-22, Marlboro, MA
New England Apparel Club Show
(781) 326-9223; www.neacshow.com

April 20-22, Las Vegas
Las Vegas International Lingerie Show
(305) 598-7019; www.lingerieshow.cc

April 24-25, New York City
Manhattan Vintage Clothing & Antique Textile Show and Sale
(518) 434-4312; www.manhattanvintage.com

 

April 27-28, Portland, ME
New England Apparel Club Show
(781) 326-9223; www.neacshow.com

April 27-May 1, Salt Lake City, Denver, Albuquerque, Tucson, Phoenix
Advantages Roadshow
(800) 546-3300; www.asishow.com

April 28, Denver
Stitches Roadshow
(800) 546-3300; www.asishow.com 

April 29-30, Hyannis, MA
New England Apparel Club Show
(781) 326-9223; www.neacshow.com

April 30-May 2, Fort Worth
The Printwear Show
(966) 893-7682; www.nbmshows.com
SPONSORED BY


f
Wearables Style and Wearables are trademarks of the Advertising Specialty Institute. You were sent this newsletter as a benefit of your ASI membership. Copyright 2010, ASI. All Rights Reserved.
If you'd like us to send Wearables Style FREE to anyone else at your company (or to your off-site sales reps), go to www.asicentral.com/newsletters and complete the online form.
Interested in advertising in Wearables Style? Send an email to ddienna@asicentral.com 
Click here to subscribe to Wearables™ magazine. The publisher has a right to refuse subscriptions to non-qualified subscribers.
Advertising Specialty Institute®, 4800 Street Road, Trevose, PA 19053