SPONSORED BY


Click Here to listen to the podcast. ASI Staff Writer Matthew George talks with Jeff Civillico, a nationally-renowned corporate entertainer and MC, to learn how a company can plan a memorable corporate event despite the current state of the economy. Civillico highlights guidelines without breaking the bank and addresses the importance of delivering the "wow" factor. Click here to listen to the podcast.

What did you think of this podcast? Send your feedback to cmittica@asicentral.com. 

 

[ TRENDS ] 

 Quick Hit: Ripped Denim 



It's back! The effortless, laid-back look never goes out of style. And that's why ripped denim – an enduring trend that evolved throughout the '80s and early '90s – is making a serious comeback. Celebrities have been rocking this trend lately and end-users are sure to gain interest in this cutting-edge fashion very soon.

"I'm surprised more suppliers haven't jumped on this trend yet. We have about 15,000 pieces in the works for stone-washed, embellished and distressed jeans," says Rafael Perez, president of Spectrum Ideas (asi/88638), a supplier located in New York City. "Right now it's a fashion Mecca in Manhattan. And I'm sure it will be represented more in this industry."

With this trend, it's important for companies to know if it will sell to their client base. And one way to determine that would be to test your market. "You don't want to get stuck with overages," says Perez. "Every business has customers with different taste. Start off with producing basic numbers like 600 to 1,200 pieces and see how fast they sell. If they do and you're getting more requests, than consider adding this craze to your inventory."

According to Perez, regular jeans are washed for 15 minutes prior to reaching the consumer level. But to pull off the ripped denim look, each pair of jeans gets a heavier wash (30 minutes). "This 'beats up' the fabric and causes the fibers to distress so they tear on their own," says Perez. "Then when a buyer washes them, they begin to tear more and more – making it seem as if they've been worn for years."

Actress Cameron Diaz sports the "ripped jean" look at Nickelodeon's Kids' Choice Awards 2009.

 

Listen to ASI Internet Radio [asicentral.com/radio]
A team of ASI editors have launched the first ever ASI Internet Radio show. For a half-hour each Tuesday, we debate the most important topics facing the industry, as well as offer an off-beat look at the market.
If you missed any of our shows, don't worry. Recordings are available at asicentral.com/radio. And, don't forget to join us every Tuesday morning 10:30 a.m. Eastern time when we broadcast our radio show live. We'll be taking calls from the audience, so please call us at (215) 953-4979 to hear your voice on the air.

Broder Tries to Restructure to Avoid Bankruptcy
Counselor Top 40 supplier Broder Bros. (asi/42090) has warned it will file for Chapter 11 bankruptcy unless it can restructure $225 million in current debt by the middle of May. Under a proposed plan, Broder is offering to exchange outstanding notes for longer-term notes with higher yields, due in 2013, as well as company stock. If 98% of investors don't agree to the arrangement, Broder intends to file for bankruptcy. "We want our partners to know that we are deeply committed to servicing our customers in the industry," said Girisha Chandraraj, senior vice president of marketing, in an interview with ASI Counselor. "We are structuring ourselves to continue comfortably and indefinitely."
According to public filings, for each $1,000 in old notes paying 11.25% and due in 2010, Broder will extend new notes at roughly $444 and paying 12% to 15%. Investors would also receive a calculated share of no less than 95% of newly-issued common stock. Broder has already reached an agreement on terms with an ad hoc committee, representing holders of about 30% of the existing notes. "We feel good about the response of the ad hoc committee," says Chandraraj. "It's very telling."

Admitting that its sales were slowing at the end of 2008, Broder laid off 140 employees in December. Its recent release of fourth quarter financials, including net sales and gross profits, provide proof of a slump in business. Fourth quarter 2008 net sales were $219.5 million compared to $232.7 million for the fourth quarter 2007. Fourth quarter gross profit was $41.1 million compared to $46.3 million for the fourth quarter 2007. Full year 2008 net sales were $926.1 million compared to $929.1 million in 2007. In total for 2008, gross profit was $163.7 million compared to $166.2 million in 2007. Despite weakened numbers, Chandraraj says Broder still outperformed much of the industry in 2008. He anticipates a positive 2009. "We performed exceptionally well against the market last year," Chandraraj says. "We expect once our structuring is cleared up, we'll get back on track."
Pennsylvania-based Broder Bros., established in 1919, employs about 1,500 people. Private investment firm Bain Capital has held a majority interest in the company since May 2000. Broder's exchange offer will expire at 5:00 p.m. eastern time on May 14.

Woody Allen-American Apparel Legal Battle Continues

Famed actor-director Woody Allen is trying to protect his image in a $10 million lawsuit against American Apparel (asi/35297). The suit accuses the supplier of damaging Allen's reputation and trying to harass and intimidate him with a "scorched earth" approach. Allen, 73, says American Apparel overstepped its bounds in requesting information about his family life, personal finances and career.
The controversy began last year when the Los Angeles-based supplier used Allen's image on billboards in Hollywood and New York as well as on its Web site. Allen said he did not authorize the display and sued the company for using his image improperly.
In new court papers, Allen's lawyers said American Apparel was seeking to "tarnish Mr. Allen's reputation a second time" and called it a "despicable effort to intimate" him. American Apparel lawyer Stuart Slotnick has maintained that the company sought the personal information - such as Allen's relationship to actress Mia Farrow and then adopted daughter and later wife Soon-Yi Previn - to demonstrate Allen has already done far greater damage to his image.
"Woody Allen expects $10 million for use of his image on billboards that were up and down in less than one week," Slotnick told the Associated Press. "I think Woody Allen overestimates the value of his image."
Slotnick added that the personal information is "certainly relevant in assessing the value of an endorsement."

ASICentral: NEW Online Register® Is Now Live 
The "Find A Supplier" area of ASICentral - which allows you to quickly locate an ASI Supplier - has been improved and it sure is sweet! Now, when a supplier places an ad in the print Register®, their listing in the supplier search on ASICentral.com is also updated, including logo, quick contact link and premium placement.
You can now view actual ads, rate a supplier more easily, access contact information and web site, and much more. If you haven't already checked it out, click here. (NOTE: Must be logged in.)
Got questions, comments or any type of feedback regarding anything ASICentral, don't hesitate to contact us at feedback@asicentral.com. Also, follow ASICentral at: 




Q&A: Custom Dyes (asi/47922) Owner Andrew Weitz
Wearables: How was Custom Dyes founded? 
Andy Weitz: I've been doing tie-dye for 20 years. I started my own tie-dye factory. We actually got out of the promotional business, but came back about two years ago with a whole different aspect. Before we used to do T-shirts to order, now we have 750,000 pieces in stock at all times. It used to take us 10-15 business days to ship an order but we changed. Today, we offer same-day shipping. We even went down in price to be 20% less than all distributors who offer tie-dye products. We changed the whole business model.

Wearables: What types of products do you offer?
AW: We stock youth sizes from XS-L. Adult sizes from S-5XL. Those sizes are available in short- and long-sleeved T-shirts and pull-over hoodies. We also do tote bags and a whole new line coming out for our bags - sling bags and French Terry ones. That idea came when I was walking the ASI Show floor and saw businesses that offer bags, but not one offered any tie-dye ones. We're also getting into aprons too. The Breast Cancer Awareness shirt has been very popular and in demand. The logo is on a 100% cotton heavyweight T-shirt and makes a perfect promotional item for cancer walks and fundraisers. With that, we can do anything that's custom. We'll work with clients to see what they want out of a shirt.

Wearables: What sets you apart from other companies that may offer identical products?
AW: I don't know of any other company in this industry that can ship the same day. If a customer orders 15,000 shirts, we can get it out the same day. We also have a large inventory and can do anything custom. I can't think of a time when a customer wanted something specific and we couldn't pull it off. Our designs and images we create are endless.

Wearables: What has been the biggest challenge so far?
AW: By far, it's getting the name out there. I don't think a lot of people know we are here. People are paying through different distributors and paying seven dollars a shirt. We are priced at $3.95 per shirt. If they were aware of our products they could save a lot of money. It's all about advertising. People seem to be stuck in a pattern of buying a certain way with certain people, but we can offer price and delivery a lot better.

Wearables: How has the impact of the economy affected your business?
AW: Things are down, of course. But only a little bit. We are gaining interest from customers because of the economy because they are shopping around. We have the best prices. An educated consumer is the best consumer. The tighter things get, the more people will shop for a low price and that benefits us. For more information on Custom Dyes call (877) 843-3930 or visit, www.customdyes.com.

[ OUR FAVORITE WEARABLES ]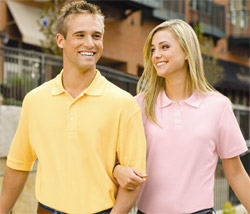 Essential Blended Pique Polos

Available From: Heritage Sportswear; (740) 928-7771; www.heritagesportswear.com

Sell To: These new 60% ring spun cotton and 40% polyester blended polos are available in a dozen colors - making every end-user a target. Polos are in-demand year-round, but these colors are perfect for summer wear.

Style Tip: Both men's style (2523) and ladies' style (2525) are wrinkle-resistant and won't shrink. Features three-button placket with white pearl buttons, single-needle edge-stitched cuffs and single-needle stitching at armholes and shoulders.


[ NEWS BRIEFS ] 
Broder Bros. (asi/42090) has announced the launch of a new eco-friendly micro site that allows clients to shop online for their favorite eco-friendly styles via e-catalogs. They have also released their teamwear catalog for 2009.

Dunbrooke Apparel Corp. (asi/50930) announces a partnership with Reebox-CCM Hockey Inc. Dunbrooke now has the exclusive rights to manufacture and distribute a full line of work wear jackets with NHL team logos to the retail market.

Hanesbrands Inc. (asi/59528) employees have received United Way Spirit Award for best fundraising campaign in North Carolina. The company exceeded its $1.9 million goal despite an uncertain economic climate. It's the second time in three years the company has been honored.

McArthur Towel & Sports announces its new alliance with Up North Trading & AGUA Promotions. Located in New York (AGUA) and Minnesota (Up North), both companies will stock McArthur's exclusive blank inventory and printing can be done on-site.

Millennium Leather, LLC / The Andrew Philips Collection (asi/36205) announced the hiring of The Gingerich Group Inc. to provide independent sales representation in Central Ontario, Canada, including the Greater Toronto Area. 

SanMar (asi/84863) has opened new warehouses in Dallas, TX and Jacksonville, FL that will serve customers in more than a dozen states. Both warehouses were designed for greater efficiency, with energy-saving features like motion-detector lighting. 

TSC Apparel (asi/90518) has announced that Now and Zen Productions and F & E Sportswear (asi/191041) are the first quarter 2009 winners in its "Wildcard Advantage" promotion. The promotion runs through November. By purchasing featured products each month, customers will be entered to win one of 10 trips to the 2010 PPAI Expo in Las Vegas and have a chance to play for $10,000 in a game of poker.


[ ASK AN EXPERT ] 
Question: Do you know where I can find CD wallets to embroider?

Answer: CD wallets embroidered with a name or company logo make great gifts! I'm glad to see someone on top of upcoming market products! Check out product 11420 from Winpak Mfg. (asi/97477); (866) 494-6725; www.winpaks.com. They offer a denier nylon case with a detachable trap and padded zipper pocket that holds up to 12 discs. Also look at Product 5401 from Bodek & Rhodes (asi/40788); (800) 523-2721; www.bodekandrhodes.com. It's a denier polyester CD case with fun PVC trim and a 24 disc capacity. It comes in black and navy.

Selling Tip: Who doesn't love music? CD wallets embroidered with a name of company make great gifts for virtually anyone: employees, clients and potential clients.
Question: I'm in desperate need of your help once more.  I'm needing baseball pants for a team that is gray with a black piping on the side.  I need sizes from Youth Small to Youth XL in a 14-ounce weight.

Answer: I didn't find 14 oz. pants but I did find 14.5 oz. ones! Look at product 49BDP from Rocky Mountain Sportswear (asi/83096); (866) 767-7780; www.rmsportswear.com. They offer youth double knit baseball pants in sizes XS-XL in gray with black piping. Also look at product NB6129 from A/4 Moshay Inc.  (asi/30121); (888) 464-3824; www.a4.com. 100% polyester 12 oz. baseball pants with pro style belt loops and a metal zipper. Good luck on the ball field!

Selling Tip: American's favorite pastime already started, and now it's time to target baseball leagues of all ages. Or, consider starting a company league. Dish out baseball accessories - caps, pants and jerseys - with your company logo on them.

[ WEARABLES TERMS ] 

Getting familiar with these terms will make any ad specialty distributor look like an apparel expert.

Aetzing: The process used to create schiffli laces. The base fabric is dissolved, leaving the threads that have been stitched together to form the lace.

Editing: Changing aspects of a design via a computerized editing program. Most programs allow the user to scale designs up or down, edit stitch by stitch or block by block, merge lettering with the design, move aspects of the design around, combine designs, and insert or edit machine commands.

Frame: Holding device for insertion of goods under an embroidery head for the application of embroidery. May employ a number of means for maintaining stability during the embroidery process, including clamps, vacuum devices, magnets or springs.

 Pencil Rub: A low-cost way of producing a "sample" of an embroidery design. Consists of a piece of tracing paper placed over a sewout and rubbed lightly with a pencil to produce an impression of the embroidery.


[ SHOW LIST ]
April 27-May 1, Salt Lake City, Denver, Albuquerque, Tucson, Phoenix
Advantages Roadshow
(800) 546-3300; www.asishow.com
May 11-15, Syracuse, Buffalo, Pittsburgh, Cleveland, Detroit
Advantages Roadshow
(800) 546-3300; www.asishow.com
May 15, Detroit
The Stitches Roadshow
(800) 546-3300; www.asishow.com
May 20-21, Minnesota 
"THE Show" Booth Show
(651) 734-9767; www.umapp.org
May 24-28, Canada East
ASI Advantages Roadshow
(800) 546-3300; www.asishow.com
May 28-30; Indianapolis
The Printwear Show
(966) 893-7682; www.nbmshows.com
SPONSORED BY


Wearables Style and Wearables are trademarks of the Advertising Specialty Institute. You were sent this newsletter as a benefit of your ASI membership. Copyright 2009, ASI. All Rights Reserved.
If you'd like us to send Wearables Style FREE to anyone else at your company (or to your off-site sales reps), go to www.asicentral.com/newsletters and complete the online form.
Interested in advertising in Wearables Style? Send an email to ddienna@asicentral.com 
Click here to subscribe to Wearables™  magazine. You must be a member of ASI to subscribe to this publication. The publisher has a right to refuse subscriptions to non-members.
Advertising Specialty Institute®, 4800 Street Road, Trevose, PA 19053