SPONSORED BY


Click here to watch the video.
Wondering what goes into the latest decorating techniques like screen printing, laser etching, appliqué or more? ASI has partnered up with Vantage Apparel (asi/93390), relying on the New Jersey-based supplier's vast apparel knowledge to help explain the latest trends in the wearables industry. Go to Wearables' online video section to check out the videos. 
[ TRENDS ] 
Golf Apparel Manufacturers Strike New Alliances
Dominoes and golf are completely different, but it seems the two have merged with the way golf apparel suppliers have fallen into place in the industry. River's End Trading Company (asi/82588) has reached an agreement with TaylorMade-adidas Golf Company to exclusively provide the Ashworth (asi/37128) golf apparel brand to the ad specialty market. The move came just days after Perry Ellis International (asi/77715) announced it had reached an agreement to produce and distribute Callaway golf and sportswear apparel. Previously, Ashworth held the license to manufacture the Callaway label in the market. But since TaylorMade-adidas and Callaway intensely compete in the golf industry, Callaway had sought to break ties with Ashworth.
Callaway's association with Perry Ellis, however, won't begin until the spring of 2010, and the golf manufacturer will continue to service the market with products manufactured by Ashworth throughout this year. "We are delighted to have found the right partner to help us more firmly position Callaway as a lifestyle brand," said George Fellows, president of Callaway Golf. "Perry Ellis International is known worldwide as a leader in both design and distribution of apparel and accessories. We are looking forward to a long and mutually beneficial partnership."
River's End will offer more than 30 Ashworth apparel items, including performance polos, jackets, windshirts and woven shirts. "We are proud to be partnering with River's End Trading Company," said John Kawaja, executive vice president of TaylorMade-adidas Golf Company. "Working with a quality organization such as River's End Trading Company will definitely enhance our efforts to build momentum for the Ashworth brand in the corporate channel quickly and efficiently."
Terms of the Perry Ellis-Callaway deal, which includes the rights to produce and distribute Callaway golf and sportswear apparel throughout North America, Latin America and the Caribbean, were not disclosed. Perry Ellis will also embroider, embellish and store products for Callaway. "We are very excited about working with the number one global golf brand," said Oscar Feldenkreis, president of Perry Ellis International, in a statement. "We see this as an incredible opportunity for us to help expand Callaway's presence in the apparel market."

Listen to ASI Internet Radio [asicentral.com/radio]
A team of ASI editors have launched the first ever ASI Internet Radio show. For a half-hour each Tuesday, we debate the most important topics facing the industry, as well as offer an off-beat look at the market.
If you missed any of our shows, don't worry. Recordings are available at asicentral.com/radio. And, don't forget to join us every Tuesday morning 10:30 a.m. Eastern time when we broadcast our radio show live. We'll be taking calls from the audience, so please call us at (215) 953-4979 to hear your voice on the air.

Economy Weighs On Law Enforcement Budgets
Law enforcement uniform sales (also known as blue goods) have always been a strong market, but if you believe police and firefighters are immune to the effects of the economy, think again. When the Police Executive Research Forum polled 200 local police departments last summer, it found that 39% of respondents were cutting their operating budgets. "Public safety and police used to [have a special status]; they'd cut everyone else but not public safety," says Tom Manger, police chief of Montgomery, MD. "But times are so profoundly bad now that public safety is no longer exempt from being cut. We're going in the wrong direction." Blame the continuing housing crisis: Local police departments are funded through property taxes and other levies. Thus, the rash of foreclosures and stalled housing market has dried up a major source of funding. Safety, it seems, has its price.
Will that trickle down into the sale of blue goods? The good news is that cutting loose officers and firemen is usually the last thing police and fire departments want to do. In comments at a major International Association of Fire Chiefs conference last December, IAFC Treasurer Bill Metcalf confirmed that discretionary spending like training and travel are often the first things to go. "Paying for equipment, capital expenditures, those are the things that get cut off right away," he said. But he said that eventually "many of us are looking at changes in people."
Instead of cutting officers, for example, local departments simply may decline to fill vacancies. "Probably the biggest impact is the cancellation of cadet or recruit classes, which would traditionally happen throughout the year for replacement of officers leaving through attrition," says David Laurio, president of blue goods supplier Elbeco. Not only is there an effect of less officers spending money, but employed ones still reluctant to spend because of a recession mindset. "I think people are less likely to spend money if they don't have to now," says Dan McDonald Jr, store manager for blue goods retailer McDonald Uniforms in Philadelphia, PA. "I really think that's where we see it. If they really need something, they're getting it. But people aren't spending money; retail sales have dropped a lot. And we've seen those a little bit [here]."
There is a difference, however, between less personal spending money for uniforms and departments allocating less money in general. Many police and fire departments played the waiting game in early 2009, freezing their budgets but avoiding major cuts until they saw how the economic landscape and government funding shook out. Others haven't noticed a major difference. "I hear that their budgets are being cut back, but I'm not seeing it," remarks Dan McDonald Sr, owner of McDonald Uniforms.
But the need for blue goods won't go away. It's a requirement for uniformed law enforcement. Says Laurio, "You always have law enforcement and fire officers that need to serve their communities. So there will always be product that will be required by our end-using customers."

ASICentral: Question of the Week
OK, so we're changing things up a bit this week. Instead of us informing you, we want you to inform us by answering one simple question: If You Were A Promotional Product, What Would You Be? Feel free to tell us why, though it's not necessary. To respond, simply submit a comment in our Blog or send an e-mail to us at feedback@asicentral.com (note: e-mails may be posted in the blog).
Also, follow ASICentral at:




Layering: A Profitable Retail Trend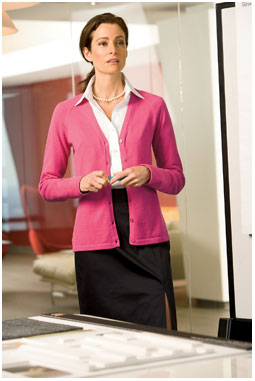 When fall changes into winter this year, layering will be even more important than in years past. With less disposable income to spend, everyone from the fashion conscious to the average Joe will be looking to make their wardrobe stretch further with mix-and-match layering staples like cardigans and blazers. When the summer swimsuits and shorts start heading toward the clearance section at your favorite retailer, you'll see layering pieces become the main staple for the cooler fall and cold winter weather.
So how can you capitalize on this hot retail trend? "A lot of the brands that we carry have been designed around the concept of a collection," says Andrea Engel, vice president of merchandising for Broder Bros. (asi/42090). Layering is a great way to add on to sales in the branded apparel industry, and it can help the end-user feel more comfortable with a uniform program. It's also an issue of comfort.
"For example," Engel says, "many women aren't comfortable in woven shirts and prefer to layer them over another shirt, more like a jacket." Layering can also help show off your client's brand. "Jackets, sweaters, polar fleeces and outerwear will be worn more often than a polo or woven, giving your client's name more visibility," says Engel.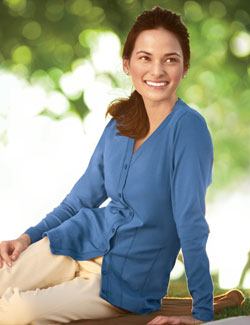 [ OUR FAVORITE WEARABLES ]

Ladies Cardigan
Available From: SanMar (asi/84863); (800) 346-3369; www.sanmar.com
Style Tip: This stretch cotton ladies cardigan, with contoured silhouette, seven-button placket and dyed-to match buttons, makes for an elegant top layer item in the spring, heavy enough to combat morning chill but light enough to wear during the growing heat throughout the day.
Style Tip: Business environments tend to relax their dress codes as the weather warms up. Cardigans are an excellent alternative for women who normally dress up in a stuffier suit or jacket. Look to your clients in the corporate apparel market.

[ NEWS BRIEFS ] 
3M (asi/91240) has launched its new product – Scotchlite Reflective Material. The custom cuttable transfer film has a one-step lamination process and is ready to use right off the roll with no need to apply pre-mask.

Anvil Knitwear (asi/36350) was ranked sixth among the top ten organic cotton-using brands and retailers globally. The company was one of the only B2B companies listed along with retail and brand giants such as Wal-Mart, Nike, H&M and Pottery Barn.

Boxercraft (asi/41325) announced that its cheer edition catalog is a Graphic Design USA Award winner. American Graphic Design Awards honor outstanding new work across all media.

Gill-Line (asi/56950) is offering 30% off on hard hat decals, equipment decals, bumper stickers and more.

 
 

Heritage Sportswear has announced the release of its Ultimate Outer Banks Cool-Dri Performance Polos. The polos are super soft, moisture-wicking and sold at a reasonable price ($10.98 per case).

 
 
Stahls' ID Direct has added four new colors to the CAD-CUT Fashion-FILM product line. The new colors include Vegas Gold, Stone, Mystical Purple and Merlot. The film is a heat transfer vinyl material for use with a computerized cutter and heat press.

 
 

ThreadLites has introduced its Illuminated Branded Apparel – electroluminescence technology that produces a flashing light pattern on shirts and more. It can be combined with ThreadLites' Sound Activated Equalizer. The technology goes on flat and is flexible, robust, lightweight and can be applied to anything at any size.

Touchstone Merchandise Group LLC (asi/345631) has announced the addition of Joe Notaro as its senior account executive. Notaro is based in Touchstone's new Irvine, CA office. Meegan Baxter has been named account executive and is based in Touchstone's Mason, OH office.

Tri-Mountain (asi/92125) has launched the Collegian, a five-ounce 100% polyester golf shirt, designed to wick away moisture from the body and provide a tailored look. The shirt is available in multiple sizes and colors.

[ ASK AN EXPERT ] 
Question: I'm looking desperately for a few children's items: khaki shorts, khaki vests, railroad caps, and hickory stripped overalls. Any help would be sure appreciated.
Answer: I didn't find any hickory striped overalls but I did find some good denim ones and rose-colored ones from A Design N Time Inc. (asi/30264); (719) 347-0166; www.dntproducts.com. Look at product 94302WDB- youth flannel denim washed bib overall with 100% cotton flannel lining. For the railroad caps, try Adcapitol Aprons, Bags, Banners, Flags & Wearables (asi/31260); (800) 868-7111; www.adcapitol.com. Product NC 450-Y is an authentic heavy-duty youth railroad engineer's cap made of 10 oz. twill. Also try Doss Outback USA (asi/50685): (800) 550-3677; www.trainwhistle.com. Product JEK is an engineer kit with an American made cap, red paisley bandana and old fashioned pine train whistle. I didn't find any sources for khaki shorts, and only one for the vests. Try Force 2000 Athletic Apparel (asi/55056); (877) 503-6723; www.hooraysport.com. They have a custom youth sleeveless oxford jacket with full front zipper, self collar, two set in front pockets and a polar fleece lining listed as product WP-909-444Y. Good luck!
Question: I have searched almost everywhere for wholesale fleece cardigans - Jerzee has a nice one but only a few colors.  The ones I am looking for come in a variety of colors, button down. I hope you can help me.
Answer: Look at Caplee Corporation (asi/43798); (949) 660-0983; www.capleecorp.com. Check out product 11654- a polyester fleece knit cardigan with four-button closure and two material pockets which comes in black, gold, ivory, khaki, maroon, navy, orange, red and royal. Next, go to Instant Tee House (asi/62690); (800) 814-2365; www.instantteehouse.com. Check out product 7541- a textured fleece cardigan made of 60% cotton and 40% polyester with a four-button closure, double needle stitching and two front pockets. Finally go to D&S Specialties (asi/48030); (800) 494-5247; www.dands.biz. Look at product LP76- a ladies sweater cardigan made of polyester fleece with trimmed neck tape and five-button placket that comes in black, light pink, moss and winter white.
Question: Do you have any idea where I could find some hockey jerseys for a customer?
I've searched all my catalogs with no luck.  Don't want any of the licensed ones, just hockey jerseys for an adult hockey league.  We are a small company and buy in small quantities.
Thanks for any help you might give me.
Answer: Try Force 2000 Athletic Apparel (asi/55056); (877) 503-6723. They offer a variety of long-sleeved hockey jerseys for adults you can look at, like product HK-501ACY-A, an air mesh custom adult sized hockey jersey with contrasting yoke. Sizes run up to a 5XL. Also look at Teamwork Athletic Apparel (asi/90673); (800) 333-6063; www.teamworkathletic.com. They too carry a wide variety of products like product 1527 - an adult heavyweight Birdseye polyester air mesh hockey jersey shirt. Finally try Arrowear Athletic Apparel (asi/36915); (888) 276-9327; www.arrowear.com. They have a low minimum order of pre-look game hockey jerseys made of heavyweight polyester hockey mesh. Check out product 6411.

[ WEARABLES TERMS ] 
Getting familiar with these terms will make any ad specialty distributor look like an apparel expert.
Here are different types of circular knit fabrications:
Jersey- a single needle fabric consisting of wales (knit) stitches on the face and course (pearl) stitches on the back
Interlock- a double needle fabric consisting of rib (knit stitches) on the both the face and back. 
Rib-  a double needle fabric that produces lines of wales on both  sides of the fabric.  The identifier of a rib knit is descriptive of the number of wales on the face and the back.  A 4x2 rib has 4 wales on the face, 2 wales on the back in a repetitive pattern.
Pique- a knitted fabric with the pattern of diamonds
Waffle- a knitted fabric with a pattern of interlocking squares

[ SHOW LIST ]
APRIL
April 14, Dallas
The Stitches Roadshow
(800) 546-3300; www.asishow.com
April 14-17, Dallas, Austin, San Antonio, Houston
Advantages Roadshow
(800) 546-3300; www.asishow.com
April 19-22, Marlboro, MA
New England Apparel Club Show
(781) 326-9223; www.neacshow.com
April 20-22, Las Vegas
Las Vegas International Lingerie Show
(305) 598-7019; www.lingerieshow.cc
April 24-25, New York City
Manhattan Vintage Clothing & Antique Textile Show and Sale
(518) 434-4312; www.manhattanvintage.com
April 27-28, Portland, ME
New England Apparel Club Show
(781) 326-9223; www.neacshow.com
April 27-May 1, Salt Lake City, Denver, Albuquerque, Tucson, Phoenix
Advantages Roadshow
(800) 546-3300; www.asishow.com
April 28, Denver
The Stitches Roadshow
(800) 546-3300; www.asishow.com 
April 29-30, Hyannis, MA
New England Apparel Club Show
(781) 326-9223; www.neacshow.com
April 30-May 2, Fort Worth
The Printwear Show
(966) 893-7682; www.nbmshows.com
SPONSORED BY


Wearables Style and Wearables are trademarks of the Advertising Specialty Institute. You were sent this newsletter as a benefit of your ASI membership. Copyright 2009, ASI. All Rights Reserved.
If you'd like us to send Wearables Style FREE to anyone else at your company (or to your off-site sales reps), go to www.asicentral.com/newsletters and complete the online form.
Interested in advertising in Wearables Style? Send an email to ddienna@asicentral.com 
Click here to subscribe to Wearables™  magazine. You must be a member of ASI to subscribe to this publication. The publisher has a right to refuse subscriptions to non-members.
Advertising Specialty Institute®, 4800 Street Road, Trevose, PA 19053