| | |
| --- | --- |
| promotional products • incentives • corporate gifts • meetings • events | Volume 134 / May 17, 2017 |
Click here to see other new and creative promotional products

A Wealth of Swag at Berkshire Hathaway Meeting
Early May marked the annual Berkshire Hathaway Shareholder Meeting in Omaha, NE, which welcomed almost 40,000 of the company's shareholders from across the globe. The chairman and largest shareholder of Berkshire Hathaway, business magnate Warren Buffett, was on hand to hold court – including a several-hours-long Q&A session – at an event he has called "the Woodstock of Capitalists." It featured shopping, food, entertainment and the Invest in Yourself 5K which wrapped up the weekend's events. Also on hand was branded swag, featuring likenesses of both Buffett and Berkshire vice chairman Charlie Munger, available exclusively at the meeting.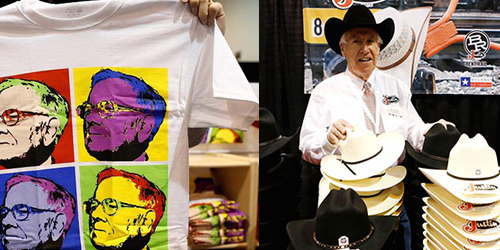 VIDEO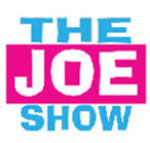 The Joe Show
Watch as Product Editor Joe Haley presents a variety of fun and unique promotional products, with ideas for how these items can be used to help you increase sales, raise awareness, promote an event, draw attendees to your booth at a trade show and much more.

Click here to watch The Joe Show.
MLB Star Bryce Harper Featured in Fun Promotion
Hide your children: There's a new half-man, half-beast on the loose. And he's carrying a bat. In a nod to the great man-imal combinations dreamed of by mad scientists and ancient myths, the Washington National's Class A Advanced Minor League affiliate Potomac Nationals have created the "Bryce Harper Gobblehead." As the name implies, it's a promotional bobblehead that features the head of Washington Nationals superstar slugger Bryce Harper (wearing a pilgrim hat) on the body of a turkey.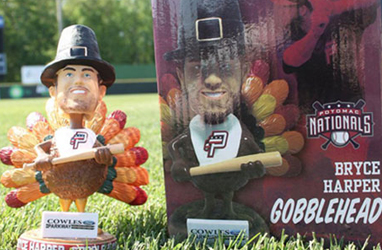 Caps
They're ubiquitous, but that doesn't mean caps are all alike. Structured or unstructured? Fitted or adjustable? Cotton or poly? Consult with your distributor partner to know the best styles to use for your program, and for more information on the caps shown here.
High-End Look

This Graduate cap is two-toned and is ideal for the automotive market. asi/71107

Perfect Color

If color matching is important for your company, this Pantone-matched cap is just the thing. asi/45657

Sturdy Headwear

Use this brushed-cotton cap as part of a company uniform for mechanics and auto parts dealers. asi/90160

Modern Trucker

The ProFlex cap is a modern take on the mesh-backed trucker cap that will appeal to millennials. asi/75420
MARKETING CALENDAR ••• AUGUST 2017
National Immunization Awareness Month
Each August, the Centers for Disease Control (CDC) hosts National Immunization Awareness Month to educate Americans about the health benefits of being immunized and the importance of being up-to-date on all shots. Tote bags, sports bottles and syringe-shaped pens are a great fit for public health facilities and hospitals to spread the word.
Children's Eye Health and Safety Month
Prevent Blindness, an eye health and safety organization, provides information on preventing eye injuries, signs of eye problems and general eye health. Schools and health practitioners can give out coloring books, magnets with contact information and sunglasses to promote educational sessions.
Aug. 6-12/International Assistance Dog Week (IADW)
This week celebrates assistance dogs and those who raise and train them. Working Like Dogs, the company that founded IADW, encourages people to organize events to honor local assistance canines. Branded apparel, as well as gear like bowls, collars, toys and beds are the perfect promo items to highlight this event.


Successful Promotions® is a trademark of the Advertising Specialty Institute. Copyright 2017, ASI. All Rights Reserved.
Advertising Specialty Institute®, 4800 Street Road, Trevose, PA 19053