| | |
| --- | --- |
| promotional products • incentives • corporate gifts • meetings • events | Volume 133 / April 19, 2017 |
Click here to see other new and creative promotional products

WrestleMania Promos Take Over Orlando
On April 2, World Wrestling Entertainment (WWE) presented WrestleMania 33 – professional wrestling's annual promo-filled Super Bowl inside Camping World Stadium in Orlando, FL. As soon as fans arrived at Orlando International Airport, they were greeted by WrestleMania signs at baggage claim and rental car stations. The streets of downtown Orlando were plastered in WrestleMania banners showcasing top stars such as Brock Lesnar and Goldberg. There was even a 30-foot-wide, 12-foot-high championship belt replica on display at Lake Eola.

Throughout the week, fans mobbed the Orange County Convention Center for WrestleMania Axxess, an annual fan fest with autograph signings, exhibits and merchandise. Attendees scooped up hats, shirts, wristbands, posters, foam hands and inflatable Bailey buddies, all emblazoned with the WrestleMania and WWE logos. Snickers sponsored the event for the second straight year, giving out free candy bars and sharing clips through social media and YouTube. During the WrestleMania broadcast, an ad featured WWE Hall of Famer Ric Flair and WWE Superstars Charlotte and James Ellsworth as part of the "You're Not You When You're Hungry" campaign.
VIDEO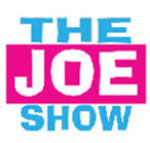 The Joe Show
Watch as Product Editor Joe Haley presents a variety of fun and unique promotional products, with ideas for how these items can be used to help you increase sales, raise awareness, promote an event, draw attendees to your booth at a trade show and much more.

Click here to watch The Joe Show.
Coffee Mug Is Popular Promo for News Station
Los Angeles Tribune TV station's KTLA 5 will be celebrating a milestone anniversary with an iconic item that appeals to a wide target audience.
The "Anchor Desk" drinkware, which is placed prominently on the studio desk during broadcasts, is a 15-oz. coffee mug. When the station worked with its distributor partner to develop a giveaway program celebrating 70 years of broadcasting, a special anniversary edition of this mug was the logical item. The mugs have been a coveted giveaway among viewers over the years.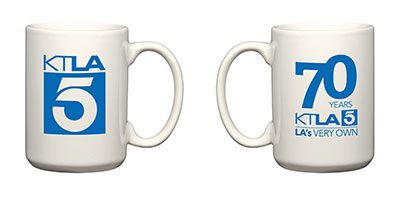 Beginning on KTLA's 70th anniversary date, the "Watch and Win" promotion gives viewers in the Los Angeles area the opportunity to text the station with a specific code word during its daily broadcast. KTLA then chooses winning viewers to receive a special-edition anniversary branded mug that matches the official Anchor Desk drinkware. The station was provided with 2,500 of the double-sided mugs. The promotion will run all year, and if the anchor mugs' popularity is any indicator, they'll continue to drive many viewers to enter the contest.

Clocks & Watches
These time-tested promotional products are always a popular choice for employee incentives and awards. Contact your distributor for more information on the products shown here.
Gears of Production

With a fun mechanical theme, this gear clock is ideal for engineers, mechanics and recognizing teamwork. asi/68507

Sky's the Limit

This airplane clock is a natural fit for the aviation and travel industry and for promotions "soaring to new heights." asi/71370

It's TIMELESS

Classic styling makes this stainless-steel watch a spot-on employee appreciation or anniversary gift. asi/93755

In the Mood

Fun and funky, this color-changing watch is great for promotions targeting a younger demographic. asi/30270
MARKETING CALENDAR ••• JULY 2017
National Park and Recreation Month
Since 1985, the U.S. has recognized July as National Park and Recreation Month. Whether it's engaging in fun activities in a state park or a game of softball at the company picnic, this year the National Recreation and Park Association is urging everyone to "Get Your Play On." It's the perfect time for branded hats, outdoor chairs and umbrellas for spectators.
Special Olympics Anniversary/July 20
July 20 marks the 49th anniversary of the first International Special Olympics Competition in Chicago. Founded by Eunice Kennedy Shriver, the Special Olympics has over 3.5 million athletes from 170 countries that compete in 32 summer and winter athletic events. Teams will appreciate logoed apparel in team colors, along with drinkware and tote bags.
Comic-Con International/July 20-23
One of the largest events of its kind in the country, Comic-Con International in San Diego features almost 700 separate events. Approximately 130,000 attendees will enjoy film screenings, the Comics Arts Conference, award ceremonies, and a costume competition. Vendors should consider multifunctional pens, trendy T-shirts, hoodies, buttons and decals for fans.


Successful Promotions® is a trademark of the Advertising Specialty Institute. Copyright 2017, ASI. All Rights Reserved.
Advertising Specialty Institute®, 4800 Street Road, Trevose, PA 19053