| | |
| --- | --- |
| promotional products • incentives • corporate gifts • meetings • events | Volume 126 / September 21, 2016 |
Click here to see other new and creative promotional products

| | |
| --- | --- |
| | PRODUCT SPOTLIGHT |
| | |
Promo Products Pump Up Students

Temple University welcomed its incoming freshmen class with TempleFest, an annual festival where student organizations and local vendors entice potential members with games, free food and promotional products.
Samia Akhtar, a student fellow at global college entrepreneurship program Blackstone Launchpad, urged visitors to spin the wheel to win a T-shirt, beach ball, pen, portable phone charger or pair of sunglasses – all emblazoned with the Blackstone Launchpad logo. The luckiest spinners won a "power pack" consisting of all the prizes.

"We had about 30 people come up within the first 30 minutes," Akhtar said. "It's a fun way to get our name out there and tell them what we're about."
Temple Student Government took to social media to host free giveaways every 20 minutes to celebrate the Class of 2020. By answering trivia questions, tweeting photos with the hashtag #TempleTSG or being the 20th person to favorite certain @TempleTSG tweets, students could win swag bags stuffed with water bottles, ribbons and lanyards. "Basically, anything you want for your first Temple football game," said junior Alexa Monteleone.
In addition to clubs handing out free candy and packs of Ramen noodles, there were wooden spoons dipped in chocolate and sprinkles as part of Spoon University's advertising campaign. A trio of juniors, Sabrina Dobosh, Maxie Ehrlich and Jamie McNulty, founded Temple's chapter of the national college foodie outlet, which recruits journalists to document their campuses' local eats. McNulty, the marketing director of the Temple chapter, plastered the tiny spoons with @Spoon_TempleU in the hopes that students will check out the group's Instagram account after licking the sweet treat.

Freshmen flocked to all of the tables, grabbing information pamphlets and snatching plenty of promotional items. Shagar Biswas filled his swag bag with cups, pens and a USB charger. "I came out here looking to get involved, so this stuff is a nice perk," Biswas said.
"I picked up so many things," said freshman Lynn Warwick. "Cups, bags, pens, shirts – they have everything here."
VIDEO

The Joe Show reveals some of the latest products and promotional ideas available in the market today. Click here to see a brand-new edition of The Joe Show.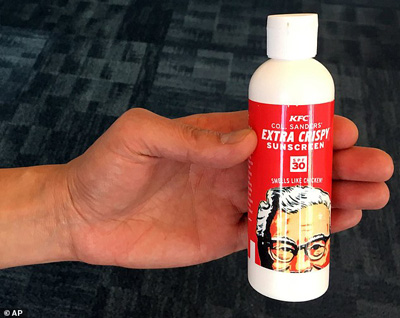 Fun & Handy Giveaway a Hit for KFC
If you've ever wondered how legendary actor George Hamilton maintains his perpetual tan, KFC has revealed the answer: Col. Sanders' Extra Crispy Sunscreen.
The fast-food chain released its newest promotional product in August, giving away 3,000 bottles of fried chicken-scented sunscreen. U.S. residents visited ExtraCrispySunscreen.com to apply for the SPF 30, and supplies ran out within a few hours.
The sunscreen, which comes only three months after KFC unveiled edible nail polish in Hong Kong, is the latest effort in promoting KFC's Extra Crispy Chicken. The advertising campaign launched earlier this summer with Hamilton starring in television and online commercials as the "Extra Crispy Colonel." KFC reintroduced Colonel Sanders as the face of its brand in May of 2015 with various comedians such as Norm MacDonald, Jim Gaffigan and Darrell Hammond portraying the iconic founder in popular commercials.
KFC's website warns that the sunscreen is not edible. "KFC® Extra CrispyTM Sunscreen is an actual product. KFC Extra Crispy Sunscreen is not a food product. NOT a food product. Do not eat this product. Even though this product smells delicious, it is not delicious."
For great items that are actually edible, check out the showcase below for delicious food gifts that would brighten the day for any employee or favorite vendor.
A great party starts with good company – but fun cocktails and tasty craft brews make it even better. The trendy Bullware Collection uses wood, glass and metal to evoke the craftsmanship involved in creating a memorable drink.
Food Items
Whether it's for a holiday gift or as a special thank-you to a favorite customer, these edible items will be a hit for all recipients.
Spice It Up

Grill box comes with a variety of marinades and sauces with full-color imprinting on the bottles. asi/75787

Something Sweet

Custom-imprinted chocolate truffles come in a square box with window lid. asi/37185

Honey Bear

Bear-shaped glass jar is filled with 5.4-oz. of honey-roasted peanuts and comes with four-color imprinting on the lid. asi/30270

Elegant Oils

This gift set includes four 8.45-oz. bottles of olive oil in extra virgin, garlic, lemon and rosemary flavors. asi/91455

Crowd-Pleaser

Gift set comes in a laser-engraved wood box with an etched bottle of either cabernet, merlot, chardonnay or California champagne, as well as crackers and either cheddar, brie, smoked gouda or asiago garlic cheese. asi/30223

Chocolatey Comfort

Pack of six stir-in hot chocolates includes milk, white, and dark chocolate, milk chocolate with salted caramel, milk chocolate with mini marshmallows and Mexican chocolate. asi/71685
MARKETING CALENDAR ••• DECEMBER 2016
As we wrap up 2016, we need to consider opportunities for end-of-year promotions that don't fall on the holidays – Chanukah, 25-January 1, Christmas, 25 and Kwanza, 26-January 1. While offering your clients and customers holiday cheer is important, there are some month-long celebrations worth looking at. December is National Write a Business Plan Month, which is an important activity for any company. Involve all employees and gift them with branded desk accessories. It's also Bingo's Birthday Month, which lends itself to a promotion carried out over your website and social media platforms. Play a game of bingo each day or play one game a week for four straight weeks. Winners, of course, would get items branded with your firm's logo.
Looking for an offbeat promotion idea? Nostradamus's Birthday (1503), 14, would be a fun day for a social media campaign where clients and vendors try to foretell your company's future. And Underdog's Day, 16, gives you an opportunity to champion the men and women who are often overlooked, but who contribute significantly to your organization's success.
On the entertainment front, the Dating Game Premier Anniversary, 20, gives you the chance to run a promotion where you match up your products and services with potential clients. Finally, have a party and watch one of the all-time holiday classics on December 20, the 70th Anniversary of It's a Wonderful Life. Give all attendees logoed bells.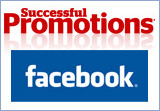 Win $100 & Gain Access to Great Ideas
Sign up now and enjoy The Joe Show, where our very own Joe Haley features cool new promotional product ideas. Access case studies in every industry that showcase the hottest new marketing campaigns. You can even submit your own case studies and be eligible to win a $100 MasterCard gift card. Plus, network with other businesspeople looking to pump up their marketing efforts. Click here to get started today.

Tell Us How Promo Products Worked For You
We want to hear your success stories on how promotional products played a pivotal role in your business strategy. Do you have a new employee welcome gift program? Have you used promo items in an awareness campaign, product launch or charity event? Let us know and we'll feature your case study in the Successful Promotions newsletter, and you'll also be eligible to win a $100 Visa gift card. Send an email to jchaykin@asicentral.com with a brief description of your case study, and we'll contact you for further details.


Successful Promotions® is a trademark of the Advertising Specialty Institute. Copyright 2016, ASI. All Rights Reserved.
Advertising Specialty Institute®, 4800 Street Road, Trevose, PA 19053