Compliments of .




| | |
| --- | --- |
| promotional products • incentives • corporate gifts • meetings • events | Volume 102 / September 2014 |

ADVERTISEMENT

Unique Teambuilding Programs


Want to take your teambuilding programs up a notch? Here are six unique programs along with sample destinations and promotional products to enhance your teambuilding experiences.

Go Underground: Groups can enjoy the spelunker experience by navigating through cave complexes using maps to reach designated destinations. In typical exploration sessions, each team member is assigned a role. Leaders are responsible for group well-being. Learning sessions promote communication skills and show how strategies can be improved as participants gain insights that can be integrated into work environments. Participants assist each other in unfamiliar situations that challenge comfort zones and bring cohesiveness into play to overcome fears. While the guides' main roles are to ensure safety, they're also on hand to interpret the cave's natural history.

Promotional Gifts: logoed headlamps and flashlights, glow sticks, gloves and whistles.

Sample Destination: Moaning Cavern Park, Vallecito, CA, www.caverntours.com

Fly Through The Air: Flying trapeze teambuilding programs engender feelings of involvement and team spirit as your group reaches for the heights. Programs start with safety training before anyone sets foot on the trapeze. These activities produce aerial dynamics that bolster cooperation, efficiency and courage. The objective is to build team spirit and create new bonds to face the challenges of demanding business environments. Sessions usually rotate through challenge stations with increasing levels of difficulty and can be tailored to the groups' time and budget.

Promotional Gifts: trapeze-shaped belt buckles, workout monitors, exercise clothes and headbands.

Sample Destination: Trapeze School New York, six U.S. locations, www.trapezeschool.com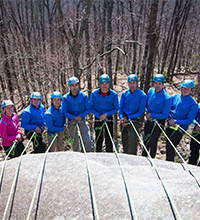 Climb A Mountain: Rock climbing and rappelling programs are fantastic ways to create strong bonds and improve communication skills while setting and achieving goals. Courses teach the simplest forms of outdoor rock climbing and rappelling, emphasizing the skills of climbing knots, belaying, anchors and movement. These programs present teamwork as a natural solution to overcoming intense mental and physical challenges.

Promotional Gifts: carabineers, binoculars, climbing vests and hats.

Sample Destination: Fox Mountain Guides and Climbing School, multiple Southeast locations,
www.foxmountainguides.com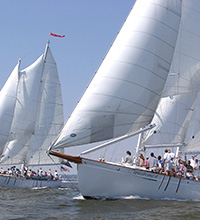 Race A Yacht: These waterborne regattas are designed for sailors and non-sailors alike and physical condition is never an issue; it's about fostering teamwork through a desire to win. Team members begin by practicing crew positions and learn to work together as a cohesive team; skills that will later prove valuable in business environments. Rating systems allow for handicapping so that all boats are judged equal at the finish. There's plenty of action, tacking upwind, rounding the marks and running downwind. Before returning to the dock for the awards celebration, each team will have the duration of the regatta to pleasure sail and explore the waterway.

Promotional Gifts: boat bags, compasses, binoculars and nautical jewelry.

Sample Destination: Schooner Woodwind, Annapolis, MD, www.schoonerwoodwind.com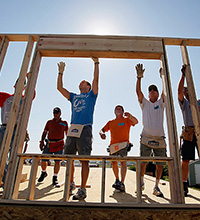 Build A House: Your team will learn building skills that improve communications and develop cooperation and camaraderie through interacting with coworkers from all levels of your corporate hierarchy. These efforts work to build morale and team spirit and forge bonds by working toward a common goal. In addition, the program fees provided to Habitat For Humanity are fully tax deductible. Habitat For Humanity can also provide access to their branding so that your company logo can be combined with Habitat's to use as a powerful marketing tool. Best of all, it's for a great cause.

Promotional Gifts: tape measures, calculators, tool kits, gloves, T-shirts and hats.

Sample Destination: Contact Habitat For Humanity to locate programs www.habitat.org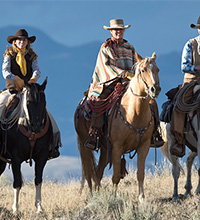 Join A Cattle Drive: Your group will learn cowboy management techniques when you send them on a cattle drive. Most cattle ranches are located in areas of natural beauty that offer scenic cattle work accompanied by spectacular vistas, including pine forests, alpine meadows and mountain lakes. Your teambuilding group will learn the organizational skills required to trail cattle and move herds across water and up and down hills; skills that will come in handy when it's time for your staff to round up new customers.

Promotional Gifts: Western gear including logoed cowboy hats, jewelry and belt buckles.

Sample Destination: The Hideout Lodge and Guest Ranch, Shell, WY, www.thehideout.com
VIDEO

THE JOE SHOW reveals some of the latest products and promotional ideas available in the market today. Click here to see a brand-new edition of The Joe Show.

Sponsored By: Pepco






Sponsored By: Pepco

Sponsored By: Pepco
ADVERTISEMENT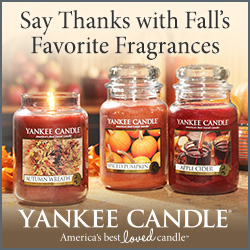 Tell Us How Promo Products Worked For You
We want to hear your success stories on how promotional products played a pivotal role in your business strategy. Do you have a new employee welcome gift program? Have you used promo items in an awareness campaign, product launch or charity event? Let us know and we'll feature your case study in the Successful Promotions newsletter, and you'll also be eligible to win a $100 Visa gift card. Send an e-mail to jchaykin@asicentral.com with a brief description of your case study, and we'll contact you for further details.
Promo Postcard 'Scares' Up Interest

A Florida-based marketing company with a soft spot for direct mail carried out a two-part Halloween campaign that consisted of a postcard, a YouTube video and a bit of mystery.
First, the company mailed a personalized postcard with their website and these five words: "They are coming for you, (Name)". They also added a "creepy" YouTube video on the landing page. "We wanted to come up with a cool Halloween campaign," says the firm's marketing director. "It's important that we come up with something innovative rather than just offer a money-off discount to drive sales. We want to impress the pants off of our customers."
Over 5,900 personalized postcards were sent to top current clients who had ordered from the company within the last six weeks, and over 97,000 e-mails were sent to their entire client database promoting the campaign. Ultimately, they received over 2,570 visits to the landing page, and new order numbers from the campaign totaled $137,748. "With this campaign, we really wanted to leave the impression with current clients that we're a fun and creative marketing company," says the marketing director. "This plays an important part in improving the affinity they feel for us, and that will hopefully translate into long-lasting client relationships for us."
If you want to scare up your own business this Halloween, follow these tips from this campaign's marketing director: "Have fun and connect with your clients. Write a fun e-mail and send out pictures of your staff dressed up, or hold a themed contest for your clients with a great prize."
The 12oz. Paws N Claws Flat Bottle is BPA Free!

This flat bottle come in 5 animal styles: Duck, Cow, Tiger, Pig and Monkey. Check back in 2015 as we are adding more! Silver carabiner is included and it also has a push/pull lid with tethered cap. CPSIA compliant! Makes a great Holiday gift idea!

Click here!

Crown Products • asi/47700
Holiday Items
It's the middle of September, and the holiday rush will be here before you know it. Don't be left out in the cold – contact your promotional products distributor now for all your holiday gift-giving needs.
Holiday Greetings Send your clients this elegant holiday card that's made from paper produced by paper mills that practice responsible forestry methods, and consists of paper that contains up to 100% post-consumer fibers. Comes with ink verse and red-lined white envelope. asi/43920
Chocolate Delights Holiday gift box has four milk chocolate ornaments and coordinating foils. OU-D certified Kosher Dairy. The Stock Collection designs are always in stock and ready for immediate shipping. Other chocolate varieties available. asi/44897
Light the Night Illuminate the holidays with this laser-engraved, crystal ornament. Features a flashing LED light (batteries included). Use to decorate trees, windows, and present as gifts to friends and clients or use them to adorn your own home or office. asi/37693
Dash Away The slender design of this ornament will fit easily into an envelope; perfect for a unique holiday stuffer. Combined with your logo insert, it will make a lasting impression. Etched in brass with a gold finish and a metallic gold hanging string. asi/38228
Sweet Treats Holiday Tin offers an abundance of starlite mints, jelly beans and hard candy for an office to enjoy. Comes with a one-color imprint on lid (solid-color tins), or a greeting card (designer tins). Other fills including nuts and pretzels available. asi/31516
Glass Gift Made of clear glass, the 8" Chelsea bowl is well suited to hold fruit, candies, ornaments or party decorations. Etched by hand, your custom imprint or personalized message helps make this a keepsake any recipient would be honored to receive. Available in four sizes. asi/84592
marketing calendar ••• DECEMBER 2014
Write a Business Plan Month
Lots of businesses are slow during the end of the year making it a perfect time to write a business plan. Rather than doing it alone, make sure you include vital staff members and your clients. Begin the month with a staff meeting laying out the plan of attack. Present all involved with an embossed padfolio and a personalized pen. Then, reach out to clients via social media and the company website soliciting feedback on the products and services you offer. Provide a branded product for those who participate. Your distributor partner can help with securing all the logoed products needed.
1-5
Cookie Exchange Week
This can be a company-wide event that involves employees and customers. In fact, everyone can bake cookies formed from a cookie-cutter in the shape of your corporate logo. Create baskets that are tied with logoed ribbons and include logoed napkins as well. Then visit clients and leave the cookies as a thank-you for their business.
15
Cat Herder's Day
A nod to those difficult tasks and responsibilities we all face throughout the year. This lighthearted promotion can single out people within your firm with cat-themed awards. Share their accomplishments and pictures via your Twitter and Facebook feeds. Your distributor can get you anything cat-related.
17-24
Chanukah
25
Christmas
'Tis the season to celebrate, and no matter which holiday your clients observe, make sure you send them greetings. Your distributor partner can secure custom greeting cards, gift wrap and ribbon, in addition to picking out the perfect branded product to give as an end-of-year gift. The time to call them is now.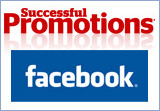 Win $100 & Gain Access to Great Ideas
Sign up now and enjoy The Joe Show, where our very own Joe Haley features cool new promotional product ideas. Access case studies in every industry that showcase the hottest new marketing campaigns. You can even submit your own case studies and be eligible to win a $100 MasterCard gift card. Plus, network with other businesspeople looking to pump up their marketing efforts. Click here to get started today.
| | |
| --- | --- |
| | |
| Our bookbinding construction makes these frames a permanent keepsake. Present your certificate or photo for all to see and admire. It has a die cut window. It can either hang or stand. Foil stamped border and plastic protectors. asi/34262 | Get 100 Free Custom Wristbands with order of 100 or more. Free Shipping and Setup. Rush Shipping Available. asi/98409 |
| | |
| | |
| Diamond Cosmetics offers fun, fashion-forward, and fully customized promotions. Great for give-aways and GWPs. Over 200 nail and 20 lip gloss shades to choose from. Sell these in advance because everything is made to order AND made in the USA. asi/49640 | With over 65 years of experience in our field, Woodrow offers a complete line of professional-quality measuring devices and levels. Our line features a wide range of rulers and levels, including architectural, civil engineering, metric, graphic arts, publishers, optical and custom. Most models available in 4", 6" 12" & 18" lengths. asi/98160 |
| | |
| | |
| For over 25 years our patented technology has been delivering intricate designs quickly, precisely and in quantities as low as 20, all with 100% pure Belgian chocolate. Perfect for Client Gifts, Customer Appreciation, Special Events and Customer Appreciation. asi/44897 | Fairytale Brownies - Custom Medley CF321X - An enticing ensemble! Get the call back you've been waiting for with this delicious assortment of fudgy brownies. Hand packed with care in a classic gift box wrapped with a custom band featuring your full-color logo. asi/53518 |
| | |


Successful Promotions® is a trademark of the Advertising Specialty Institute. Copyright 2014, ASI. All Rights Reserved.
Advertising Specialty Institute®, 4800 Street Road, Trevose, PA 19053