| | |
| --- | --- |
| promotional products • incentives • corporate gifts • meetings • events | Volume 90 / September 2013 |
SPONSORED BY



Click here to see other new and creative promotional products

Umbrellas Reign at Cannes Film Festival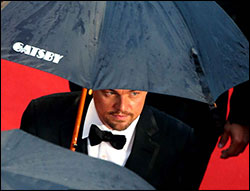 The stars were out, despite a torrential downpour, at the 2013 Cannes Film Festival. The Great Gatsby opened the festival, and all eyes were on Leonardo Di Caprio, Carey Mulligan and the rest of the cast as they navigated the rain-soaked red carpet in tuxedos and evening gowns. But as luck would have it, the real stars of the evening proved to be the logoed umbrellas that each of the cast members carried to protect their designer clothing.

The humble umbrella typically is a low-profile accessory. But at Cannes, it took center stage, appearing in every picture the paparazzi took of Hollywood's most glamorous and beautiful matinee idols. The Great Gatsby umbrellas carried by the film's stars were provided by an international promotional products distributor, who works with communication agencies all over the world. Typically the agency orders promotional products as part of a full marketing package for the movie companies.

Though umbrellas typically don't play a leading role in a brand's marketing budget, all bets were off when the Gatsby umbrellas ended up in the hands of the film's leading man.

"When someone like Leonardo Di Caprio touches a promotional product, it turns into gold at once because the item will be seen on TV and in many magazines," a distributor spokesperson said. And indeed, nearly every photo of every star that walked the red carpet at Cannes features celebrities carrying large black umbrellas with their branded logo prominently displayed.

As for the umbrellas, one word of caution: Carey Mulligan reportedly got hit on the head by one of the umbrellas as she got out of her car – although that also got press coverage and was recorded by TV cameras, garnering additional attention for the umbrellas.
VIDEO

THE JOE SHOW reveals some of the latest products and promotional ideas available in the market today. Click here to see a brand-new edition of The Joe Show.



Sponsored by
Pepco Promotional
Products

Sponsored by
Cooler Graphics

Sponsored by
Clegg Promo






Sponsored by
Pepco Promotional
Products


ADVERTISEMENT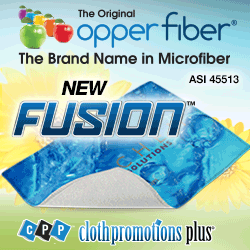 Tell Us How Promo Products Worked For You
We want to hear your success stories on how promotional products played a pivotal role in your business strategy. Do you have a new employee welcome gift program? Have you used promo items in an awareness campaign, product launch or charity event? Let us know and we'll feature your case study in the Successful Promotions newsletter, and you'll also be eligible to win a $100 Visa gift card. Send an e-mail to jchaykin@asicentral.com with a brief description of your case study, and we'll contact you for further details.
Raising Awareness With Thumb Socks
Dosomething.org is a nonprofit organization dedicated to causes that affect young people across the nation. Among these issues is texting and driving: a fatal habit that led to 1.3 million crashes in 2011 alone.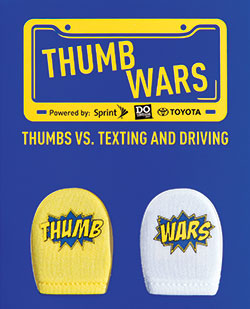 Dosomething.org recognized a need for enhanced youth awareness and developed a campaign – a call to action for its members to address the problem of texting and driving. "We were thinking: How do you stop people from texting? Well, you use your thumbs," says Naomi Hirabayashi, chief marketing officer at Dosomething.org. "Then the idea came: thumb socks. We realized they could be a lot of fun and were also really visual, so they would serve an awareness purpose."
The socks function as a reminder of the dangers of texting while driving. "We're giving young people the tools to start a conversation around safe driving with their friends in a fun and unique way," says Hirabayashi.
Dubbed "Thumb Wars," the idea behind the campaign was simple: Give away "thumb socks" to interested participants and encourage them to share their photos. The socks are given to young people, ages 13-25, who sign up to participate in the campaign through the nonprofit's website. Participants who share their photos are entered into a drawing for the chance to qualify for a college scholarship.
So far, the campaign has received an unexpectedly large public response. Last year, over 223,000 people participated in "Thumb Wars," and over 127,000 pairs of socks were given away. The success of the Thumb Wars campaign is largely due to the simplicity of the giveaway. "It makes the story clear, simple and impactful," says Hirabayashi. "Make sure you're offering something of clear value to your target market."
Contact your ad specialty distributor to help with your next campaign, and for all your promotional needs.
Get Unlimited FULL-COLOR and Quick Turn service on iPhone
& Galaxy Cases. ALL-IN-ONE's best-selling hard plastic smart- phone cases / covers are available for iPhone 4, iPhone 5, and now the Samsung Galaxy S4!

ALL-IN-ONE's Turbo Twist Pen + Stylus is beautiful, best-selling ballpoint pen that also has a built-in Capacitive Stylus tip, which works with any touch screen device, including iPhones, iPads, smartphone and tablets.

They're perfect for raising awareness for fundraisers, events, health care providers, schools, corporate clients... anyone!

From ALL-IN-ONE® • asi/34256.
Writing Instruments
Banks and financial institutions, Realtors and auto dealers, schools and religious organizations, law firms and health practices – all businesses and markets can benefit by handing out a useful, imprinted writing instrument.
Rainbow Writer The Spectrum ballpoint is a twist-action mini ballpoint pen that has an enamel finish over a barrel of rainbow colors. asi/62820
Medicine Marker This gel highlighter has a unique syringe shape and twist-action design. The gel is designed not to smear, bleed or dry out. asi/90640
Clever First Impression The CardPen lets you unscrew the top and insert a standard business card for a lasting impression. asi/63271
Unique Imprint This pin pen comes in 14 colors with a circular or heart magnet attachment to showcase a logo. asi/82528
Sleek and Steady Stainless-steel pen has gloss finish, twist-action ballpoint on one end and capacitive stylus tip on the other end. asi/57653
Executive Gift The Bettoni pen is offered in twist-action or rollerball styles and has a carbon fiber barrel, chrome trim and capacitive stylus. asi/67866
marketing calendar ••• December 2013
December
With all the gift giving and celebrating going on during the last month of the year, what can a company do promotionally to stand out? Since December is Bingo's birthday month, it seems an appropriate theme for a fun month-long campaign. Announce the promotion and rules via Facebook and Twitter. Send customized bingo cards to your clients and draw a set of numbers each day until someone gets bingo. Tie everything into to your 2014 product and service offerings. Your distributor partner can help you secure custom bingo cards and all the imprinted prizes for the winners.
6
National Salesperson's Day
Without them, a company cannot move its goods and services. And, they're not only important to the company they work for, but also to the clients they serve. Take time today to say thanks for all they do. And don't forget logoed gifts, like leather portfolios, small electronics or accessories for iPhones and iPads.
12
Poinsettia Day
An ideal day for visiting clients this holiday season. Poinsettias are a traditional winter flower and the perfect thing to liven up a receptionist's desk, or client's cubicle or office. Stop by in the morning with the flower and fresh coffee on logoed coffee mugs. Your distributor partner can help you flesh out all the details.
Happy Holidays
Pick a celebration, any celebration – Christmas, December 25; Kwanzaa, December 26; or New Year's Eve, December 31. It's traditional to thank your clients for their business through the year. Appropriate logoed gifts include desk accessories, food gifts, wine and spirits, calendars and more. Call your distributor partner today rather than waiting until the last minute.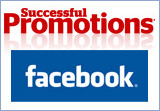 Win $100 & Gain Access to Great Ideas
Sign up now and enjoy The Joe Show, where our very own Joe Haley features cool new promotional product ideas. Access case studies in every industry that showcase the hottest new marketing campaigns. You can even submit your own case studies and be eligible to win a $100 MasterCard gift card. Plus, network with other businesspeople looking to pump up their marketing efforts. Click here to get started today.

The Best Beverage Insulator At The Lowest Price. Fast Delivery Low Minimums! asi/63681


140202 // Soaring Eagle - Clear Crystal Base
Best Deal Awards offers the highest quality Awards, Trophies & Corporate Gifts asi/47791

Diamond Cosmetics offers professional health and beauty products providing companies with high quality cosmetic items for Corporate Sponsors of Women's Events, clothing, shoes & accessory manufacturers, health and medical companies, entertainment industry, media, and many more industries and institutions. asi/49640


2 lb. Executive Gift Bar (14" x 8 1/8" x 1") #1032
Our most talked about gift, guaranteed to leave a lasting impression. It really is as big as a license plate and ¾" thick. Choose a red, gold, silver, black, white, blue snowflake or red snowflake lid with a custom imprinted gift band at no additional cost. Full-color, custom printed lids also available. Net wt. 2 lbs. asi/44897

CELEBRATE THE SEASON DOZEN CS112
Peace & Joy!
The winter season is a joyous time of year for gatherings of family and friends. Honor your traditions or create new ones with the new Celebrate the Season gift band. Our dozen gift includes 12 different gourmet brownie flavors. asi/53518


59091 // 6-in-1 Game Set,
Chess, Checkers, Backgammon, Poker Dice, Domino, Playing Card
Color: wooden. Size: 12" x 12".
asi/56768


A-100 // CutZit Key Ring w/Retractable Knife
This retractable knife is safely and conveniently built directly into a key tag. Molded from durable plactic, CutZit has a tempered razor-sharp blade with a patented one-hand safety action. asi/66540

Bug Bands Will Keep The Mosquitoes OFF. No Deet, Safe for Kids, Made in the USA. asi/80345

Car Air Freshener:
Choose from stock shapes and fragrances, or create your own fully custom design and scent! Long-lasting, cost-effective marketing tools for making long-lasting impressions. asi/79577


 

Successful Promotions®  is a trademark of the Advertising Specialty Institute. Copyright 2013, ASI. All Rights Reserved.
Advertising Specialty Institute®, 4800 Street Road, Trevose, PA 19053