| | |
| --- | --- |
| promotional products • incentives • corporate gifts • meetings • events | Volume 127 / October 19, 2016 |
Click here to see other new and creative promotional products

| | |
| --- | --- |
| | PRODUCT SPOTLIGHT |
| | |
| | PRODUCT SPOTLIGHT |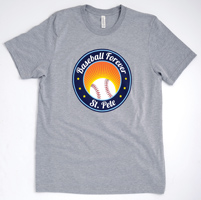 T-Shirts Help Entice MLB Team to Stay In Town

For almost a decade, the Tampa Bay Rays have called Tropicana Field in St. Petersburg, FL, home. However, in recent years, attendance at the stadium has steadily gone down. The stadium needs renovations, and, though they show tremendous support for their home team, the majority of Rays fans live more than 30 minutes away from Tropicana Field, making it difficult for them to attend games regularly.
The Rays asked St. Petersburg's city council to allow the Major League Baseball team to search for a new location within the Tampa/St. Petersburg region to entice fans to return to the games. However, St. Petersburg Mayor Rick Kriseman and Chris Steinocher, president of St. Petersburg Area Chamber of Commerce, wanted to persuade the Rays to stay at Tropicana Field; so, in addition to offering renovation aid, the summer-long "Baseball Forever" campaign was born.

Kriseman and Steinocher wanted to focus the campaign – which incorporated more than 700 imprinted "Baseball Forever St. Pete" T-shirts – on the St. Petersburg community, offering opportunities for local businesses to grow.
VIDEO

The Joe Show reveals some of the latest products and promotional ideas available in the market today. Click here to see a brand-new edition of The Joe Show.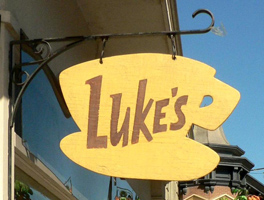 Netflix Recreates Luke's Diner to Promote Gilmore Girls Revival
In early October, streaming giant Netflix transformed over 200 coffee shops across the country into the iconic Luke's Diner, the fictional eatery made famous in the 2000s-era hit Gilmore Girls. Baristas donned aprons featuring the Luke's Diner logo. Custom signage – including cardboard cutouts of Luke himself, played by actor Scott Patterson – completed the illusion.
A great party starts with good company – but fun cocktails and tasty craft brews make it even better. The trendy Bullware Collection uses wood, glass and metal to evoke the craftsmanship involved in creating a memorable drink.

Moleskine offers simple, thoughtfully designed, functional products that can be turned into powerful communicators for the world's best brands. This hard cover notebook is a reliable travel companion perfect for notes, sketches and thoughts. It features a bound hard cover with rounded corners, bookmark, expandable inner pocket and elastic strap closure. The ruled format, acid-free paper is FSC certified.

Visit our website for more details and start telling your story!
Calendars
You will stay top-of-mind with your customers throughout 2017 by sending them a calendar that's vibrantly imprinted with your company information. Contact your promotional products distributor for more information on the items shown here.
Home, Sweet Home

House-shaped calendar is ideal for realtors, mortgage brokers and home builders. asi/92185

Glory Days

Display your patriotism with this stars-and-stripes holiday calendar card, which includes gold foil highlights. asi/43920

Blooming Sales

At the end of each month, eco-conscious users can tear off the page and plant it, as this calendar is made from seeded paper. asi/40646

Fridge Decor

Magnet calendar makes a great giveaway for any company whose target audience includes busy families. asi/52840
MARKETING CALENDAR ••• JANUARY 2017
Let's get the year rockin' with some awesome promotional ideas, regardless of who's inaugurated as the 45th president of the Unites States on January 20. January just happens to be International Brain Teaser Month, and as you know, puzzles are great exercise for the brain. Create your own puzzles and deliver them to clients daily via tweets, Facebook posts or in e-newsletters. Offer prizes for those who participate.

You can also run an internal promotion for employees, as it's Get Organized Month and Clean Up Your Computer Month. Employees who are organized are more efficient, so month-long events not only benefit them, they benefit the company as well.

Let's have some fun in 2017. Trivia Day, 4, is a chance to run a contest with clients and vendors to see who knows the most about pop culture, history, science and more. Host a Trivial Pursuit tournament with branded prizes for the winners.

And, why do school children have all the fun when adults can too? On Show & Tell at Work Day, 8 employees can bring in a pet, souvenir or family heirloom to brag about. We can also infuse a little kindness at the beginning of the year. Get to Know Your Customer Day, 19, gives you and your reps a chance to meet with customers to find out about them. No business, just goodwill … and some logoed loot.


Successful Promotions® is a trademark of the Advertising Specialty Institute. Copyright 2016, ASI. All Rights Reserved.
Advertising Specialty Institute®, 4800 Street Road, Trevose, PA 19053