| | |
| --- | --- |
| promotional products • incentives • corporate gifts • meetings • events | Volume 79 / Oct 2012 |
SPONSORED BY



Click here to see other new and creative promotional products

10 Items to Promote Breast Cancer Awareness
You can't go many places in October without seeing the color pink. America's National Breast Cancer Awareness Month was founded in 1985 to increase recognition of the disease, to promote mammography, and to raise funds for research into its cause, prevention, treatments and cure. Events during the month include races/walks/ runs, conferences and recognition at dinners and sporting events. But such activities don't need to be limited to October. Organizations and companies create fundraising and awareness-raising events all year long for this important cause.
You can contribute toward a campaign or create your own fundraising event by selecting one or more of the items shown here. Contact your distributor for more information on these products and for more ideas.
| | |
| --- | --- |
| 1. | This Breast Cancer Key Point is ideal to give out at walkathons and health fairs. The kit contains breast self-exam info, a chart to track mammograms, and a sheet with warning signs of breast cancer that folds down to the size of a credit card. Spanish version also available. asi/40390 |
| 2. | For those planning a walk-a-thon, consider this pink cotton, unisex T-shirt in sizes S-XL. It has a textured look with a ribbon dye pattern on the bottom right. The placement of the ribbon pattern leaves the optimal space for adding a logo or mascot. asi/51185 |
| 3. | Order these eternity awareness bands in pink for office employees who will want to take home more than one, as they're favored by youngsters as well. The 8" x 1" silicon band has three molded ribbons set between three areas for custom imprints. asi/88242 |
| 4. | Show attendees at your trade show booth that your company cares by handing out breast cancer awareness anti-bacterial hand sanitizer with black rope lanyard. Comes in a variety of colors. The imprint size is 2.75" x 1." asi/30250 |
| 5. | Say "thank you" to successful female employees and clients with this pink fedora, now available with pink sequins. In addition to that, the color is a reminder for breast cancer awareness. asi/42016 |
| 6. | Ideal for participants in a walk-a-thon, this l6" x 12" bag serves as a great reminder to stay strong. Made of nonwoven polypropylene with side gusset pockets and a 28-inch over-the-shoulder carrying handle, it features a stock ribbon design with your customized imprint below. asi/35290 |
| 7. | This awareness ribbon-shaped stress reliever spreads an important health message and relieves stress, too. It's offered in pink, and your logo and messages may be added. It's safety tested, but not intended for children under three years old or for pets. asi/36730 |
| 8. | Don't leave for a company sports outing without giving everyone a cotton twill, six-panel, low-crown pink or white cap, with an adjustable slide strap. It features a pink ribbon, and logo applications are available. asi/77945 |
| 9. | Pink ribbon sunglasses will make a hit at your company picnic. These 10" plastic shades are perfect for cancer awareness. Consider them also for walks, rallies, and tennis and golf tourneys. asi/44888 |
| 10. | Working gloves make nice gifts at promotional events and particularly these 10-gauge cream poly/cotton string knit ones with pink rubber latex dipped palms. You can promote cancer awareness with the color and your 2" x 3" imprint. asi/53510 |
| | |
| --- | --- |
| ADVERTISEMENT | ADVERTISEMENT |
VIDEO

THE JOE SHOW reveals some of the latest products and promotional ideas available in the market today. Click here to see a brand-new edition of The Joe Show.

Sponsored by
Promo Matting

Sponsored by
Cloth Promotions Plus


Sponsored by
Promotional PSI

Sponsored by
Vitronic Promotional Group

Sponsored by
Pepco Promotional Products

Sponsored by
365 Source Custom World

Sponsored by
Clegg Promo

Sponsored by
Vitronic Promotional Group
ADVERTISEMENT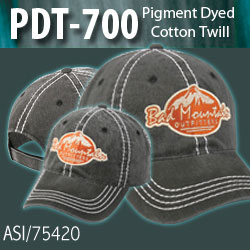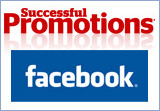 Win $100 & Gain Access to Great Ideas
Sign up now and enjoy The Joe Show, where our very own Joe Haley features cool new promotional product ideas. Access case studies in every industry that showcase the hottest new marketing campaigns. You can even submit your own case studies and be eligible to win a $100 MasterCard gift card. Plus, network with other businesspeople looking to pump up their marketing efforts. Click here to get started today.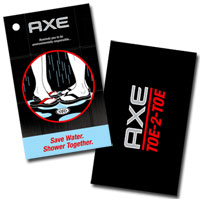 Flip-Flops Connect With Young Men For Product Launch
AXE, a brand of men's hair and skin care products, was looking for a way to build sales for its new line of shower gels. Decision-makers at AXE knew it made sense to appeal to college-age males, so they wanted something unique that would connect with this demographic.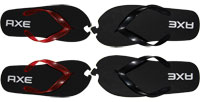 Leveraging brand loyalty to this group could reap rewards for many years to come. AXE's ad agency and promotional products distributor worked together and decided on a humorous approach. They chose a customized toe-to-toe themed set of puzzle-connecting flip-flops. The slogan "SaveWater. Shower Together" tied the theme together on an attractive hang tag attached to the two-pair set.
AXE gave away 20,000 pairs of these at college campuses all over the U.S. to "get their foot in the door" with college-age consumers. The giveaway resulted in a very successful promotion for the brand.
When launching a new campaign, it's important to have distinctive promotional ideas that will enhance your brand. Work with your distributor partner to develop a concept and successfully integrate promotional products for a winning event.

Help America… BUY American!!
All-In-One®, the technology and writing instrument supplier located in San Diego, announced that several of its products have been indepen­dently certified as being American manufactured. The company's USA Writing Instruments, Americana Permanent Marker and USA Heaven Scent™ Dog Tags have been certified as Made in the USA. The certifi­cation was performed by Made in USA Certified, Inc.

All-In-One went through a rigorous audit to ensure that its products met the requirements to be certified as true "Made in the USA" products. All-In-One was issued a unique ID number and a Made in USA-Certi­fied Seal that references this exclusive certification. Distributors are en­couraged to use the seal when promoting All-In-One certified products to their customers.

From ALL-IN-ONE® • asi/34256.

Padded Computer Sleeve
SR-COMP
Made by a fair trade organization in Cambodia from recycled mosquito netting, these padded computer sleeves will fit any laptop.

From Helping Hand Rewards • asi/60465.


  
Corporate Gifts
It's the time of year to search for the perfect gift to thank your staff, clients and vendors and wish them a joyous holiday season. Contact your distributor about these items and for all your promotional needs.
CRAVING COOKIES Fresh-baked gourmet classic cookie assortment is featured in new designer Festive Pine tin and includes a hand-signed gift at no additional charge. asi/55439
SAVORY SAMPLER Six-way deluxe popcorn sampler tin includes 3 ½ gallons of popcorn. Flavors range from rich butter to cookies and cream. A delicious and thoughtful holiday gift for clients. asi/71685
GLITTER AND GLAM In addition to gifts, make sure you have attractive greeting cards to give to clients and staff. This Holiday Sparkle card features a four-color imprint and inside customization. Gold foil envelope included at no charge. asi/61960
OUT TO DINNER PF Chang's China Bistro gift card comes in denominations of $25, $50 or $100. Perfect for birthdays or as an employee incentive. asi/73011
STEM FREE Set of four 15-oz. stemless wine glasses can be used for red and white wine. Ideal gift for awards and recognition. asi/68507
PERFECT POUR This glass, part of a decanter set, is made from hand-cut 24% lead crystal glass and comes in a mahogany wood chest with laser-engraved plate. Makes a stunning executive gift or corporate award. asi/74400
marketing calendar ••• January 2013
Creativity Month
January is the time of year for you to flex your creative muscles. Forget about your boring newspaper advertising; it's time to pump it up. Consider a month-long promotion that uses humor and all of your social media channels. Use Twitter to announce the campaign and post daily or weekly updates on Facebook. Create fun videos and post them to YouTube and push them out via your e-newsletter. The focus should be fun and lighthearted. Satire works well in this regard. Call your distributor to get the ball rolling today.
7
I'm Not Going To Take It Anymore Day
It's time to get off your keister and make things happen today. If business isn't coming to you, go out to where the business is and meet it head-on. Stop sitting around and put your business plans into action. Start with a kickoff event that involves all areas of your business. "One for all and all for one" should be the theme. Consider business gifts that will help motivate the masses. Call your distributor partner today for creative ideas.
17
Get To Know Your Customer Day
New year, new goals – don't wait until it's too late to get out there and meet with your customers. If you can't visit everyone, consider hosting an open house. Focus on clients' likes and needs and provide each with an appreciation gift. Your distributor can help craft the event that works perfectly for your organization.
25
Fun At Work Day
Lighten up and have a fun-filled office celebration today. Have a talent show, play flag football, hold a karaoke singing contest; the possibilities are endless. The main ingredient should be fun, and you'll be surprised at the goodwill and enhanced productivity it will create. Your distributor can help you find logoed products that fit your theme.
Solve This Dilemma
Every month, Successful Promotions launches a new contest where we ask you, our readers and Facebook fans, for your most creative ideas for solving businesses' dilemmas. Each entry should be 50 words or fewer, and a promotional product must be part of the solution to the challenge. Send all entries to jhaley@asicentral.com by the specified deadline in order to qualify for a free gift. Winners will be randomly selected from all entries.

The Heat Is On. As winter sets in, a local heating/air conditioning installation/repair company is set to launch a huge regional customer loyalty campaign. Not only can customers earn loyalty points for service and referrals, but the company's technicians are also eligible to win prizes based on scores from customer satisfaction surveys. What types of products do you think each participant can be awarded in this promotion? Send your best ideas to jhlaey@asicentral.com by November 18, 2012. .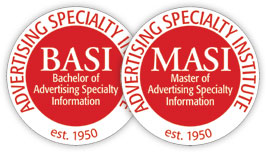 ASI Members Earn Certification
ASI congratulates our members who earned their Bachelor of Advertising Specialty Information (BASI) and Master of Advertising Specialty Information (MASI) certification in September. We're confident that the knowledge they obtained while earning the industry's most prestigious education awards will help them become even more successful as they pursue professional goals and serve their clients.
BASI: Timothy Holliday of Children's World Uniform Supply (asi/161711)
BASI: Denise Jeffers of Pip Printing of Tennessee (asi/398518)
BASI: Cathy Kuchenbecker of Paramount Promos (asi/290306)
BASI: Christine Rezendes of Way To Be Designs (asi/355980)
BASI: Rebecca Tavares of Craftwell Canada Inc. (asi/169543)
MASI: Newton Jones of EmbroidMe (asi/384222)
Click here to read about how ASI is affiliating with top business school Babson College to help train future entrepreneurs.

PVC Keytags: Inexpensive yet durable PVC key tags are one of the most popular incentive gifts ever. Our free ground shipping special, low prices and free setup make our PVC key tags better then ever. Special expires 10.29 asi/62088


Lapel Pins: Exceptional products meet exceptional service with IDPaspinline lapel pins. Our lapel pins are a distributor favorite due to our low setup costs, prices and unbeatable 5 star rated ervice.asi/62088

Thank You 3-Box Tower RY303X
Make a statement with this bountiful display of appreciation. This tower includes three sizes of gourmet brownies and classic cookies. Certified kosher. Customize the gift with your full color logo. asi/53518

4-Pack GP4
Gift pack includes 16-oz. of BBQ sauce, 6-oz. of Hot Sauce, and 8-oz. bottles of Seasoned Salt and Garlic Sauce with full-color custom labels.asi/90539

Diamond Cosmetics offers professional health and beauty products providing companies with high quality cosmetic items for Corporate Sponsors of Women's Events, clothing, shoes & accessory manufacturers, health and medical companies, entertainment industry, media, and many more industries and institutions. asi/49640

Clock/Compass SQ567T
This navigating compass and precision quartz clock features gold accents and comes in a rosewood piano lacquered box. asi/40445

Padded Computer Sleeve SR-COMP
Made by a fair trade organization in Cambodia from recycled mosquito netting, these padded computer sleeves will fit any laptop. asi/60465

BPA Free. Double Wall Stainless Steel Frame. Non Spill sliding spout clousure. Padded Base for maximum stability. Ideal for hot and cold beverages. asi/63770

Manufacturer of healthy, all natural custom nutrition bars, custom protein bars, and custom energy bars asi/98848

This Cornhole bean bag toss game is fully
customizable and comes with 2 game boards
and 8 bags.asi/46676

Whether it's rewards, incentives, awards, recognition or rebate programs, NGC is the industry's choice for gift card solutions!
NGC offers fulfillment capabilities, customized solutions, and secure online ordering designed to reach your objectives. With more than 175 national retail, restaurant, and prepaid cards, including customized Visa, 60 eGift Cards and 70 Canadian brands, your choices are endless!asi/99030

Successful Promotions®  is a trademark of the Advertising Specialty Institute. Copyright 2012, ASI. All Rights Reserved.
Advertising Specialty Institute®, 4800 Street Road, Trevose, PA 19053