| | |
| --- | --- |
| promotional products • incentives • corporate gifts • meetings • events | Volume 67 / October 2011 |

'Tis the Season for Tech
On the hunt for corporate gifts? Think logoed gadgets. According to research conducted by the Advertising Specialty Institute, businesspeople who receive high-tech items imprinted with a company's logo keep the items for more than eight months. That's a lot longer than they'd hold onto a fruit basket or a box of chocolates. Here are 20 of the season's hottest high-tech items to present to clients, prospects and coworkers – all of which can be customizedwith your logo or holiday message. See something you like? Just contact your promotional products distributor and provide the ASI number associated with the item.

CLEAN UP This high-tech USB vacuum with a mini flashlight may be small, but it has a big payoff. Recipients can plug it into their computers' USB port to get rid of dust and microscopic particles for better typing. asi/46755

AGENT 007 Clients will feel like James Bond when they receive this 4-in-1 instrument with its USB pen drive, voice recorder with a range of 15 square meters and pinhole video camera with an LED indicator. It includes a built-in rechargeable lithium battery that can work up to two hours, software CD and USB cable. asi/90075

MOUSE HUNT This nifty wireless optical mouse has a mini optical sensor and USB receiver. Its sleek silver accents create a high-tech look. asi/90305

REAL COOL These compact, 2-3/8''-tall stereo speakers with dome tops that pop up for strong bass will be a holiday favorite. They are perfect for computers, iPods and MP3/MP4 players via a 3.5-mm audio jack. The speakers magnetically lock for easy travel, and the battery can be recharged via USB or AC for six hours of play. asi/34256

BREATHE FREE This miniature USB air humidifier is perfect for the office, home or travel, as it silently disburses a cool mist that improves air quality. Featuring two misting levels and a blue illumination, it can run up to eight hours without refilling. asi/89320

KEEP CLEAN Know a neat freak? This special case made of microfiber materials can carry and clean the screens of cell phones, iPods and other small electronic devices. The material will also protect against surface scratches and cleans off excess dust and dirt. asi/43442

TEE UP Duffers will be eager to head to a golf course when they receive the digital golf range finder with 7X magnification and a field of view at 1,000 yards. It contains two operational modes, green and general, and has a ruby-coated optical lens with UV protection against glare and scratches. asi/52207

SMILE PRETTY This desktop mini digital photo frame with clock is 2.76'' x 2.17'' x 1.58'' with a screen size of 1.5'' and a maximum imprint area of 1.5'' x .25''. The photo album has an 8-MB memory, saves up to 70 photos and is powered by a USB port or two AAA batteries. asi/40355

KEEP SECURE This Bluetooth keyboard for your iPad tablet turns it into a net book. The wireless keyboard pairs with your tablet, and the case functions as a stand. A magnetic closure keeps your iPad tablet secure. Carton dimensions are 25'' x 15'' x 10''. asi/57800

LIGHT IT UP Clients will love the extra light and battery longevity now afforded by the two-AA LED mini Mag-Lite flashlight. The American-made flashlight is 6-1/2'' in length, features a new multi-mode electronic switch and comes in a sleek, compact design. asi/46170

DUAL ACTION Functional and stylish, this 2-GB MP3 player can also be used as a USB flash drive. It provides a display feature to easily locate users' favorite music, measures 90 mm x 30 mm x 21 mm and comes in silver. asi/93134

VERSATILITY With this gift, a laser level with tape measure, recipients can hang pictures or engage in other do-it-yourself projects. It also has an eight-foot (including the item) tape measure built in, and batteries are included. asi/68507

STEP RIGHT UP This pedometer pebble allows exercise buffs to count steps while walking or running. The super-slim design affords an easy attachment to shoelaces for convenient use during outdoor activities. asi/88252

MULTITASK The FM auto-scan radio, complete with earbud headphones, will liven up the day with music and news. It also features a flashlight with batteries included but not inserted. asi/66224

ENERGY SAVER Here's a gift they'll love – a solar charger with many practical applications. It can be used for cell phones and digital products, Bluetooth, MP3, MP4 and PSP. This solar charger features an external USB socket for all USB-powered devices. asi/97852

BEAM ME UP Ideal for presentations, this wireless laser pointer with remote control has scroll up/scroll down buttons. The receiver has a 30''-long USB extension cord, and the laser transmission distance is 50'. It includes a deluxe gift box with a base for a USB port and laser pointer. asi/42424

OFFICE BREAK This electronic brain fitness math game is an ideal gift for providing a break at the office or during a business flight. It is fast-paced, and you can solve simple math equations with yes/no buttons. The gift contains five levels of difficulty and is attached to a keychain and ring. asi/36730

GOOD WORKOUT Recipients will jump for joy when they use this multifunction electronic jump rope that counts rotations and calories burned on a digital screen. It comes unassembled in a vinyl bag, and an adjustable rope is included. asi/30111

WEATHER WARNING This wireless severe weather alert station provides four-day accurate weather for over 60,000 locations in the U.S. and Canada, including towns, parks and sports venues. Specific forecasts for each morning, afternoon, evening and night are sent to your display and cell phone. There are alarms for advisories, watches and alerts. asi/82283

RELAXING RHYTHMS Soothe your employees into the day with this CSMP 120 alarm/clock radio for an iPod. The universal dock for an iPod charges and plays the iPod so a favorite playlist can be enjoyed all day. The digital clock has a jumbo 2'' LED display and a 3-1/2-mm audio line-in jack for use with any portable audio device. asi/73480
VIDEO

THE JOE SHOW
The Joe Show reveals some of the latest products and promotional ideas available in the market today. Click here to see a brand-new edition of The Joe Show.

ADVERTISEMENT



ADVERTISEMENT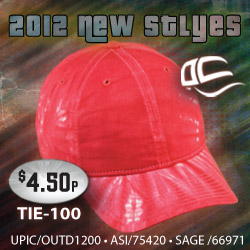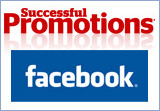 Win $100 & Gain Access to Great Ideas
Sign up now and enjoy The Joe Show, where our very own Joe Haley features cool new promotional product ideas. Access case studies in every industry that showcase the hottest new marketing campaigns. You can even submit your own case studies and be eligible to win a $100 MasterCard gift card. Plus, network with other businesspeople looking to pump up their marketing efforts. Click here to get started today.
You Can Bank On It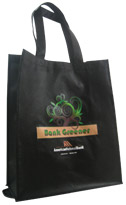 While the challenges from the troubled economy have caused banks and insurance companies to trim back their marketing budgets, things are beginning to rebound for many. For example, American National Bank has cut down the number of promotions it runs to about four or five each quarter across the five regions it serves. But promotional products still serve as a major piece of the company's marketing efforts.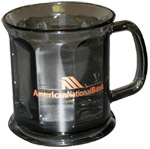 "It's another way for us to have our name out there, to have that brand awareness and keep it in the customer's mind," says Darcie Casson, marketing production manager for the bank's corporate office.
Indeed, what Casson and many other folks find is that promotional products give the most bang for the marketing buck. In fact, ad specialties yield an average cost-per-impression (CPI) of just $0.005 – that's half a penny. And, bags and writing instruments offer the best CPI ($0.001), according to the Global Advertising Specialties Impressions Study completed by ASI, Successful Promotions' parent company.
ADVERTISEMENT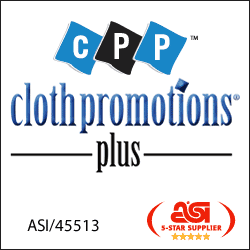 American National Bank regularly gives out bags, travel mugs, ceramic mugs and pens to customers, and varies the products depending on the event or the particular service being promoted. "If someone came in and opened an account, we might give them a piggy bank with the bank's eagle mascot on it," says Casson. "But if we were out teaching a class of 20 students about the importance of saving, we might give them temporary tattoos."
It's one thing for marketing campaigns to be cost-effective, but it also has to resonate with its target audience. According to the study, promotional products accomplish this, with 83% of businesspeople saying that they can identify the advertiser on a promotional item they own. That number varies by product. For example, a whopping 87% of respondents recall an ad on glassware and ceramics. So American National Bank's practice of giving customers mugs, bags and other ad specialties is a winning strategy, and something to remember when planning your next marketing campaign. Be sure to check with your distributor partner to help pick the perfect product for positive results.

The Best Bags... are Brand Gear™ Bags!
Watch our new video and see them in action!
ALL-IN-ONE's popular new Brand Gear line features BEST SELLER Tote Bags, Briefcases, Backpacks, Coolers and many others! With over 26 vivid colors available, Brand Gear bags are ideal for business gifts, meetings, events, and so much more!
From ALL-IN-ONE® • asi/34256.


| | |
| --- | --- |
| | Scratch-off cards are an inexpensive, proven promotion vehicle; that will add excitement to your promotion. Restaurants encourage repeat visits by handing out with each check, retailers drive early bird sales with a mystery discount promotion. Need an idea? asi/42989 |
Corporate Gifts
Looking to reward an outstanding employee or thank a loyal vendor? There's a variety of promotional products to choose from that will inspire, reward and show appreciation.
WRITE NOW Two-piece Legacy Twist and Legacy Roller Ball pen set features tungsten carbide tips and European black ink. Twist has retractable twist-action mechanism; roller ball has screw-on, threaded brass cap. asi/66887

SHOW IT OFF The Hamilton business padfolio comes with open front slot pocket and interior organizer with 8-½" x 11" writing pad. Cover personalization available. asi/68507

TIME FLIES Ladies' watch features gold-tone and silver-tone stainless-steel bracelet and round case. Silver-tone dial includes numerals and two subdials. asi/44315

JUST IN CASE Genuine leather convertible case for iPad and iPad2 can be positioned at an angle for easy keyboard use. Secure snap-closure protects device; includes pockets for business cards, self-adhering notes, pens and more. asi/36205

CHEERS! Bottle of Cabernet wine features custom label that combines etching with the beauty of label art. asi/52775

WINE CONNOISSEUR Wine accessories gift set includes collar, bottle stopper, pourer, corkscrew and thermometer. All pieces are nestled in a mahogany-finished wooden box with brass latch and lid personalization. asi/84114
marketing calendar ••• January 2012
ADVERTISEMENT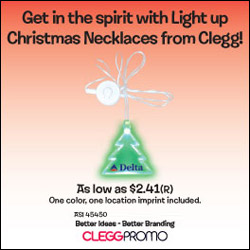 International Creativity Month
While creativity is something that might not be teachable, it may actually be something that is cultivated, honed and encouraged. January is the perfect month to encourage those around you to be more creative in their thinking and problem-solving. Foster creativity with brainstorming meetings in which people are sent out to take pictures of nature, buildings, people, etc. Paint conference room walls white and make notes on the walls for each meeting. These little things will help people think less in black-and-white terms. Use a variety of products throughout the course of the month including logoed cameras, journals and unique executive toys. Your distributor can help you hash out all the details and get some great imprinted products.
4
Trivia Day
Queen of the temperance movement? Carrie Nation. Inventor of the Post-It Note? Art Fry. First man in outer space? Yuri Gagarin. Ah, trivia, there's something about it that engages most people. Everyone likes to flex their knowledge, so run a contest today engaging all your vendors and clients. Use social media by posting quizzes on Facebook or tweeting questions to the masses. Perhaps you can use your website to host video quizzes. For your employees, have a Trivial Pursuit contest. Naturally you'll want to offer logoed prizes for all those who answer questions correctly. Call your distributor partner today for help with finding fun prizes.
19
Get To Know Your Customers Day
Begin 2012 by starting from scratch and getting to really know your customers. Your sales reps should be out in full force today visiting clients, taking them to lunch or dinner and getting to know what it is you can do to make them successful. You can use a variety of different logoed products – padfolios, computer accessories, totes, etc. – as a sign of your commitment to working together. Your distributor can help you formulate a plan that uses social media as well as good old face-to-face marketing.
23
National Handwriting Day
Because of technology, very few people write letters anymore. It's all about status updates, tweets, texts and e-mails. Well, take a trip to yesterday and handwrite your clients a letter today. Use fine stationery as well as a nice writing instrument to pen a letter to your clients thanking them for their business. Enclose a personalized, logoed pen and encourage them to also write letters to clients and customers. Your distributor partner can find the perfect writing instrument for your company.
ADVERTISEMENT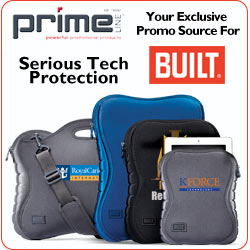 Solve This Dilemma
Every month, Successful Promotions launches a new contest where we ask you, our readers and Facebook fans, for your most creative ideas for solving businesses' dilemmas. Each entry should be 50 words or less, and a promotional product must be part of the solution to the weekly challenge. Send all entries to jhaley@asicentral.com by the specified deadline in order to qualify for a free gift. Winners will be randomly selected from all entries.
This Month's Contest: Here Comes The Bride. With the upcoming peak wedding season – May and June – a local bridal shop called Veil of Secrecy is looking to up its sales by 25%. In addition to selling off-the-rack and custom-made dresses, the shop provides other products and services including invitations, bridal party gifts, DJs, honeymoon planning, etc. The shop is hosting an open house over the course of a weekend and wants a take-away product for everyone who comes in. What can it give to keep itself top of mind among soon-to-be-married couples? Send your best ideas to jhaley@asicentral.com by November 13.
| | |
| --- | --- |
| ADVERTISEMENT | ADVERTISEMENT |

New high fashion rubber Wet Wellies rain boots from Neet Feet are perfect for gifts, upscale branding, incentives and company stores. Available in mens and ladies styles and custom colors: 150 pair minimum; Imported. $39.95 per pair. asi/73525

FLEX Sports Watch. Contains Tourmaline and Germaniuminfused silicone that emits negative ions and Far Infrared Ray (FIR). Also improves circulation, and mental alertness, strengthens your immune system, reduces stress and speeds up recovery time. asi/80083

19" Wooden back scratcher with massage rollers. Strong and durable, superior to its plastic counterparts that break easily. Perfect for itch and stress relief. Comes with 2 mini rollers on opposite end for massaging. Perfect for promotions related to health, stress, and just as a fun giveaway. asi/45100

Duo appetizer and cheese set. Delight your guests with this exquisite cheese and appetizer 10 piece serving set. Features: cheese fork, cheese knives, cheese spreader, removable ceramic dish, 4 stainless cocktail sticks, magnetic tool holder strip and Eco gift box. FDA Approved. Eco-Friendly item. asi/99030

The Spice Lab's Gourmet Sea Salt Collections introduce the 'World of Salt' in unique gift pack sampler sets of 5, 6 or 11 test tubes, each holding a different exotic sea salt. The handcrafted wooden base is constructed from recycled lumber and can be custom imprinted for one-of-a-kind gifts. asi/88719

Dancing Deer Baking Co.'s Brownie & Cookie Medley pairs 16 classic Chocolate Chip cookies with 8 rich and fudgy Caramel Pecan Brownies. This perennial best selling gift set comes in several packaging choices. Ask about customization options. All products are all natural and certified Kosher. asi/48310

7" Tablet Mid with Touch Screen
Browse the web, watch videos, check email and more. Intuitive touch screen controls. Download popular apps and games and play popular music and videos. asi/45580

The Valet Tray®
Personal organizational system keeps accessories you use most in place. Storage unit is in a vertical orientation which takes up less space on a dresser, end table, kitchen counter or workspace. Colors: Oak or walnut. Size: 8" x 6-1/2" x 3-1/4". asi/89862

Corner Cut Cube. Standing nearly 3" tall, this pure optical crystal cube can be used as an award, paperweight, promotional product and more! Available straight or corner cut in 12 sizes up to 8" tall. asi/55609

4 Piece Nail Polish Gift Set inserted in your choice of purse bag. Each bottle holds .50 fl Oz.-15mL of salon quality nail enamel. A single one color imprint on each bottle is included in price. Imprint area 3.5" X 1.25" wraps around bottle. Choose from 150 assorted nail shades. Imprint color: black, white, gold or silver Cap color: black, white or silver. Purse bag color: Garnet GA, Bamboo BA, Chrome CH, Chocolate CB, Zebra, Glossy White WHG, Leopard LE, or Gold Dust GD. Also available: Glossy Black BKG and Kraft KR (not shown). Production time: 6-8 weeks. All products made in USA. asi/49640

Custom 3-D Pewter Miniatures. Custom design an exact miniature replica of your company's product, building or factory. The perfect gift for employees and a great way to keep your business in the forefront of the recipient's mind. asi/55630

Same great IDPaspinline service, only even faster! U.S made silk screened lanyards with three fast options available to meet your clients in hands dates faster than ever. Superb silk screen printing on flat polyester material with a choice of standard attachments included in the price. asi/62088

Celebrate the HUGE SAVINGS from 5-Star Supplier IDPaspinline on Custom Embroidered Patches. Patches (ASPIN-PATCHES 2" less than 50% embroidery) priced as low as $0.50 All inclusive pricing, Free Setup and Free shipping till the end of October. Now that's something to get excited about. asi/62088

FREE SAMPLES Perfect Holiday Gifts!
Beautifully Engraved Bamboo Cutting Boards and Cork Coasters. Named Best Green Product ASI Chicago 2010 and Orlando 2011. Free Samples with your customer's logo. FREE SETUP. Customer friendly Web site Greenlaserpromos.com. asi/30236

High-quality 157 gsm laminated paper with turned top, grommets, soft rope handles and cardboard reinforcements under the turn and in the bottom of the bag. Matte or Gloss Finish Bags are silk screened which allows for tight registration and multiple colored printing up to 3 colors and 2 sides. Comes in 6 sizes and 9 colors in the Gloss, and 11 colors in the Matte finish. asi/84430

Comprised of both Stock and Custom items, The Collection offers an extensive array of personalized possibilities. For New Construction or a Grand Opening, Expansion Program or Fund Raising Effort, Jarco's ceremonial items are a lasting and distinctive commemoration of any Corporate or Civic Occasion. asi/63160

Dacasso's top-grain leather luggage tags are the perfect travel gift this season! Put your client's brand front and center with this durable, high perceived-value piece. Available with no minimums, and lightning-fast production times with no rush charges. asi/48125

National Gift Card (asi/73011) now offers digital gift card delivery via its NGCecodes program. Choose from 50+ major retail, restaurant and specialty gift card brands. Flexible, custom-branded delivery options available. Competitive pricing. Eco-Friendly! asi/73011

It's just a pen… Until you write with it. NEW Revolutionary ink system that glides like a gel and dries like a ball pen. Retractable and Stick offered in a variety of colors and customization options. Priced as low as $0.38! asi/84833

16 Brushed Metal Atomic Analog Clock
Atomic Time with manual settings: automatically sets to exact time, accurate to the second; automatically updates for daylight saving time. Colors: blue, white or black. asi/82283

Endless Love Bowl. Recycled metal bowl handmade by the artisans in Kahlil Ahmed's fair-trade workshop in Milak Bujpur, India, using recycled bicycle tire spokes. Size: 11" diameter. Customize with your company name. asi/60465

Rosewood Compass (SQ645T) with engraving plate. Recognize your Executives or Associates with a genuine rosewood compass, showing direction, navigation or just a decorative gift with your Company Logo clearly laser engraved on the beautiful engraving plate. 6 piece minimum and 7-10 business day production. asi/40445

Color Acrylic Coaster Set. Includes a set of 4 coasters with a 4cp graphic. Full cork backing. Packaged in a white decorative box with clear display lid, held together with elastic bow. Size: 3-1/2" x 3-1/2". asi/72521

Premium quality laser pointers and presenters. Long lasting giveaway items to maximize your brand with customers and business partners. Perfect ideas for corporate, education, healthcare, engineering, and manufacturing clients. Over 90 unique styles to choose from. 5-star supplier. asi/34375

Crystal Ornament. Custom laser-engraved on two separate layers (allowing for two logos) in a beautiful gift box. Optional LED lighting available; choose from seven colors. 3D laser engraving also available; please inquire. asi/37693

Fairytale Brownies Custom Regal Tower RF303X. Dramatic Presentation, Lasting Impression. They'll thank you for your generosity! This impressive purple tower will indulge them with three sizes of fudgy brownies, crunchy cashews, chewy cookies and rich, creamy cocoa. Your color logo is printed on a custom gift tag, so you'll be sure to hear how much they loved this gift! asi/53518

Is your company using QR codes? We will give you access to your own FREE QR code dashboard where you can create, manage, edit and view analytics of your QR campaigns. SCAN the code above to see how! asi/57851

Successful Promotions® Trend Report™ is a trademark of the Advertising Specialty Institute. Copyright 2011, ASI. All Rights Reserved.
Advertising Specialty Institute®, 4800 Street Road, Trevose, PA 19053