| | |
| --- | --- |
| |  THE JOE SHOW: HOT NEW PRODUCTS |




| | |
| --- | --- |
| | The Joe Show is a weekly video program where Managing Editor Joe Haley presents and demonstrates a variety of ad specialty products. He also offers useful tips and information on how they can be used in ad campaigns and other promotions. This collection features new products being offered by your distributor partner. Click hereto see a brand-new edition of The Joe Show. |

| | |
| --- | --- |
| |  BECOME OUR FACEBOOK FAN  |

Win $100 & Gain Access to Great Ideas
Successful Promotions magazine now has a Facebook fan page! Sign up now, and enjoy The Joe Show, where our very own Joe Haley showcases cool new promotional product ideas. While you're there, access case studies in every industry that showcase the hottest new marketing campaigns. You can even submit your own case studies and be eligible to win a $100 American Express gift card. Plus, network with other businesspeople looking to pump up their marketing efforts. Click here to get started today.

| | |
| --- | --- |
| |  Creative Ad Campaign  |

Don't Mess With Bigfoot
When it came time to unveil a new promotion, Jack Link's Beef Jerky turned to Sasquatch. The big furry guy is the brand's icon. The brand recently unveiled new television commercials, the first new advertising offering since 2008. The "Messin' With Sasquatch" advertising campaign has been a great success: "The new spots feature more classic pranks played on an unsuspecting Sasquatch," says Jeff LeFever, director of marketing for Jack Link's Beef Jerky.

The campaign resulted from a creative idea to bring an iconic legend (Sasquatch) to life, in order to help define the brand message: Feed Your Wild Side. The company created 30-second television spots and added alternate-ending, online-only versions. In "Camp Fire," one of the new commercials, Sasquatch is in a peaceful setting enjoying his natural surroundings. "After munching on Jack Link's Beef Jerky, an individual is inspired to play a well-known prank on Sasquatch. In the end, however, Sasquatch gets the last laugh," says LeFever. Jack Link's launched the first of three brand new commercials in June.

ADVERTISEMENT

ADVERTISEMENT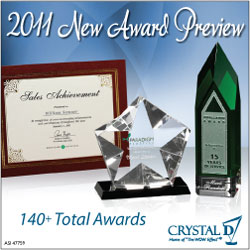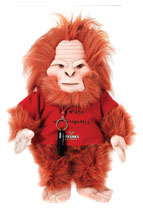 In addition to the commercials, the company sent out about 200 media kits to targeted media and key influencers. As part of the kit, editors were sent a custom Sasquatch doll to help deliver the message that Sasquatch was back. "The creative kit has been breaking through the typical mail clutter on editors' desks and has helped garner coverage in key print and digital media outlets about the launch of the campaign," says LeFever. The kit also contained press releases and samples of beef jerky.
"The response to the media kit was positive. During follow-up conversations, journalists shared that it was a fun and memorable correspondence; helping to break through the clutter they receive each day," says LeFever. And ultimately, the company believes that the kit helped to garner media attention in the launch of the latest TV spots. "Jack Link's sports an adventurous, fun and slightly irreverent brand personality. Sasquatch helps to bring that personality to life through scenarios that are funny and relevant – especially to those who love Jack Link's Beef Jerky," he says.
See the Shopping List below for some fun holiday-theme items and other great new products.
| | |
| --- | --- |
| |  Fun Co-Celebration  |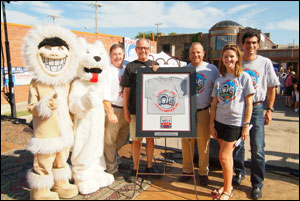 Stan Clark (center), along with Eskimo Joe, accepts the
Hanes Beefy-T Hall of Fame Award from the Hanes Team.
The Perfect Partnership
Back in the 1970s, Eskimo Joe's, the popular bar and restaurant in Stillwater, OK, started selling Hanes Beefy-Ts. "We wanted the very best T-shirt we could buy. We were seeking a long-term relationship with our guests, not trying to make a quick buck. And when a guest actually wanted to buy our T-shirt, well that was the ultimate affirmation that they really, really liked Eskimo Joe's," says Stan Clark, president and co-founder of Eskimo Joe's.
           
This year, Hanesbrands Imagewear announced that Eskimo Joe's has been inducted into the Hanes Beefy-T T-shirt Hall of Fame. The Hall of Fame, located in Winston-Salem, NC, recognizes screen printers, distributors and others within the decorated apparel industry. "The Hanes Beefy-T has been an iconic brand in the decorated apparel industry for 35 years, and what better way to celebrate this special anniversary than to recognize others within this industry who have been part of our success?" says John Marsh, senior vice president/general manager of Hanesbrands Imagewear.
           
And the timing couldn't be better. Hanes recently celebrated the 35th anniversary of the Hanes Beefy-T T-shirt; perfect timing since Eskimo Joe's also is celebrating its 35th anniversary. "Eskimo Joe's and Hanes Beefy-T have literally grown up together, and what a great partnership it has been," says Marion Plumb, vice president of sales for Hanesbrands Imagewear. "Today, Eskimo Joe's is known worldwide for its cool and creative promotional apparel, including the highly sought-after Eskimo Joe's T-shirt which, of course, is printed on a Hanes Beefy-T T-shirt."
           
Clark, who estimates that during the past 20 years, Eskimo Joe's has sold more than 500,000 Hanes Beefy-T T-shirts per year, agrees the partnership is special. "When a new color for our Eskimo Joe's T-shirts suddenly started flying off the shelves, the customer service team at Hanes was on the case immediately locating every piece out there to help us meet demand," he says.
Contact your ad specialty distributor for more information on the products below.
| | |
| --- | --- |
| |  PRODUCT SPOTLIGHT |

Individual's Picture + Brand Logo = Successful Promotion
Turnkey, low‐cost promotion. Each recipient receives two personalized luggage tags and straps. Made from durable laminated Teslin®. Available from 5‐star supplier: ASI 42989


| | |
| --- | --- |
| |  SHOPPING LIST |
| | | |
| --- | --- | --- |
| MUG HUG Brighten the winter months by giving your top reps this cute 10-inch snowman. His Velcro hands hold a 16-ounce mug with snap-on lid, and the insulated mug is available in blue or red. asi/30208 |   | HAPPY HOLIDAYS This flat-bottom Christmas ornament with a star-shape memo clip is the ideal table place holder for holiday parties. Also great for displaying photos, memos, greeting cards and business cards. asi/71370 |
|   |   |   |
| SWEET TOOTH A holiday favorite, this tower includes two tins, and is filled with goodies such as hand-dipped chocolate pretzels, fresh-baked gourmet chocolate-chip cookies, white-chocolate pretzels, milk-chocolate peanut clusters, Swiss chocolate truffles, honey-roasted peanuts and gourmet cranberry-nut mix. asi/55439 |   | RISING STAR An ideal trophy for outstanding employees who have reached new heights, this glass award features graceful blends of color that reach up and out. asi/68507 |
|   |   |   |
| ANALYZE THIS Prepare for the new year with this analyst calendar, which has a year-in view and four-year spread for long-term plans, and plots daily activities in date blocks. Includes 14 months and 15 sheets of blank memo pages. asi/91340 |   | RELAX Plan an end-of-year retreat with your staff and give them something to bring home, like this spa set. The gift set contains body wash, lotion, waffle-weave bath pad and herbal tea. asi/84495 |
| | |
| --- | --- |
| |  WEEKLY CONTESTS |
Solve These Dilemmas
Every week Successful Promotions will launch a new contest where we ask you, our readers and Facebook fans, for your most creative ideas for solving businesses' dilemmas. Each entry should be 50 words or less and a promotional product must be part of the solution to the weekly challenge. Send all entries to jhaley@asicentral.com by the specified deadline in order to qualify for a free gift. Winners will be selected randomly from all entries.
Week 1 Contest: From October 18 to October 24
Subscription Drive. The city newspaper is launching a one-month-long subscription drive to past and potential customers. The publisher is looking for a logoed premium to give to all new customers and wants it to tie into newspapers and reading. Any ideas?
Week 2 Contest: From October 25 to October 31
Flying High. A new airport hotel is set to open with a host of activities that include free food and drink, tours and visits from local dignitaries. They have a variety of logoed products to hand out, but they also want to host some sort of contest to get people really involved. Help!
 
Week 3 Contest: From November 1 to November 7
Shout It Out. A local business was just named the Best Place to Work by the area's biggest business journal. The owners are so excited that they want to thank all 500+ employees. What can they give to show their appreciation?
Week 4 Contest: From November 8 to November to November 14
No Place Like Home. A windows and siding company will be exhibiting at a home expo for the first time and would like to give attendees (who are homeowners) something that is practical and keeps the company name and contact info top of mind. Send us your ideas.
Successful Promotions® Trend Report™  is a trademark of the Advertising Specialty Institute. Copyright 2010, ASI. All Rights Reserved.
If you'd like us to send Successful Promotions Trend Report FREE to your colleague, click here and complete the online form.
Click here to subscribe to Successful Promotions® magazine. The publisher has a right to refuse subscriptions to non-qualified subscribers.
Advertising Specialty Institute®, 4800 Street Road, Trevose, PA 19053