| | |
| --- | --- |
| |  COLORFUL COMPANY PROMOTION |
ADVERTISEMENT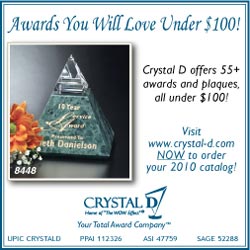 PlumChoice Paints the Town Purple
When you're one of many technical support services looking to stand out at industry events, it helps to be colorful. PlumChoice has recognized this simple fact and chosen to firmly embrace its color of choice – purple. They have created "purple brick roads" leading from the speaker podium directly to the PlumChoice party, where they serve Plumtinis made from grape juice and vodka.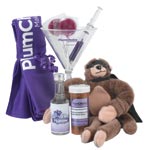 PlumChoice founder Ted Werth says, "Everyone wants to know why I chose that as the name. It simply means the best. Deep plum is a regal color. Our view is that we provide the best service in the industry, bar none."

To drive home this point, PlumChoice hands out fake syringes filled with purple liquid at events, inviting prospects to give themselves a technology booster shot, along with pill bottles containing plum-colored M&Ms with labels telling people to call PlumChoice in the morning.

Sticking with this theme, the company also created a cruise with Jimmy Buffet-style entertainment that attracted more than 50 retailers that had previously refused one-on-one meetings with the company. Each received a direct-mail piece that included Tylenol in a purple foil envelope and the pledge that PlumChoice can "solve your technology support headaches."

"There is so much noise in the marketplace. You need to really differentiate yourself to get anyone's attention," says Michael Phelan, executive director of marketing at PlumChoice. "These quirky promotions have helped us generate leads, frequently with prospects who refused more conventional overtures. The promotions alone don't sell our services, but they help get our foot in the door. And, sometimes that's more than half the battle."

Check out the SHOPPING LIST below for some sweet treats and other creative products for your next company campaign.
| | |
| --- | --- |
| |  TRENDY MARKETING TOOL |
Boone's Bets the Farm on Branded Shirts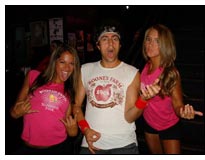 Was that Kim Kardashian in a Boone's Farm T-shirt? Yes, it was. The socialite is just one of many trendsetters to sport a T-shirt touting the quirky brand. Boone's Farm, the fruit-flavored, inexpensive wine launched in the 1960s, is in the midst of a revival.
Three years ago it launched its "Bring Boone's Back" marketing effort. The goal was to make the brand relevant among influencers. Its marketing tool of choice: the T-shirt. Style-conscious celebrities, deejays and members of the press were seeded with a high-end logoed shirt, which is also available at upscale retailers like Saks Fifth Avenue.
"The branded Boone's Farm T-shirts are an effective marketing tool because they serve as walking billboards for our brand," says Kammy Dosanjh Chahal, assistant marketing manager of E&J Gallo Winery, which owns Boone's. "Simply using posters and serving product is great, but easily ignored by consumers."
Looking to broaden its tongue-in-cheek outreach, the brand partnered with the '80s-inspired, Tony-award-winning Broadway musical Rock of Ages. As a sponsor, Boone's was integrated into pre- and post-show activities.
This year, Boone's Farm also struck a sponsorship deal with the 2009 Air Guitar Championship. The tour traveled throughout U.S. cities in search of the person who can "rock out the hardest on an invisible guitar." Samplers clad in hot pink Boone's Farm shirts handed out drink cards promoting Boone's Farm and its newest flavor, Sunshine Pink. The "Boone's Farm Girls" also swept balloons, confetti and other debris from the stage in-between acts. Contestants received the shirts as well as samples of the product, which they were seen chugging on stage, backstage and on the tour bus.
"The presence of the samplers moving through the crowd in bright pink T-shirts was impossible to ignore, and it helped to have the hosts, a focal point of every show, wear the shirts as well," says Chahal. "Air guitar talent wore the T-shirts on TV appearances, which extended the Boone's Farm presence. It created a common theme and made our presence and co-branding undeniable."
| | |
| --- | --- |
| |  PRODUCT SPOTLIGHT |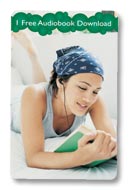 The Power of Audiobook Download Promotions - In today's tough economic times, cost efficient promotions that deliver measurable results are more important than ever.  The Audiobook Download Card benefits include:
Drive web traffic to the brand's site – redemption process can be linked off any web page. 
Facilitate the capture of marketing data – add a custom survey... you provide the questions and CFS handles the rest. 
Low-cost, high-value promotion – a $25 value as low as $3.99 
Target hard to reach demographic – research shows audiobook listeners are 30+ years old, well educated, and are professional or business people. 
Choose from over 60,000 top-selling titles.
Download to a Blackberry, MAC, PC, iPod, or other portable device.
Exclusively from CFS Promotions for Now! (ASI/42989). Ask about CFS' environmentally friendly production options, 5-Star ASI distributor rating, low minimum quantities, and quick production times.

For other new and creative products,
visit the Product Central section on ASICentral.com.
| | |
| --- | --- |
| |  SHOPPING LIST |
| | | |
| --- | --- | --- |
| BREAK TIME This gift mixture is the ultimate office coffee-break treat. It features white-chocolate-dipped marshmallows, white-chocolate-covered pretzels, peppermint twists, truffle cookies, Ghirardelli chocolate squares and more, all packaged in a handsome houndstooth box that can saved for later use. Available from asi/56777. |   | BUBBLE YUM Place this old-fashioned, glass and metal gumball machine on your receptionist's desk for a warm and welcoming conversation piece. Features imprint on the glass bowl and comes in multiple sizes with a variety of candy fillers. Gumballs can be custom imprinted for a creative touch. Available from asi/30350. |
|   |   |   |
| SPECIAL DELIVERY A perfect gift for your favorite carrier, vendor or messenger service, this delivery van loaded with treats will adorn the desk or book shelf of the lucky recipient for years to come. Available from asi/90392. |   | TEA FOR TWO This bamboo tea box is as environmentally friendly as it is elegant. It's filled with a delicious selection of 64 natural teas beautifully arranged. Your imprint on the gold presentation plate will personalize the gift nicely. Available from asi/30350. |
|   |   |   |
| SWEET DELIGHTS Design a unique sales campaign using custom M&M chocolate candies. Packaging comes in different sizes and can feature company colors, logos, messages and photos. Available from asi/68888. |   | PROMO POP For a promotion that sparkles and pops, use customized soda bottles that will create colorful displays and client gifts. Place your image on the front label along with 40 words of text on the back. Choose from a variety of different flavors. Available from asi/63541. |
Successful Promotions® Trend Report™  is a trademark of the Advertising Specialty Institute. You were sent this newsletter as a benefit of your ASI membership. Copyright 2009, ASI. All Rights Reserved. 
If you'd like us to send Successful Promotions Trend Report FREE to anyone else at your company (or to your off-site sales reps), go to www.asicentral.com/newsletters and complete the online form.
Click here to subscribe to Successful Promotions® magazine. You must be a member of ASI to subscribe to this publication. The publisher has a right to refuse subscriptions to non-members.
Advertising Specialty Institute®, 4800 Street Road, Trevose, PA 19053