| | |
| --- | --- |
| promotional products • incentives • corporate gifts • meetings • events | Volume 80 / Nov 2012 |

Bag That Hangover
San Francisco-based wine producer Cameron Hughes recently sponsored a booth at the Aspen Food and Wine Festival, a not-to-be-missed annual event for foodies, wine and culinary celebrities and industry leaders, held high up in the Rockies.
"It was the first time we attended the festival," says Jessica Hughes, co-founder and chief marketing officer at Cameron Hughes. This year marked the company's 10th anniversary as well as the 30th anniversary of the Aspen festival.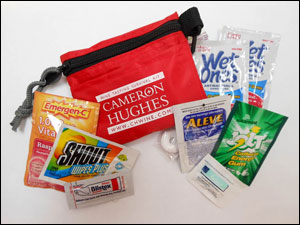 "We offered festival guests 12 different wines from around the world. Since we source wines globally, the wines hailed from Bordeaux to Napa, all under the Cameron Hughes label," she says. "We are little people, and we wanted to have the greatest presence possible there."
Wine trade tasting events are very intense; sometimes there can be 1,000 wines under one tent, Hughes notes, adding, "If we didn't spit, we wouldn't be able to get through the first hour." Also, it's easy to get inebriated more quickly in a location like Aspen due to its high elevation and lower oxygen levels. "You can get a ferocious hangover if you're not careful," says Hughes.
To combat the perils of tasting at high elevation, Cameron Hughes created a "wine-tasting survival kit" to promote its brand to event VIPs. The reusable red pouch, bearing the name of the winery and its website address, included such essentials as Aleve, teeth whitening strips, Emergen-C vitamins, breath mints, Blistex and Wet Ones.
The items were carefully thought out. For example, Blistex soothes the inevitable chapped lips that result from tasting red wine. Alka Seltzer helps tackle the acidity of wine tannins that can cause an upset stomach, and Emergen-C provides a vitamin infusion. "In the wine industry, we all take Aleve with Emergen-C in the evening, combined with a big glass of water. This guarantees no hangover," Hughes says.
The versatile pouch had a hook and eye to attach to belt loops, and was small enough to fit into a back pocket. It also had a zipper piece that allowed it to be hung from a lanyard, worn by many attendees at the festival for identification. The pouch also contained a slit for credit cards and a license, and could be used as a wallet.
It was the first time the wine merchant had ever done a giveaway like this, and Hughes wanted the kit to be "smart, innovative and well thought out." Cameron Hughes distributed 450 pouches to industry VIPs, and an additional 4,500 Chapsticks were distributed in the event's registration bags, as well as at its booth. "People loved the pouches," Hughes says. "Some said it was 'genius,' and the Chapsticks were also hugely popular."
VIDEO

THE JOE SHOW reveals some of the latest products and promotional ideas available in the market today. Click here to see a brand-new edition of The Joe Show.



Sponsored by
Cloth Promotions Plus


Sponsored by
Promo Matting

Sponsored by
Pepco Promotional Products

Sponsored by
365 Source Custom World





Sponsored by
Promotional PSI
ADVERTISEMENT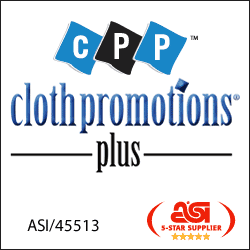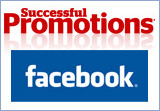 Win $100 & Gain Access to Great Ideas
Sign up now and enjoy The Joe Show, where our very own Joe Haley features cool new promotional product ideas. Access case studies in every industry that showcase the hottest new marketing campaigns. You can even submit your own case studies and be eligible to win a $100 MasterCard gift card. Plus, network with other businesspeople looking to pump up their marketing efforts. Click here to get started today.
Cookie Jar Is Centerpiece for Iconic Brand's Anniversary Promo
This year, the food industry celebrated a significant milestone – the 100th birthday of the famous Oreo cookie. Since 1912, Oreos, originally a knockoff of Hydrox biscuits, have become the best-selling cookie in the United States; over 362 billion have been sold since they were first released. Over the past century, the detail on the chocolate disks has changed slightly, but the Oreo has remained unaltered since it was introduced to the public.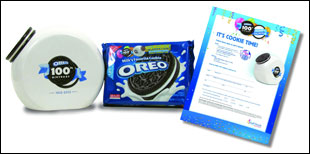 To commemorate its centennial anniversary, Kraft Foods, the distributor of the Oreo, launched a major nationwide promotional campaign which involved a consumer on-pack offer. A limited-edition, custom Oreo 100th Birthday Cookie Jar was chosen as the premium item to be distributed. According to a company spokesperson who worked on the campaign, the cookie jar made sense from a promotional standpoint, and the lid design also reinforced the core equity of the brand.
The offer was placed on 16 million packages across the country and, as of this writing, actual redemptions were still being calculated. By mid-October, 69,000 jars had been distributed.
Have a milestone you'd like to promote? Contact your distributor partner for ideas and products that will make the celebration last longer than a one-day event. Like the Oreo cookie jar, your logo on a special promo item will be a pleasant reminder to customers who will want to hold onto it as a keepsake for years.
iGifts! ...for smartphones, iPhone + iPad!
Advertise "Your brand, in their hand"™ with the ultra-useful iStylus™ and iDuo™. Both have a Stylus which works with any Capacitive touch screen device, including smartphones, tablets, iPhone and iPad! The iDuo™ also includes a ballpoint pen. They're sure to be BEST SELLERS for the Holiday GIFT season and all year long!

From ALL-IN-ONE® • asi/34256.
Office Items
A mug or tumbler for beverages, a tote for lunches or accessories for a desk – your distributor partner can help locate the perfect office items to welcome new employees or thank valuable vendors.
CLIP IT Contour clipboard is enforced with an extra-large double spring for durability and comes in seven bright transparent board colors. asi/55990
IT ADDS UP Transparent calculator is solar-powered and available in black, blue, green or red. Great product for eco-friendly clients. asi/90640
SHARK ATTACK Shark fin-shaped media and phone screen cleaner is made out of plastic and has a microfiber strip attached to the bottom. Fun item for electronics companies. asi/47700
LUNCH BUNCH Insulated and stylish lunch tote features grommet accents. Ideal for corporate outings and picnics. asi/63344
STAND OUT FDA-approved, 16-ounce glass tumbler features a double wall and silicone sleeve and lid. It's top-rack dishwasher-safe and a perfect gift for customers, staff or volunteers. asi/99030
A MUGGY DAY Two-tone mug has accent color on the inside to make a colorful statement. Available in six accent colors. asi/97270
marketing calendar ••• February 2013
American Heart Month
February is American Heart Month, and the focus is on women. Heart disease claims the lives of nearly 500,000 each year, so being heart-healthy is important. Regardless of your line of business, you can run a heart-health-related campaign. Use social media to spread the word about healthy living and recognizing the warning signs of a heart attack. Develop well-being campaigns for employees, encouraging them to live better through exercise and diet. Finally, cap the month off with a wellness fair that includes workout sessions like zumba, yoga, pilates, etc. Your distributor partner can help you find appropriate logoed products including red dress lapel pins.
4-8
International Networking Week
Networking is an important function of any business. Use this week to give your employees and coworkers an opportunity to get out and meet some new contacts. Host a networking event with prospects and potential clients. Also consider a similar event with leaders in the community and with professionals in your own industry. A host of logoed items can help make the events memorable, and your distributor can help you secure them.
14
Valentine's Day
Love is in the air, so why not send your clients a sweet, gushy note, telling them how much you appreciate their business? Custom cards can spread that sentiment, and there are lots of sweet treats from chocolates to other candies to help convey the message. Also consider writing a love note to clients and Tweeting it, and posting it on your Facebook page, website, etc.
23
Open That Bottle Night
Lots of people have a bottle of wine they're saving for a special occasion. Well, today's that day. And you can use it as a creative avenue to keep you top-of-mind with clients and vendors. Your distributor knows where to get you custom etched wine bottles that you can send to your best partners. Pair the bottle with other imprinted wine accessories like glass charms, corkscrews and wine sleeves.
Solve This Dilemma
Every month, Successful Promotions launches a new contest where we ask you, our readers and Facebook fans, for your most creative ideas for solving businesses' dilemmas. Each entry should be 50 words or fewer, and a promotional product must be part of the solution to the challenge. Send all entries to jhaley@asicentral.com by the specified deadline in order to qualify for a free gift. Winners will be randomly selected from all entries.
Bases Loaded. Baseball season is quickly approaching, and the local youth league will be celebrating its 50th anniversary. A special dinner has been organized by the board of directors, and now they are looking for a fun gift to give out. It should not only be baseball-related, but they want it to be nostalgic as well. They will take any and all ideas. Send yours to jhaley@asicentral.com by December 16, 2012.

Our lip balms contain SPF 15 and are made in a FDA approved facility in the U.S.A. Containing premium natural and organic ingredients our lip balms are quickly becoming a customer favorite! Perfect for fundraisers, charity events, school functions, spas, dentist offices and so much more! asi/62088


Lapel Pins: Exceptional products meet exceptional service with IDPaspinline lapel pins. Our lapel pins are a distributor favorite due to our low setup costs, prices and unbeatable 5 star rated ervice.asi/62088

Diamond Cosmetics offers professional health and beauty products providing companies with high quality cosmetic items for Corporate Sponsors of Women's Events, clothing, shoes & accessory manufacturers, health and medical companies, entertainment industry, media, and many more industries and institutions. asi/49640

Lavish them with heartwarming helpings of Belgian dark chocolate brownies in three sizes, and soft, chewy cookies. Individually wrapped, the treats are packed in a tower of festive red and green boxes, adorned with your full color logo on the gift tag. asi/53518

Slimline Executive Computer Briefcase 149E
Made from the finest lightweight cowhide leather, this
bag can hold a 17" laptop and features a built-in
leather wallet. asi/45252

Successful Promotions® is a trademark of the Advertising Specialty Institute. Copyright 2012, ASI. All Rights Reserved.
Advertising Specialty Institute®, 4800 Street Road, Trevose, PA 19053