| | |
| --- | --- |
| promotional products • incentives • corporate gifts • meetings • events | Volume 68 / November 2011 |

Boosting Morale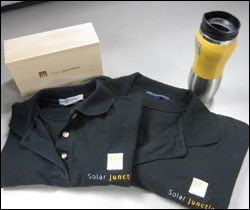 Buyers use promotional products to draw in consumers and potential business partners. The top use of ad specialty items is for business gifts, according to a promotional products usage survey, with 69% of respondents saying they use products as holiday or thank-you gifts. This is followed by trade shows with 47% and customer acquisition at 40%. But close behind are employee incentive programs, with 39% of end-users reaching for promotional products to reward productivity or improve morale.
Solar Junction, a solar cell manufacturer based in San Jose, CA, has used a handful of ad specialty items in its four-year history, all of them for internal efforts to improve the workplace or employee morale.
"It has been a great way to reward our employees," says Diandra Weldon, marketing director for Solar Junction. "It has really been a unifying thing."
Weldon began by ordering reusable travel mugs after employees expressed a desire to use something more environmentally friendly than Styrofoam cups. While it began as a simple solution to employee concerns, the yellow mugs, emblazoned with the Solar Junction logo, have become a part of the company culture, given to every new member of the team as well as to consultants, often before they even receive their business cards.
A similarly practical motivation led Weldon to order a set of branded black polo shirts for the company's 30-plus employees. With a staff made up mainly of engineers who spend their time getting their hands dirty working on projects rather than going on sales calls, few paid much attention to what they were wearing; if board members visited the office or an event came up, some staffers found themselves scrambling for something appropriate to wear.
"We were going to our first conference, and didn't have a booth yet, so I said, 'If we can all wear this same shirt, we will get some brand recognition out there,' " says Weldon. The shirts proved to be a big hit and continue to get regular use. "I have had to order several more because a number of the men have worn theirs out," she says.
To celebrate Solar Junction's anniversary recently, the staff went to a minor league baseball game that tied in a specially designed T-shirt as a souvenir. The employees were divided into six teams, with each team getting a different T-shirt. According to Weldon, some staffers were such big fans of the other teams' shirts that they ordered additional ones for themselves.
But the product that got the biggest response from the staff was a branded zip-up fleece jacket. The heating in the Solar Junction office is less than stellar, and the occasional chilliness had become something of a running joke in the office. So for the holiday party that year, Weldon ordered a warm, comfortable fleece jacket for each person.
"It got a great response – everyone got the joke," says Weldon, emphasizing that the jackets have since gotten plenty of use. "On days when board members visit, they can wear it and automatically have a nicer, more professional look."
VIDEO

THE JOE SHOW
The Joe Show reveals some of the latest products and promotional ideas available in the market today. Click here to see a brand-new edition of The Joe Show.

ADVERTISEMENT



ADVERTISEMENT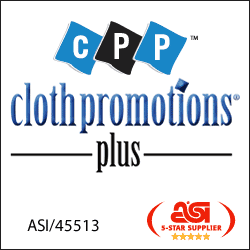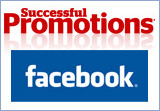 Win $100 & Gain Access to Great Ideas
Sign up now and enjoy The Joe Show, where our very own Joe Haley features cool new promotional product ideas. Access case studies in every industry that showcase the hottest new marketing campaigns. You can even submit your own case studies and be eligible to win a $100 MasterCard gift card. Plus, network with other businesspeople looking to pump up their marketing efforts. Click here to get started today.
Bringing Home The Fun
House Party is a company that works with brands that sponsor dozens, and in some cases hundreds, of small parties in consumers' homes, organized by pre-screened hosts. House Party selects the hosts and sends them "Party Packs" with product samples, coupons and in many cases, promotional products tied to the product.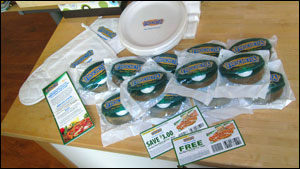 For example, for a recent product launch for Freschetta Pizza's Naturally Rising Pizza, House Party worked with the company to create pizza cutters for every guest and embroidered oven mitts for every host at 1,000 in-home parties on the night of this year's Academy Awards. That meant a total of 16,000 products for partiers who tried the pizza.
"Clients love when they can get the brand in the consumer's hand," says Michael Perry, interim CEO for House Party. "Long after the pizza's gone, the promo pieces really help carry the brand in the home. Whenever we're doing these events, we always have an eye toward having a presence of the brand in the home, post-party."
House Party runs an average of seven to nine parties per month, mostly for consumer packaged goods companies (including brands such as Kraft, Singer and Little Debbie), though the number of events can vary depending on the season. The firm is beginning to do more with alcoholic beverage companies and the pharmaceutical industry, as well. Perry says that whether the company includes promotional products in an event depends on the client's budget, but House Party will regularly encourage including them whenever possible.
House Party organizers look for fun and practical items that will not only enhance the event, but that the hosts and guests will want to keep and use again. For a Verizon event, House Party gave out inflatable footballs and foam can coolers branded with the Verizon name. Mini footballs and foam fingers emblazoned with Spartans college football logos went out to participants of a Michigan State University promotion.
"We know how important that Party Pack is to the success of an event. For our membership, it's really our currency, since there's no monetary exchange," says Perry. "Those promo products really become an integral part."

Want to Build a Buzz?
ALL-IN-ONE's brand new Buzz products feature Microfiber pad for
cleaning screens of smartphones, laptops, iPhones + iPads!
BuzzBrush® has a brush to clean keyboards, or make the Write Choice® with the smooth-writing BuzzWrite® Pen with Easy-Glide™ ink! USB BuzzDrive™ includes a super-handy USB Flash Drive!
From ALL-IN-ONE® • asi/34256.

  
Around The House
Kitchen gadgets and blankets for the home and coats to keep your winning reps warm – these fabulous promo products fit the bill no matter what the need is.
 
GREEN-FRIENDLY Salad spinner features one-handed operation, a patented pump mechanism and brake button. Clear lid comes apart for easy cleaning. Knob locks down for convenient storage. Basket and non-slip bowl can be used separately. asi/55500
 
TAKE A SLICE Pizza cutter has a removable stainless-steel imported blade. Perfect item for new pizza shops that want to spread their name and build business. asi/71980
 
CARRY ON Fleece blanket is great for travel, with convenient carry handle and whipstitch trim to prevent edges from raveling. Display your logo while tailgating, hiking, camping or watching the big game. asi/43668
 
CASHMERE CHIC European cashmere blanket is eight-ply and has twisted fringe along the edges. Comes in burgundy, camel brown, charcoal gray or chocolate brown and makes a nice gift to give to a favorite vendor. Made in England. Customization options available. asi/52778
 
PARKA POWER Columbia men's nylon-shell parka has polyester/nylon lining and superior water-repellency. Pullout hood folds into collar, and removable microfleece liner provides excellent insulation. Ideal for outdoorsmen or anyone who enjoys winter sports. asi/82588
 
CHAMPION STYLE With a lavish wool body and sleek leather sleeves, the Utah jacket features a zipper with storm-flap and is quilt-lined for three-season comfort. Five wool colors and five leather colors available. Great for award-winners, competition participants and championships. asi/47878
marketing calendar ••• February 2012
American Heart Month
Heart disease is the leading cause of death in the U.S., and February is the perfect month to run a healthy heart campaign. Businesses needn't be in the health-care industry to run such a program. Anyone concerned with the wellbeing of its business partners, vendors and employees can launch a campaign. Healthy employees result in lower health-care premiums. Encourage everyone to get a physical and reward those who do with heart-shaped stress relievers. Use social media like Facebook to promote healthier eating and exercise. Engage clients, vendors and employees through Twitter and tweet about success stories. Contact your distributor partner, as she can help you find lots of great heart-themed promotional products.
2
National Groundhog Job Shadow Day
Rather than fixate on the groundhog and whether he sees his shadow today, become part of a movement that has high school students shadowing your employees to learn more about business. Students will gain valuable insight into what they'll need for their future endeavors, and businesses become important mentors for today's youth. Reward all participants with imprinted products like backpacks or speakers for MP3 players. Your distributor can help you set up the program.
6-10
International Networking Week
Since business doesn't operate in a vacuum, you need to get out there and network. This week is the perfect time to set up and run networking events within your business community. Announce the event via social media like Twitter and Facebook. And provide imprinted products for all participants. Selections can include neoprene laptop sleeves, iPad accessories and leather portfolios. Your distributor is a valuable resource for putting the event together.
14
Valentine's Day
If you love your clients, let them know … today! February 14 isn't just for red-hot lovers. Send boxes of logoed chocolates to clients with a handwritten note expressing your appreciation for their business. Consider throwing in a bouquet of imprinted roses to complete the sentiment. Your distributor partner knows where to get all the lovey-dovey stuff for you today.
21
International Pancake Day
Take time today for a fun promotion. Visit clients with pancake kits that include mixes, aprons, bowls and spatulas as a way to say thanks for doing business with us. Host a pancake breakfast for all employees too. Your distributer partner can get everything for a logoed kit.
Solve This Dilemma
Every month, Successful Promotions launches a new contest where we ask you, our readers and Facebook fans, for your most creative ideas for solving businesses' dilemmas. Each entry should be 50 words or less, and a promotional product must be part of the solution to the weekly challenge. Send all entries to jhaley@asicentral.com by the specified deadline in order to qualify for a free gift. Winners will be randomly selected from all entries.
This Month's Contest: Gas, Go And More. A local gas station is going retro by getting rid of self-serve pumps and offering a full-service experience for all patrons. Attendants, who will be decked out in logoed jumpsuits, will not only fill gas tanks, but they will wash windshields, check tire pressure and check oil. The station owner wants to do something beyond just giving something away, but he's not sure what. He's considering a promotion that announces the change and highlights all that's new. Send your best ideas to jhaley@asicentral.com by December 18.

Create a one of a kind cover for your cell phone, iPad® or laptop. Go online to upload your photo or design and select your electronic device model. Within 5‐business days your custom skin will be printed, cut to fit the selected device model and shipped.asi/42989

 

We are one of the best in the industry and we could not have done it without you. If you are one of our many satisfied distributors, we would greatly appreciate if you could take the time to vote for us in the upcoming DISTRIBUTOR CHOICE AWARDS in our nominated categories of Jewelry, Emblems & Patches,Lanyards and Wearable Accessories. asi/62088

Introducing our premium silicone bands with brand new super low prices. Our silicone bands are perfect for organizations, schools, sports teams, businesses, charity fundraisers and individuals to raise funds and advertise products in a fashionable way. Get them now as low as $0.40. asi/62088

 

I-Player - MP3 Speaker System. Polished silver metal unit compatible with most MP3 and MP4 players. Includes both dock and cable access. Uses AC adapter or 4 AAA batteries. Size: 7" x 5-1/2" x 5". asi/73010

Premium quality laser pointers and presenters. Long lasting giveaway items to maximize your brand with customers and business partners. Perfect ideas for corporate, education, healthcare, engineering, and manufacturing clients. Over 90 unique styles to choose from. 5-star supplier. asi/34375

 

Fairytale Brownies Christmas 4-Box Tower. Soaring Seasonal Sweets! Leave them speechless with delight. Wow them this Christmas with an awe-inspiring assortment of magical Fairytale flavors. This opulent combination of our full-size Fairytale Brownies, snack-size Fairytale Sprites, bite-size Magic Morsels, classic Fairytale Cookies and creamy Fairytale Cocoa will win their undying gratitude. asi/53518

Godiva, the perfect choice for all your holiday gifting needs. We are the leader of premium chocolate, known for quality and craftsmanship. Our iconic gold box is impressive, impactful and appreciated by all. asi/57612

 

Is your company using QR codes? We will give you access to your own FREE QR code dashboard where you can create, manage, edit and view analytics of your QR campaigns. SCAN the code above to see how! asi/57851

Piano Finished Rosewood Compass/Clock (SQ567T) with engraving plate. Recognize your Executives or Associates with a genuine piano finished rosewood compass/clock, showing direction, navigation or just a decorative gift with your Company Logo clearly laser engraved on the beautiful engraving plate. 6 piece minimum and 7-10 business day production. asi/40445

 

Item PL-62. Great Gift with purchase or bonus. Purse bags come in multiple patterns and shades. Choose from over 150 assorted polish colors. One color imprint included in price asi/49640

Successful Promotions® Trend Report™  is a trademark of the Advertising Specialty Institute. Copyright 2011, ASI. All Rights Reserved.
Advertising Specialty Institute®, 4800 Street Road, Trevose, PA 19053