| | |
| --- | --- |
| |  POWERFUL MARKETING STUDY |
ADVERTISEMENT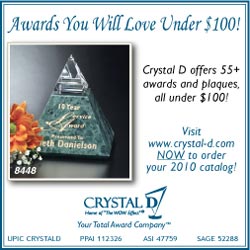 Survey Proves ROI of Promotional Products
Marketers looking to prove the value of the promotional items they use in their marketing and corporate gift programs now have a powerful tool at their disposal. According to a recent survey conducted by the Advertising Specialty Institute, parent company of Successful Promotions, the cost-per-impression (CPI) of a promotional product is a fraction of a cent – $.004 to be exact. In fact, the survey shows that the CPI of a promotional product beats nearly all other advertising media available – including TV (network and cable), radio and print advertising.
The study also reports that people who receive promotional items and incentive products keep them for a long time – an average of seven months – providing repeat and consistent brand exposure for marketers. Given a bag to a client lately? Chances are, he'll use it more than nine times a month, and your logo on that bag will be seen monthly by 1,038 people, according to the study.
The exclusive research project was conducted by surveying businesspeople and travelers in four cities – Chicago, Los Angeles, New York and Philadelphia. It also had an online component, and included a sample of more than 600 recipients of promotional products. Click here to view an online presentation of the survey.
| | |
| --- | --- |
| |  PUMPED-UP PROMOTION |
Muscle Milk Flexes During Fashion Week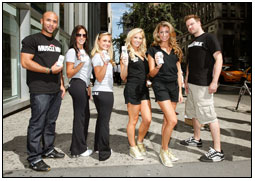 During Mercedes-Benz Fashion Week in early September, passersby in New York were asked to pose in front of a circus mirror. (You know, the kind that makes you look skinny.) Two brand ambassadors for 100-calorie Muscle Milk beverages then challenged people to make the altered image a reality by trying their product.
At a nearby GNC location, by Bryant Park, live models posed as mannequins in the storefront window. As part of its "From Cute to Catwalk" live window takeover, Muscle Milk's seemingly plastic women posed while brand ambassadors handed out free samples to the public.
The brand then armed 20 key influencers with a Muscle Milk Fashion Week survival pack. It consisted of a Nike sports bag with Muscle Milk Light, Muscle Milk branded lip gloss, a $100 Nike gift card and a Muscle Milk shirt.
All of these efforts were aimed at keeping busy models, designers, celebrities and members of the media fueled during Fashion Week, via CytoSport Inc.'s ready-to-drink protein-enhanced beverage. Samples were handed out at five key locations, including salon venues, the IMG Fashion Lounge and the Lu Biscuit Cafe.
The campaign is part of the brand's commitment to the promotion of a healthy image and active lifestyle. "Promotional items allow us to relay our messages to targeted consumer groups. For example, at New York Fashion Week our shirts read, 'Ready to Wear, Ready to Drink,' speaking about our Muscle Milk Ready-to-Drink Nutritional Shake, which is perfect for on-the-go fashionistas," says Shane McCassy, lifestyle marketing manager for CytoSport.
Check out the SHOPPING LIST below for some pumped-up products.
| | |
| --- | --- |
| |  CREATIVE AWARENESS CAMPAIGN |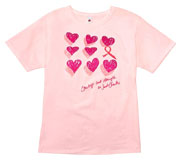 Hanes Wants Us All to Be "Passionately Pink"
For anyone who has ever wanted to create their own beautiful T-shirt design, Hanes provided their big chance. Through October 26, the top-selling, Michael Jordan-fronted T-shirt brand invited consumers to become "passionately pink" in the fight against breast cancer.

Original T-shirt designs that offered messages of hope, love and support were entered to win a weekly $100 Hanes gift card in mid-August. Twelve finalists' designs will be featured at www.hanespink.com between November 11 and November 25. The grand prize winner will be announced on December 7; the grand prize is a $250 gift card and a T-shirt with a screen print of the winning design.

Entrants were invited to use the Web site's graphics tools to create their own design. Each week the first 30 people who participated received a free shirt from actress Sarah Chalke, best known from the TV series Scrubs. (She got into the act by creating her own design, which was also for sale.)

The competition was created to launch Hanes' Pink Collection, as well as to raise awareness and support for Susan G. Komen for the Cure. The Pink Collection line of bras, panties, socks and shirts is available at select stores and at www.hanespink.com.

Hanes announced earlier this year that it had donated a quarter of a million dollars to Susan G. Komen for the Cure. It became the official apparel sponsor of Passionately Pink for the Cure. Hanes will make a $5,000 donation in the shirt design winner's name to a local affiliate or the Susan G. Komen global headquarters.

Chalke said in a statement that she was excited to be "a part of an amazingly dedicated network. Awareness is the best prevention, and this program encourages people across the country to join the fight against breast cancer in a truly meaningful way."
| | |
| --- | --- |
| |  SHOPPING LIST |
| | | |
| --- | --- | --- |
| AUDIOBOOK DOWNLOAD CARDS Give customers and prospects their choice from more than 60,000 top-selling book titles. They can enjoy best-selling books while commuting to work, exercising, traveling for business or relaxing at home. Available from asi/42989. |   | ATHLETE'S FEET Own a gym or fitness center? Be sure to offer handy products that members can use in the locker room and shower, like these sport slides. They feature a cushioned and contoured footbed that is lightweight and flexible for easy movement. Velcro strap ensures a custom fit. Available from asi/51185. |
|   |   |   |
| HEALTHY CHOICE Another staple product to offer gym members or employees participating in an exercise program is hydration. Custom-labeled bottled water features bottles that are 100% recyclable and perfect for business or public events. Available from asi/95385. |   | KNOCKOUT Offering apparel makes a nice incentive to join a workout class. This sweatshirt features 100% SoftCool performance fabric, birds-eye knit, front pocket and stylish contrast color design on sleeves and hood. Available from asi/91440. |
|   |   |   |
| A BETTER BOTTLE Patented Big Bite valve won't spill, even if left open, making it great for folks on the go. It features a quick-flip closure and a standard cap size that fits other bottles and is BPA-free and dishwasher-safe. Available from asi/34330. |   | MEASURE UP Help employees who are counting calories with this multifunctional scale that can be used in the kitchen to weigh food or baking ingredients. Also works for weighing postage and more. Available from asi/91455. |
Successful Promotions® Trend Report™  is a trademark of the Advertising Specialty Institute. You were sent this newsletter as a benefit of your ASI membership. Copyright 2009, ASI. All Rights Reserved. 
If you'd like us to send Successful Promotions Trend Report FREE to anyone else at your company (or to your off-site sales reps), go to www.asicentral.com/newsletters and complete the online form.
Click here to subscribe to Successful Promotions® magazine. You must be a member of ASI to subscribe to this publication. The publisher has a right to refuse subscriptions to non-members.
Advertising Specialty Institute®, 4800 Street Road, Trevose, PA 19053