SPONSORED BY


| | |
| --- | --- |
| |  Fun Video Game Launch |
Wall•E Sees Trinkets as Treasure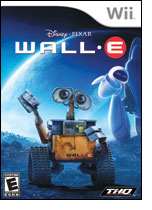 For many video game marketing programs, choosing the right promotional product takes a little creativity. Marketing the latest action game or kids' title may not offer some obvious choices. This wasn't the case for video developer THQ Inc. when it came time to promote its Wall•E video game which hit shelves June 27.

The game is based on the futuristic robot character's adventures in the Disney/Pixar movie of the same name. In the film, which debuted June 24, Wall•E went on a fantastic journey across the universe. Along the way, he often turned trash into treasure.

THQ leveraged some of the items that were prominent within the movie to reach out to members of the press. For example, Wall•E is fond of a paddleball, so THQ sent 500 plastic logoed paddleballs to consumer, trade and enthusiast press. "We ordered the paddleball after seeing Wall•E interact with a similar one in the film trailer," says Karen Fujimoto, spokesperson for THQ. "It was too good to resist. The paddleballs were effective because they captured an element of fun, while serving as a leave-behind reminder that the game would be coming out soon."

THQ also borrowed the idea of using an Igloo cooler from the film. Wall•E carries around a cooler throughout the film and places trinkets in it. The video game company held an event at the New York Hall of Science for dozens of members of the press and their families. As a thank-you for attending, it gave away logoed coolers, hats, shirts and posters.

The gaming company is no stranger to such tactics. For Ratatouille it held a cooking event at the Institute of Culinary Education in New York and gave away logoed chef's hats, aprons and bottles of thyme, a key spice for making the dish Ratatouille. "It's a fun way to build some buzz with our press," says Fujimoto.
| | |
| --- | --- |
| |  Cool Consumer Promo |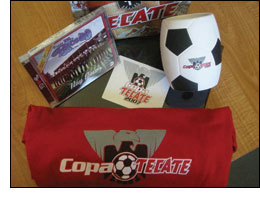 Tecate Gets a Kick Out of Authentic Soccer Promos
With category leader Corona experiencing soft sales, Tecate is looking to take the opportunity to establish itself as the authentic Mexican beer. One of its strategies to show consumers its heritage was by holding "Futbol Tecate" events throughout the month of July.
The beer brand brought the Mexican First Division Club Soccer teams to four of its key markets to play exhibition games against local teams. The first match pitted the Colorado Rapids against the Tigres on July 9 at Dick's Sporting Goods Park in Commerce City, CO.
Tecate understands how important futbol is within Mexican culture. It saw the exhibitions as a way to solidify its credibility with Hispanic consumers and prove its authenticity to other demographics.
ADVERTISEMENT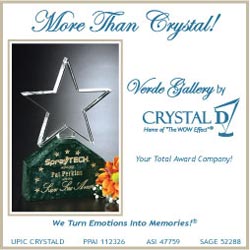 At soccer games, Tecate gives out a flurry of premiums to the fans in attendance. "We always try to ensure that the items we use are a reflection of the brand's character and of the specific event/promotion we're participating in," says Tecate brand director Carlos Boughton.

During soccer games, Tecate offers soccer keychains, soccer balls and even genuine soccer jerseys signed by Mexican soccer stars. "We want to make sure that consumers see or take items that are reflective of Tecate's bold personality as well as our involvement in soccer," says Boughton.

Tecate also regularly partners with boxing matches where it gives consumers related promotional products like branded towels, framed shorts and gloves autographed by superstars like Oscar de la Hoya.
For some super hot ideas, check out the Shopping List below.
| | |
| --- | --- |
| |  SHOPPING LIST |
Here are some cool product ideas to pump up your next promo:

| | | |
| --- | --- | --- |
| Music To Their Ears The music download card offers the choice of 3 million+ songs for download to iPod/MP3 Players.  Features: 4-color card, link from client's Web-site, and optional data capture (survey). Available from asi/42989. |   | Courtside Seats Perfect for any sporting event, this folding arm chair comes in royal or black and features an extendable canopy, two cup holders and a 16mm steel frame. Available from asi/34046. |
|   |   |   |
| Game Day Football season is right around the corner and this football-shaped bank makes a swell giveaway for any fan, also a great way for kids to save money for a special game. Available from asi/75630. |   | Go Team Fans can show team spirit with this soft wool pennant that looks like the ones from the good old days. Comes in four sizes and twelve colors. Available from asi/51250. |
|   |   |   |
| Tasty Touchdown Score big at the office or company party with this football-shaped sausage which comes with cutting board, knife, cheese, chocolate-covered almonds, jumbo cashews and wafers. Available from asi/68680. |   | Classic Toy Adults and kids alike will have fun with this traditional yo-yo that glows in the dark and is child-safety tested. Perfect for a non-candy Halloween treat. Available from asi/62050. |
SPONSORED BY


Successful Promotions® Trend Report™  is a trademark of the Advertising Specialty Institute. You were sent this newsletter as a benefit of your ASI membership. Copyright 2008, ASI. All Rights Reserved. 
If you'd like us to send Successful Promotions Trend Report FREE to anyone else at your company (or to your off-site sales reps), go to www.asicentral.com/newsletters and complete the online form.
Click here to subscribe to Successful Promotions® magazine. You must be a member of ASI to subscribe to this publication. The publisher has a right to refuse subscriptions to non-members.
Advertising Specialty Institute®, 4800 Street Road, Trevose, PA 19053