SPONSORED BY


| | |
| --- | --- |
| |  Cool Multi-Media Campaign |
Monroe Says 'Save a Squirrel'
Monroe Shocks and Struts has a message for all of the animal lovers of the world: "Replacing worn ride control components could improve vehicle steering, stopping and stability – and just might save the life of an innocent squirrel darting across the street."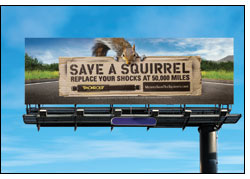 This was the official statement released by the company after it sent a bag of squirrel food, the Squirrel Street Journal newspaper and a personalized note from a squirrel to reporters. Next the recipients received a logoed bag of peanuts and a squirrel, or rather, mouse pad.

These promotional products were used to build hype for its "Save a squirrel" campaign which launched in April.

"We've already had tremendous interest in the 'Squirrels' campaign from the automotive industry as well as consumers," says Carri Irby, brand manager of Monroe Shocks and Struts which is owned by Tenneco, Lake Forest, IL, prior to the launch of its ad campaign. "As our billboards go live in the coming weeks, we expect a tremendous spike in traffic to our Web site, as well as word-of-mouth advertising driven by local broadcast outlets and the thousands of businesses that sell and install Monroe shocks and struts."

The squirrels have gotten around as the message is broadcast on billboards throughout the country, on 2,000 radio stations, within Major League Baseball stadiums and via the Web.

Monroe also made sure to add a heavy assortment of promotional products to the mix. Mouse pads, note cubes, pens, trash cans and bagged peanuts are available for use by its sales force. "Our promotional programs are tightly integrated into the campaign," says Irby. The squirrels could not be reached for comment.
| | |
| --- | --- |
| |  Groovy Earth-Friendly Campaign |
ADVERTISEMENT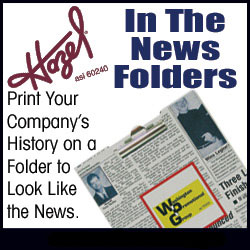 Green T-shirts Against Toxicity
Computer screens, cell phones and microwave ovens contain all sorts of toxic elements so it's best not to put them in a hole in the ground when they're no longer of use. But, the reality is most of these items are carted away and put in landfills. In fact, an estimated 70% of toxic landfill waste is a direct result of technology. NBC Universal used Earth Week (April 21-25) to spur homeowners to recycle these items.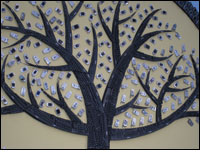 Its "Green is Universal" campaign kicked off on the Today Show on April 21. HP, Staples, the Environmental Media Association and Electronic Recyclers International (ERI) partnered for the event. Part of the push involved placing recycling bins, where consumers could place old electronics, at New York's Rockefeller Center. In the New York area, consumers were invited to also bring their old equipment to participating Staples stores. HP offered $50 off its more energy-efficient printers and $150 off select computers in exchange for old models.
ADVERTISEMENT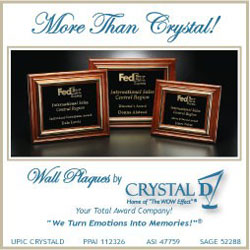 At Rockefeller Center, New York School of Visual Arts students were invited to create a giant mosaic using the donated products. ERI handed out "Green is Universal" T-shirts at the event. The brand typically provides eco-friendly shirts that say "Green is Good," but it altered its tagline in honor of the event. ERI owns 1-800-Recycling (a service people can call for free to find out how to properly dispose of their electronics and other items).

"With us, it's all about being in touch with our green DNA and spreading the word in as many positive far-reaching ways as possible," said John S. Shegerian, ERI's Chairman and CEO. "So whether we are appearing at a local high school or on the Today Show, we make it a point to come armed with meaningful takeaways that inspire, empower and motivate people to think about the green messages we shared."

In addition to shirts, ERI handed out logoed tins of chocolate-covered raisins that were grown on organic farms. Its business cards are even printed on recycled paper using soy ink. Shegerian said, "Everything we share is part of our message."

For some hot new green product ideas, check out our Shopping List below. 
| | |
| --- | --- |
| |  SHOPPING LIST |
Here are some cool product ideas to pump up your next promo:

| | | |
| --- | --- | --- |
| Promotions with a Ring The cell phone entertainment card offers the choice of 1000s of ringtones, fight songs, & games. Features: compatible with all major carriers, 4-color card, link from client's website, and optional data capture (survey). From ASI/42989. |   | Bag it Re-usable insulated grocery bag is a no-brainer for eco-conscious shoppers. From asi/65595. |
|   |   |   |
| Visor vision All natural fiber visor is great for beach promotions. From asi/73525. |   | Congrats Bamboo plaque sends award winners an eco-message. From asi/44511. |
|   |   |   |
| Tee it up These golf balls are made of 100% recycled material. From asi/77961. |   | In the bag Great for trade shows and other events is this 1005 recycled paper bag. From asi/37940. |
SPONSORED BY


Successful Promotions® Trend Report™  is a trademark of the Advertising Specialty Institute. You were sent this newsletter as a benefit of your ASI membership. Copyright 2008, ASI. All Rights Reserved. 
If you'd like us to send Successful Promotions Trend Report FREE to anyone else at your company (or to your off-site sales reps), go to www.asicentral.com/newsletters and complete the online form.
Click here to subscribe to Successful Promotions® magazine. You must be a member of ASI to subscribe to this publication. The publisher has a right to refuse subscriptions to non-members.
Advertising Specialty Institute®, 4800 Street Road, Trevose, PA 19053