| | |
| --- | --- |
| promotional products • incentives • corporate gifts • meetings • events | Volume 122 / May 18, 2016 |
| | |
| --- | --- |
| Click here to see other new and creative promotional products | |

| | |
| --- | --- |
| | PRODUCT SPOTLIGHT |
| | |
Promos Help Increase Awareness for Charity

In honor of April being Autism Awareness Month, national charity Jaden's Voice recently held the grand opening of its West Philadelphia office. The open house included supportive politicians, educational seminars and plenty of promotional products.
UnitedHealthcare gave away bags full of logoed items tailored for children with autism. Inside the bags were a giant placemat plastered with a balanced diet diagram, a plastic plate version of the diagram with a Spanish translation, a colorful informational booklet, a car charger, crayons and a cute stuffed animal named Dr. Health E. Hound.
"They say it takes a village, I say it takes the world," said Jaden's Voice founder Terri Matthews, whose 9-year-old son Jaden was diagnosed at age 2. "He lost his voice, so I became his voice."
About 1 in 68 children have been identified with autism spectrum disorder, according to estimates from the CDC's Autism and Developmental Disabilities Monitoring Network. Jaden's Voice advocates for children with autism in underserved communities, providing financial assistance to families and teaching parents how to live with the disorder. "We need to train people so they're accommodating and understand how our families are impacted," Matthews said.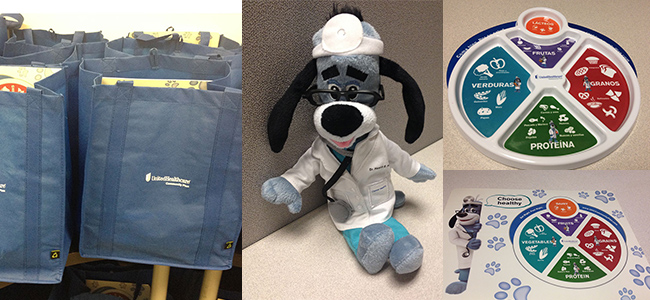 Pennsylvania State Representative Vanessa Lowery Brown and Philadelphia City Councilman Derek Green were also in attendance, both of whom have children on the autism spectrum. Brown's son suffers from learning differences and wasn't properly diagnosed until he was an adult. Green's 15-year-old son Julian was diagnosed around the same age as Jaden. He was able to get through kindergarten, Green said, but first grade was more challenging, so the councilman and his wife developed an autism support class at Julian's elementary school, which has now grown to three classes.
"You really can't dwell," Green said. "You have to be an active advocate and get intervention as early as possible so it will help your child in the future."
In addition to educating and assisting families, Jaden's Voice hosts a Web-based business membership program listing vendors whose products, services and locations have been certified as making life with autism easier and more dignified. For more information, visit www.jadensvoice.org.
VIDEO

The Joe Show reveals some of the latest products and promotional ideas available in the market today. Click here to see a brand-new edition of The Joe Show.






Hand Sanitizers, Stress Balls & More a Hit at Book Fair
Few bibliophiles could resist delving into cafeteria tables laden with more than 16,000 books, all sorted and sold for a fraction of the original sticker price. Sweetening the prospect of a used book sale, however, is the promise of ample free food and other giveaways.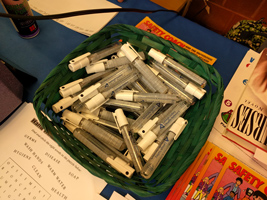 The Emmaus Public Library, a community library in eastern Pennsylvania, teamed up recently with The Nutrition Group, a full-service food and utilities management company, to hold a used book sale and a Nutrition, Health and Safety Fair at Lower Macungie Middle School, one of the institutions serviced by The Nutrition Group. The school's cafeteria was transformed into a mecca for readers of all ages, and the halls outside the book sale were stocked with booths providing free screenings and sharing information on healthy eating, the dangers of smoking and the importance of good oral hygiene.
Booth workers gave away bags of popcorn, packets of flavored raisins, and samples of fruit smoothies. But there were also a slew of promotional products at the fair. A local hospital had a basket of spray hand sanitizers set up next to a display about germs. An orthodontist gave out logoed water bottles. Other swag on site included stress balls, erasers, stickers, bumper stickers, keychains, can coolers and crayon packets with nutrition-themed coloring pages.
Plan on having your own public event or fair? Make sure you have an ample supply of fun and functional promotional items to hand out. Contact your distributor partner for great ideas and products.
The description can read "NEW EXCLUSIVE PRODUCT from a 5 Star Supplier! Our Flip Bottle (#FLIPBTL) is a converting bottle that can either be a 32oz. bottle or a 14oz. Cup – just by unscrewing the locking ring, flipping the top over, and screwing the ring back on. Perfect for picnics, on the go travel, and more!"
Golf Items
Spring is in full bloom, which means it's golf season for corporations, nonprofits, health networks and more. Check out the golf items shown here – your distributor can give you more information.
Cap It Off

A blend of cotton and polyester, this Adidas curved-bill cap includes a moisture-wicking sweatband. asi/64140

Fairway Fave

Digitally printed golf flag comes with a rotating tube for easy display. asi/36558

Handy Kit

The Golf Kit includes a 1-oz. hand sanitizer, SPF15 lip balm, SPF30 sunscreen stick and a mint card. asi/31516

Fore!

The Titleist ProV1x collection gift tin includes three imprinted balls, a metal ball marker, five tees and a mini Sharpie. asi/38120

Get a Grip

Golf glove is made of Cabretta leather and has a branded detachable magnetic ball marker. asi/98873

Leaderboard

Multifunction golf tool keeps score for up to four players and has as a push-button divot tool, large display screen, clock, timer and alarm. asi/90075
MARKETING CALENDAR ••• AUGUST 2016
August begins with Psychic Week, 1-5, but hey, you already knew that. Besides tarot card and palm readings, there are other opportunities for month-long promotions. Black Business Month is dedicated to supporting black-owned businesses and a chance for those businesses to market to the masses. Read-A-Romance Month is perfect for a creative endeavor where company reps craft romance stories featuring favorite customers. Post the stories weekly or daily on websites and social media channels. What Will Your Legacy Be Month can be reflective and forward-thinking. Companies and employees can forge plans for greater success.
Get your 1960s groove on with a variety of events primed for promotions. Museums, art galleries and more can observe Andy Warhol's Birthday, 6. Radio stations can distribute tie-dyed T-shirts to celebrate Jerry Garcia's Birthday, 11. Music stores and used-record stores can revel in a hot-wax promotion on Vinyl Record Day, 12. Finally, stay in the '60s music scene on the Woodstock Anniversary, 15. Concerts and festivals are ideal venues for handing out branded products.
Treat clients and employees to a day at an amusement park on National Roller Coaster Day, 16. Provide matching T-shirts and caps for everyone. On National Hot Dog Day, 26, serve a variety of dogs at a company barbeque, complete with a softball game between management and employees. Lastly, cheer on the athletes during the Summer Olympics, 5-21. Host watching parties, create your own mini Olympics or run a promotion that supports your favorite teams.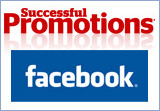 Win $100 & Gain Access to Great Ideas
Sign up now and enjoy The Joe Show, where our very own Joe Haley features cool new promotional product ideas. Access case studies in every industry that showcase the hottest new marketing campaigns. You can even submit your own case studies and be eligible to win a $100 MasterCard gift card. Plus, network with other businesspeople looking to pump up their marketing efforts. Click here to get started today.

Tell Us How Promo Products Worked For You
We want to hear your success stories on how promotional products played a pivotal role in your business strategy. Do you have a new employee welcome gift program? Have you used promo items in an awareness campaign, product launch or charity event? Let us know and we'll feature your case study in the Successful Promotions newsletter, and you'll also be eligible to win a $100 Visa gift card. Send an email to jchaykin@asicentral.com with a brief description of your case study, and we'll contact you for further details.


Successful Promotions® is a trademark of the Advertising Specialty Institute. Copyright 2016, ASI. All Rights Reserved.
Advertising Specialty Institute®, 4800 Street Road, Trevose, PA 19053