| | |
| --- | --- |
| promotional products • incentives • corporate gifts • meetings • events | Volume 86 / May 2013 |
SPONSORED BY



Click here to see other new and creative promotional products

Use Promo Products to Pump Up Your Picnic
Company picnics are great for employee participation; forgo the same old hot dogs and potato chips, and add pizzazz to your picnic with the help of a theme that will increase excitement and encourage participants to get involved. Check out these popular theme ideas, and be sure to ask your ad specialty distributor about obtaining the best products for your picnic and all your promotional events.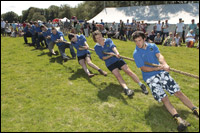 County Fair
Have employees bring their favorite dessert, garden produce and homemade crafts for judging and award ribbons to all. Sponsor pie eating, egg juggling, apple bobbing and watermelon seed-spitting contests. Make sure to decorate your picnic tables in country prints. Arrange games such as three-legged races and tug of wars; have team members wear logoed bandannas in their team's color. Finally, set up hay rides around the picnic area.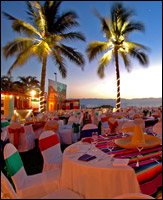 Keep plenty of logoed water bottles and sunscreen on hand for the long day outside.
Mexican Fiesta
Provide a set of Mexican hats and serapes and photograph your guests wearing them. String colored lights from poles or trees and add colorful streamers. Decorate picnic tables with colorful Mexican blankets and cacti centerpieces. Engage a mariachi band or use recorded music, and give employees logoed maracas to shake. Hang piñatas filled with candy and treats and let attendees take their best shot.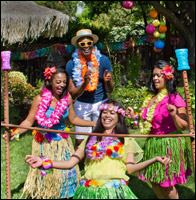 Hawaiian Luau
Encourage guests to arrive in costume and have hula girls and hula boys greet them with leis to the accompaniment of Hawaiian music. Have a pig roast and put accompanying food items in large seashells or logoed beach pails. Arrange for hula lessons and sponsor hula contests. Whip up a tasteful floral combo that mixes island blooms, fruits and foliage. Provide temporary Hawaiian warrior tattoos and hold coconut passing contests.
Way Out West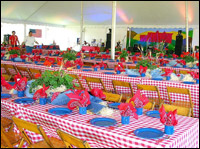 Provide vests and Stetsons for your guests and encourage them to add to the ensemble. Serve Western party foods such as hot dogs, hamburgers, pork, beans, chips and peanuts. Arrange for a steady supply of country music for your cowgirls and cowboys to dance to and enjoy. Take digital photos of your costumed guests and Photoshop them with sepia tones and faded edges to give them an old-timey look. In addition to Western gear, provide guests with branded boot-shape drinking glasses, take-home cactus centerpieces, flashing marshals' badges, miniature horseshoes, belt buckles, bolo ties and stuffed-animal horses for the children.
VIDEO

THE JOE SHOW reveals some of the latest products and promotional ideas available in the market today. Click here to see a brand-new edition of The Joe Show.



Sponsored by
Cooler Graphics



Sponsored by
Pepco Promotional
Products




Sponsored by
Clothpromotions Plus




Sponsored by
Vitronic Promotional Group
ADVERTISEMENT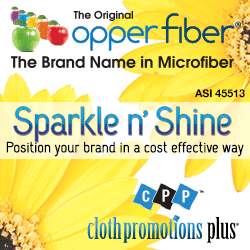 Tell Us How Promo Products Worked For You
We want to hear your success stories on how promotional products played a pivotal role in your business strategy. Do you have a new employee welcome gift program? Have you used promo items in an awareness campaign, product launch or charity event? Let us know and we'll feature your case study in the Successful Promotions newsletter, and you'll also be eligible to win a $100 Visa gift card. Send an e-mail to jchaykin@asicentral.com with a brief description of your case study, and we'll contact you for further details.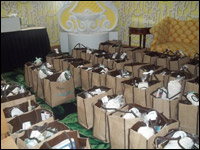 Resort's Five-Star Swag Bag a Hit With Guests
When the legendary Greenbriar resort hosted its inaugural Women in Leadership conference last year, there was significant attention paid to detail, as the speakers included a star-studded array of high-profile women in business, media and government. The event was organized by media power player Cathie Black, former president and chair of Hearst magazines, and a regular on the list of the 50 most powerful women in business.
"To say Cathie is particular is quite an understatement," says Greenbriar director of digital media and branding Chelsea Hover, noting that Black's exacting standards were evident in every aspect of the conference, including the gift bags that were handed out to speakers and attendees. Martha Stewart was the keynote speaker, and presenters included such luminaries as ABC News White House correspondent Ann Compton and Mikki Taylor, Essence magazine editor-at-large and stylist to First Lady Michelle Obama.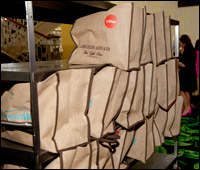 "Cathie had very specific guidelines. The bags needed weight and had to include high-quality products with a focus on beauty," says Hover. The bags also needed to have a particular fit over the arm and be able to hold a laptop or an iPad. Many of the speakers were close friends of Black and traveled great distances to participate, making it even more important to Black that these women really enjoy the gift bags.
ADVERTISEMENT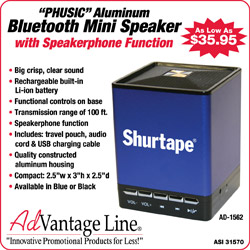 Hover began researching items for the bags six months before the conference took place, and the feedback from recipients suggests the end-result was five-star. The 300 stylish bags were made of reusable burlap. Greenbriar hotel-branded items in the bags included bedroom slippers, lip balm and wooden serving spoons. Birchbox, a beauty subscription service, supplied Hover with samples of high-end beauty products to try out for possible inclusion. "In one week I sent out 100 requests for donations to the gift bags – and 75% said yes," she notes.

The swag bag was so full that Vera Bradley's donation of 300 purses had to be distributed separately. Attendees received the purses at dinner, as a second gift bag. Imprinted silver business-card cases were included in all of the Vera Bradley bags. Plus, black leather boxes containing three Napa champagnes were given as VIP gifts to 25 of the speakers. "Everyone loved the bags; we got great feedback," Hover says. "If swag is done right, it's a jewel."
iPhone Cases in UNLIMITED FULL-COLOR!
A real attention getter for people who buy the best in tech – the iPhone 4 and iPhone 5! Your full color art creates an absolutely custom look! Hard plastic iPhone Case/Cover is printed in stunning FULL-COLOR Process. Now available with Quick Ship service!

From ALL-IN-ONE® • asi/34256.
Green Products
Let your customers know that you care about the environment by using eco-friendly and organic items. Check out this showcase for ideas and be sure to ask your ad specialty distributor for information about these and all the latest green products.
THE FEEL OF COTTON. Cotton satchel measures 14" x 17" with 48" handles and a fold-over top closure. Choose from a printed logo with up to three spot colors or four-color heat transfer. asi/70830
IT'S A GIFT. Gift set includes oven mitt, bamboo spoon and bamboo spatula. Arrives in a burlap bag that complements the natural bamboo. asi/71980
BOTTLE NECK. Eco-friendly cutting board is made of a flattened wine bottle. Choose a pre-branded bottle, or design your own. Includes a raised handle for easy serving. asi/88565
CARRY ON. Nonwoven polypropylene tote bag features a gloss lamination. Measures 16" x 6" x 12" with 22" handles. Available in seven colors. asi/35290
IN MY POCKET. Pocket journal has a hard cover and band closure with 100% post-consumer waste filler paper. Four-color digital printing available on cover. asi/78279
GOOD SCENTS. Gourmet scented pencil is made of 100% recycled newspapers and recycled plastic. Arrives in a biodegradable plastic freshness tube. Available in 10 scents. Scented pens also available. asi/87819
marketing calendar ••• August 2013
What Will Be Your Legacy Month
Sometimes people fail to realize that the way they live their lives does have an effect on others now and in the future. Reflect on the past and outline changes to make for the future. Perhaps it's a way to better serve your clients, or improve your corporate culture within your headquarters. Use social media platforms to connect with and survey people. Have brainstorming meetings to map out plans for change. Then end the month by acting on your plans. Get help from your distributor partner for insight into what logoed products will help with the effort.
6
National Night Out
This annual event is coordinated locally throughout the country to combat crime. Traditionally, neighbors sit on their porches or walk around the neighborhood at night. You can get involved too by sponsoring blocks in and around your business and walking and sitting with others. Provide participants with caps, T-shirts, flashlights, etc., all adorned with your company logo.
15
National Relaxation Day
Take a break, you deserve it. So do your employees. Use today for a company cookout. Management can handle the grills and serve employees. Give everyone a branded beach chair to chill out in. Also provide other gifts like can coolers, fans, sunglasses, etc. Your distributor partner can help you with lots of great gift ideas.
22
Be An Angel Day
Today is the perfect time to go above and beyond for your customers and help them with any issue they might be having. The goodwill gesture will go a long way in solidifying your relationship. Use angel-themed products to highlight the day.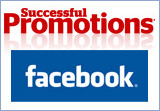 Win $100 & Gain Access to Great Ideas
Sign up now and enjoy The Joe Show, where our very own Joe Haley features cool new promotional product ideas. Access case studies in every industry that showcase the hottest new marketing campaigns. You can even submit your own case studies and be eligible to win a $100 MasterCard gift card. Plus, network with other businesspeople looking to pump up their marketing efforts. Click here to get started today.

Lanyards: Made of the highest quality material our lanyards are a distributor favorite with our everyday low prices and setup. Our lanyards are versatile and can be customized to suit your every need. asi/62088


Lip balms: Our lip balms contain SPF 15 and are made in a FDA approved facility in the U.S.A. Containing premium natural and organic ingredients our lip balms are quickly becoming a customer favorite! Perfect for fundraisers, charity events, school functions, spas, dentist offices and so much more! asi/62088

The Best Beverage Insulator At The Lowest Price. Fast Delivery Low Minimums! asi/63681


Diamond Cosmetics offers professional health and beauty products providing companies with high quality cosmetic items for Corporate Sponsors of Women's Events, clothing, shoes & accessory manufacturers, health and medical companies, entertainment industry, media, and many more industries and institutions. asi/49640

All-natural self-cooling cotton towel provides instant cooling, without refrigeration, right out of the package! Resealable packaging enables repeated use and multiple brand impressions daily. 100% cotton, reusable and ideal for any marketing strategy. asi/48507


BIRTHDAY SURPRISE CB272
Everyone has a birthday. Remember theirs with an instant party! Included in the box are 12 gourmet, snack-sized brownies, balloons, a kazoo, candles and a birthday button; wrapped with a Happy Birthday band. asi/53518

Successful Promotions® is a trademark of the Advertising Specialty Institute. Copyright 2013, ASI. All Rights Reserved.
Advertising Specialty Institute®, 4800 Street Road, Trevose, PA 19053