| | |
| --- | --- |
|   |  BECOME OUR FACEBOOK FAN  |
Win $100 & Gain Access to Great Ideas
Successful Promotions magazine now has a Facebook fan site! Sign up now, and watch The Joe Show, where our very own Joe Haley showcases cool new promotional product ideas. While you're there, access case studies in every industry that showcase the hottest new marketing campaigns. You can even submit your own case studies and be eligible to win a $100 American Express gift card. Plus, network with other businesspeople looking to pump up their marketing efforts. Click here to get started today.
| | |
| --- | --- |
|   |  SUCCESSFUL PROMOTIONS CONTEST |
ADVERTISEMENT

Every week Successful Promotions will launch a new contest where we ask you, our readers and Facebook fans, for your most creative ideas for solving businesses dilemmas. Each entry should be 50 words or less and a promotional product must be part of the solution to the weekly challenge. Send all entries to jhaley@asicentral.com by the specified deadline in order to qualify for a free gift. Winners will be selected randomly from all entries.
Week 1 Contest: From May 17 to May 23
It's a Boy … or Girl. A local hospital just increased its marketing budget to include a campaign geared to new parents using its recently opened neo-natal and birthing unit. Make sure you tell us how promotional products fit in to your resolution; for example, "The hospital can use logoed diaper bags and …"
Week 2 Contest: From May 24 to May 30
A Time to Remember. What is your best idea for a company picnic that coincides with the Memorial Day weekend? There will be softball games and other contests for all employees and their families.
Week 3 Contest: From May 31 to June 6
Come, Sit, Eat. A restaurant is trying to attract post-graduation dinner parties and is looking for something to include with a direct-mail piece to be sent to all graduating students at 10 nearby high schools, technical institutes and colleges. What can they put inside to bulk up the mailing?
Week 4 Contest: From June 7 to June 13
On the Open Seas. A travel agent is looking to increase her bookings for cruises. What type of logoed product and promotional event would make a good incentive for vacationers to book with her?
| | |
| --- | --- |
|   |  THE JOE SHOW: HOT NEW PRODUCTS |
The Joe Show is a weekly video program where Managing Editor Joe Haley presents and demonstrates a variety of ad specialty products. He also offers useful tips and information on how they can be used in ad campaigns and other promotions. This collection features new products being offered by your distributor partner.

Click here to see a brand-new edition of The Joe Show.
| | |
| --- | --- |
|   |  CAMPAIGN DRAWS SUPPORTERS |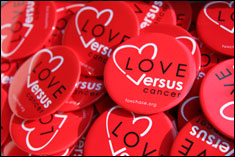 Lifting Spirits With Promotional Products 
Cancer is a difficult subject to discuss, even though it touches the lives of so many. So when Philadelphia's Fox Chase Cancer Center (FCCC) began planning for a new campaign to connect with its patients and families and attract outside supporters, the planners sought out a simple and uplifting message.
After extensive discussions, the planners decided on the theme, "Love Versus Cancer," and launched an accompanying Web site (www.loveversuscancer.org) at the beginning of February. The site invites visitors to send e-cards, share videos and learn about the FCCC.
Promotional products are a key component of the campaign. The FCCC's leadership worked with As You Wish Promotions to develop buttons, stationery and T-shirts featuring the "Love Versus Cancer" logo. When visitors register on the Web site, they receive a free button, while those making donations of $100 or more get a magnet to put on their car. Logoed T-shirts are also available to purchase online, as well as in the FCCC's gift shop.
"When you leave the computer, you leave the campaign," says Lisa Bailey, director of social media and communications for FCCC. "So the promotional products let the campaign live in other places."
The effort has involved a significant expansion of the FCCC's social media presence, creating a special YouTube video of a pet therapy dog and branding its Facebook and Twitter accounts with the "Love Versus Cancer" theme. Since shifting to this theme, the FCCC has seen its social media memberships skyrocket and a boost in supporter sign-ups and donations.
The success of the campaign so far has the FCCC's leadership looking for ways to expand it further. They have already gone through the initial order of 6,000 buttons and are looking at incorporating "Love Versus Cancer" wristbands, as well.
"When someone is diagnosed with cancer, so many more people are touched than just that one person," says Bailey. "This is a way to let those people share their love, share their thoughts and get involved."
Check out the Shopping List below for great products for your next campaign. Contact your ad specialty distributor for more information. 
| | |
| --- | --- |
|   |  SUCCESSFUL BEVERAGE LAUNCH |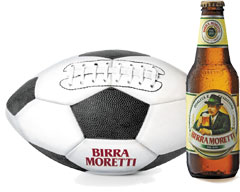 Birra Moretti Translates to the U.S. Market
Birra Moretti is an extremely popular beer in Italy, but that didn't mean it would be an instant hit in the American market. This was the concern of the brand's importer, Total Beverage Solution, after it picked up the Moretti business and sought ways to boost interest from beer distributors.
"We thought, how can we get the Italian message across real quick, in a fun way?" says Tom Jeffrey, partner with Hook, the marketing company that worked on the campaign. "Football was just starting, and my partner Brady said, 'What if we get a football, but make it look like a soccer ball?' "
After a few prototypes, the "foccer ball" was born. It got a great response from the distributors and was a perfect fit with the brand, which is especially popular among Italy's soccer fans. Birra Moretti even sponsors a soccer team, which the importer hopes will catch on among America's football fans.
Since the foccer balls had to be deflated when shipped, Hook also had small, branded pumps produced to go along with the balls, creating a complete package for distributors.
After the strong response from distributors, Jeffrey and his team decided to incorporate the ball into how the brand was marketed to the consumer, as well. They promoted the balls on the in-store displays for Birra Moretti along with taglines like "Pass a Moretti" and "The Perfect Blend of Football." Consumers could buy the ball online for $20 plus shipping. 
The success even led Hook to get a patent on the football-shaped soccer ball. Jeffrey says, "We make a lot of stuff for clients, like coffee mugs, but then we made this and it was the first of its kind. I said, 'I wonder if we can patent that?' So we met with our lawyers and they said, 'Yes, absolutely.' "
Contact your ad specialty distributor for more information on the products below.
| | |
| --- | --- |
|   |  PRODUCT SPOTLIGHT |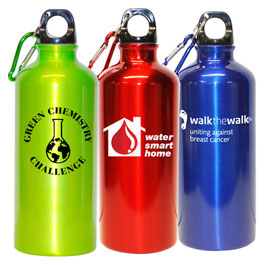 Keep Cool This Summer with the/ New 22 oz. Aluminum Sports Bottle From Nationwide Promotions (ASI 73464) – As Low As $2.99!!
Eco-friendly, BPA-free 22 oz. Aluminum Sports Bottle with Leak-Proof, Screw-On Lid is the perfect way to stay cool in the hot summer heat! Easily keep this lightweight bottle at your side with handy, color-coordinated carabiner clip attached to lid. Available in eye-catching red, royal blue and lime green. Low minimums! Quick standard production time!

| | |
| --- | --- |
| |  SHOPPING LIST |
| | | |
| --- | --- | --- |
| RESULTS-DRIVEN DIRECT MAIL Increased response rates over 12% on recent campaign. Plastic postcard is fully customized for your mailing. Ask about mail handling, processing, and presort for a seamless promotion. asi/42989 |   | HEALTHY HELPINGS  Plan on giving your participants in a charity run this gift mug with granola bar, natural almond pack, jasmine green tea, natural fruit snacks and green tea candy. asi/84495 |
|   |   |   |
| THIRST QUENCHER Runners need to stay hydrated during the race. Give them this stainless-steel, 25-oz. sport bottle with screw-on spill-resistant lid for use during the run and to keep long after. asi/61125 |   | TRENDY TOTE After the charity run, reward top finishers with this eco-friendly, raw-cotton canvas tote. asi/38243 |
|   |   |   |
| CHILL OUT Keep beverages on hand at a run or golf tournament in this insulated 12-pack nylon leak-proof cooler. It features an adjustable strap and front zippered pocket. asi/39250 |   | HAVE A HEART This heart-shape pedometer records number of steps, distance traveled and calories burned. It's also a clock and has a hinged cover with fitness chart. asi/62660 |
Successful Promotions® Trend Report™  is a trademark of the Advertising Specialty Institute. Copyright 2010, ASI. All Rights Reserved. 
If you'd like us to send Successful Promotions Trend Report FREE to your colleague, click here and complete the online form.
Click here to subscribe to Successful Promotions® magazine. The publisher has a right to refuse subscriptions to non-qualified subscribers.
Advertising Specialty Institute®, 4800 Street Road, Trevose, PA 19053